5 things: Streaking Clips get 'lucky bounce' vs. Suns
BY Jovan Buha • December 9, 2014
Buzzer-beaters. Overtime. Four-point plays. Highlight dunks. Technicals. Ejections. Revenge.
The Los Angeles Clippers' 121-120 overtime win over the Phoenix Suns had a little bit of everything, which, when mixed together, formed the most compelling game of the Clippers' season.
There have been other down-to-the-wire nail-biters -- six of the Clippers' first seven games were decided by seven points or fewer -- but those were at the beginning of the season, when the Clips were in a funk and playing subpar ball.
Ever since Nov. 24, though, the Clips (15-5) -- now winners of eight straight games -- have been playing elite basketball on both ends of the floor, posting the league's best offensive efficiency (118.3) and seventh-best defensive efficiency (100.5) over that span, according to NBA.com/Stats. 
All they needed for their streak's resume was a win against a quality opponent, and they got it Monday night.
Of course, all that anyone will be talking about is Blake Griffin's monster performance -- 45 points on 14-of-24 shooting and 15-of-17 free throws, 8 rebounds -- and game-winning step-back 3-pointer whose arc improbably flat-lined, hit the back rim, rolled around and finally dropped in.
"Right when I shot, it I thought that it was flat, short, off, everything," Griffin said. "But it was good and I got a lucky bounce."
The Clippers' recently stellar defense fell apart far too often, allowing 120 points on 48.4 percent shooting, but they also showed a newfound ability to grind out a close game -- something they had failed to do multiple times earlier in the season.
"We were never out of the game," Griffin said. "Being down four, we got a score, got a stop, and got another score. It's a great thing when we are all playing for each other like that."
Matt Barnes added: "We are starting to get an identity; we are a hard-nosed team. I think we got away from that earlier season and I think we are back to grinding it out. We can play a lot of different ways and tonight we showed that."
Here are five takeaways from Monday's game:
Revisiting the Bledsoe trade
Any time the Clippers and Suns meet, coach Doc Rivers is asked about last summer's Eric Bledsoe-J.J. Redick swap. And, as always, Rivers says the trade was the right move, regardless of how well Bledsoe is playing. "I like the trade for us, and I'm sure they like it for them," Rivers said. "J.J. has been terrific for us. We were going to lose [Bledsoe]. We knew that, and so did every other team in the NBA." Bledsoe wanted blood in tonight's matchup against his former mentor (Paul), dropping 27 points on 8-of-16 shooting, 11 rebounds, 16 assists, 2 steals and 2 blocks. For most of the night Bledsoe was not only the best point guard on the floor, but the best player.
No 3 or D
Heading into this game, the Clippers' seven-game win streak had largely stemmed from insanely hot 3-point shooting (43.3 percent) and solid defense, particularly against 3s (28.8 percent). Monday night, however, the Clips' shooters regressed to the mean, and the team only made 9 of 31 from deep (29 percent). Meanwhile, the Suns couldn't miss, making 16 of 37 3-pointers (43.2 percent), and continuously broke down the Clippers' defense to create open looks. Of course, all it took in the end was a lucky bounce to reverse each team's fortunes.
Griffin or Paul?
As the Clippers continue to climb out of their early-season hole and catch up with the rest of the West's elite, an interesting question is forming: If the Clips finish with a top-two seed and win 60-plus games, who would be the team's -- and possibly the league's -- MVP? If we're prisoners of the moment, it's obviously Griffin, as he had one of the best games and arguably the best shot of the season. Prior to this game, though, Paul had been playing better and more consistent (and his 20-point, 7-rebound, 10-assist performance wasn't shabby, either). It's too early to do anything more than speculate, but tonight's game is a reminder to monitor the Clippers' internal MVP race.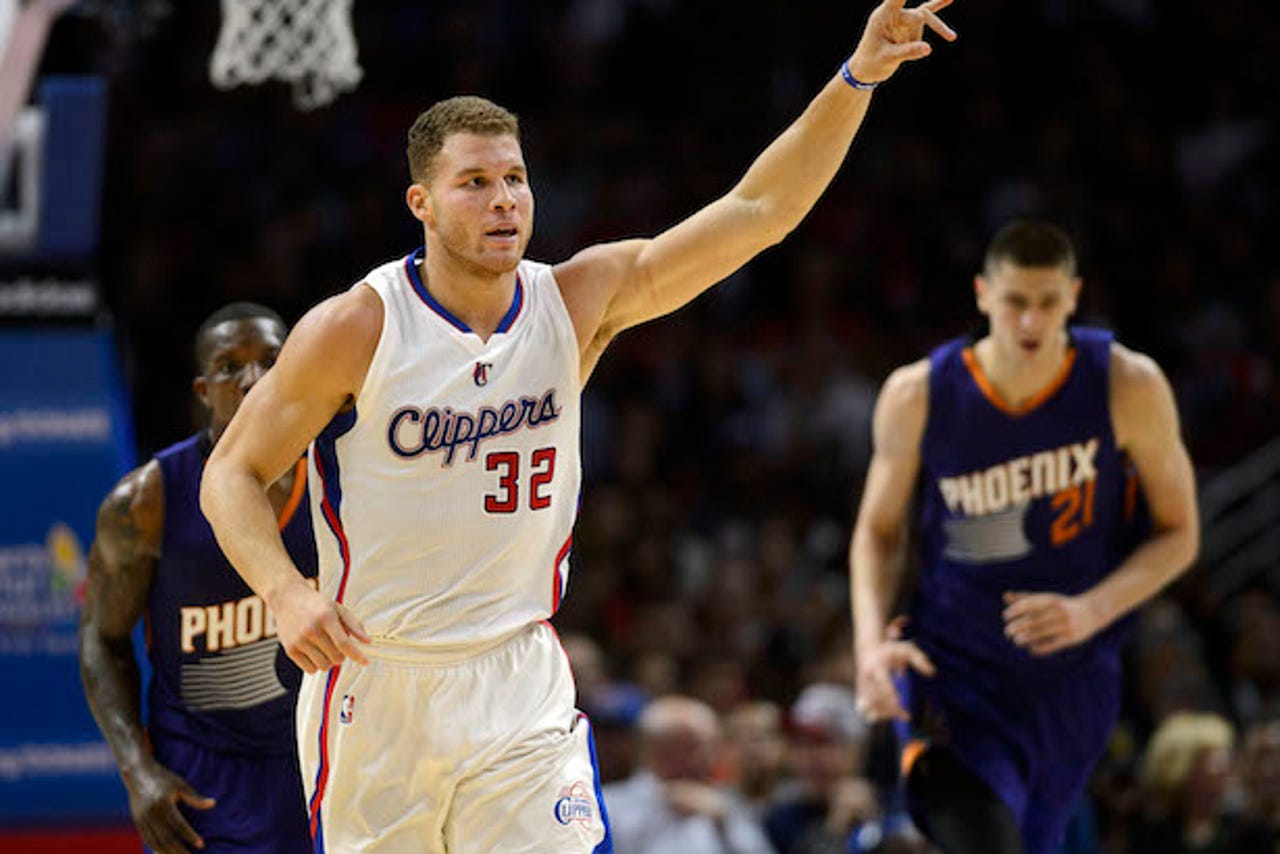 Blake Griffin makes improbable overtime shot to propel Clippers over Suns
Their first true test
Lost in the madness of the Clippers' win streak is the fact that, with the exception of the Pelicans and the Dwight Howard-less Rockets, their recent schedule has featured nothing but cupcakes. The Suns are the best opponent the Clips have faced since the Grizzlies on Nov. 23, and everyone remembers how that game went. Blowing out mediocre-to-bad teams is one thing, but gutting out a win against a playoff-caliber team is another. The Clips didn't play as well as they had recently, and made a slew of egregious defensive errors, but as Rivers said post-game, they'll take any win they can get.
Losing their cool
Griffin's shot is what people will remember -- and rightfully so -- but there was a disappointing sequence early in the fourth that swung the momentum. After slipping and losing the ball, Jamal Crawford unintentionally tripped Bledsoe and was whistled for a foul. Crawford proceeded to get up and yell in referee Mark Lindsay's face, earning him his first ejection ... ever. Rivers and several teammates stood up for Crawford, earning Rivers the team's third technical in less than 30 seconds. After that, a three-point Clippers lead turned into a five-point deficit in less than two minutes, and the Suns never relented.
---