5 things: Clips finally put it all together vs. Suns
November 16, 2014

So that's what a Los Angeles Clippers blowout looks like, huh?
We had almost forgotten. 
Seven games into the 2014-15 season, the Clippers had yet to dominate a game from start to finish offensively -- a trademark that made the team so entertaining to watch over the last couple seasons. 
That changed Saturday night.
The Clips used a commanding 42-20 third-quarter effort to gain an insurmountable lead and blow out the Phoenix Suns, 120-107, and move to 5-3 on the season. 
"We ran our offense well," Blake Griffin said. "It is amazing how much better your offense runs when you are getting stops and getting out and getting some easy baskets. ... Last year, that was a key for us all of the time, getting stops. Our offense got initiated from our defense. 
"It was a good game for us."
When the Suns narrowed the lead to near single digits on multiple occasions, Chris Paul made timely jumpers, en route to a season-high 32 points on 10-of-13 shooting (5 of 6 on 3s), and 5 rebounds, 9 assists and 2 steals for good measure. 
Blake Griffin (19 points, 8 rebounds, 4 assists), J.J. Redick (14 points), Spencer Hawes (14 points, 8 rebounds, 3 blocks), Matt Barnes (12 points) and DeAndre Jordan (12 points, 18 rebounds, 7 blocks) also scored in double figures, which is impressive when considering the team's inability to click lately, and Barnes' and Jordan's lack of offensive involvement overall.
Here are five takeaways from Saturday's game: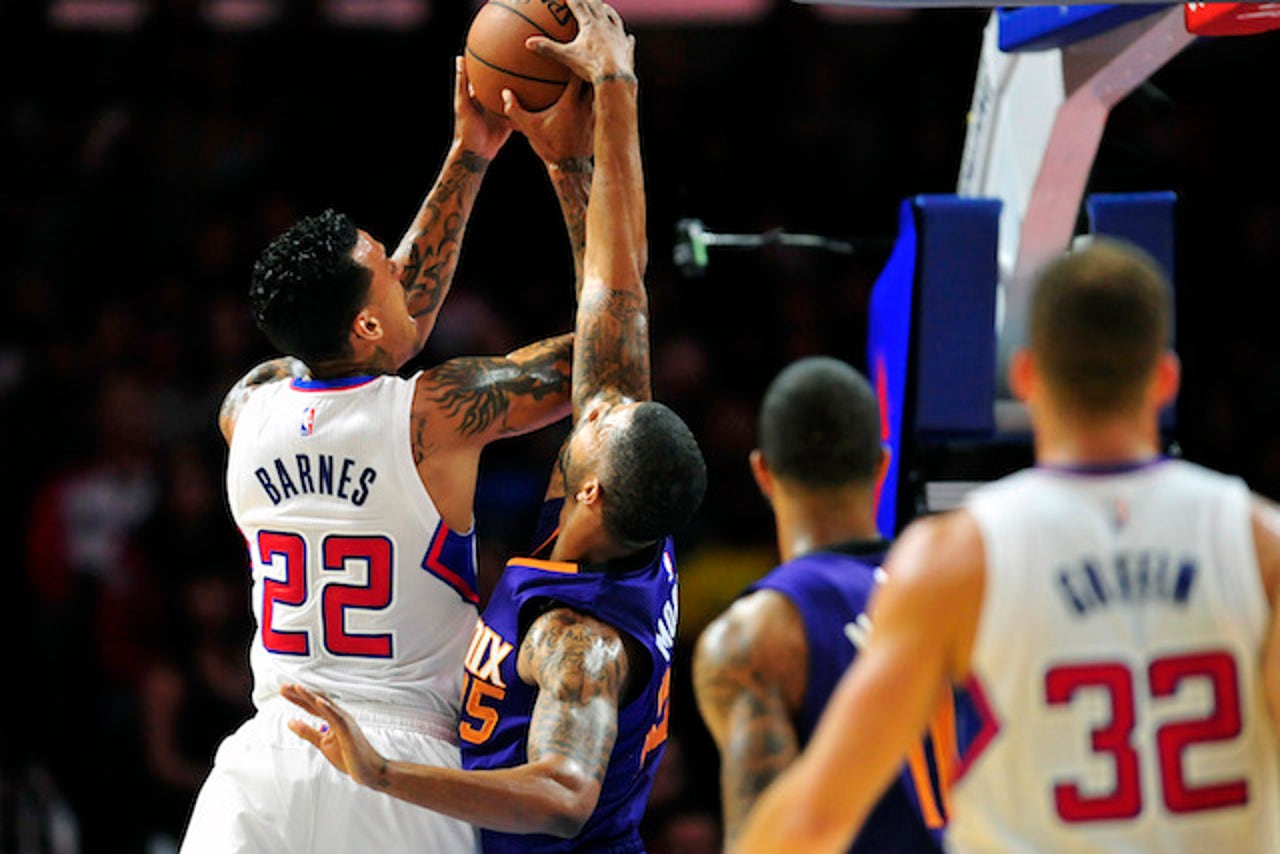 Clippers coast to 120-107 win over Suns
This what you've been waiting for, ain't it?
By almost any measure, this was the Clippers' best game of the season. Their offense hummed at an insane pace, they knocked down their 3s (14 of 29, 48.3 percent), and their defense finally showed a modicum of consistency. Six players scored in double figures, and all 10 non-garbage time players scored. The Clips had yet to maintain or extend a double-digit second-half lead this season, but they did so Saturday night. This game was over midway through the third, which is more than we could say about any of the team's prior wins.
Barnes giveth and Barnes taketh away
According to Doc Rivers, Matt Barnes has played his role perfectly over the last three games (ever since he was moved to the bench, and then reinserted Saturday). "It's not about the offense," Rivers said. "I think his offense is starting to come along because he's doing those other things. He's being our energy player, our defensive guy, a rebounder from that position. Then all the other stuff will happen." Of course, other stuff happened, too. Barnes was ejected in the fourth quarter for slamming the ball down after goaltending, which was just another reminder of how his untamed nature can be both good and bad.
The Suns' x-factors were irrelevant
Heading into the game, Rivers said the Clippers had three keys: Getting back in transition, preventing the Suns from penetrating into the lane, and containing the dynamic bench duo of Isaiah Thomas and Gerald Green. The Clips did none of those three things, yet still won. The Suns scored 17 fast-break points (their average, which ranks second in the league), dropped 52 points in the paint (10 more than their average), and Thomas and Green combined for 45 points (6 more than their average in wins). But it didn't matter.
Playing small ... favors the Clippers?
The Suns have carved out a niche by using a two-point guard attack, but could it have actually helped the Clippers on Saturday? "To be honest, when we go smaller, teams go small with us," Rivers said. "I think that's to our advantage, in some ways." The Clips' trio of Paul, Redick and Jamal Crawford outscored the Suns' trio of Eric Bledsoe, Goran Dragic and Thomas 55-46 (with better shooting -- 15-of-28 vs. 11-of-32, respectively). L.A. has plenty of experience with smaller lineups over the last two seasons, and it actually plays to their strengths, as they don't have much perimeter size to begin with. 
Chris Douglas-Roberts injury update
Chris Douglas-Roberts has struggled and fallen out of the rotation this season, but it could be because he's been playing through a semi-serious injury. "It's a strained Achilles," Rivers said. "I don't think there's any timetable -- maybe a week or two. I don't even know that yet. It's part of NBA life." Rivers went on to say Douglas-Roberts has had the injury since training camp, but being the new guy, he wanted to tough it out and not lose his spot in the rotation. That plan clearly backfired, though, and now it's unclear when he'll return, and if he'll have a chance to regain his backup position.
---