2014 FOX Sports West/Prime Ticket All-CIF-SS team
BY foxsports • December 9, 2014
Realignment was a major storyline heading into the 2014 CIF-SS season. By the end, the significance of it was felt on a number of programs. Mission Viejo won its first title in 10 years while Redlands East Valley won their first divisional title ever. For the folks of Pomona, there was a return to the CIF Finals and a win for the first time since 1951. St. John Bosco failed to repeat as PAC-champs, falling short to Corona Centennial, who was up from the Inland Division. By doing so, the Huskies became just the second public school to win the PAC 5. 
This season was dubbed the "Year of the Quarterback" in the Southern Section, and there was an abundance of signal callers. However, as the season drew to a close, it was a wide receiver who outperformed them all. Perhaps a prequel to 2015? Before the calendar changes to a new year here are the top performers from 2014: 
Offensive Player of the Year: WR Javon McKinley, Corona Centennial
It didn't matter who was delivering the ball to Centennial wide receiver Javon McKinley, he made plays. And a lot of them. The Huskies used a two-quarterback system in 2014. Both signal callers knew to find No. 88. Longtime head coach Matt Logan knows McKinley's talent. He spent the first part of the season trying to convince the junior wideout to start believing in his talent as well. He eventually took off and went on one of the greatest playoff runs in recent memory. Fourty-four of his 91 receptions, nine of his 20 receiving touchdowns, and 860 of his 1,906 receiving yards came in the playoffs. Leading rusher J.J. Taylor (appendectomy) missed three games in the postseason, and wide receiver Greyson Bankhead (shoulder) missed one game in the postseason but McKinley more than filled the void to lead the Huskies to their third straight CIF Southern Section title and first in the PAC 5. 
QB Josh Rosen, St. John Bosco, Sr.
League co-MVP once again ran the table in Trinity League, finishing 15-0 as a starter in his career.
RB J.J. Taylor, Corona Centennial, Jr.  
Tre Watson who? With 1,657 rush yards and 27 touchdowns, Taylor proved to be more than capable as the new leader of the Huskies rushing attack.
RB Devontre Hale, Riverside Poly, Sr.
Hale gained 2,075 rush yards, 30 touchdowns while fumbling just once to help the Bears end Rancho Verde's eight-year run as league champs and advance to program's first CIF final in 30 years.
WR Javon McKinley, Corona Centennial, Jr.  
Next season, 2015,  will be Year of the Wide Receiver in CIF-SS and McKinley is one of the best.
WR Trent Irwin, Hart, Sr.  
Concludes record setting career as state leader in career catches (285), and yards (5,272).
WR Jaylinn Hawkins, Buena Park, Sr.
Hawkins' 1,476 yards and 16 touchdowns to lead Coyotes to first CIF semifinal since 2001.
TE Woody Brandom, Corona Santiago, Sr.  
The former offensive linemen led all CIF-SS tight ends with over 800 yards receiving in first season playing the position.
OL Bar Milo, Chaminade, Sr.
A bright spot in what was a disappointing season for the Eagles.
OL Matt Katnik, St. John Bosco, Sr.
Turning the page after banner career in the PAC 5 to throw the shot put in the Pac-12.
OL Zach Robertson, St. John Bosco Sr.
Over 3,000 yards passing and over 3,000 yards rushing for Braves offense with Robertson doing the heavy lifting.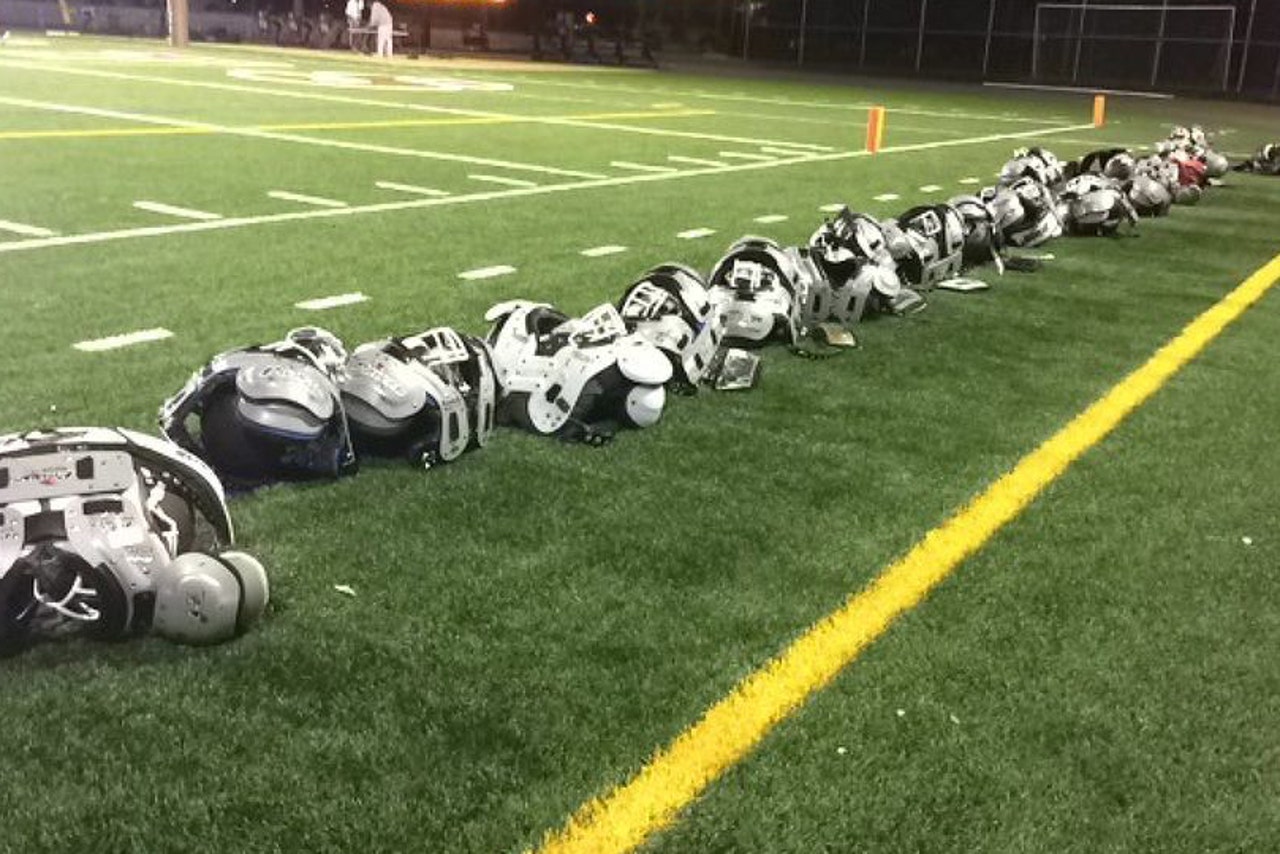 Top 20 in CIF-SS: Our final rankings for the 2014 season
OL Cole Smith, Mission Viejo, Sr.
USC commit made move for first year starter Brock Johnson a smooth transition.
OL Frank Martin, Mater Dei, Jr.
One of the best OL around and still has a year left.  
AP Sean McGrew, St. John Bosco, Jr.
Over 1,700 yards rushing and over 42.2 yards per attempt as the Braves' punter.
AP Edward Vander, JSerra, Jr.
A huge reason JSerra had best season ever.
AP Tyler Vaughns, Bishop Amat, Jr.
Co-MVP of the Mission League had over 1,000 yards and 11 TD as a wide receiver and also 4 INT on defense.
K Gerson Moreira, Vista del Lago, Sr.
Tied for CIF-SS lead with 12 field goals while making them at a 90 percent clip -- also added 52 PATs.
Defensive Player of the Year: DL Joseph Wicker, Long Beach Poly
As the sun rose on the 2014 season, Joseph Wicker warned all parties concerned that it would be a long season trying to stop him. He had six sacks in the opener and 10 sacks after two games. He finished with 17.5 sacks on the season, thriving under first-year head coach Antonio Pierce. As a defensive lineman, he led his team in tackles with 138. He also had a team-high four forced fumbles.
DL Malik McMorris, Mater Dei, Sr.
Trinity League Defensive MVP was focal point of the best front seven in CIF-SS.
DL Rasheem Green, Serra, Sr.  
Defensive MVP of the Mission League had 10.5 tackles for loss, seven sacks, and 21 hurries.
DL Joseph Wicker, Long Beach Poly, Sr.
Wicker's 138 tackles, 26 tackles for loss and 17.5 sacks made him a premiere defensive lineman in CIF-SS in 2014.
DL Parker Chase, Corona del Mar, Sr.
Sackmaster followed up 16 sack performance as a junior with 22 as a senior in 2014.
LB Dennis Willis, St. John Bosco, Sr.
Ate up everything that came his way with 138 tackles on the season.
LB Jakob Diaz, Redlands East Valley, Sr.
Tied for 2nd in CIF-SS with 202 tackles to lead REV to first divisional title in school history.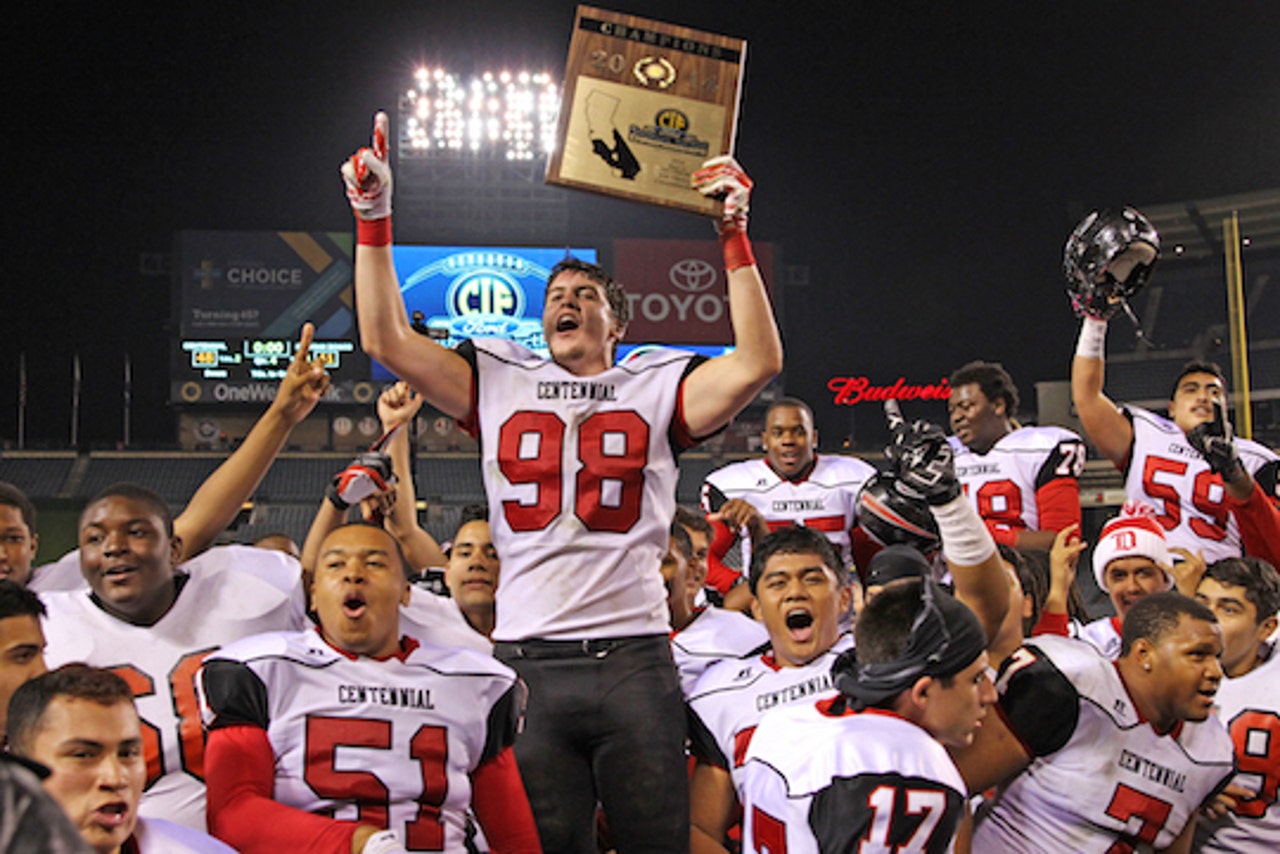 Gallery: Centennial wins Pac-5 title over St. John Bosco
LB John Houston, Serra, Sr.
Co-MVP of the Mission League has increased tackle total in each of his three varsity seasons -- finishing with 147 in 2014.
DB Maurice Davison, Servite, Sr.
Undersized, but just a tough, hard-nosed cornerback.
DB Traveon Beck, St. John Bosco, Jr.
Between pick six's and scoop and scores made big plays for Braves defense.
DB Isaiah Armstrong, Redlands East Valley, Sr.
Led CIF-SS in INTs with 12 for the Inland Division champs.  
DB Jalen Cole, Mater Dei, So. 
A PAC 5 best five interceptions, two fumble recoveries and three blocked field goals for the pup.
AP Iman Marshall, Long Beach Poly, Sr.
Top cover corner in the country played everywhere in the Jackrabbits' secondary, and proved to be a big-time hitter in the box for head coach Antonio Pierce.
AP Jay Jay Wilson, Valencia, Sr.
Hard-hitting man among boys had two picks, 10 receiving touchdowns, and 13 rush touchdowns.
AP Trevon Sidney, Bishop Amat, Jr.
Tied for 3rd in the PAC-5 with four interceptions and also caught four touchdowns.
P Cannon Plosster, Mayfair, Sr.
Could be a member of the all-name team, averaged a CIF-SS best 46.2 yards per punt and was in the top 10 with 13 pinned inside the 20.
---