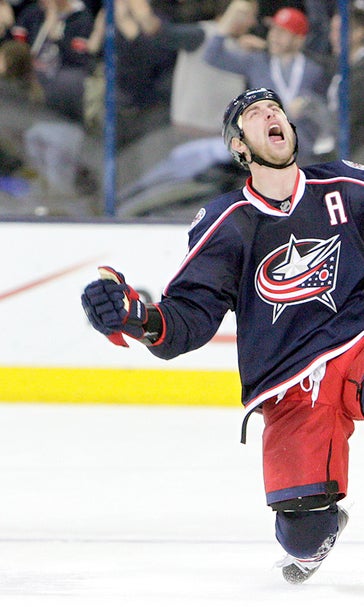 2013-14 marked beginning of new era for Blue Jackets
BY foxsports • May 5, 2014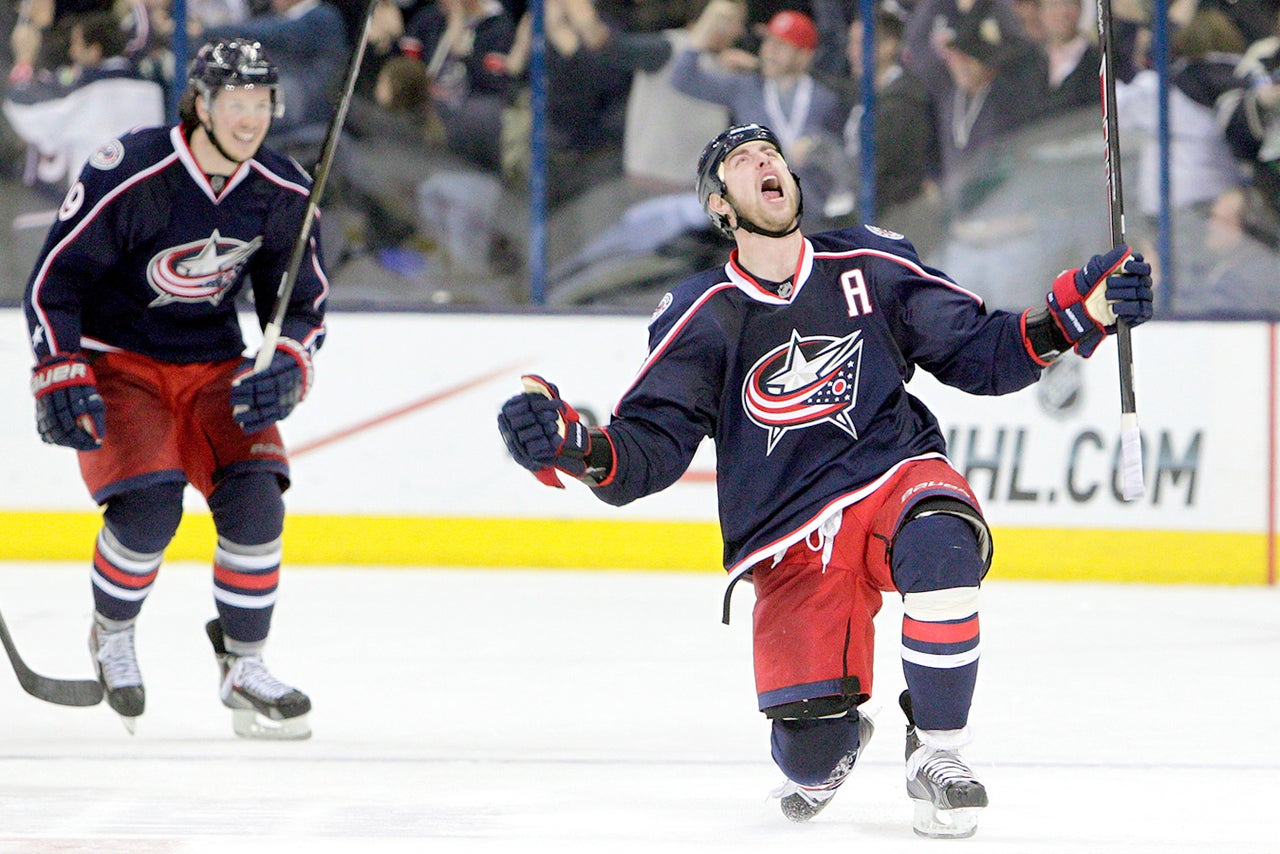 From the rollercoaster ride of October/November to the first round of the 2014 NHL Stanley Cup Playoffs, the Blue Jackets had their best season in franchise history. Club records, as well as players enjoying career years, happened along the way to only their second appearance in postseason play.
One week removed from being eliminated in Game Six by the Pittsburgh Penguins, the reflection process has begun. It was just two short years ago that Columbus finished dead last out of 30 teams with 65 points and losing the draft lottery. No one knew at the end of the 2011-12 season the titanic shift in club attitude that was about to happen.
In 2011-12, they finished with a record of 29-46-7. Two years later, they turned that around and finished 43-32-7. They didn't do that with skill and panache. They accomplished this through a burgeoning identity of hard work and coming together for each other, almost as a family. There are no elite players on this roster and there is no captain.
Last year, the players were angry that they missed out on the playoffs by a tie-breaker to Minnesota. One week ago, they were angry that they were eliminated after giving Pittsburgh a hard-fought series. Gone is the ho-hum attitude of years past, replaced by a fire and desire to win the ultimate prize.
Much has been said about the "brick-by-brick" philosophy that was ushered in with the hiring of President of Hockey Operations John Davidson in Oct. 2012. In essence, he was the first "brick" of the foundation that changed a culture of mediocrity.
As the culture shifted, acceptance of the status quo fell by the wayside. Players were pushed, and pushed each other, to be better.
Icing the youngest team in the league this year, Columbus experienced growing pains. That was to be expected, as the maturation process is not something that happens overnight. And yet, they persevered. The palpable buzz that was felt last summer carried throughout the season to become a vociferous roar in late April.
Along the way, we saw the emergence of Ryan Johansen as a bona fide top line center. After putting up 14 goals and 19 assists in his first two years wearing union blue, he decisively garnered 33-30-63 and finished with a +/- of +3. He has learned how to use his 6'3" frame and skill to keep possession of the puck and make either a sublime pass or find the back of the net with a stunning goal.
Starting the season as rookies, having earned their spots on the game day roster out of training camp, Ryan Murray and Boone Jenner are playing with the savvy of poised veterans. Murray has shown that he has a situational awareness on the ice that is rarely seen by rookies. In 66 games, he went 4-17-21 and finished with a +4. He's not afraid to join the rush and has the ability to make a cross-ice, tape-to-tape pass with icy aplomb.
In 72 games, Boone Jenner accumulated 16-13-29, +6. In the six games of the conference quarterfinals, he had 3-2-5. Just 20 years old, he played as a man among men and emerged as a controlled power forward that was able to keep big veterans off the puck. His ability to draw penalties and not retaliate shows that he's maturing as a player.
Since being traded to Columbus in Feb. 2012, Jack Johnson has steadfastly pronounced his pride in being a Blue Jacket. He eats minutes on the blue line like he's at an all-you-can-eat buffet and nightly opposes other teams' top lines. Not only is he a vocal leader, saying all the right things and believing them, he shows those same qualities on the ice. In the playoffs last month, he finished with 3-4-7, -1.
Alaska native Brandon Dubinsky was considered the heart and soul of the New York Rangers before being traded to the Blue Jackets in July 2012. He wears his heart on his sleeve and has never been afraid to speak his mind. He's visibly upset when they lose and has emerged as a leader on the team. He went 16-34-50, +5 this year.
One year removed from winning the Vezina Trophy as the leagues' best goaltender, Sergei Bobrovsky was once again solid in net for Columbus. In 58 games, he had a record of 32-20-5, with a save percentage of .923 and a goals against average of 2.38. He's affable, focused and a big part of the success that the team is earning.
The list goes on, but the bottom line is that this is a team on the rise. Yes, they were eliminated in the first round of the playoffs, again. But the difference between this team and the one that went to the playoffs in 2009 to be swept by the Detroit Red Wings is the difference between night and day.
This year, their drive and determination in the face of adversity never seemed to waver. Whether that adversity was injured players or chasing a game, they never gave up and mailed it in. As much as many of them love to golf, they didn't want to be playing the links this early in the offseason. The sting of losing will fade, but they won't forget the feeling.
They gave a good accounting of themselves this year that is certain. But just making the playoffs isn't good enough, not anymore. The players in the room will not be satisfied with making an appearance. They have a drive to compete at the highest level and be considered a contender.
The club has turned a corner in its history and there's no looking back. A new era of Blue Jackets hockey has emerged and the future is very bright, indeed. Any way you look at it, this season has to be considered a successful one. But make no mistake, the long-term health of the franchise is paramount.
"I'm going to keep living with what we're doing to try and get us into a better place," John Davidson said. "We're in a good place. We've played really well, in a lot of ways. But I still think that my job, that our job, is to look at the big picture."
The big picture bodes well for Columbus. And the team and the fans have raised the bar on their expectations moving forward. You thought this year was exciting? I think you've only seen the tip of the iceberg.
---