11 for '11 - DeMarco Murray's 91-yard run
Published
Jun. 19, 2012 11:00 a.m. ET

The Following is the 5th in an 11-part weekly series throughout
the summer that will focus on the eleven plays that shaped 2011 for the
Dallas Cowboys. Every game, about 130 actual plays happen and over the
course of a season that number can exceed 2,000. But, we have selected
11 and will pick one each week and break it down from standpoint of "X's
and O's" and see what we can learn looking back. The plays are not
ranked, simply presented as the season unfolded. We hope you
enjoy.

Today, we breakdown the success of the running game from Game #6 against St. Louis and the rather unpredictable day they had that for a while - between the time that DeMarco Murray took over for an injured Felix Jones in New England until Murray himself was hurt in Week 14 against the Giants, proved the Cowboys had a very strong rushing attack. In fact, during that stretch of time (mid October until mid December), DeMarco Murray rushed for 824 yards which was the #1 total in the entire league. 2nd was Marshawn Lynch at 730, 3rd was Stephen Jackson at 675, 4th Arian Foster 654, and 5th Maurice Jones Drew at 650.

If Murray is what the Cowboys think he is - much of it expressed in this one run back in his 1st start - then you can understand why they are not entering this season stressing out about Felix Jones and his future. They think they may have found their man in the 3rd round of the 2011 draft out of Oklahoma. And if they are right, so many other pieces might fall into place.

As we pointed out at great length when this game was played, the Rams defense is lousy in stopping the run. In fact, in 2011, only Tampa Bay surrendered more big plays and more yardage than the Rams on the ground. They couldn't stop anyone, and finally, the low-on-confidence Cowboys OL found a side they could bully. This was much more fun than the week before in Foxboro against Vince Wilfork and company.

The play below was the single longest running play in the NFL in 2011. Flashes of Tony Dorsett from the Cowboys rookie and a play that was magical from an execution stand point. Let's take a look - CLICK ON ANY PICTURE TO ENLARGE: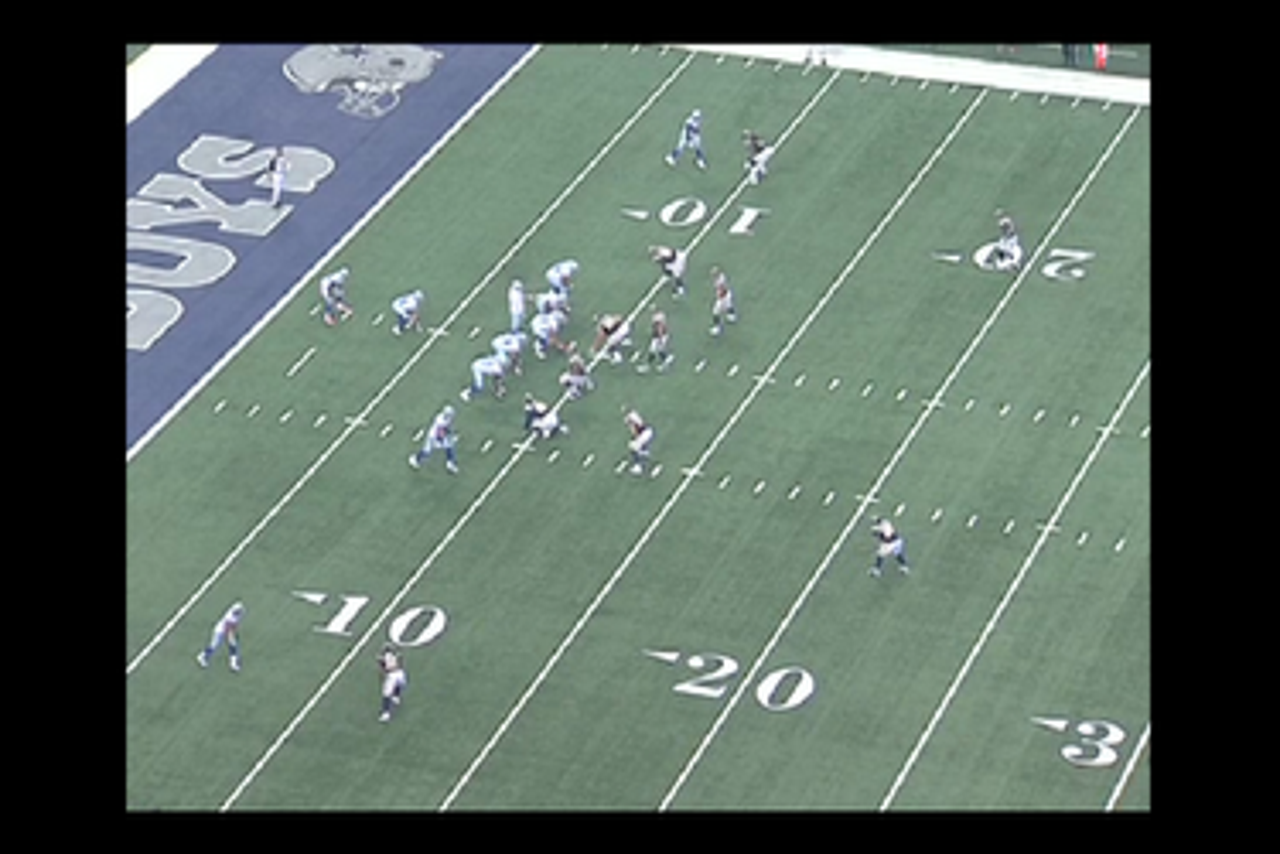 The Situation: 1st Down and 19 to go; Dallas at their own 9 yard line. Dallas has "regular" or "21" personnel in the game. Murray, Fiammetta, Witten, Bryant, and Austin as the 5 skill players. Because of Witten, Bryant, and Austin, you can see the Rams have a 2 deep safety look, and the corners up on the wide-outs. Dez, in particular is being pressed.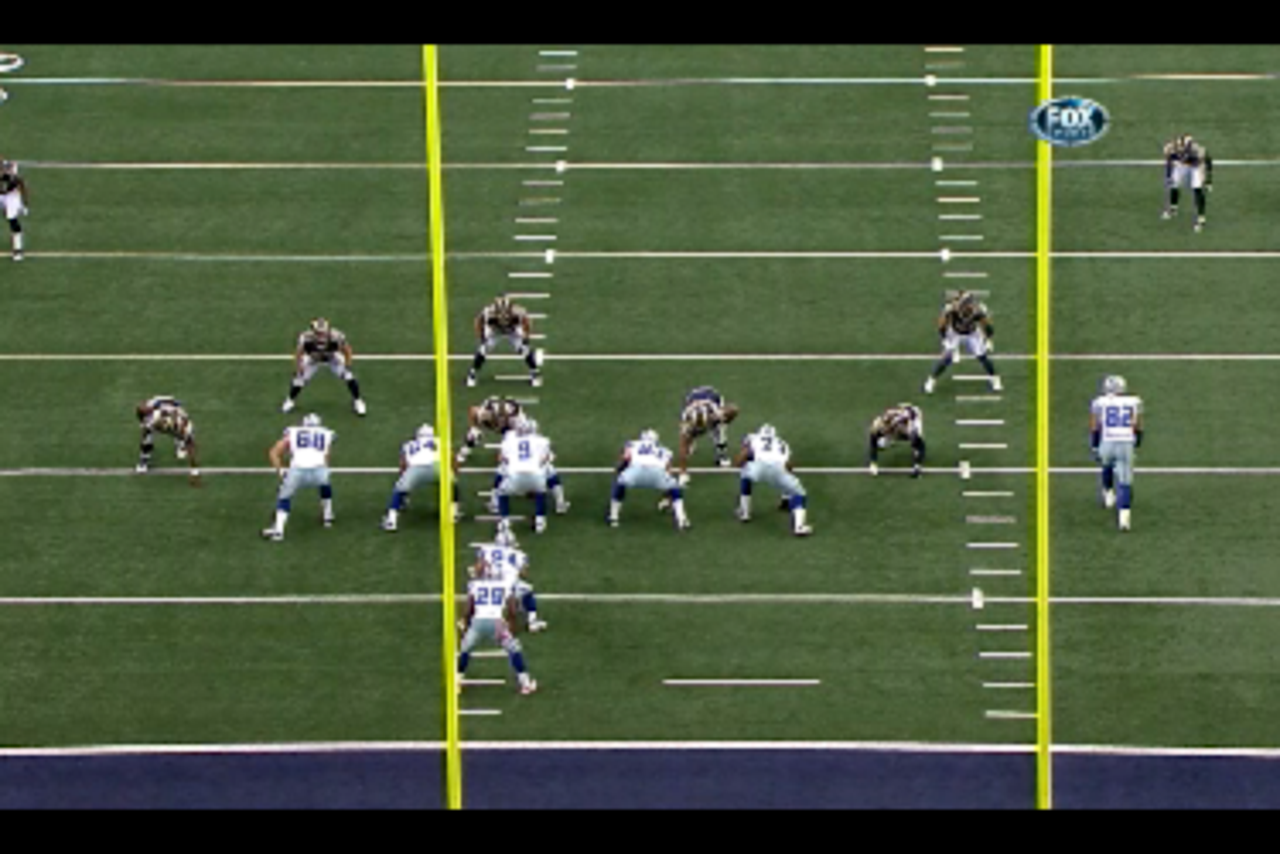 Witten is flexed right - away from the Right tackle - where the Rams must consider him a very likely primary read in the event that this is a passing play. The Cowboys love to put their opponents in this pickle, although they prefer it be on 1st and 10 rather than 1st and 19. On 1st and 19, your safeties will often be deep and happy to concede a 5-yard run and assume a offensive play-caller is going to be itchy to get all of those yards back quickly.

This inside zone run/pass option has been seen a thousand times if you follow the Cowboys. The quick read touchdown in Houston from 2010 is an example of the exact same concept where Tony Romo sees the pass on the outside and opts to throw the ball. I recommend you follow the link to that play for last season and experience the play from the pass option standpoint to really get an appreciation for the complexities of 1 play and why training camp is so important to a team to be able to explore the countless options on 1 single play.

On the run/pass option draw, the blockers are 100% committed to the run option. They cannot concern themselves with whatever Romo decides to do. Their job is to sell that they are pass protecting to their opponents so that their opponent will fall into the trap of edge rushing upfield. This is what the offense wants from the Defensive Ends. Allow them to take the edge and to take themselves out of possible rushing lanes. This is done by having each tackle simply turn their body towards the near sidelines and the defensive ends will generally do the rest. On this particular play, 3 of the 4 Rams DL fall for the bait. The LDE, RDE (James Hall), and RDT (Fred Robbins) require almost no blocking whatsoever - simply for 68-Free, 77-Smith, and 63-Kosier to step aside.

Then, after the trap is set, with those 3 DL cleared out, it becomes quite easy to double team with 67-Costa and 64-Holland on DT Gary Gibson. Murray is following his FB Tony Fiammetta into the right "A" gap (the gap between the center and guard). This has to happen quickly because once the defenders who rushed up field see they have been fooled, there is really no protection for the RB to keep from being caught from behind. The play's timing is key.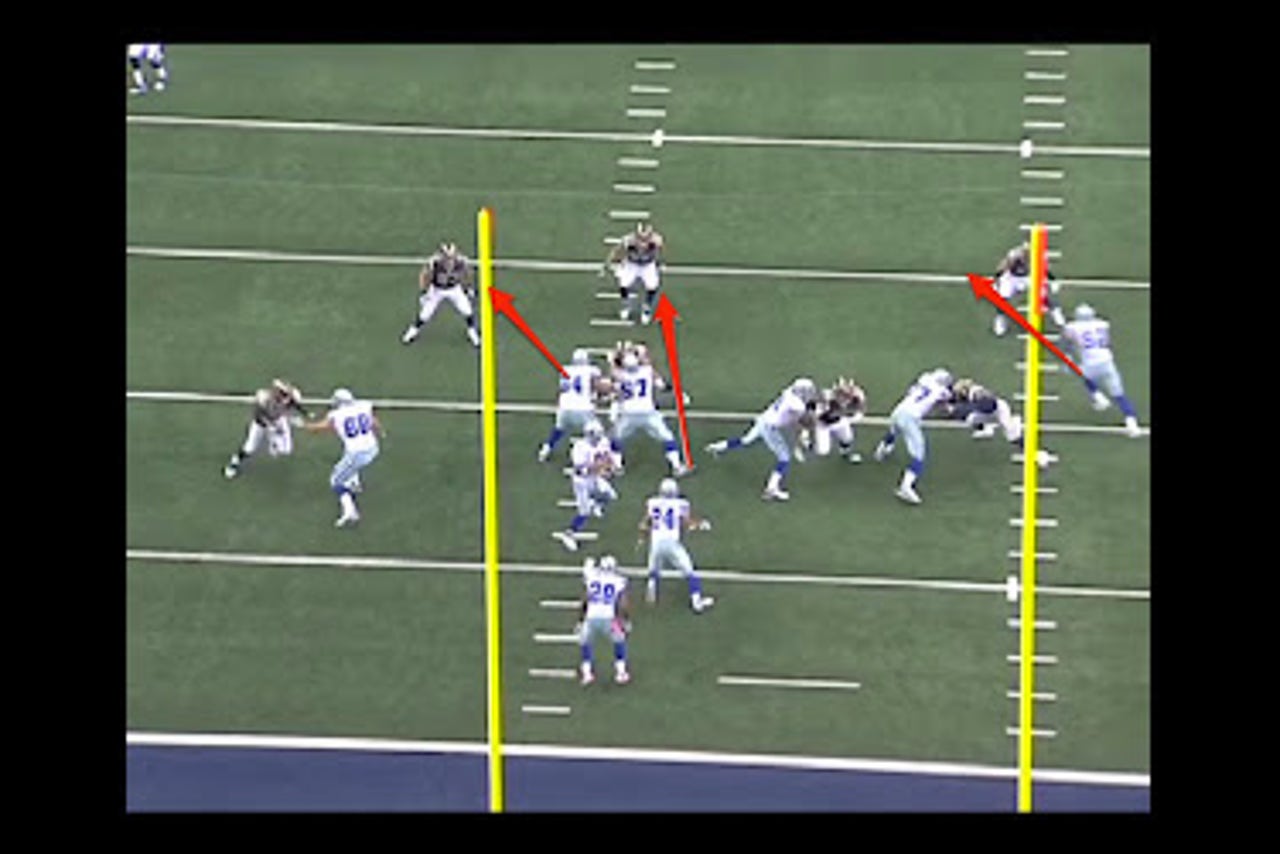 In the picture above, you see the 3 red arrows, denoting how the 3 Rams' LBs are going to get blocked. Holland is going to get his double team on Gibson and then slide to the Will LB. Witten is going to cut off the Sam. And Fiammetta is going to go get the Mic (Laurinaitis).

And now, the success of the play - or why this play can either go for 3 yards or 91 yards falls to 4 players besides DeMarco Murray. 82-Jason Witten, 24-Tony Fiammetta, and two Rams' safeties, 27-Quintin Mikell (deep left from Murray's view), and 20-Darian Stewart (deep right). Fiammetta's lead block on 55-James Laurinaitis is very impressive and demonstrates his strength and mobility. But, what I am drawn to more and more was the job that Witten does on a far more difficult block. Blocking is all about leverage and position. If I want to rebound a basketball, I need inside position and to keep my defender from getting inside me to the rim. In football, the rim is always moving, because the ball carrier is what I am trying to protect from my defender. Much more difficult, and the officials are making sure I don't hold.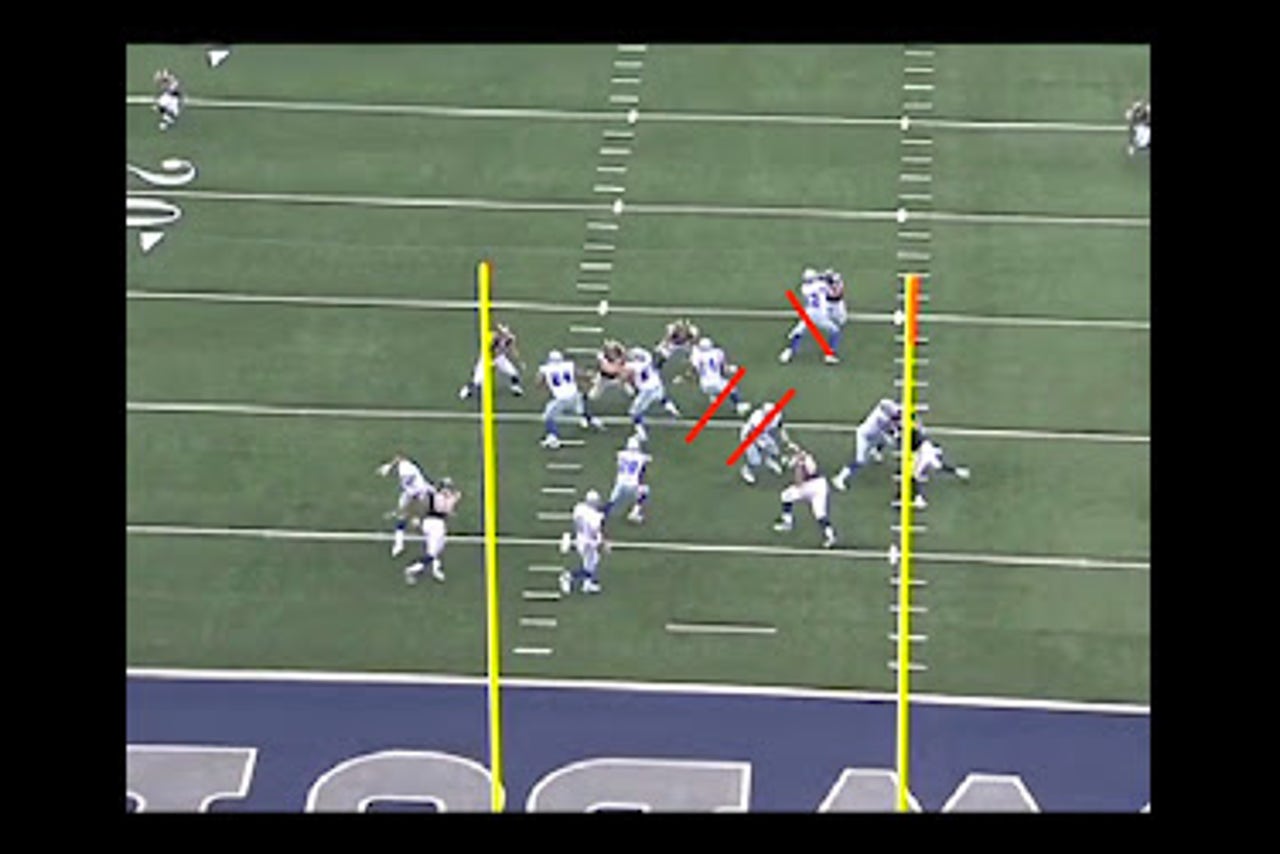 Above, you can see the alley for Murray. Inside the blocks from Kosier and Fiammetta. Then, read Witten to see if this should go to the middle or bounce to the outside.

So, for Witten to seal the inside position on 57-Chris Chamberlain, when Chamberlain already has leverage on Witten shows us two things. 1 - that Chamberlain is far more concerned about Witten in a pass route. Until the very end, he appears to be squared up to counter whatever pass route Witten is about to run. He saw the offensive line in a posture to pass protect and quickly deduced that this is a pass play. By the time he figures out that Witten is not running a route, but attempting to seal him off from Murray, it is too late. Chamberlain has fallen into the trap. 2 - Witten is an excellent blocker and understands to use his threat as a receiver to his advantage. It is very subtle, but when you watch the end zone camera, it shows that he is still pretty solid at blocking. And that is why people consider him the best "all-around" tight end of this decade. Others can catch the ball and challenge downfield more, but he does it all.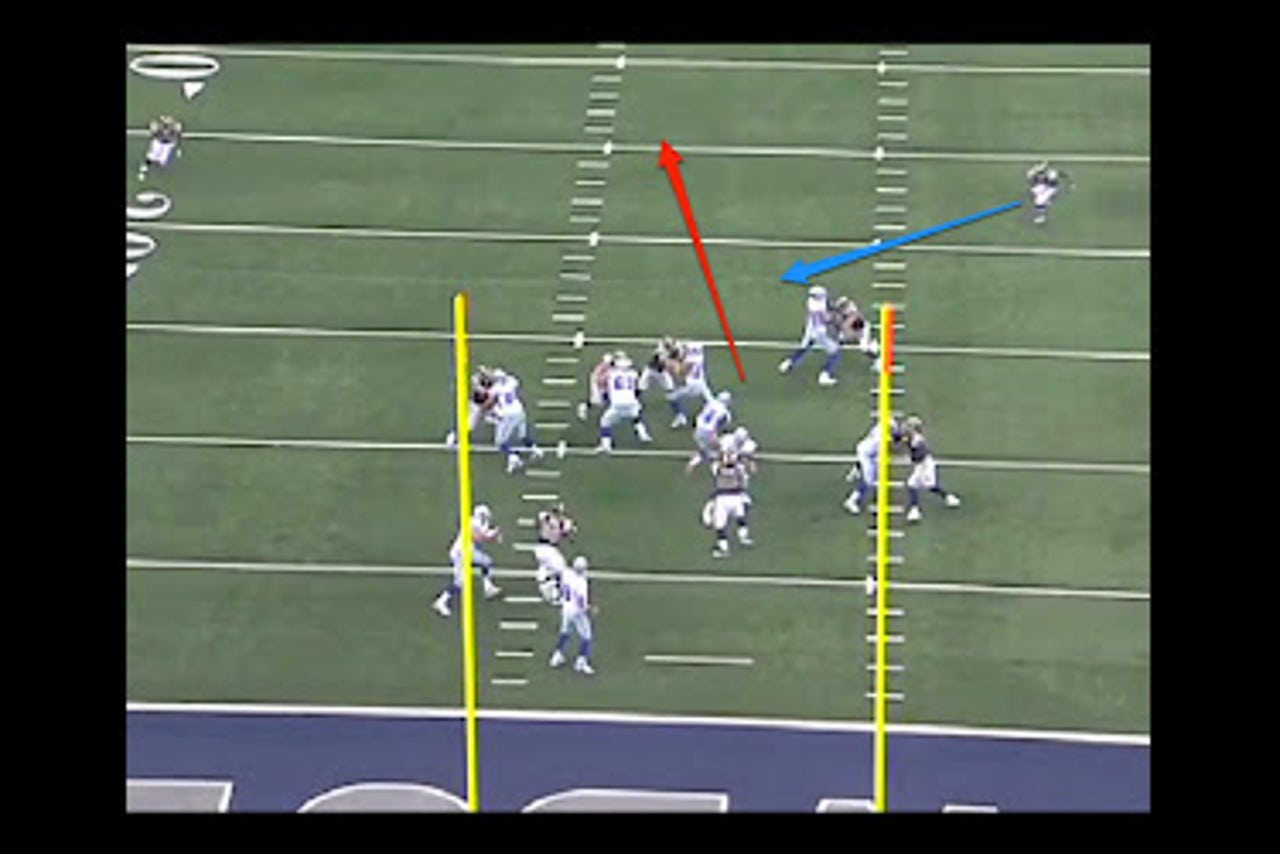 Meanwhile, here is another lesson in Running Backs versus Safeties in the open field. As a defense, you hope that this doesn't happen very often, because the safety is at a distinct disadvantage to start the play 10-15 yards deep and to have to make a 1-on-1 tackle in the open field. But, wow, Stewart is just a blur as he takes a poor angle and isn't even close on his attack. Mikell is at least in the picture, but Murray's cutback makes Mikell look like a garden gnome.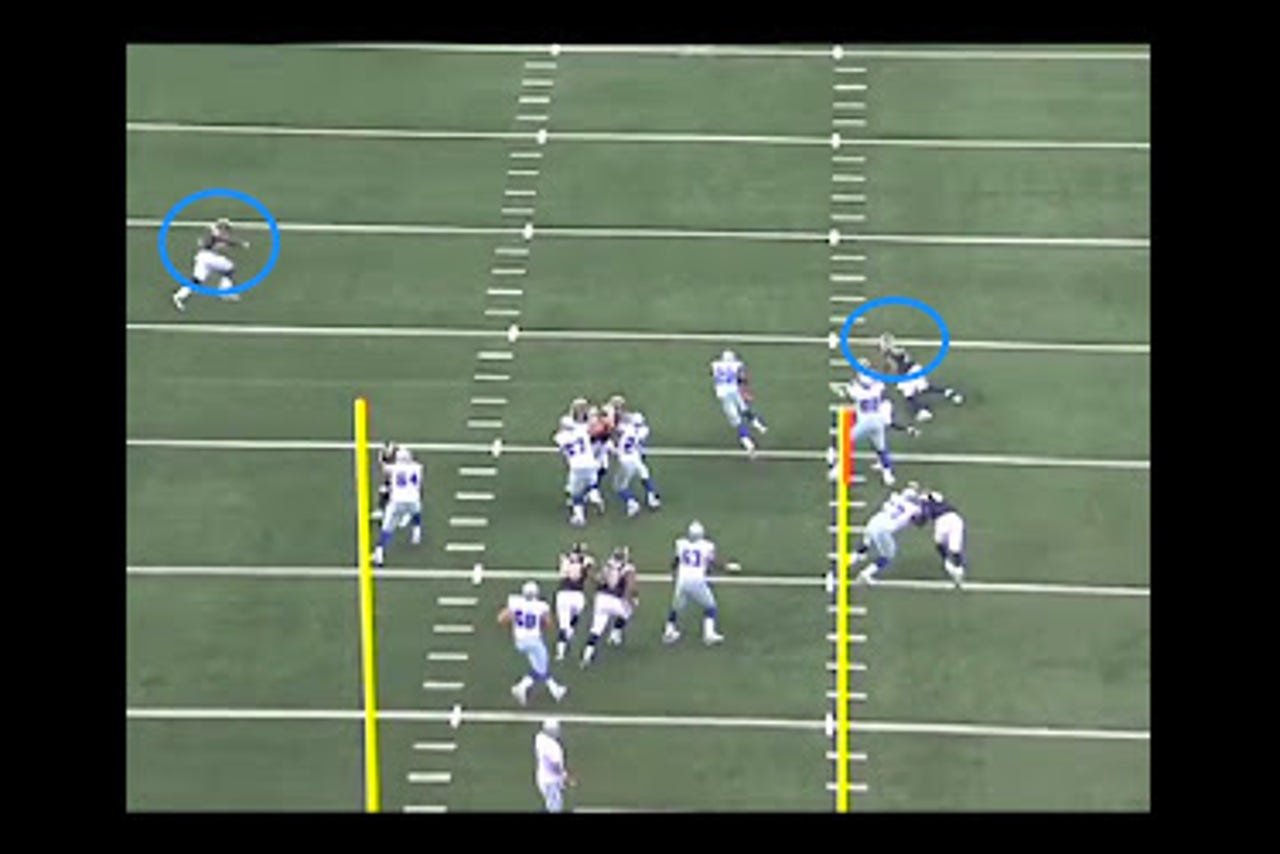 You have to really appreciate Murray's decisive cutbacks. He plants his foot and goes. There is no question once he gets an idea of where he is going next. We saw this all day on Sunday. And Quintin Mikell, a player I thought would help the safety position in Dallas this summer, is proving that against the run, he is not very skilled. There were several other plays on Sunday where he took poor angles and missed tackles. And when a safety misses a tackle, there is usually nobody behind him to clean up his mess.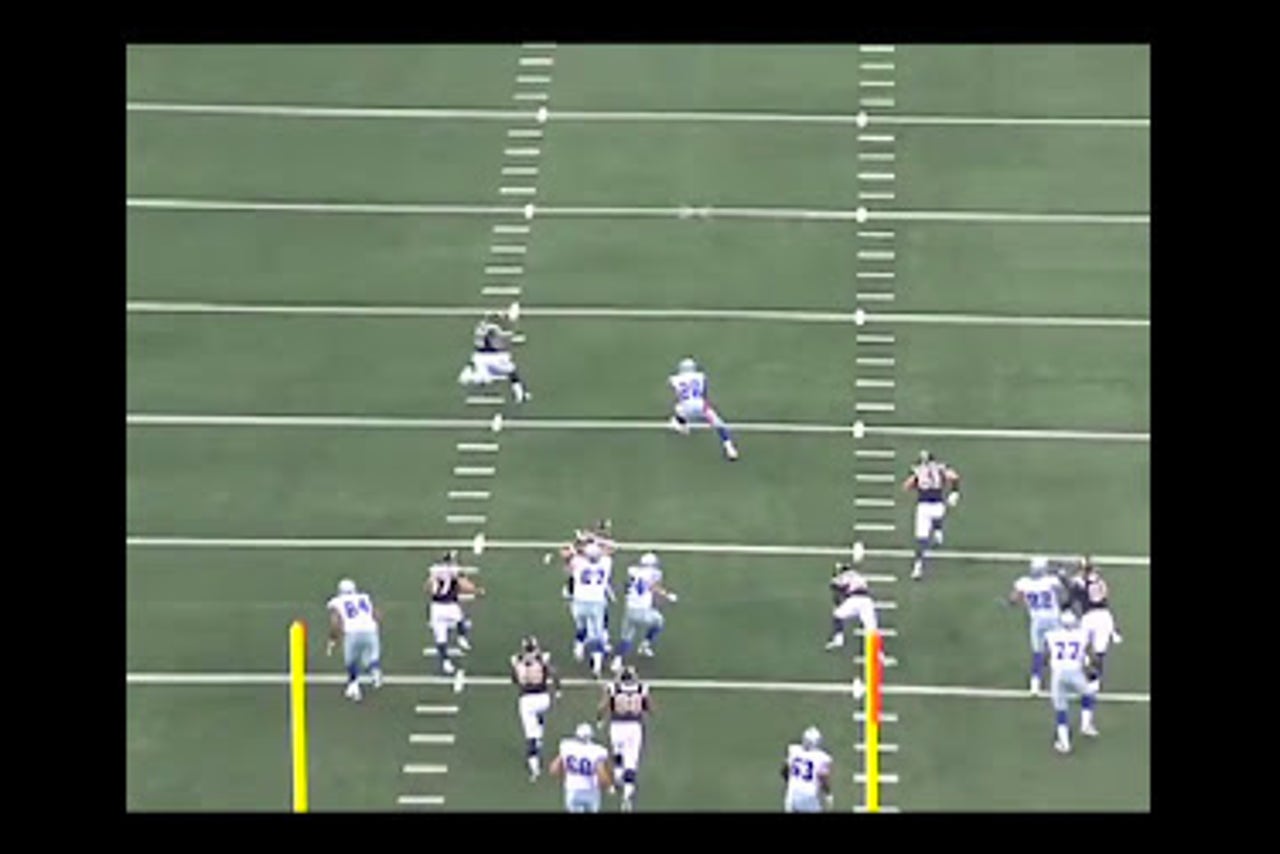 91 yards where 11 players are working in concert very well. Even Dez Bryant helps with a convoy to the endzone and we get to see Murray and Bryant sprinting next to each-other. This is the type of play that makes the film room happy. Murray did receive much of the credit, but there are plenty of good grades to go around here. Textbook stuff.

Here is the video of the entire play - (Courtesy, Fox Sports)




Of all of the plays from this series, this one is the best to sink hopes for 2012 into. Not that 91 yards can happen, but the idea that this might be a legitimate full-time, multi-purpose back to compliment the offense. Julius Jones showed similar flashes in 2004, but the Cowboys obviously hope that there is some more long-term stability with Murray. More importantly, this is the rare explosive running play that can really change a game and put the Cowboys opponents on watch.

11 for '11 series Previous Plays:

1. The Revis Interception 2. The Home Run to Holley 3. 3rd And 21 to Dez 4. Megatron's Dominating TD
---