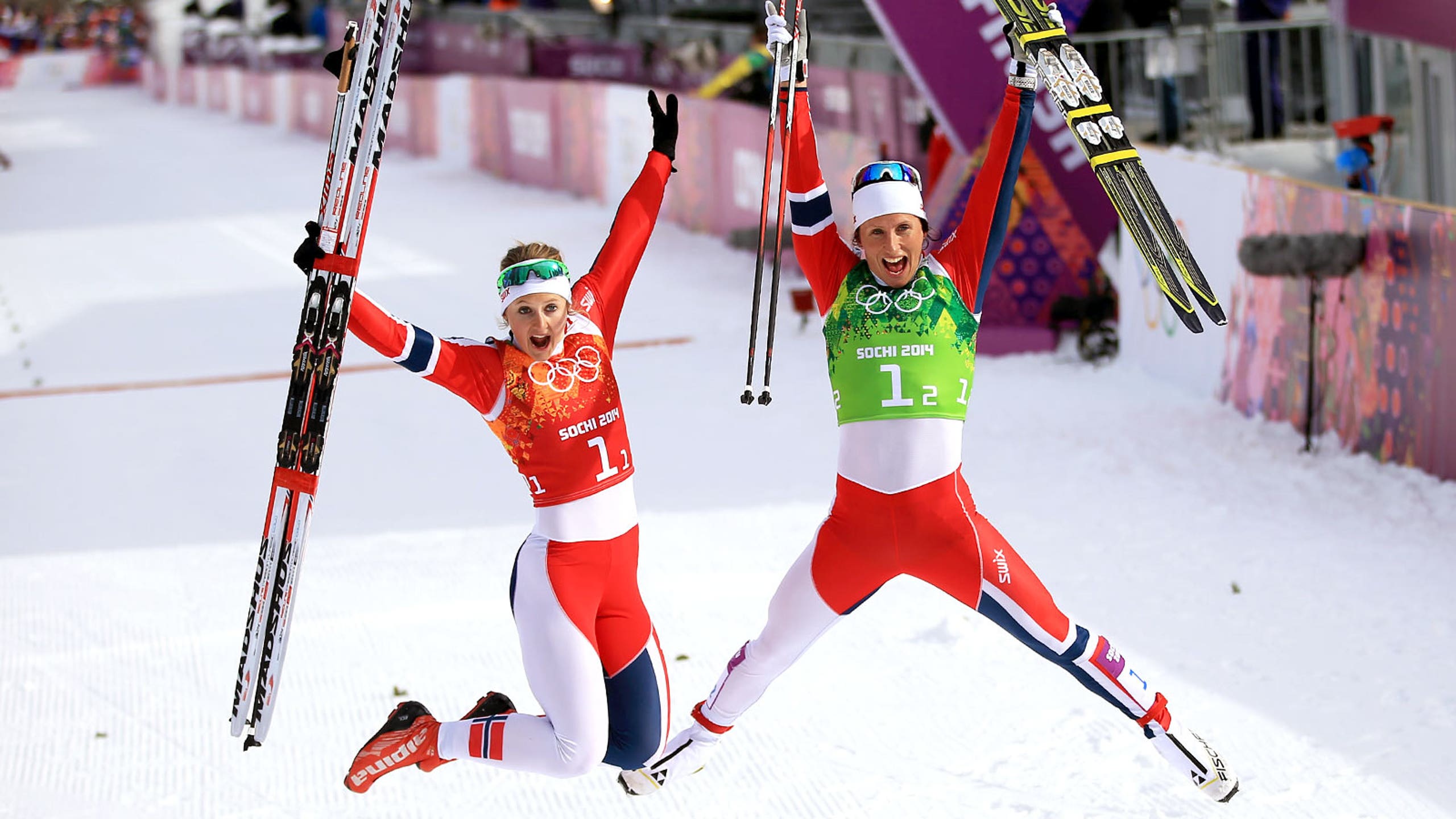 Norway dominates to win women's team relay gold
BY foxsports • February 19, 2014
KRASNAYA POLYANA, Russia -- Marit Bjoergen put an end to Norway's brief cross-country crisis by securing a dominant victory in the women's team sprint Wednesday. Finland then surprisingly ended its 16-year gold drought in the sport by winning the men's event.
Norway's victory was never in doubt after Bjoergen pulled away on the first of her three laps, and then grew the advantage to 9 seconds by the end.
Finland had to wait an extra 35 minutes or so just to find out whether it could keep the gold after a German protest over a late fall that helped decide the men's final. Sami Jauhojaervi was able to pull ahead when Germany's Tim Tscharnke fell right behind him after the final downhill section into the stadium and also tripped up Russia's Nikita Kriukov, who stayed on his legs but lost touch with the Finn.
Kriukov couldn't catch up and Russia had to settle for silver, while Sweden's Teodor Peterson overtook Tscharnke to secure the bronze. That also gave Sweden's Emil Joensson a second lucky bronze, after three rivals fell in front of him in the final of the individual event.
Germany ended up seventh and filed a protest that the International Ski Federation quickly rejected. That meant Finland could finally celebrate its first Olympic cross-country skiing gold since Mika Myllyla won the 30K race at Nagano in 1998.
There was no such drama in the women's final, where Bjoergen helped make up for Norway's disastrous relays over the weekend, where it failed to get a medal in both the men's and women's events. That had caused widespread complaints from the skiers that the team's wax technicians weren't finding the right setup for the warm conditions in Sochi.
There were no signs of those problems on Wednesday, at least not in the women's race. Bjoergen's teammate Ingvild Flugstad Oestberg comfortably helped maintain the Norwegian lead on her laps and earned her first gold to go with a silver from the individual sprint. Bjoergen ended her own mini-medal drought, having gone without one since winning the opening 15-kilometer skiathlon on Feb. 8.
Norway finished 9.09 seconds ahead of Finland, which took silver. Sweden took bronze after Stina Nilsson won a sprint against Germany's Denise Herrmann. Aino-Kaisa Saarinen and Kerttu Niskanen competed for Finland. Ida Ingemarsdotter was the other skier for Sweden.
The Norwegian men struggled again, though. Individual sprint champion Ola Vigen Hattestad looked sluggish throughout the day, and Petter Northug couldn't make up enough time on his laps and ended up fourth.
Iivo Niskanen also skied for Finland, while Maxim Vylegzhanin was on Russia's team.   
---