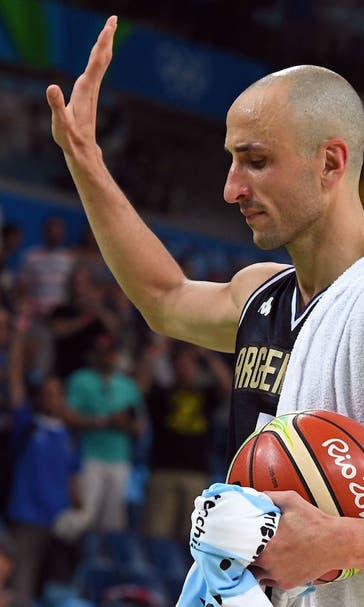 Manu Ginobili got emotional while reflecting on his Olympic career
BY Pete Blackburn • November 15, 2016
After nearly two decades as a member of Argentina's national squad, San Antonio Spurs star Manu Ginobili bid goodbye to the Olympics (and international basketball) Wednesday night. The Argentinians' run in Rio came to an end at the hands of Team USA, which took home the 105-78 win in the semifinal round.
After the game, the 39-year-old Ginobili spoke to a reporter and took some time to reflect on what has been an outstanding career on the world's stage. While doing so, he understandably got choked up and decided to cut the interview short.
Ginobili was an integral part of the 2004 Argentina Olympic squad that finished ahead of Team USA (the last team to do that) and won gold. Though he's lost a step or two over the years, Ginobili is still beloved by his fellow countrymen and highly respected by opposing players and fans. With that in mind, it's not surprising that he was showered with love and hugs as the clock hit zero on his final game.
Though this is the end for Ginobili with Argentina, he'll be returning to the Spurs next season in what could be his final NBA campaign. Whenever he decides to walk away from the Association, he should expect to be celebrated similarly to the way he was Wednesday.
---