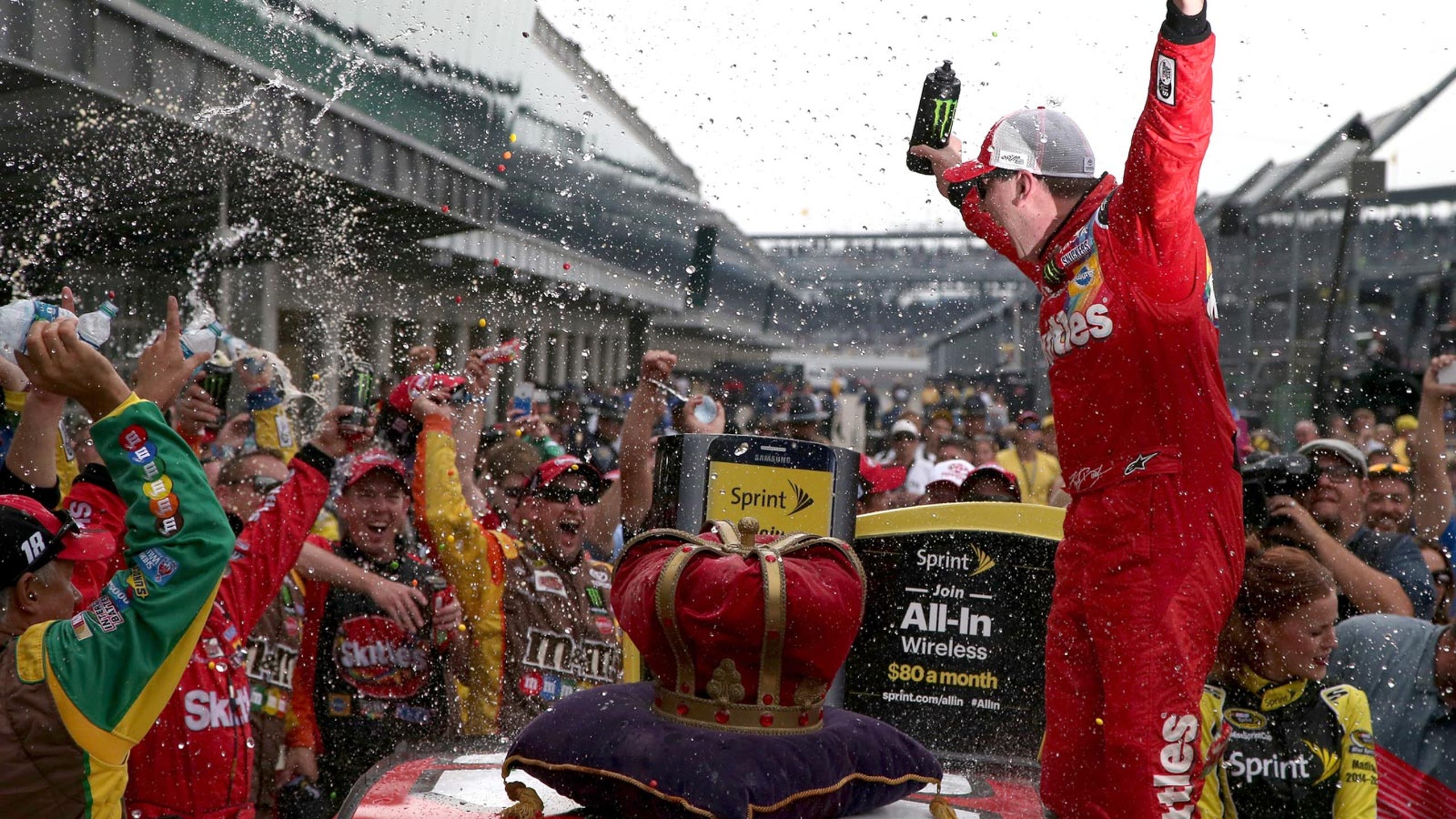 New rules, same result: Breaking down the weekend from Indy
BY Darrell Waltrip • July 27, 2015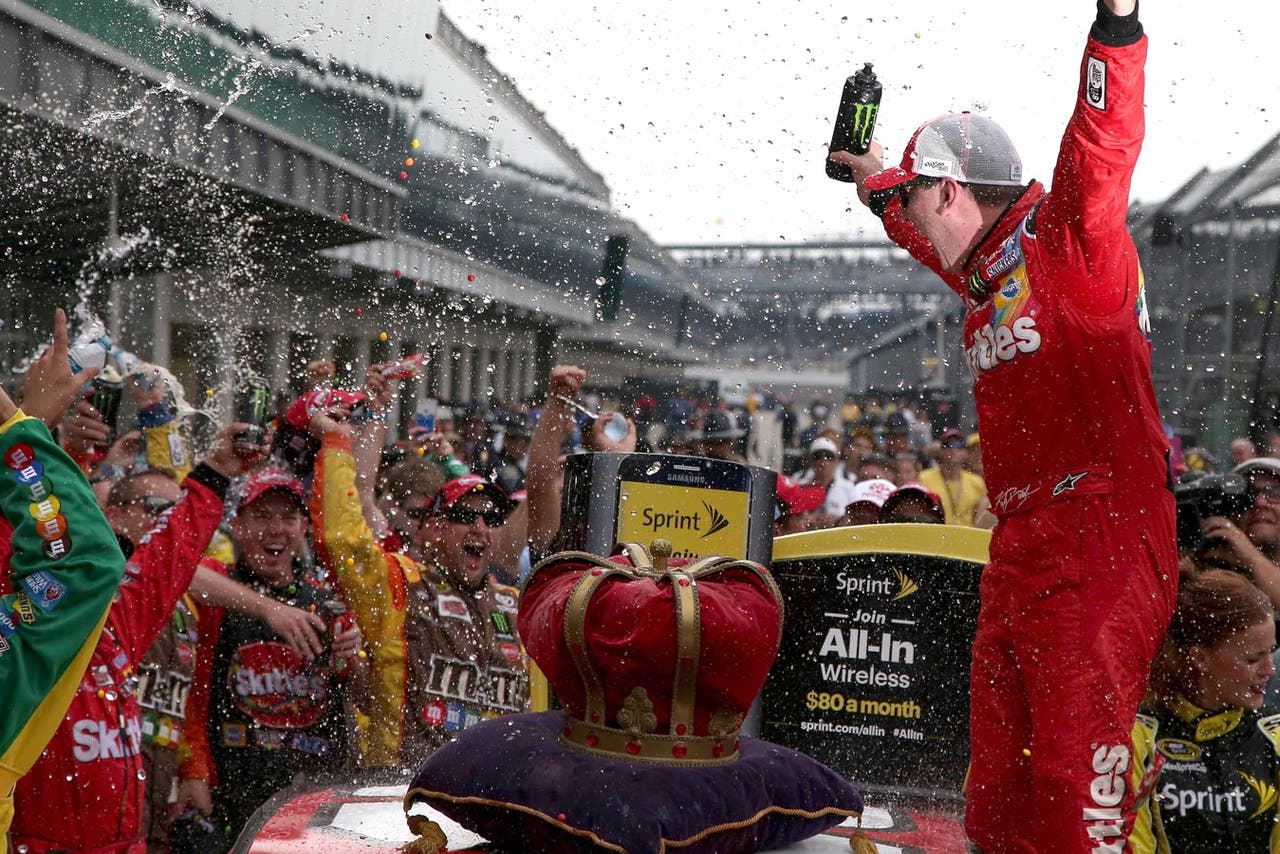 Well, he did it again.
This is something we haven't seen in a long time in our sport and quite frankly, I'm not sure we've ever seen it considering the circumstances. It's hard to express it so let me simply just say it's one of the coolest things I've ever witnessed. We've seen drivers get hurt before and they come back, sometimes quickly and maybe put a good run together here or there or sometimes we see drivers come back and they just aren't the same.
The wild part here is that with Kyle Busch, it's been neither. He's come back and taken over the NASCAR Sprint Cup Series with a vengeance. Sunday was his 33rd win in his 374th  start. It was his third win in a row and now his fourth win in the last five races. Actually the list of what he accomplished this weekend continues.
He now ties Jimmie Johnson with the most wins of the season. Don't forget, his four wins come in eleven less races than Jimmie this year. It was Kyle's first win at Indy. Kyle is the first driver to win both the XFINITY race on Saturday and the Sprint Cup race on Sunday at Indianapolis Motor Speedway. It was his eighth sweep of a race weekend, which leads all drivers. He also gave Toyota its first victory at Indianapolis Motor Speedway. That broke a string of 12-straight wins by Chevrolet at the 2.5-mile track.
So does it get any better for Kyle? Actually, yes, it does. He moved up one more spot in the points to 32nd and it's pretty much a given that he will make up the slim 23-point deficit to move not only into 30th place in the points but also qualify him for the 2015 Chase.
The other amazing thing that I think maybe gets lost is that Kyle has done all this with different rule changes. They went to Kentucky with a low-downforce rules package and Kyle won. They then go to Indianapolis with a high drag package and Kyle still wins. In addition to both, he won on road course and a one-mile flat track. It just seems that it doesn't matter what they do to the cars or what track they go to, that Kyle and crew chief Adam Stevens are hitting on all eight cylinders.
We've seen this in the past. Back in the day we saw it with Richard Petty and Dale Inman. Jeff Hammond and I had it for a lot of years. We saw Dale Earnhardt do it with a number of crew chiefs. We've seen Jeff Gordon and Ray Evernham have it. We've obviously seen Jimmie Johnson and Chad Knaus have it. It's that magical combination of chemistry and timing. The wins just flow like water from a fountain.
What Kyle has done, though, is nothing that I think we've ever seen. Remember, it was literally the day before the Daytona 500 in February this year and he's in the hospital with both legs badly injured from a nasty XFINITY race crash. Like I mentioned earlier, he's now tied for the most wins of the season with Jimmie Johnson. Jimmie's run all 20 races while Kyle has only run nine.
I've been amazed at his ability to rebound so quickly. I've been amazed at his composure when he wins and more importantly in the five races that he hasn't won. He's been a gracious winner and much better at handling himself with the media during adversity – think dead last at Michigan a few weeks ago. I think being out of the car and not being able to do what he lives for gave him a lot of perspective. I know that from personal experience during my bad 1990 wreck. I'll also tell you from personal experience what really helps you mature quickly is being a new father.
Of all the bad that came from that horrible wreck in Daytona in February, as they always say "things happen for a reason" because there probably couldn't have been a better time for him to be out of the race car. His wife Samantha was able to be there for him during rehab. Then he was able to be there for her and with her during the birth of their first child.
So Kyle is back with a vengeance. He's in the best shape of his career both mentally and physically. Like he said Sunday in Victory Circle, "I just think that maybe I've found my happy place. Happy Gilmore -- he found his happy place and he just dominated at the end, so maybe I've found that, too!"  I always knew he was a phenomenal talent. Yes I've taken a bunch of heat from some of you fans because of my belief in Kyle over the years but love him or hate him, you simply have to respect what the man can do behind the wheel of whatever it is he's racing.
Kyle has another goal to shoot for this weekend. Jimmie Johnson won four straight races back in 2007. So Kyle will be trying to equal that this weekend when we go back to Pocono. I know one driver that will definitely be trying to put a stop to that streak will be Dale Earnhardt Jr. He swept both Pocono events last year. Dale Jr. could only post an 11th-place finish back in June at Pocono this year so I'm sure he's going to be hungry to get back to Victory Circle Sunday.
I felt bad for Jeff Gordon in his last Indy start. He's the winningest driver there in NASCAR history but Sunday just wasn't meant to be. I'll be honest, with only six races to go before the Chase starts, I'm getting a little worried about Jeff. Sunday he finished 42nd and dropped to 11th in the points. He still is winless this season, so Jeff is somewhat in jeopardy  of missing the Chase. In my book he has no more mulligans left these last six races. He simply can't afford another day like Sunday.
Overall it wasn't the greatest race I've ever seen. Naturally we did have some drama there at the end of the race. For what it's worth, I didn't like the aero package. It's just too many changes. Why not do one thing at a time instead of three things at once? I would put a 6-inch spoiler on the back and a pan under the front, but then let them run the spoiler at whatever angle they wanted. I wouldn't have a gear rule. Our cars are too big to fix with aerodynamics. It just seemed to me what they had last year looked pretty good to me. I don't remember too many complaints. But hey, I don't make those calls.
VIDEO: Kyle Busch's post-race interview with FOX Sports on Victory Lane
---
---