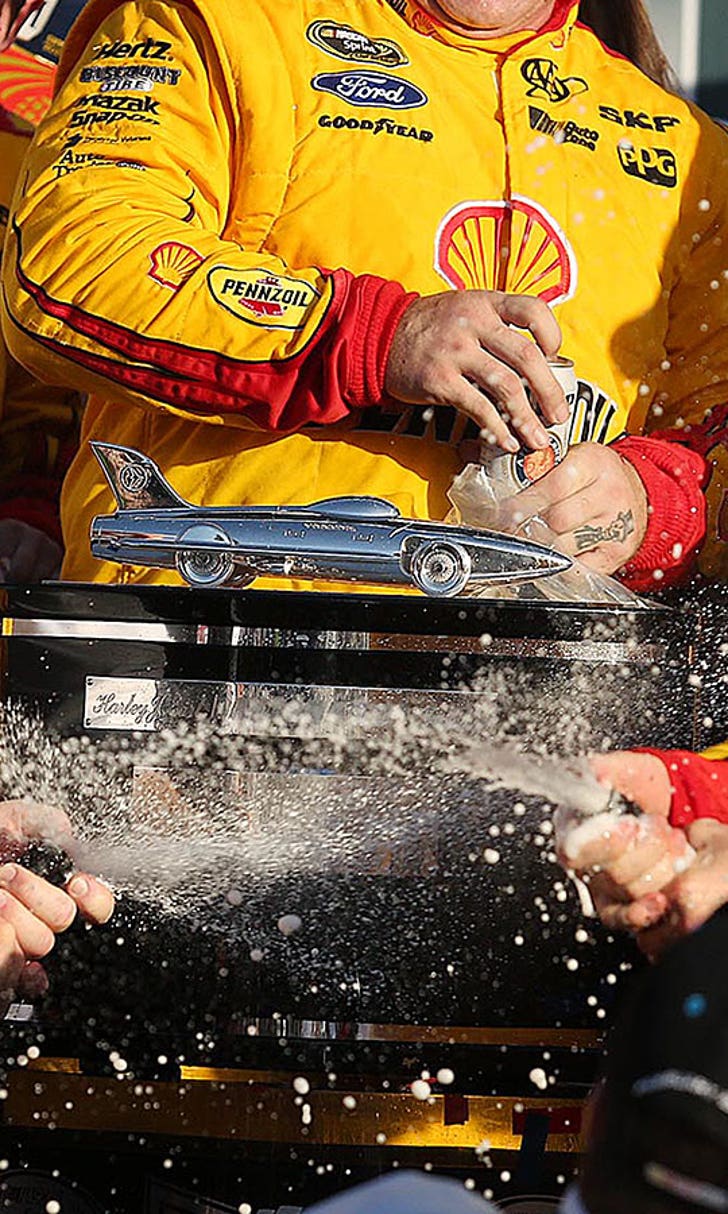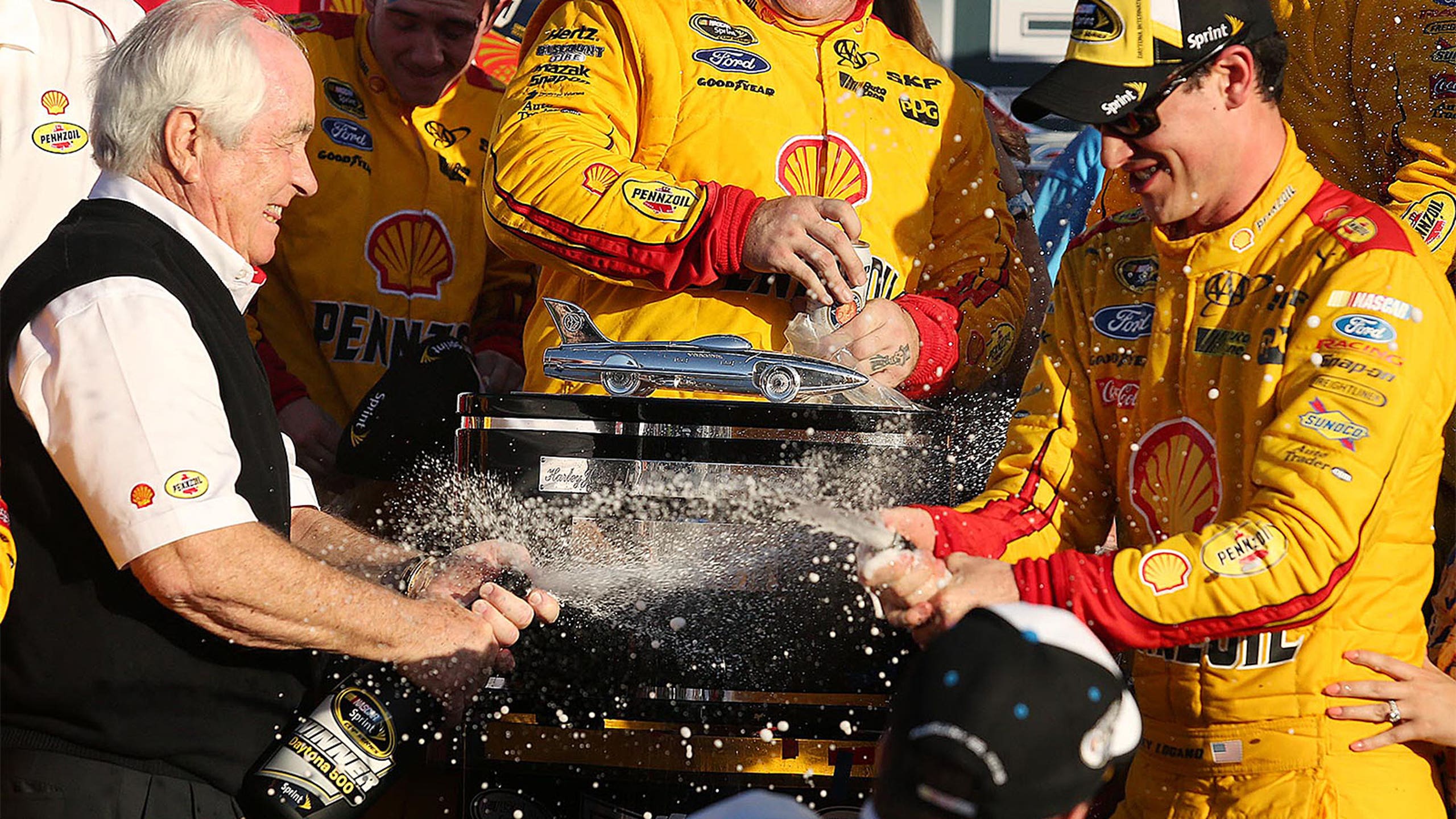 Logano aims to give Team Penske sweep of season's biggest races
BY foxsports • July 24, 2015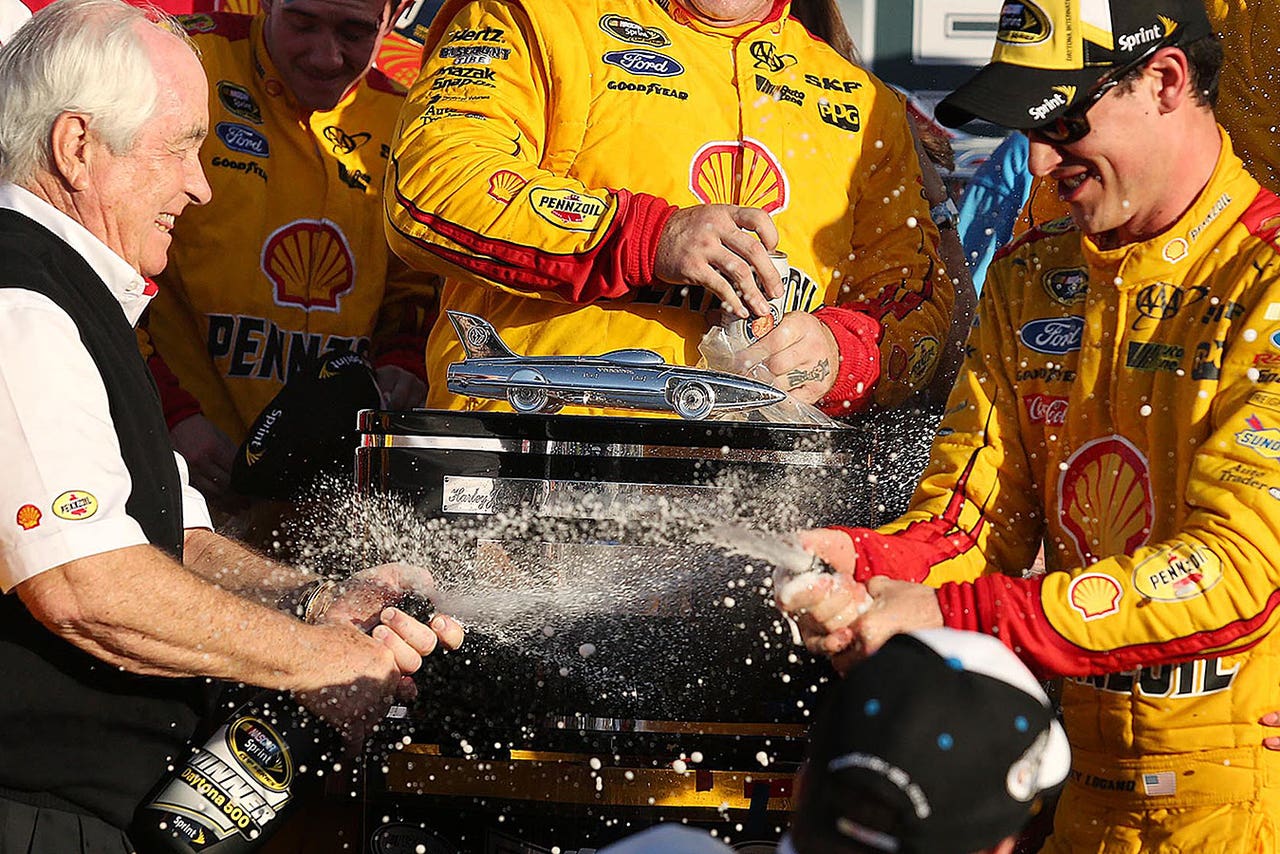 When Joey Logano earned the Daytona 500 victory to kick off the 2015 NASCAR Sprint Cup season, it was the biggest win of the 25-year-old driver's racing career.
Heading into Sunday's Brickyard 400 at Indianapolis Motor Speedway, the driver of the No. 22 Ford hopes to give team owner Roger Penske a sweep of the season's biggest races, as well as a second win at Indy in 2015. Former NASCAR Sprint Cup driver Juan Pablo Montoya won the Indianapolis 500 at the track while driving for Penske earlier this year.
"Anytime we hear Indy coming up we start getting the calls from Roger," Logano said of his team owner, who has 15 Indianapolis 500 victories. "We really want to win this race. This is the one on his bucket list that he hasn't gotten yet and we talk about it a lot. It would be very special to give him a Brickyard 400, along with the Indy 500 he won earlier this year up here and the Daytona 500 we won earlier, too. So this could be quite the trifecta if we could make it happen."
Penske is still searching for his first NASCAR victory at Indy. But he's come so very close. Team Penske's best finish in the Brickyard 400 came with Rusty Wallace behind the wheel, finishing second in 1995, 2000 and 2002.
Since joining Team Penske, Logano has led the charge for the team at Indianapolis, finishing eighth in 2013 and fifth in 2014.
Seeing all of the Indy 500 trophies every day at the race shop, Logano knows how badly Penske wants to add a Brickyard 400 trophy to that collection.
"I don't think you really need any more incentive besides giving Roger Penske another win at Indy," Logano said Friday at IMS. "You want to add your name to the list of guys that have won here for him. Every time I walk into the shop the first thing you see is all these Indy 500 trophies and the helmets that they wore when they won that race and the picture.
"It's really cool, and obviously it's a different kind of car, but it would be really cool to give him his first win in the Sprint Cup Series at this racetrack. How neat is that? I don't really need the extra incentive for that."
After earning the Daytona 500 victory earlier in the year, Logano understands how significant it would be to win both the "Great American Race" and the Brickyard 400 in the same season. Only three drivers have been able to accomplish that feat: Dale Jarrett (1996), Jimmie Johnson (2006) and Jamie McMurray (2010).
"That's something you talk about forever," Logano said. "I look at Indy and Daytona as the two biggest races of the year as far as the prestige and the history behind the races. Now we put Homestead in that as the most important race, hopefully, but for everybody Indy is just a special place to come to.
"Every time you drive in this place you're like, 'This is cool. This is Indy,' " he added. "This morning I was walking from the trailer to the garage and you walk under and you see the racetrack and all that and you see Gasoline Alley and it's like, 'This is pretty cool. It's kind of bad ass that we're even here.' I still get those chills that it's neat and it's fun to be here, so winning obviously would be very special and if we're able to do the 500 and the Brickyard 400 in the same year it would be really cool."
VIDEO: A look back at Joey Logano's thrilling Daytona 500 victory
---
---