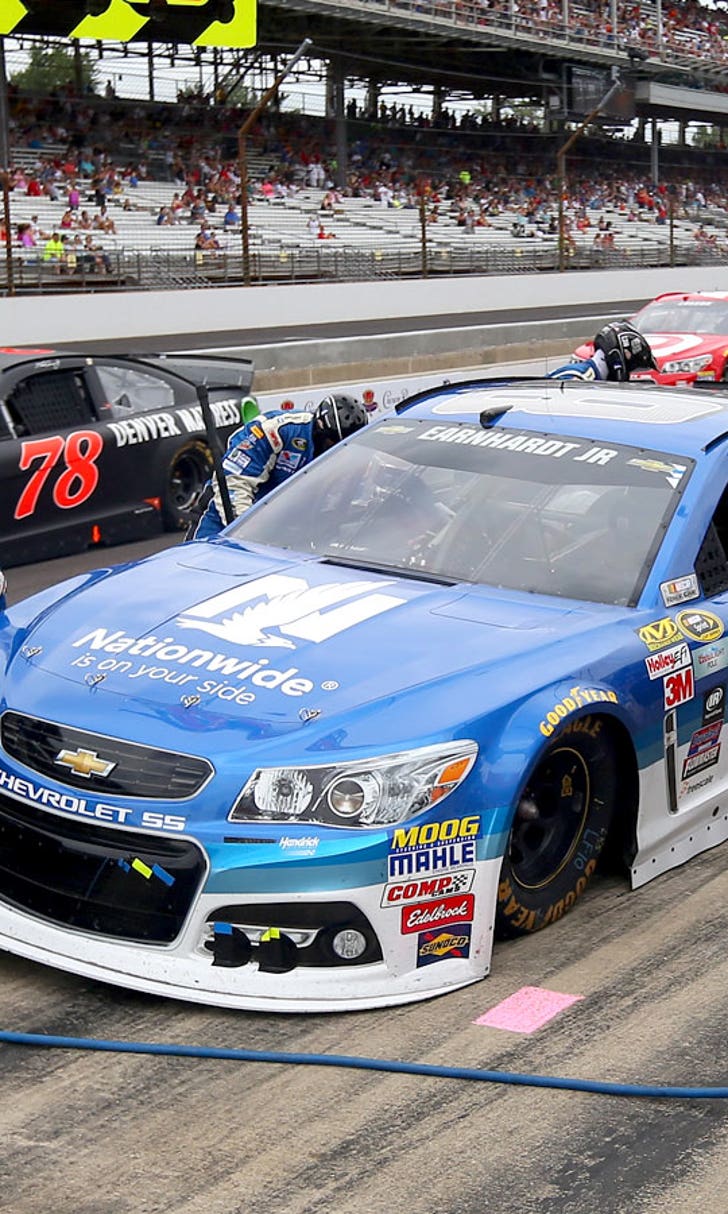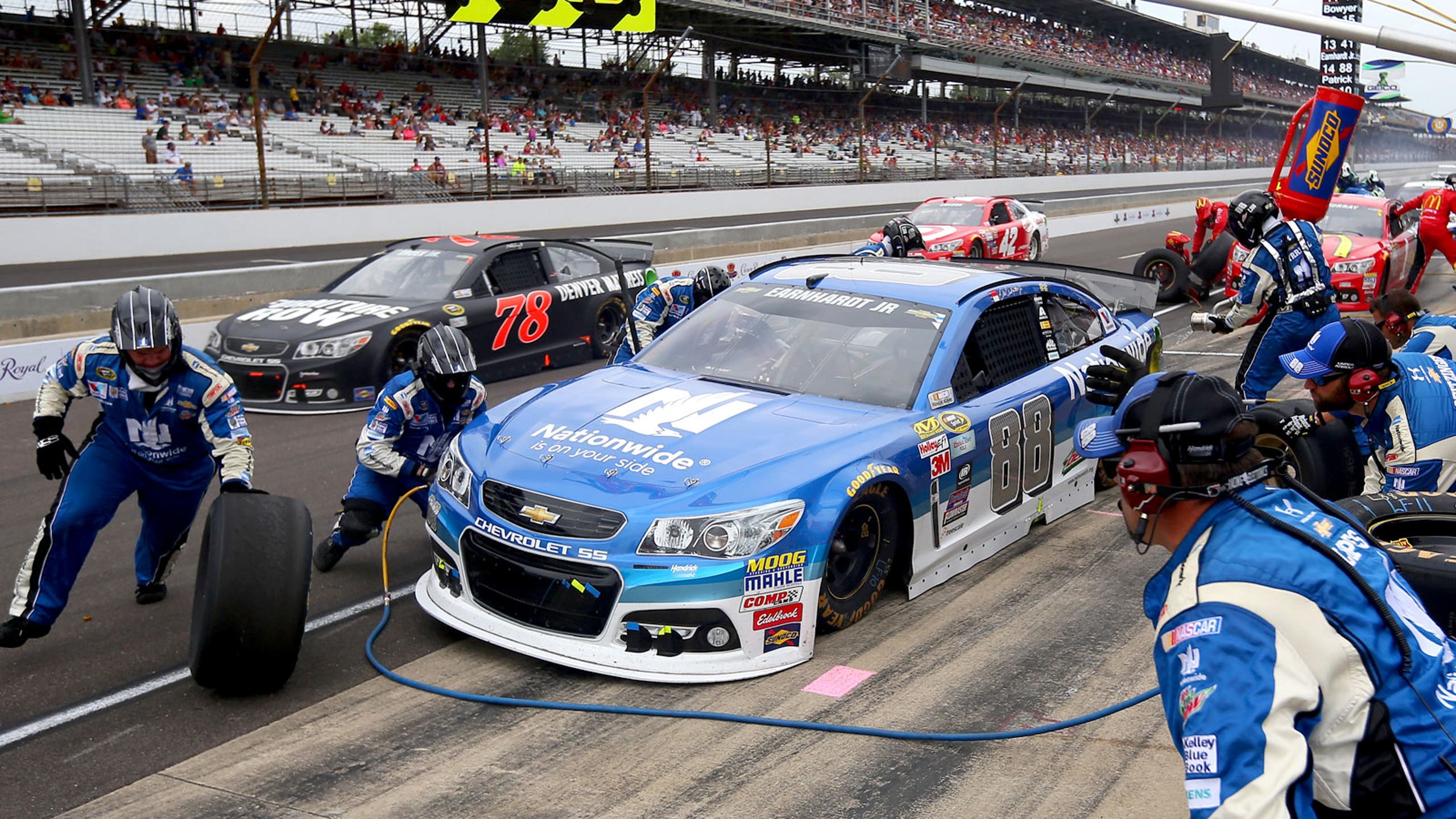 Dale Earnhardt Jr. ready to leave Indy behind, move on to Pocono
BY Jared Turner • July 28, 2015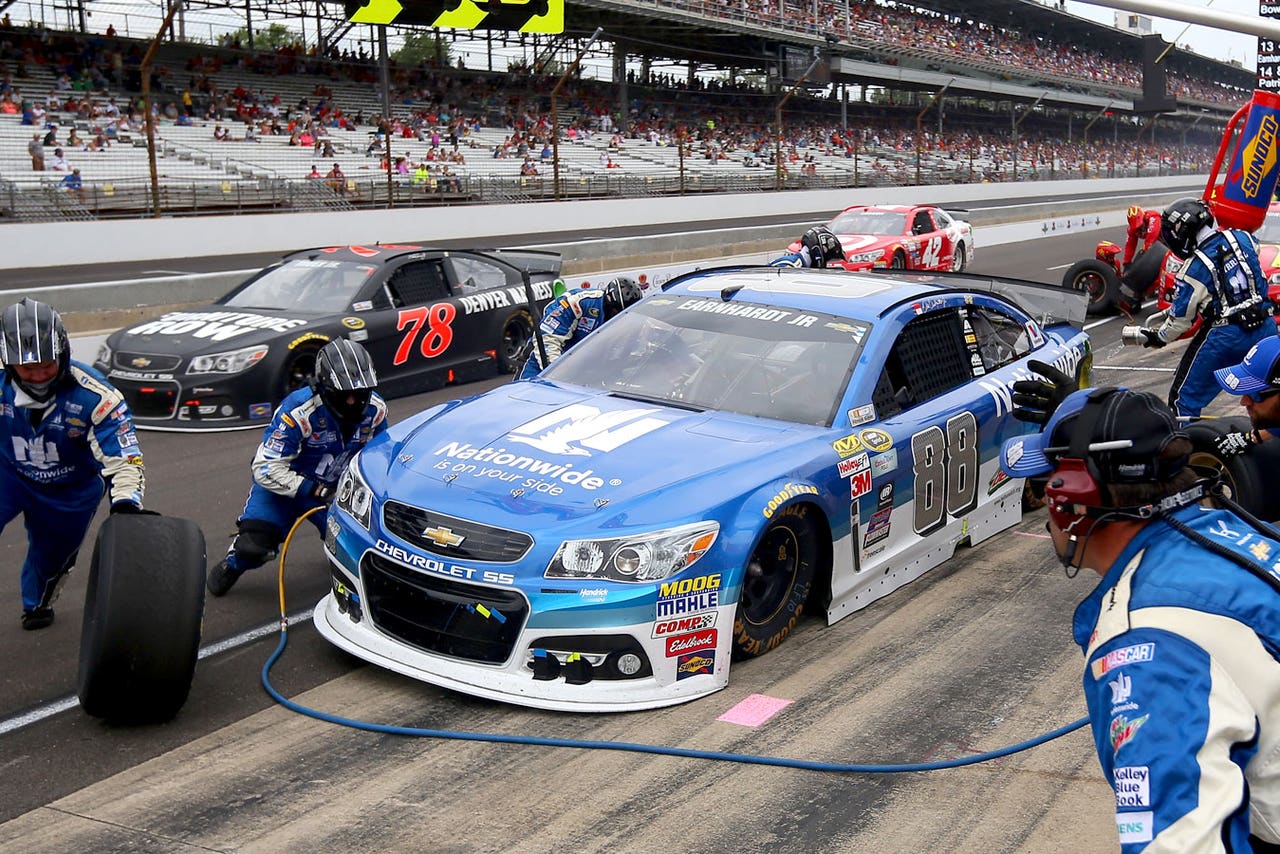 After qualifying eighth, Dale Earnhardt Jr. understandably harbored high hopes for last Sunday's Brickyard 400 at Indianapolis Motor Speedway.
But instead of challenging for his first win at the venerable 2.5-mile speedway, NASCAR's most popular driver struggled through one of his most frustrating outings of the year, ultimately finishing 22nd after multiple issues on pit road and a spin resulting from a late-race collision with Hendrick Motorsports teammate Kasey Kahne.
Earnhardt recounted his not-so-fun day at the Brickyard in this week's edition of his weekly podcast, "The Dale Jr. Download."
"We had a lot of problems. Overall, though, the car ran OK, but we had a lot of issues -- just problems in the pits, we had an air gun go bad, a jack dropped and a couple other things happened," the driver of the No. 88 Chevy said. "I like tracks with longer corners where you can kind of, I don't know. ... Indy's pretty historical and it's really cool that our sport went there (21) years ago, and it's still pretty iconic whether we're racing there or not, but one-groove tracks, man, they're a bit tough to appreciate."
Earnhardt, who is already guaranteed a spot in the 2015 Chase for the Sprint Cup by virtue of his two wins this season, doesn't have to worry about points or his position in the standings at this juncture of the season. While a bad finish won't hurt him in the overall championship scheme, a win would earn him three extra bonus points heading into the opening Chase race at Chicagoland Speedway in September.
So when the No. 88 Hendrick Motorsports team led by first-year crew chief Greg Ives decided to bring Earnhardt to pit road under green for four tires late in Sunday's race, the driver was all for it.
"With several laps to go we were sitting out there in 16th or so, and we were going to come down pit road and get four tires. The reason is because, who the hell cares where we finish, if we can't win the race? We were going to come down pit road in 16th place, a lot of guys around us pitted, and we were going to get four tires and we might beat two guys, we might lose two spots, what-the-hell-ever," Earnhardt said. "It was a wash in my opinion. We had a problem with an air gun, or we had a problem with something -- I don't even remember what it was -- and we only could take two tires, and lost four spots on pit road, so it didn't work out."
Even though the strategy actually cost Earnhardt some positions in the end, he didn't mind gambling, and later explained on his podcast how the current win-and-you're-in system of qualifying for the Chase allows for strategies that the old consistency-based points system didn't.
Prior to 2014, the 10 drivers with the most points after 26 races (along with two wild-card drivers) made the Chase. Now, it's the 16 drivers with the most wins -- provided they're in the top 30 in points.
"With the old system you would do everything you could to get the best finish you could, and that might mean foregoing the win and saying, 'Hey, man, if we do everything X, Y and Z and get lucky on the restarts, we might run 10th or we might finish eighth like some of those guys we were racing with,' but who damn cares about that?" Earnhardt said. " ... We got two wins, we're in the Chase, so what the hell does it matter between 10th and 20th? Who cares?
"If we do everything right, we finish 10th. If we don't do everything right, we finish 20th, but it's a wash either way. It doesn't even matter with this points system. ... You just go win, and if you can't win, you damn do what everybody else ain't doing. You do something different, try something different. The same ol', same ol's just going to get you the same boring-ass result, so I was cool with the decision to come down and get four tires."
Earnhardt is looking forward to this weekend's event at Pocono Raceway, a track where he swept last season's two Sprint Cup races and finished 11th in June. While Pocono, like Indy, is 2.5-miles in length, its triangle-shaped layout is considerably different from IMS which features two long straightaways and four distinct corners.
"Thankfully, we don't run too many tracks that really resemble that place," Earnhardt said of the Brickyard. "We're going to Pocono that has some small similarities to Indy, but we run good at Pocono, so we're not too worried about it."
As for the disappointment of Sunday's run at the Brickyard, Earnhardt is just ready to move on.
"You're going to have days like that, but you can't hang onto them," he said. "You've got to get on down the road. So that's what we'll do."
VIDEO: Dale Earnhardt Jr. takes a wild ride through the grass at Indianapolis
---
---