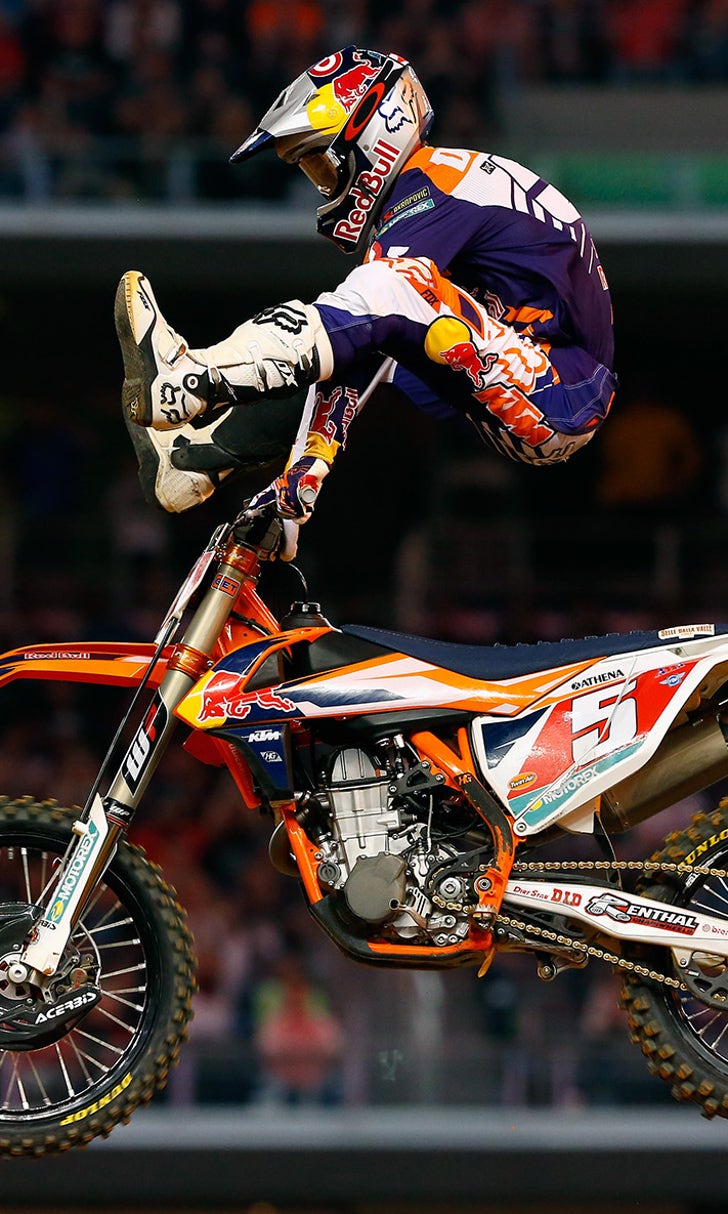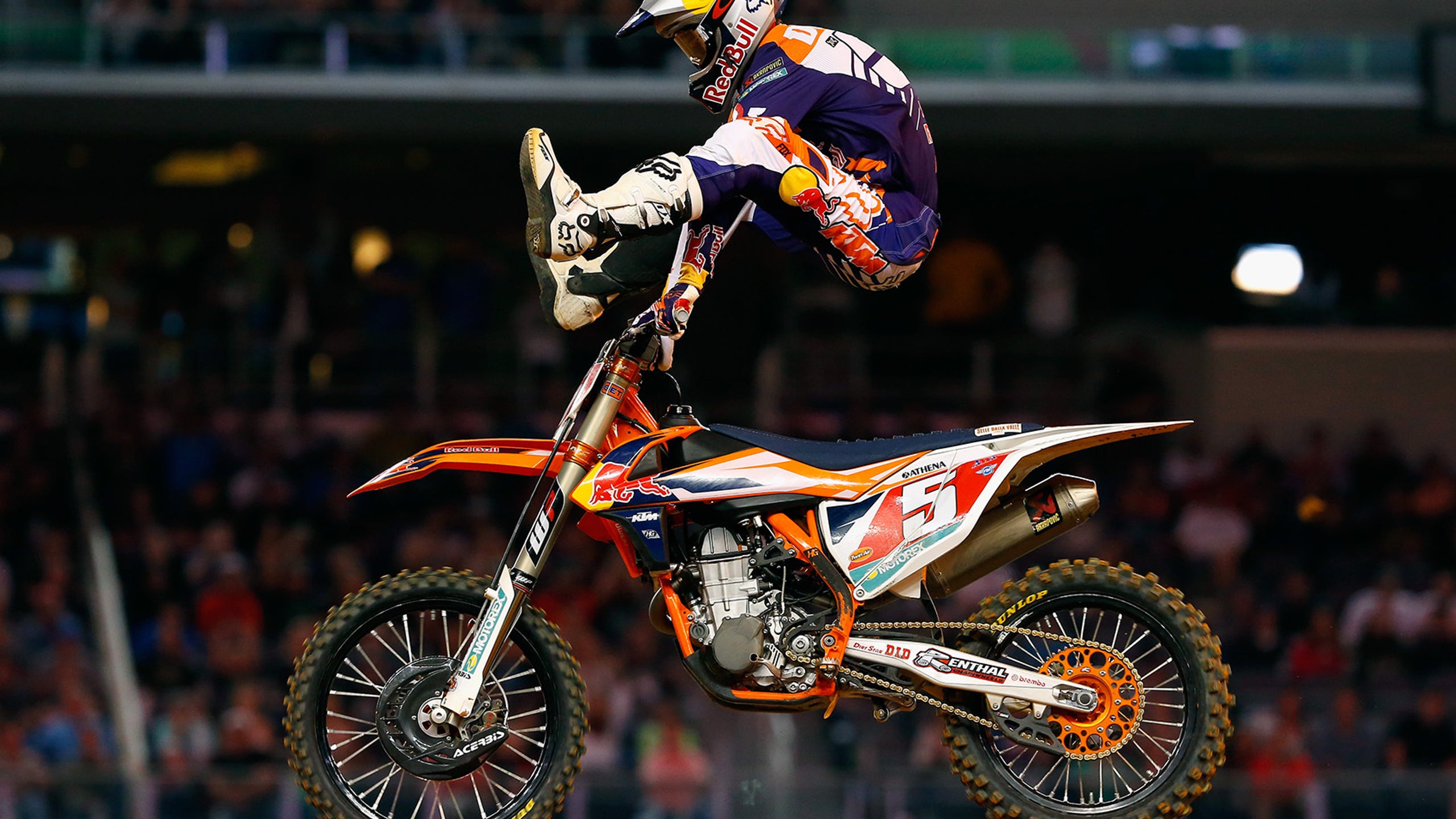 The Holeshot: Field chasing Dungey into unpredictable Daytona
BY foxsports • March 6, 2015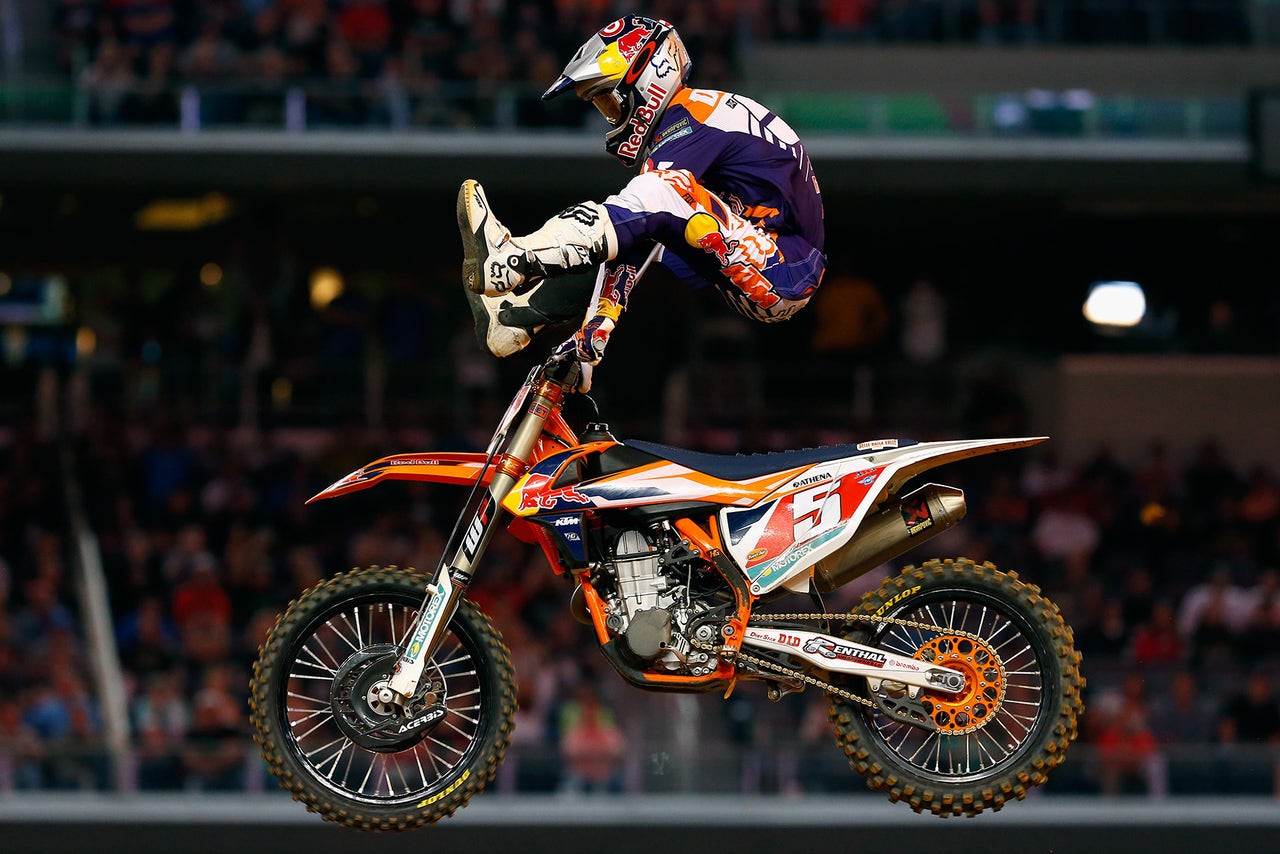 Ryan Dungey's impeccable reign atop Monster Energy Supercross points continued last week in Atlanta as the Red Bull KTM rider raced to his third victory of the season. The former champion now has a 30-point lead and, perhaps even more importantly, he's got the most wins in the 450SX Class, with an eight-race podium streak to boot. While all things appear to be flowing heavily in Dungey's favor, this weekend marks the annual "wildcard" round of the championship at Daytona International Speedway.
Just a few weeks ago, Joey Logano took the checkered flag at the Daytona 500, known for being one of the wildest races of the NASCAR season, and you could argue that the Daytona Supercross has the most potential of any race in championship to carry those same traits. With its supercross/motocross hybrid layout - designed by none other than Ricky Carmichael - Daytona will push the best of the best to his limits. With the longest lap times of the season, a track that is guaranteed to get rough and the honor of potentially winning one of the most prestigious races in the sport, Daytona has become one of the most anticipated races of the championship each and every year. You never know who might step up and take the win and with the way the championship is evolving, could this be a weekend in which we see the title fight take another dramatic turn?
Here are some of my biggest takeaways heading into Daytona:
450SX Class
- Dungey has been nothing short of rock solid this season and he continues to rise to the occasion. Each of his wins this season has been dominant and that is largely a result of his incredible starts. While Dungey has always been a solid starter, he hasn't ever been quite this good. Additionally, he was always criticized for his lack of aggression in the early stages of main events, but all that has changed in 2015. You don't get to where he is now without being aggressive and seizing the moment, and it appears as though for the first time in his supercross career Dungey is getting the credit he's probably deserved all along. It seems as though the question of whether Dungey can ultimately step up and take control of the championship has followed him since his title winning rookie season and its safe to say that "Diesel" is silencing those critics once and for all in 2015.
- Through all of Dungey's success, one big trophy is missing from his mantle. A win in Daytona. Despite being one of the best riders of all time in the motocross discipline, he's never been able to break through at Daytona. A lot of that is a result of the utter dominance that both Ryan Villopoto and James Stewart had at the facility, but this is without a doubt Dungey's best chance at earning that elusive win at the World Center of Racing.
- Ken Roczen's season has really taken a downward turn. As if Atlanta 1 wasn't bad enough, he aggravated his ankle injury even more in practice last weekend and could only muster an eighth-place finish in the main event. Sure it didn't help that he got caught up in the aftermath of the incident with Jason Anderson and Weston Peick, but he still lost two positions in the waning laps to Josh Grant and Chad Reed. Obviously Roczen isn't 100 percent right now and you have to wonder what's next for the German whose season started off so impressively. Daytona is the last place a rider wants to see if he's dealing with the kind of injury Roczen is, so we'll see if he's able to fight through any discomfort and get a much needed strong finish.
- Everyone seems to have missed Trey Canard's off track excursion late in Atlanta that ultimately gave Eli Tomac the runner-up finish. While a podium result is still the kind of finish Canard needs to keep Dungey honest, those additional two points he gave up by making that mistake is significant when your biggest rival is running away with the win, and the championship at this point. I get the feeling like Daytona will be good for Canard, however. It just seems like the perfect scenario for him to make a statement and swing some momentum back in his favor. Plus, with Honda serving as the title sponsor of the event, a win by Canard would be the first for a red rider at Daytona since 2008. Talk about incentive.
- Canard won't be the only Honda in the mix on Saturday night. Tomac got things back on track in Atlanta, ending a three-race streak in which he found himself on the ground. Eli's uber-aggressive approach should work well on a track that will be rough and gnarly for everyone and if he's able to get a good start, he'll be in the mix for victory as well.
- What about Chad Reed? He's had his fair share of ups and downs at Daytona, but he's surging right now. His seventh-place finish in Atlanta was highly disappointing considering he had the early lead, only to lose it when he lost traction with his front wheel and veered off track, but he's risen to the forefront of the division again and is a podium threat each week. Reed's as motivated as ever and he probably has a bit of a chip on his shoulder after letting one slip away last week. He's no doubt one of the hottest riders in supercross right now, so he'll be one to keep an eye on.
- Just as soon as I acknowledge Cole Seely as the dark horse rider in the 450SX Class, he endures through a rough night in Atlanta. Seely finished 12th, his first finish outside the top 10 since Phoenix, and now heads to Daytona for the first time as a full-time competitor in the premier class. Seely finished 11th at Daytona last season while subbing for Canard, so he has experience, but we'll see if he's able to get things back on track.
- Speaking of rookies, Jason Anderson just barely kept his top-10 streak going. The Husqvarna rider had as up and down main event as one could have, but he refused to give up and made a couple passes in the closing lap to break into the top 10 and maintain his status alongside Dungey as the only two riders to finish 10th or better in every race this season. Anderson has been battling consistency for much of the middle portion of the season and Daytona is a track that can easily make for a long evening. He's hasn't raced there since his rookie season in 2011, and he's come a long, long way since then. Let's see how he fares and if the streak will continue.
- Another rookie to keep an eye on this weekend is Blake Baggett. In fact, he has to be considered the favorite rookie heading into the weekend. In four 250SX Class races at Daytona, Baggett has two wins, three podiums and an average finish of 2.0. To say he loves Daytona would be an understatement and, considering he's been knocking at the door for his first career podium finish for a while, Saturday could be Baggett's night to shine.
250SX Class
- Based on what we've seen out of him thus far in 2015, if Marvin Musquin can start up front there's a good chance he'll stay there. The Frenchman was on another level yet again in Atlanta and cruised to his second win in three East Region races. His super smooth style may not translate great to a rough and rugged track like Daytona, but he's a former winner there and he's tremendously motivated to win his first title on U.S. soil. Starts are clearly a big factor in Musquin's potential to win on any given night, but if there was ever a track where logging 15 consistent laps has the potential to overcome a less-than-perfect start it's Daytona. Don't be surprised to see the Red Bull KTM out front again.
- Daytona was also the site of Jeremy Martin's big breakthrough in supercross. The Star Yamaha rider has been very strong in the early going this season, something we've never had the privilege of saying before, and I get the feeling he understands the importance of winning on Saturday night. While Musquin's lead sits at a relatively comfortable seven points, the chance to bring that down to a more manageable margin is huge for Martin. He's definitely going to bring his A-game on Saturday and we very well could see a memorable showdown between the top two riders in the championship, who both appear to be noticeably better than their fellow competitors right now.
- Reigning champ Justin Bogle is where he needs to be to start the season, posting finishes of 2-3-3, but he's not yet able to run with Musquin and Martin throughout the entire main event. I think he's almost a lock for another podium this weekend, but I'd really like to see him step it up this weekend and make this a three-rider battle for the title.
- Will Pro Circuit get a win this season? Both Joey Savatgy and Arnaud Tonus have shown impressive speed, and Savatgy is fast enough to challenge for the podium each weekend. So far, Savatgy's inconsistent starts have been his biggest hurdle but he definitely believes he belongs up front, which means confidence isn't an issue. Tonus is learning every week what it takes to compete in supercross, and Daytona will present perhaps a welcome challenge in which he can take advantage of his experience overseas and apply it to the motocross-friendly layout.
Never miss a race next season, add all the 2015 Monster Energy Supercross races to your calendar! Tweet #SXonFOX to @FOXSports1 and then check your notifications. You can also click HERE to get all the 2015 races added directly to your calendar.
---