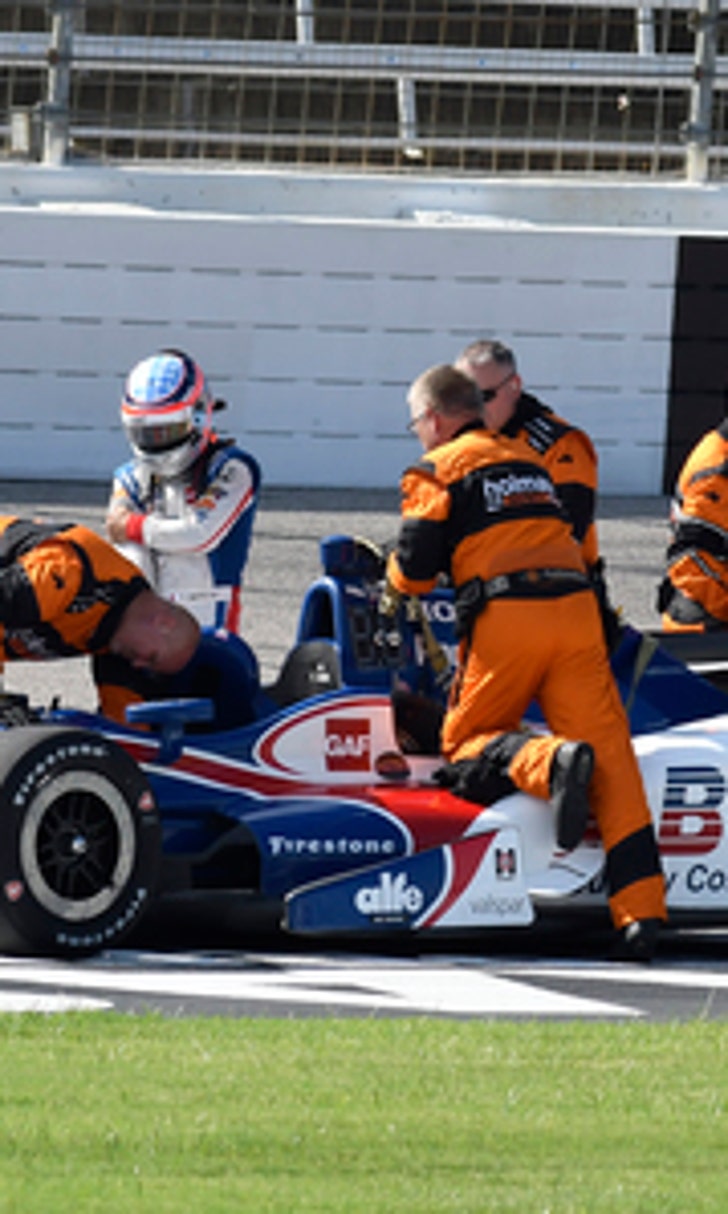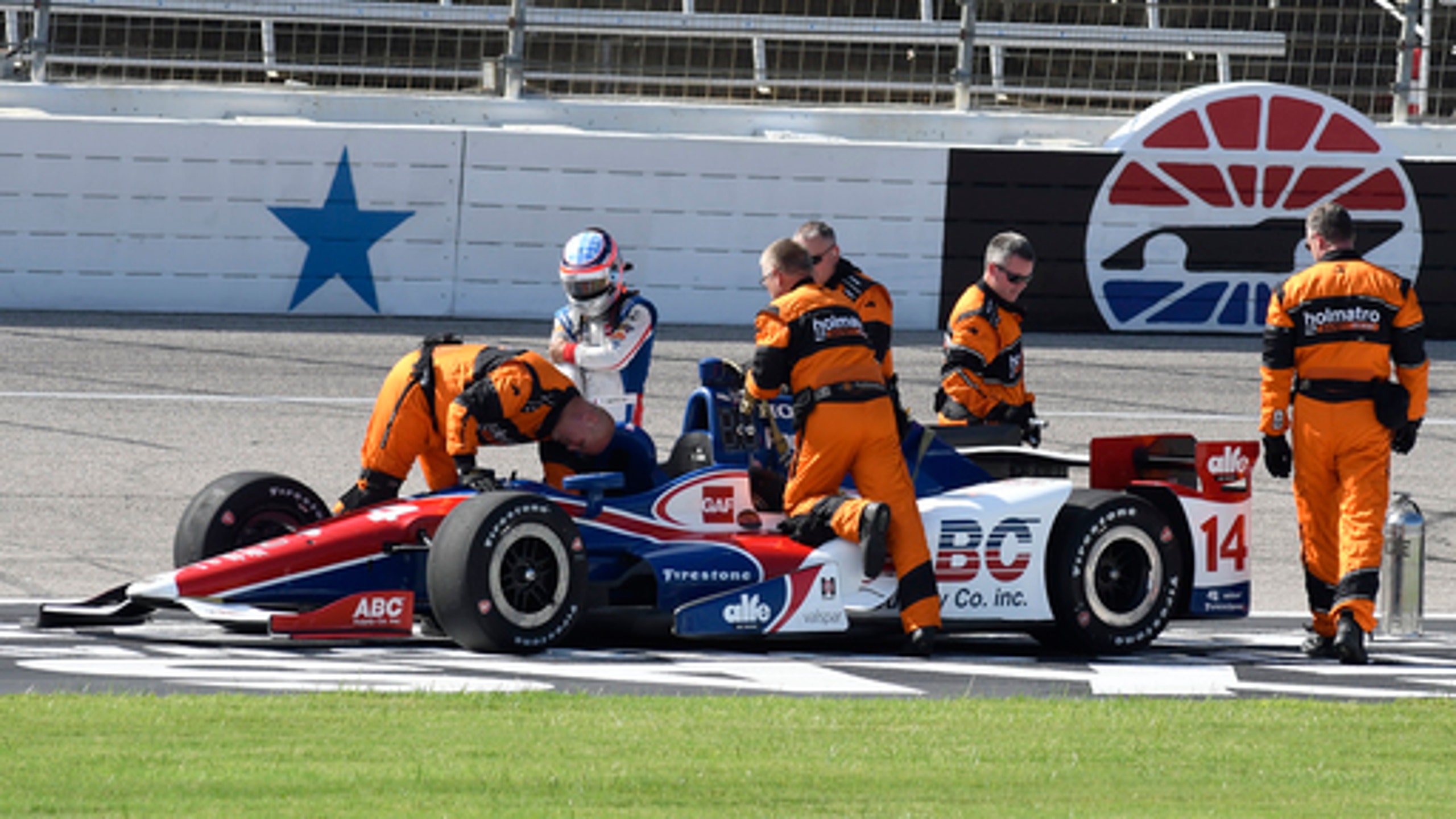 Rahal makes last-lap pass to win IndyCar race at Texas
BY foxsports • August 28, 2016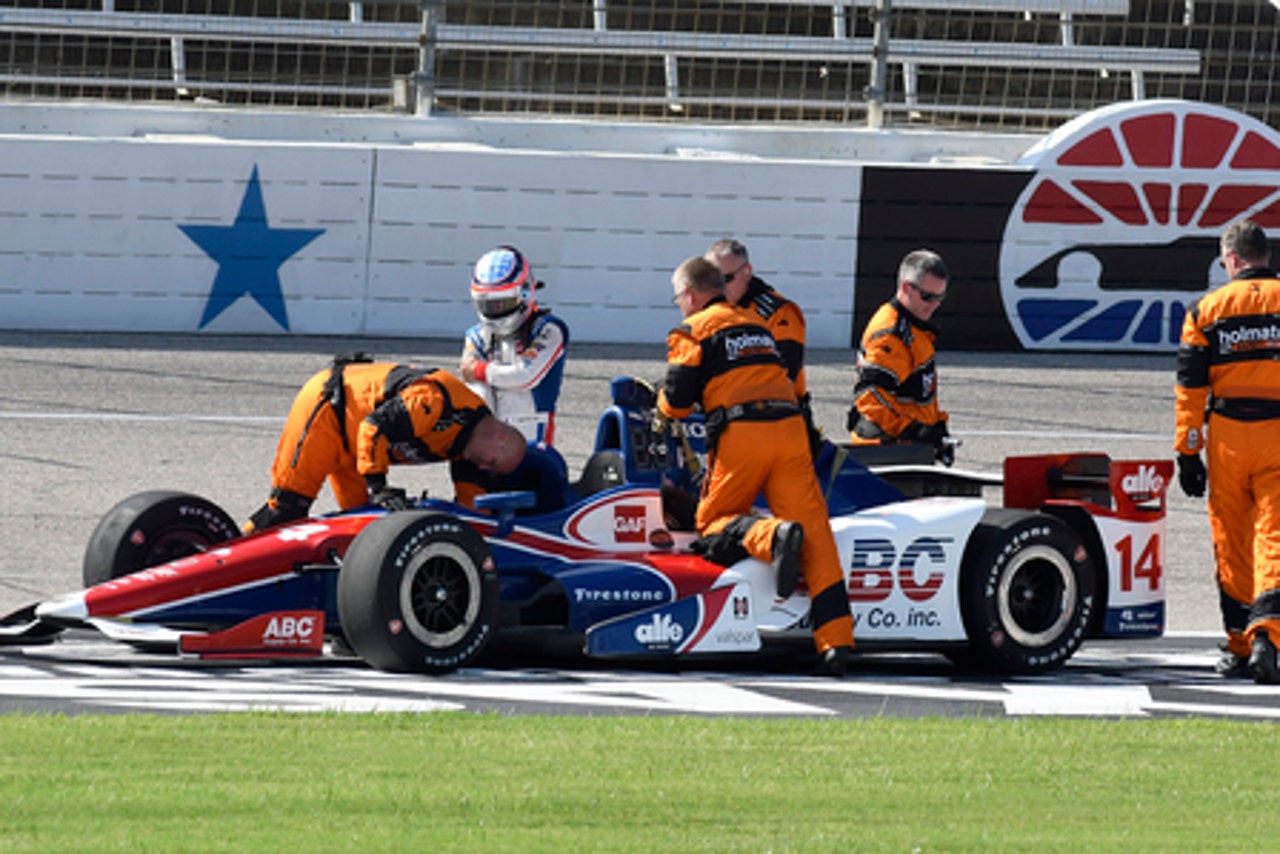 FORT WORTH, Texas (AP) Graham Rahal lifted his arm over his head just as he reached the finish line at Texas Motor Speedway, then glanced to his right to make sure he had won the race.
After a last-lap pass of James Hinchcliffe, Rahal did indeed hold on to win Saturday night in the closest finish ever for an IndyCar race at the high-banked, 1 1/2-mile oval.
''When I got to the stripe, I started to raise my arm and then I was like make sure,'' said Rahal, who glanced to see the No. 2 on the LED panel of Hinchcliffe's car signifying his place in the race. ''I thought I was clear. I knew it was going to be very close.''
The only time Rahal led the race - competed over a 2 1/2-month span - was when he sliced to the bottom of the track coming off of the backstretch on that final lap. He won by eight-thousandths (0.008) of a second, crossing the line only inches and side-by-side with Hinchcliffe, with Tony Kanaan right behind them.
''When we cleared Tony and it was just me and Graham coming down to the checkered, I thought the momentum is on the outside. I feel like I've kind of seen it here 10 times before in races in years past, and I thought we were still going to be able to do it,'' Hinchcliffe said. ''But man, he rolled through the center of 3 and 4 with a whole lot of speed. He cleared me - I hadn't been next to a car all night that cleared me that quickly.''
Hinchcliffe had led the Firestone 600 for 76 days. He was leading when the race was initially red-flagged June 12 because of rain after only 71 of 248 laps, and dominated after it resumed until three late restarts.
Rahal's fourth career win came at the high-banked, 1 1/2-mile-oval where four years ago he appeared headed for victory before brushing the wall on the last lap and finishing second to Justin Wilson.
Hinchcliffe led 188 laps overall in the race, including 157 of the 177 laps run Saturday night.
''My night was great until about eight minutes to go,'' he said after what was still his best finish of the season.
Series points leader Simon Pagenaud was fourth, and extended his lead to from 20 to 28 points over Team Penske teammate Will Power with two races left. Power, who won four of the previous six races with runner-up finishes in the other two, was eighth at Texas.
Ed Carpenter twice had contact with other cars while running second behind Hinchcliffe in the later laps.
Carpenter was within about 2 seconds of the lead on Lap 213 when Scott Dixon, trying to get back on the lead lap, made contact coming off the frontstretch. That sent Dixon spinning, and Carpenter believes he might have cut a tire though he was able to stay on the track and even took the lead after that.
After the ensuing caution, Hinchcliffe and Carpenter restarted 1-2 on lap 221, and Carpenter went low coming off the backstretch and led at the line by a matter of inches. Hinchcliffe went back in front on the next lap, and was still there when Carpenter got loose coming out of Turn 4 on lap 225 and made contact with Helio Castroneves and slammed into the wall to end his race.
There was one more caution after that, when lead-lap car Mikhail Aleshin crashed, setting up the final sprint to the finish.
It was the fifth-closest finish in IndyCar Series history and the closest of any race ever at the Texas track that has hosted NASCAR and IndyCar races since 1997. At one point, the top four finishers were running side-by-side on the backstretch.
''If people don't love that type of racing, they don't love racing,'' Rahal said. ''That was as good as it gets.''
Some other notable items from IndyCar's one-day return to Texas:
BACK THE BLUE: Two police officers wounded on duty, Jorge Barrientos from Dallas and Matt Pearce from Fort Worth, served as co-grand marshals and gave drivers the command to start their engines. Barrientos was wounded in the July 7 downtown Dallas attack that left five officers dead, Pearce survived being shot multiple times by a fugitive during a manhunt in March. Pearce was the grand marshal in June. Every IndyCar on Saturday night had a ''Back the Blue'' decal, and before the race drivers wore caps representing different local police and national law enforcement agencies.
FAST BREAK: Takuma Sato was only two laps into the short practice session when something broke in the car and the No. 14 car slammed into the wall coming out of Turn 4. The A.J. Foyt Racing team got the car fixed and ready for the restart.
UP NEXT: IndyCar is going to Watkins Glen instead of Boston next Sunday for the second-to-last race of the season. When the planned Boston race was canceled earlier this year, Watkins Glen become the replacement for the Labor Day weekend date. The last IndyCar race at Watkins Glen was in 2010, and won by Power.
---
AP Auto Racing Website: www.racing.ap.org
---