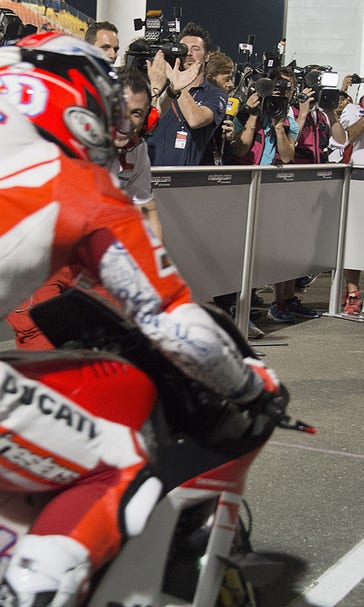 MotoGP: Dovizioso targets victory on fast new Ducati
BY foxsports • March 29, 2015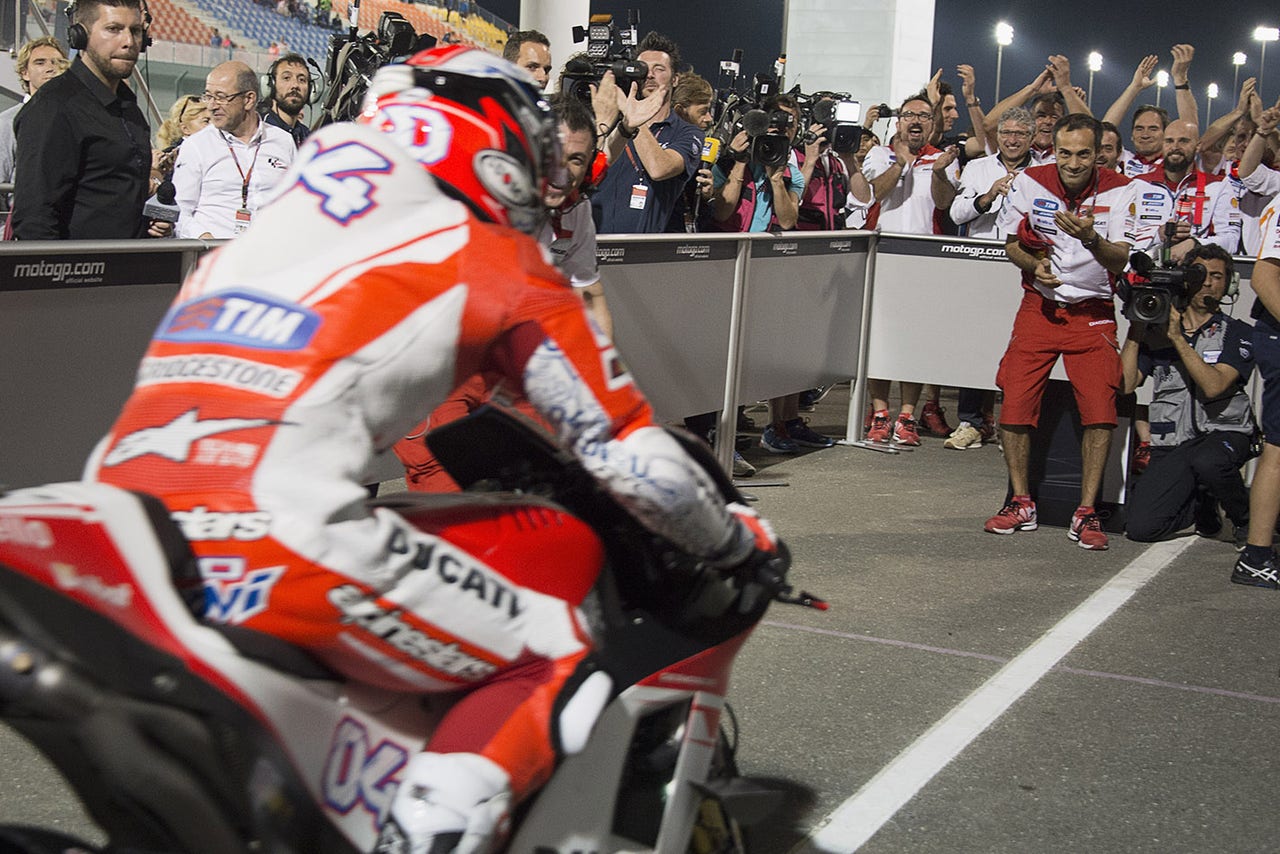 A debut pole position for the new GP15 ridden by Andrea Dovizioso has raised hopes that Ducati's long losing streak in MotoGP will soon end.
And Sunday night's Qatar Grand Prix will be crucial in understanding if Ducati can again challenge Honda and Yamaha for race wins.
The MotoGP pre-race will be available on the FOX Sports GO app beginning at 1:30 p.m. ET Sunday, with the race LIVE on FOX Sports 2 and FOX Sports GO at 2 p.m.
Dovizioso is joined on the front row by Honda riders Marc Marquez and Dani Pedrosa.
It has been a nightmare four years with Ducati's last win coming at the 2010 Australia GP at Phillip Island courtesy of home hero Casey Stoner.
Dovizioso has endured a dismal period as Ducati has worked to rebuild its race team with an all-new GP15 designed by acclaimed Italian engineer Gigi Dall'Igna.
While boosted by his impressive qualifying and practice pace on race tires, Dovizioso cautions that the real performance of the GP15 can only be judged after the Qatar race.
"The new bike feels really good and our speed is there both on the soft qualifying tire and the harder race tire on which I have the same pace as Marquez and the Honda," Dovizioso said.
"I have a fantastic feeling with the new bike, it now feels like a normal bike on corner entry and turning but there is still work to do.
"Qualifying was a special lap on the soft tire but it is the race that we want.  It will be difficult.
"This is the first race with new bike and until you do a race you never understand all the finer points."
Dovizioso, whose last win was in the 2009 British GP on a Honda, says he will have to manage the expectations of a victory in Qatar now that the Ducati is showing winning potential.
"It will not easy to manage this feeling but I have a strategy," said Dovizioso.
Dovizioso and Ducati, for the moment, continue to benefit from concessions provided to factory teams that have not won a race since the beginning of 2013.
This gives Ducati a 24-liter fuel tank against the 20 liters allowed for Honda and Yamaha plus an extra soft qualifying tire and engine development freedoms.
The Doha circuit is tough on fuel consumption forcing Honda and Yamaha to mange fuel burn against power output over the race distance.
"We will not have to reduce power to make the race distance but I don't know about Honda and Yamaha," Dovizioso said.
"But even if we lose these benefits I believe our bike will remain fast, we have a very good bike now."
Ducati will lose their fuel and tire concessions once they score three podiums or a single race win.  Ducati currently have one podium with Dovi's third place in Austin last year.
Click HERE for more MotoGP news and features.
---