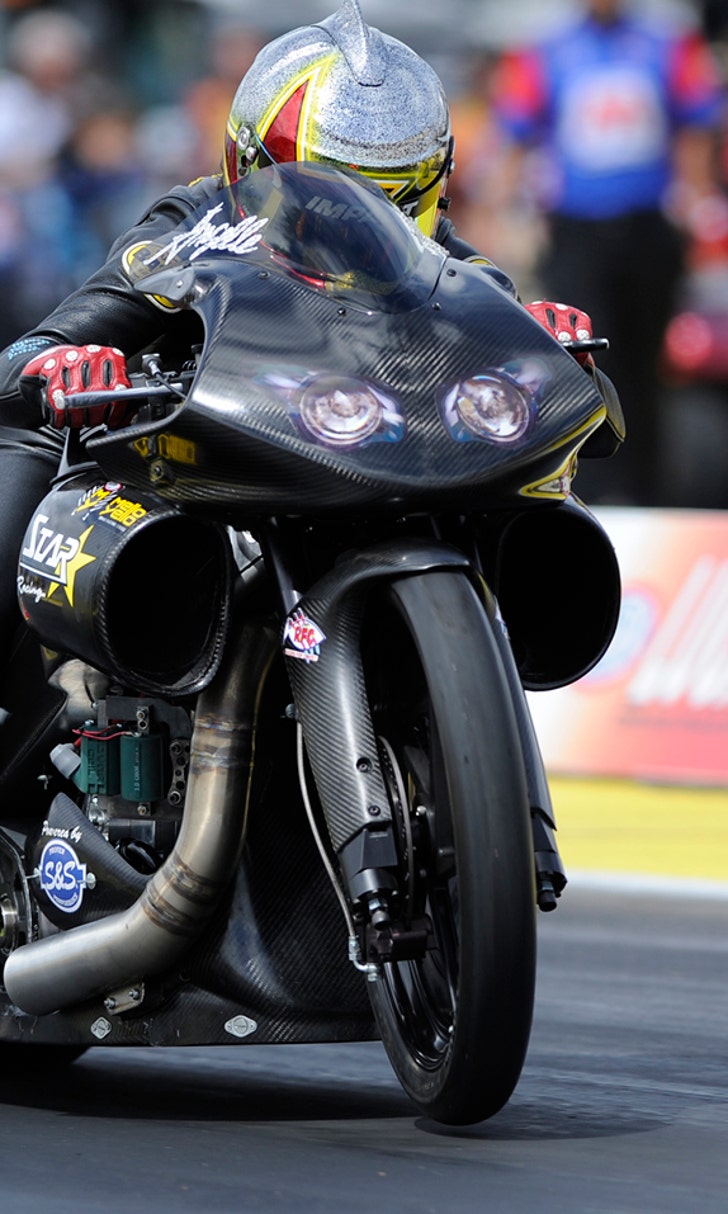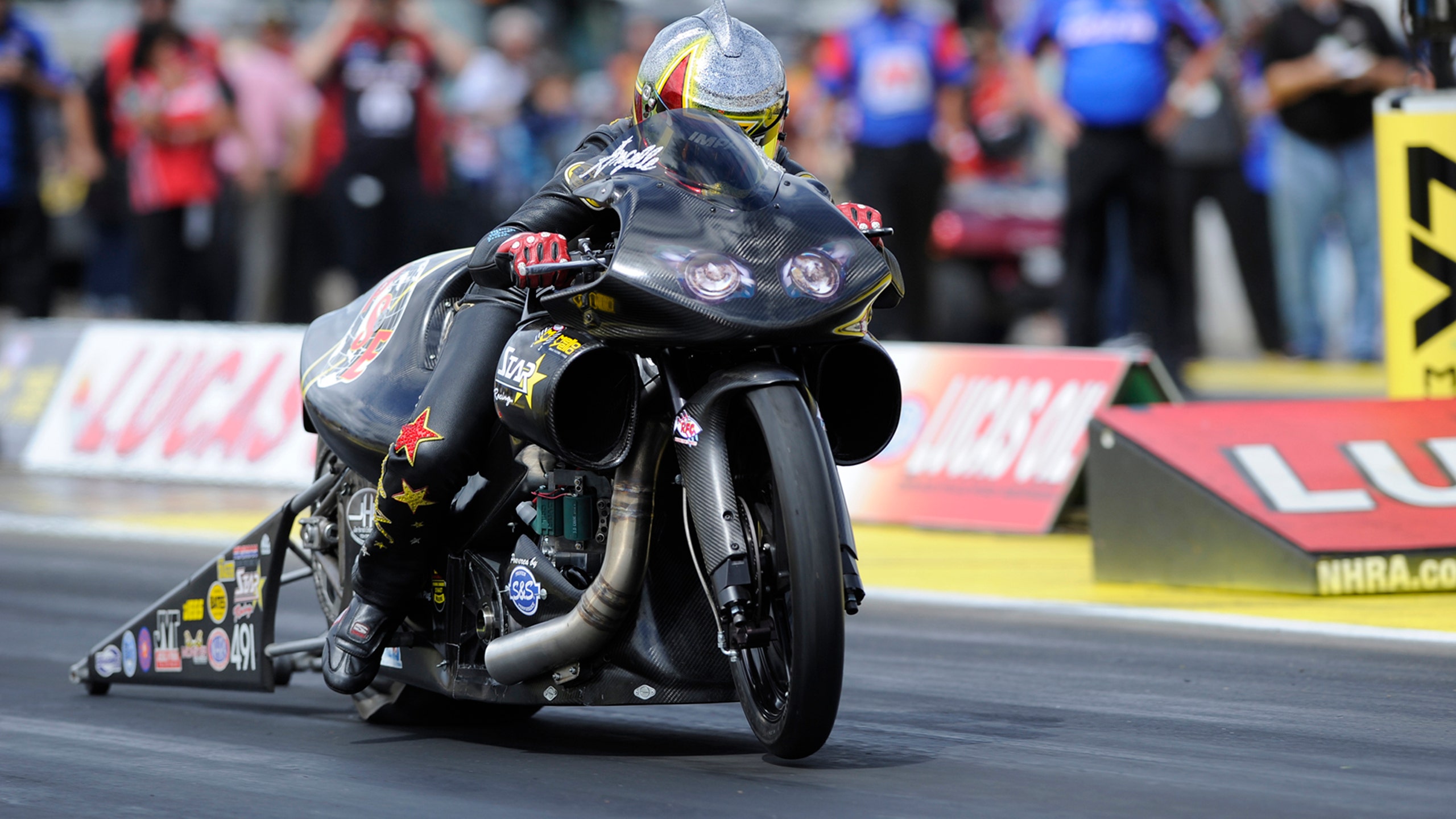 Louisiana native Angelle Sampey personally touched by recent flooding
BY foxsports • August 21, 2016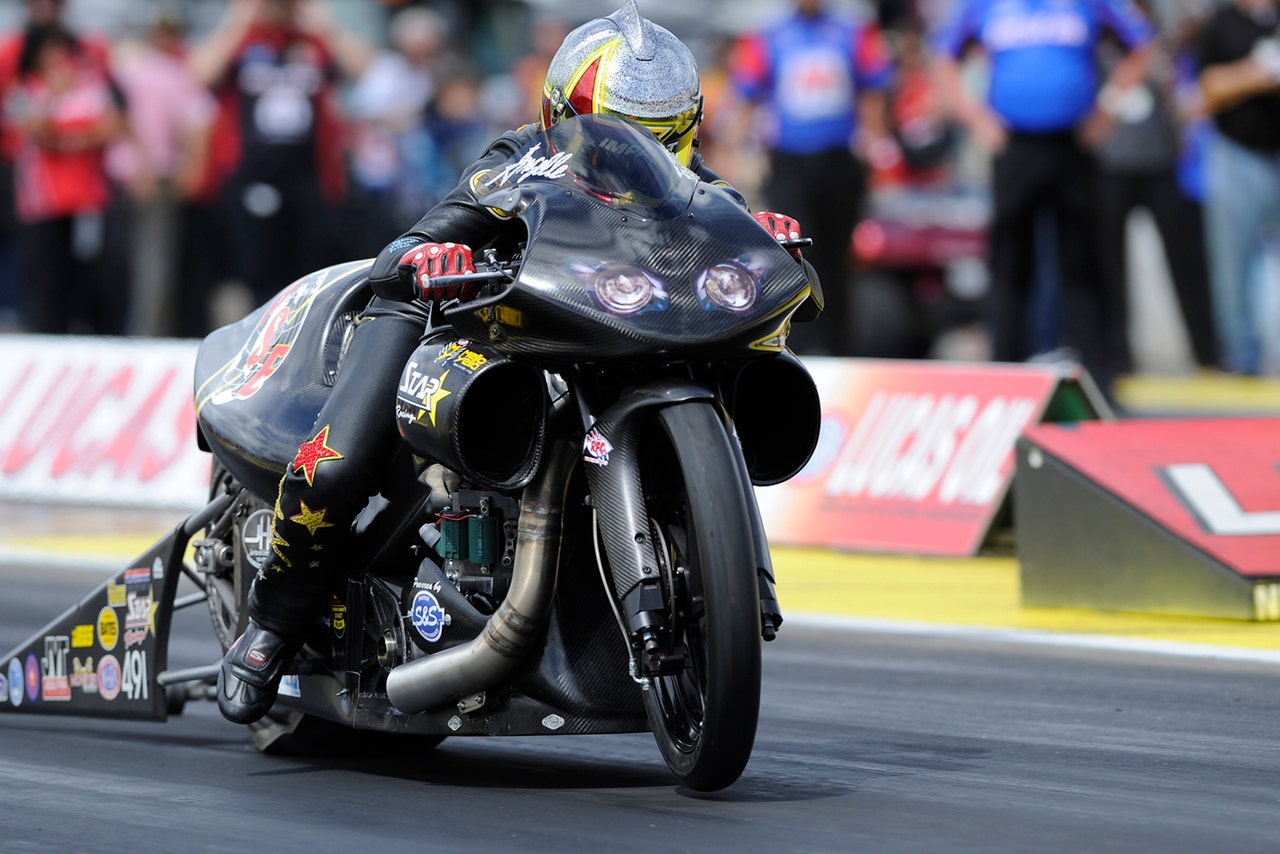 The emotion of the situation rests on iconic Pro Stock Motorcycle rider Angelle Sampey's heart like a ton of bricks.
Sampey, who lives in Matthews, La., an hour's drive from Baton Rouge, shares in the grief of family and friends displaced by flooding. As many as 40,000 homes are estimated to have experienced some measure of damage from the recent flooding.
Tears began to flow for Sampey Friday as she rode to the provisional No. 1 qualifier at the Lucas Oil NHRA Nationals in Brainerd, Minn.
"I wanted so badly, to talk to everyone back home," Sampey said. "I knew I was gonna start crying. I tried the best I could to talk, even though I knew that they couldn't even see me. None of them have a TV anymore. They're all gone.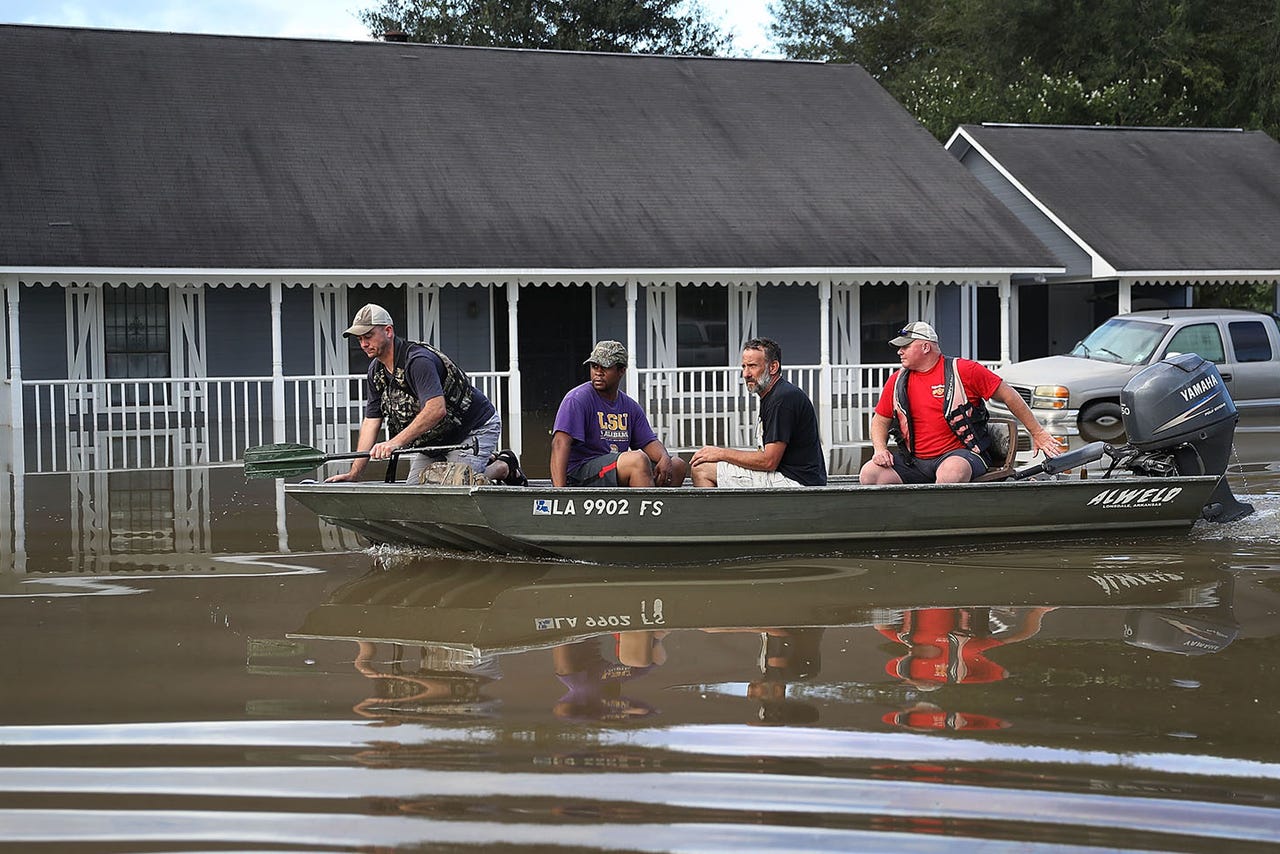 Richard Schafer navigates a boat past a flooded home on Aug. 15, 2016 in Baton Rouge, Louisiana. Record-breaking rains pelted Louisiana over the weekend leaving the city with historic levels of flooding that have caused at least seven deaths and damaged thousands of homes.
"They've completely lost everything. I really just wanted them to know how much I love them and how much I love my state. And I'm so proud of the way they've responded to this."
Sampey's husband, Seth Drago, whose brother lives in Denim Springs, La. - an area 90-percent flooded - joined in with members of the self-proclaimed Cajun Navy in going house to house to rescue those stranded in the flood.
The Cajun Navy is made up of local hunters, fishermen, and boaters, who have turned their personal vessels into a rescue fleet.
"Seth rescued a bunch of people (last) Saturday, and he could barely talk to me (last) Saturday night," Sampey explained. "When I called him, his voice was trembling, his heart was breaking because he was picking up elderly people, people with babies, and they had nothing, nowhere to go, they didn't know what to do. He was taking them from houses that were completely under water, and dropping them off on the highway, where other people were in their own cars and picking strangers up and bringing them to wherever they could bring them.
"It got to a point where nobody knew where even to go. They had some people that were stuck on I-10 in their cars for 48 hours. They couldn't move. They had nothing to eat, nowhere to go. I mean, it was the most devastation I've seen in our state in a long time, other than Katrina."
The flooding presents a bit of deja vu for Sampey, who said the situation is like living Hurricane Katrina all over again, though this situation has a different twist.
The National Weather Service described the unnamed storm as a 1,000-year flood and at least seven are already known to have died.
"There was no warning this time," Sampey said. "People didn't know what was going on. I mean, it was just raining. That's all we knew. And the area that it did this in is not a place that normally floods. It was a once-in-a-thousand year chance of it ever happening."
In the midst of tragedy, Sampey said there's a special bond being forged by the Louisianans trying to overcome the many adverse conditions.
"After what Baton Rouge had just gone through with cops getting shot," Sampey said. "And what our whole country's going through with the hate. I think that this was something that brought us all back together. I wish the media would show more of what is going on after the fact. You know, how people are loving each other and helping each other. Because I think it would definitely give our whole country hope for humanity."
Sampey is leaning on the drag racing community for help with those displaced.
"I just know that the devastation is beyond belief. I pray because that's the most I can do for them right now," Sampey said. "I'm trying to collect donations for my family, my family personally, because they've lost everything. My husband's family. I want to win this race, dedicate it to them, and hopefully make them smile a little bit."
Sampey's message about the plight of those back home has inspired support from the drag racing community with megateam owner Don Schumacher and her own team owner George Bryce headlining a group of donations.
"We're going to get them some clothes, some cleaning supplies, and stuff that they need so they can start working on their homes," Sampey explained.  "We can give them the money, but there's nothing in the stores. The shelves are completely empty everywhere.
"It's going to take a lot of help from the country to get these people back on their feet. I can vouch for the people of Louisiana. I promise you that they are one of the first states to jump up and send money, send help, go to volunteer. I just hope that the rest of the country returns the favor to them."
***
Bobby Bennett is the Publisher/Editor of CompetitionPlus.com, a leading independent online drag racing magazine, since 1999. For the latest in dragster news worldwide, visit www.competitionplus.com or follow on Twitter @competitionplus
---