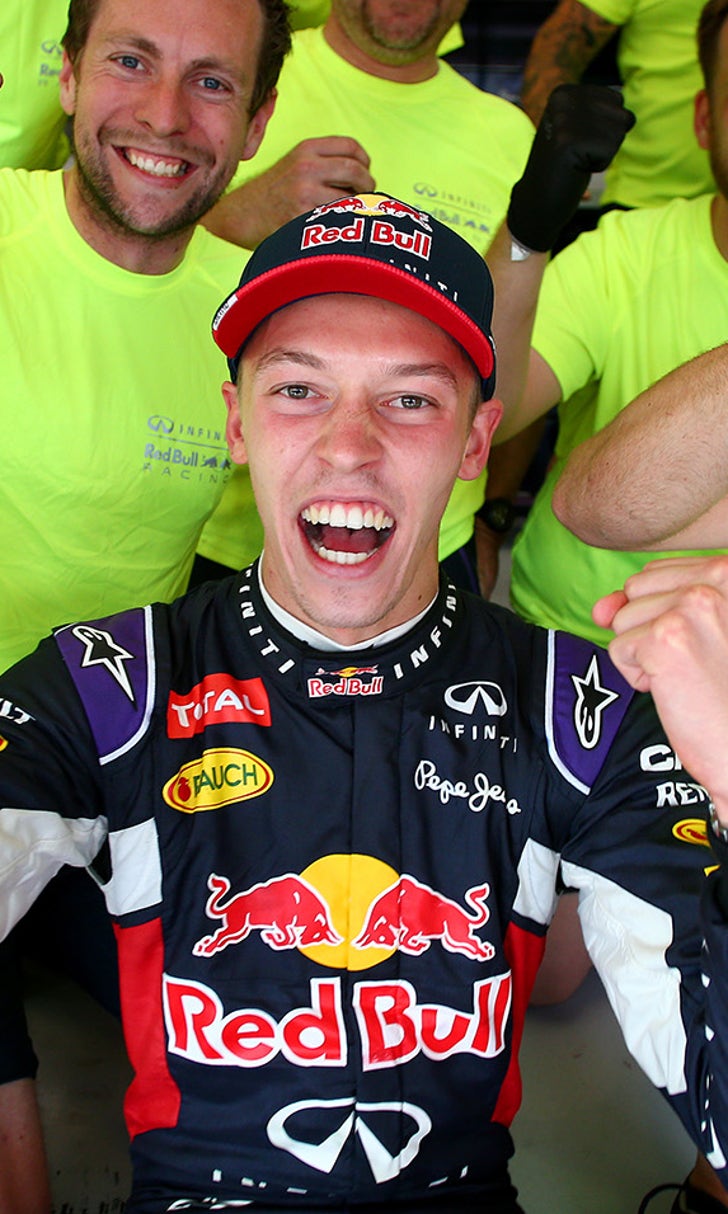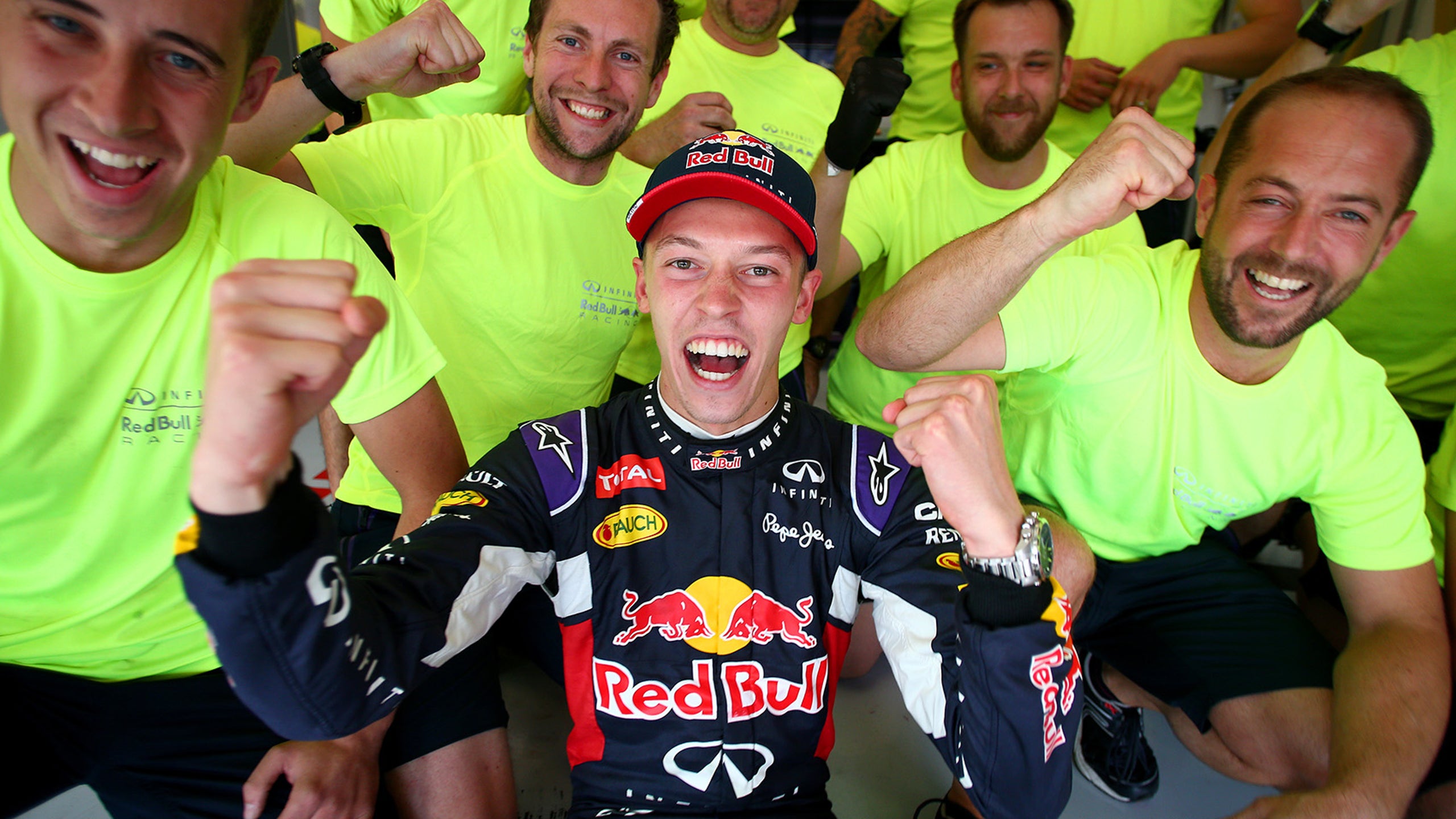 Kvyat secures first F1 podium with second despite penalty
BY Adam Cooper • July 26, 2015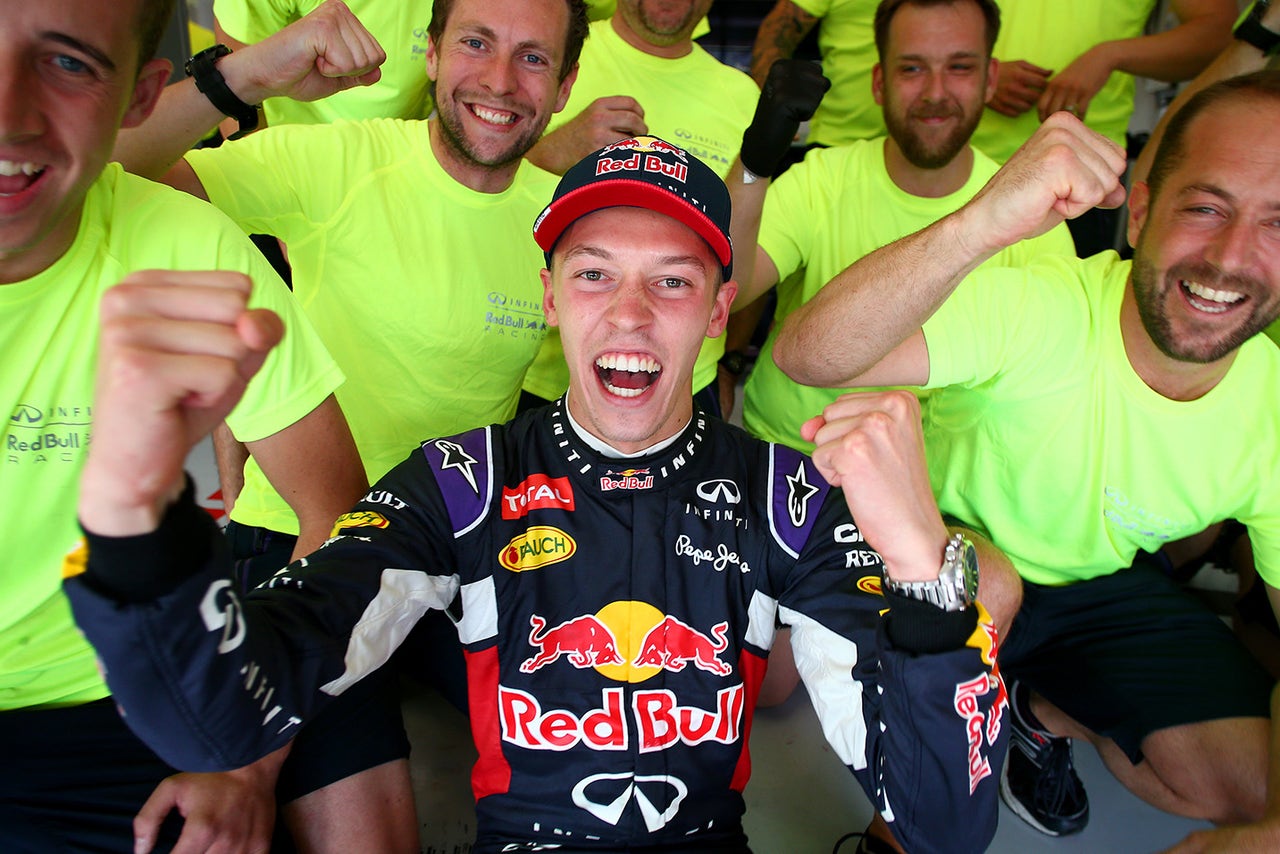 Red Bull's Daniil Kvyat logged his first F1 podium finish in Hungary with a superb second place despite receiving a 10-second penalty that ultimately did not cost him a position.
The Russian took full advantage of those ahead hitting trouble, and was in the right place at the right time in the closing stages. He received the penalty for exceeding track limits when passing Lewis Hamilton, but as he was 19 seconds clear of teammate Daniel Ricciardo, he held on to second.
"It's fantastic to be on the podium for the first time, it's hard to describe what I feel today," said Kvyat. "I think first of all, the second place goes to Jules Bianchi and his family. You know, we lost a great guy, a fantastic person and a great driver.
"It was a race where everything happened for me to be honest. After the start I thought my race was over, because I had a massive flat spot. We were discussing with the team whether we should box straight away or not, but we decided to stay out. Then we had a decent stint on the prime, but still it wasn't feeling great through the race.
"But then something picked up and it was going in the right direction in the second half of the race. The rivals were fighting and I found myself in second place. Today I definitely learned never to give up, whatever happens. It's a great lesson today. The team, you know, we've been having such a hard year and I think all the team, all the guys in the team, all the mechanics have been working so hard and they all deserve this so much. Today I understood that we want to be back to the top one day."
Kvyat paid tribute to Ricciardo, who had been in front until a collision with Nico Rosberg led to a nose change.
"After the safety car restart there was an open fight for the podium between all of us. To be honest, I must give a credit to Daniel. His pace has been better this weekend than mine, I think he had a better chance of a shot for victory this weekend than I did. Certainly had a shot for podium in the end, but my tires were not in a great condition, to be honest.
"I was coming closer, step-by-step, but I think it would be really hard, especially considering the Mercedes straight line advantage, to give them a fight for the podium. So Daniel, I think, did the right thing trying to go for it – but this weekend I think, like I said, I've been able to take every opportunity and that's where I am right now. The pace we will have to analyze. But, you know, sometimes you are faster, sometimes you are slower and this is how it goes in racing."
Click HERE for more F1 news and features.
---