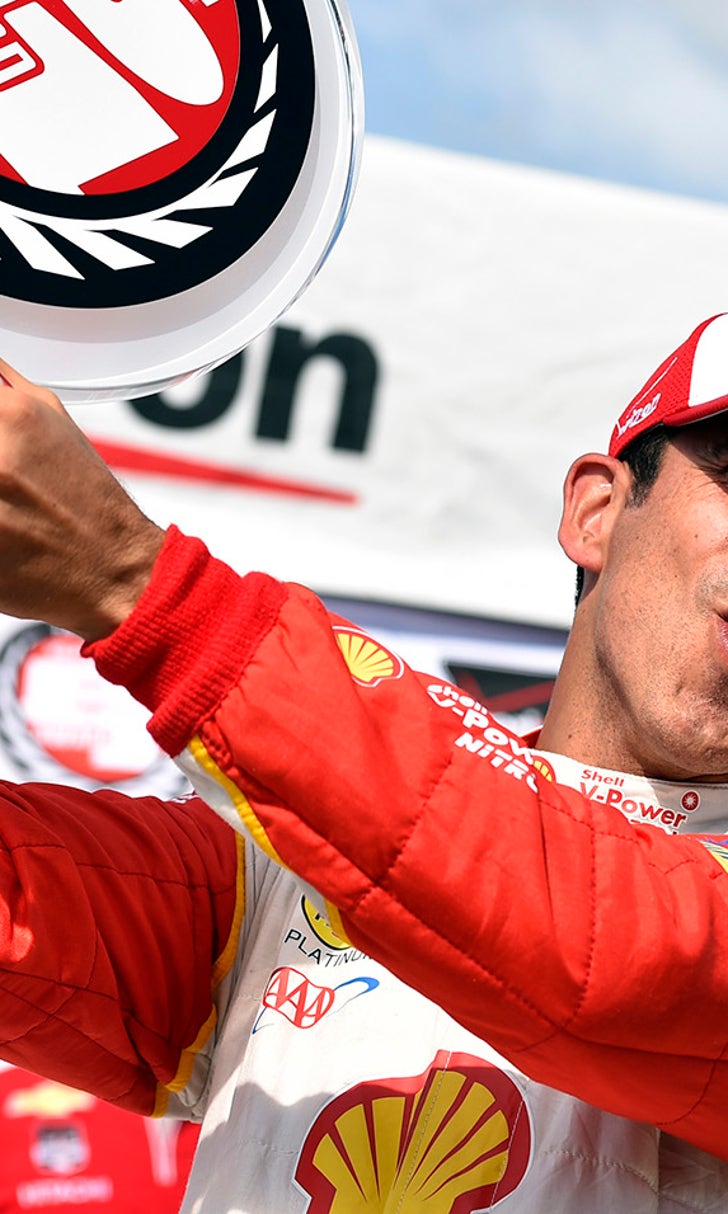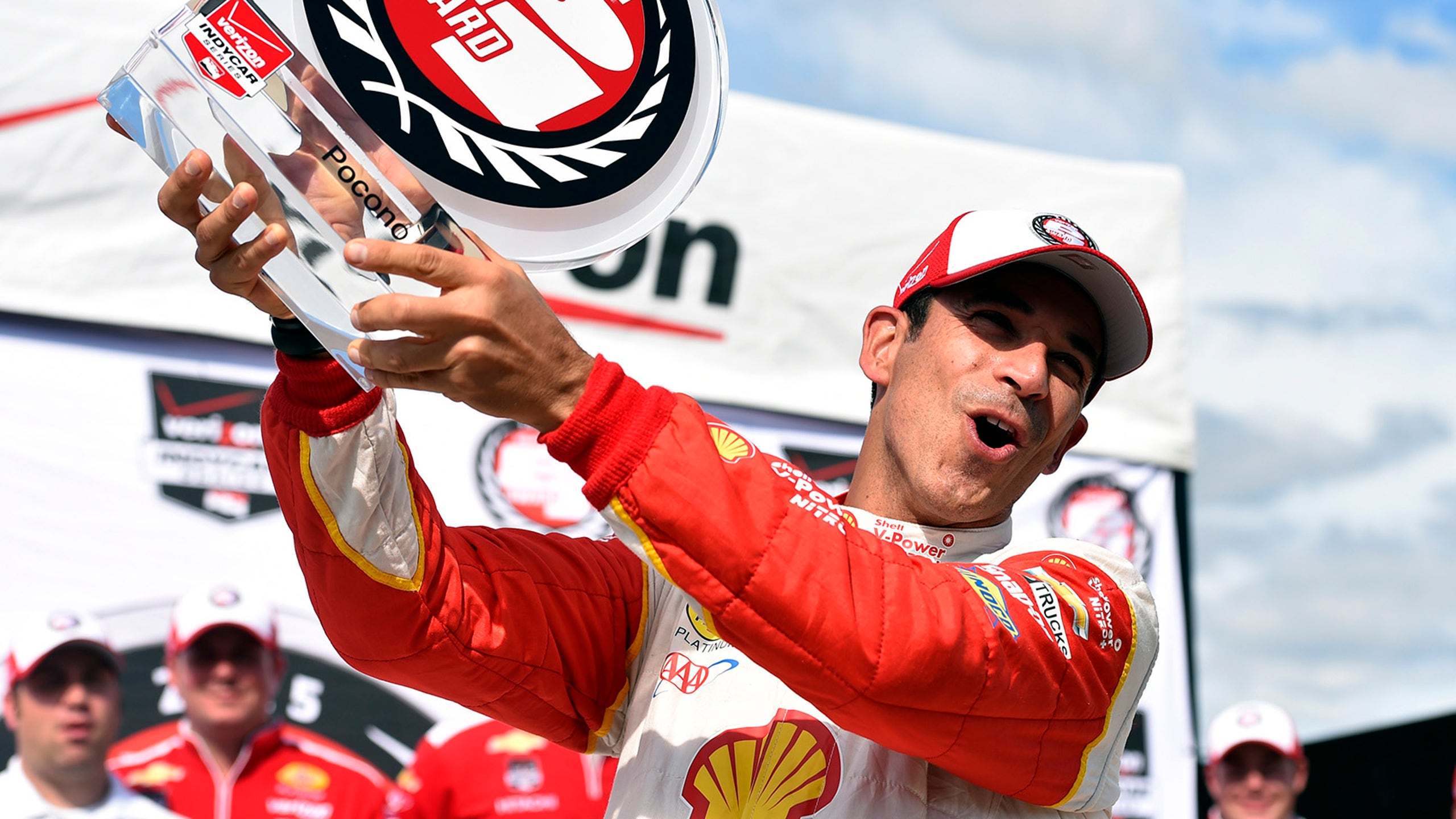 IndyCar: Castroneves claims pole position at Pocono
BY foxsports • August 22, 2015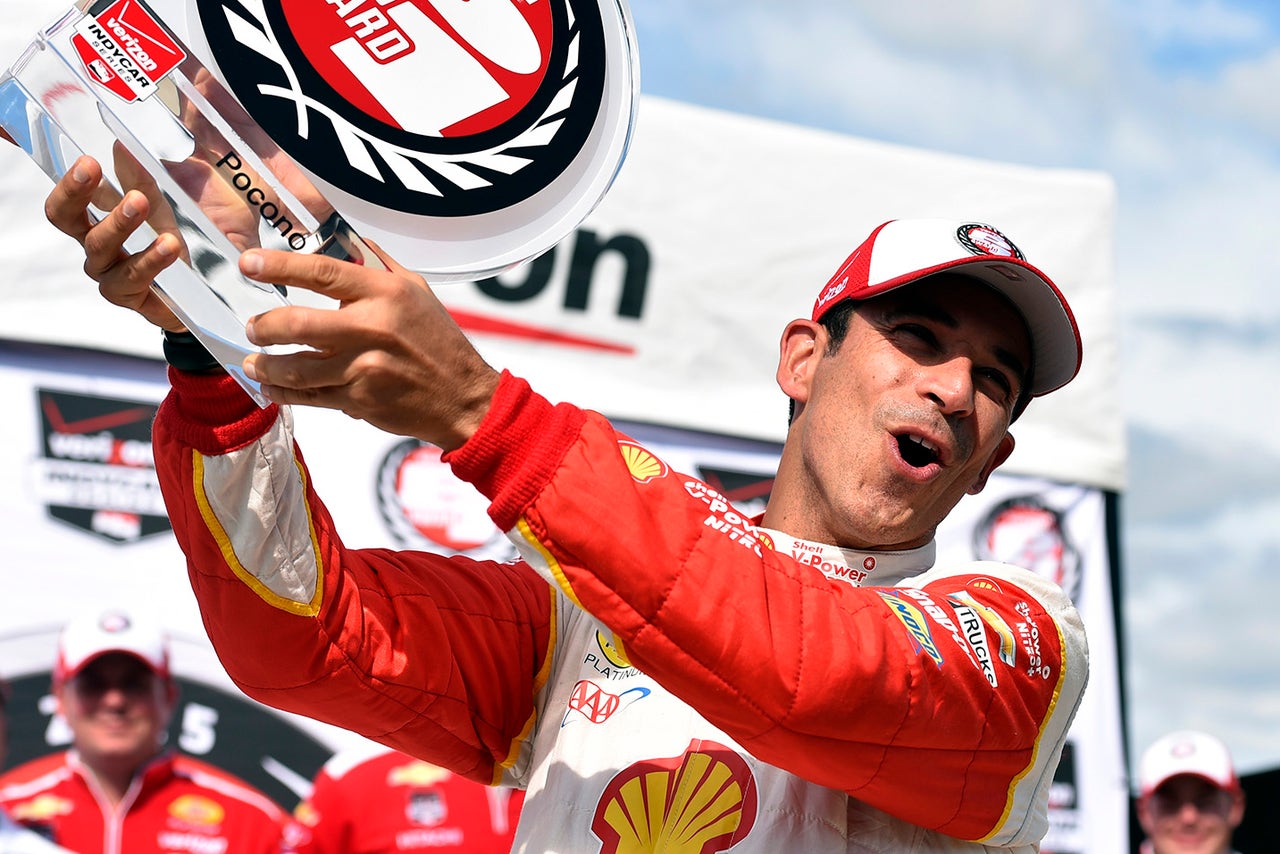 LONG POND, Pennsylvania – Helio Castroneves realizes he needs some help to win the 2015 Verizon IndyCar Series championship because he is fourth in points, 58 points out of the lead. The best way for him to gain ground is to win the final two races of the season and hope the drivers in front of him experience problems.
He got a little help in Saturday's qualifications when the Team Penske driver won the pole for Sunday's ABC Supply 500 at Pocono Raceway while the points leader - Team Penske teammate Juan Pablo Montoya - starts all the way back in 19th place after a poor qualification effort.
He was the only one out of Team Penske's four drivers that will not start up front. Castroneves won the pole with a two-lap average of 220.530 miles per hour around the 2.5-mile triangle-shaped Pocono Raceway.
"It was a good day; a solid run," said Castroneves, who had to wait out a nearly one-hour delay in qualifications after Charlie Kimball's car crashed in the Turn 3 fence and went airborne earlier in the session. "Thank God Charlie is OK. You start dealing with the anxiety but everyone did a good job fixing the track and we were able to get on with qualifying."
It was Castroneves' fourth Verizon P1 Award this season and the 45th of his career.
"I'm not done yet," Castroneves said. "I want to keep going. I'm full of energy and still love the sport. I want to keep having fun and doing what I'm doing. Records and laps and victories are natural when you do your homework and right now it's paying off."
Team Penske teammate Simon Pagenaud starts on the outside of Row 1 after running a two-lap average of 220.485 mph. Another Team Penske driver, defending Verizon IndyCar Series champion Will Power, qualified third with a two-lap average at 220.398 mph and will start alongside CFH Racing's Josef Newgarden, who ran two laps at 220.141 mph. Power is fifth in the championship 59 points out of the lead.
"In my position I'm not looking over my shoulder at all; I have to look forward because of the points gap," Power said. "It's very obvious what I have to do to win the championship and that is to win these next two races or be super strong here and win Sonoma. It's obvious what I have to do and that is not look over my shoulder at all.
"I'm looking to have a really good weekend and having a good chance to go into the double-points weekend at Sonoma having a good chance to win the championship."
Graham Rahal, second in the Verizon IndyCar Series standings and just nine points behind Montoya, qualified fifth at 220.118 mph.
"The car came to life and I'm looking forward to getting out there Sunday for 500 miles," Rahal said. "I won at Fontana from 19th. It makes our lives a lot easier to start at the front but Sunday is going to be a long day. We'll have to try to work our way forward. It's a good thing. We have Helio and Will ahead of us but our job is to stay close to them. It's a great day and I'm a little relieved to be starting up there. We'll have to push hard to get this Honda to victory."
Scott Dixon, who is third in the points 34 behind Montoya, qualified 11th after running a two-lap average of 218.969 mph.
And then there is Montoya, the 1999 CART champion and two-time Indianapolis 500 winner who has led the Verizon IndyCar Series points since winning the first race of the season. Montoya's two-lap average of 217.194 mph puts him 19th in the 24-car starting lineup.
"The wind changed a lot on our run and I had a ton of understeer in Turn 1," Montoya said. "We went into Turn 1 and it never really turned. It's a long race so we'll have to do something a little different at some point. The delay allowed the track conditions to change but you can't really control that."
Castroneves believes Montoya is more than capable of racing his way back to the front in Sunday's race to try to preserve his championship lead.
"The season is so unpredictable the strategy is completely out there so I'm not even counting him out. It's a three-hour race anything can happen. Remember, the guy starting in back came from the back to win the Indianapolis 500, in case you didn't remember," Castroneves said, referring to Montoya's second Indy 500 win on May 24.
With three of the four Team Penske drivers starting in the top three positions – and the championship leader back in 19th, the focus remains the same on the most successful teams in IndyCar racing history.
"It's a team," Castroneves said. "It's Team Penske. We want to give this championship to Team Penske no matter what. We all want to give this to the Captain, Roger Penske. Today is a perfect example of what happens. It was a team effort. We got 1-2-3 on the grid because of that. We want to make sure all of us have the best opportunity to bring the championship to Team Penske."
**
Be sure to catch Bruce Martin's Honda IndyCar Report on RACEDAY on FOX Sports Radio every Sunday from 6-8 a.m. ET.
---