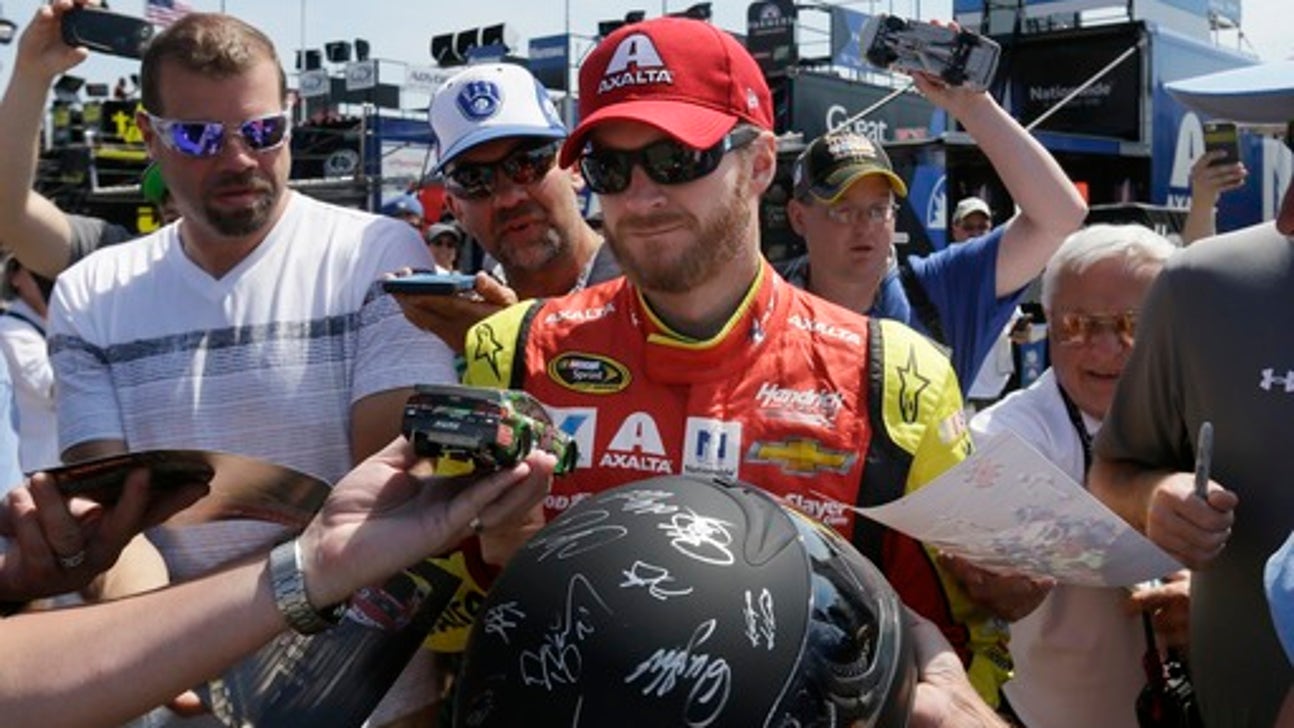 Ford makes return to Le Mans after 50 years
Published
Jun. 15, 2016 7:19 p.m. ET

After 50 years, Ford will make its return to the 24 Hours of Le Mans with Chip Ganassi Racing.
Ganassi will send four cars to compete in the TGE Pro division in western France this weekend. The teams will each feature three drivers, including IndyCar regulars Sebastien Bourdais and Scott Dixon, who took advantage of an off week to compete in one of the world's most prestigious endurance races.
Ford finished first, second and third in the 1966 Le Mans, but it didn't commit to the race again until this weekend. Ford returned to mark the 50th anniversary of its podium sweep.
''Le Mans is a big challenge because as well as the 24-hour race there is a long and busy week leading up to it. The mental tension builds up during the week and from day one you just want to get in the car and race,'' said Germany's Stefan Mucke, one of three Ford drivers in the No. 66 car.
Ford will also take advantage of a new racing simulator - the key component of a new technical center it opened outside of Charlotte in 2014 - to get the drivers used to what they're going to see on the 8.47-mile course in France.
''I really believe we have a chance to win. I think the preparation we've done is really good. Everything has to go right. It's not like Daytona, where you can get laps back. I expect out of four cars, at least one or two will be contending there in the last hours of the race,'' said American driver Joey Hand, one of three for the No. 68 car.
---
SAM'S BACK
Sam Hornish Jr. will resume a long career split between open-wheel and stock car racing this weekend when he runs the NASCAR Xfinity race at Iowa Speedway. Hornish will fill in for Joe Gibbs Racing development driver Matt Tifft, who is dealing with back issues.
Hornish won three IndyCar championships before making the move to NASCAR. Hornish also won at Iowa in 2014 in the No. 54 car, just his third victory in 101 starts. Hornish ran a full Sprint Cup season in 2015 for Richard Petty Motorsports, but he recorded just three top-10s in 36 starts.
Hornish has been working as a substitute teacher at his children's school in the Charlotte, North Carolina, area. Though Hornish insists he's happy in his semi-retirement, he's also excited to get back behind the wheel and tackle Iowa's 0.875-mile bull ring.
''Iowa is one of my favorite tracks. It's short and bumpy and brings a lot of the driver's ability into the equation. My approach for Iowa is to get reacquainted with the team and the race car through the first practice and work from there. It's been a few months since I've been in a car so there'll be a little rust to knock off,'' Hornish said.
---
DALE JR - TV STAR?
Dale Earnhardt Jr. made his debut as a NASCAR race analyst last weekend during the Xfinity race in Michigan
Earnhardt apparently enjoyed himself so much that might do it again someday.
Earnhardt told nascar.com that it was challenging for him to appear on TV because he's naturally shy. But Earnhardt said that after having so much fun in Michigan, he plans to try and learn more about what it takes to make it as an analyst.
''I had way more fun than I thought I'd have. My eyes were open to a lot of things that were happening up there,'' Earnhardt said.
Kevin Harvick, Joey Logano, Brad Keselowski, Carl Edwards, Clint Bowyer and Danica Patrick have also helped call races as part of FOX's Xfinity Series coverage.
---
KICKIN' IT OLD SCHOOL
Actor Luke Wilson will drive the pace car before the Sprint Cup race at Sonoma Raceway on June 26. It'll be the first time that Wilson, best known for starring in ''Old School,'' ''Rushmore'' and ''The Royal Tenenbaums,'' will drive a car before a race. Wilson will be appearing to promote his new Showtime series ''Roadies,'' which premieres later that day.
---