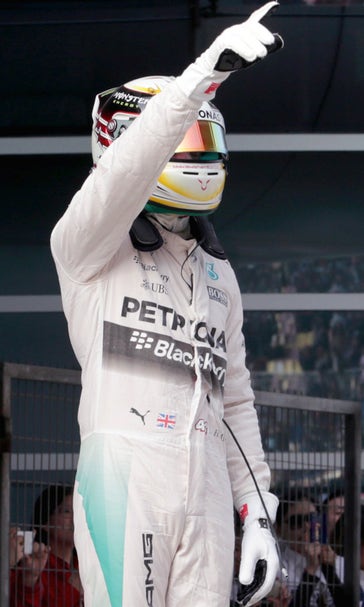 F1: Hamilton holds off teammate Rosberg for Chinese GP pole
April 11, 2015

SHANGHAI -- If Mercedes was concerned about the progress of chief rival Ferrari this Formula One season, its drivers didn't show it during qualifying at the Chinese Grand Prix.
Lewis Hamilton and Nico Rosberg were far ahead of the rest of the field, with Hamilton edging his Mercedes teammate for pole position with a time of 1 minute, 35.782 seconds on Saturday.
Ferrari's Sebastian Vettel was nearly a full second behind in third place.
It was Hamilton's third straight pole to start the new F1 season -- and his fifth overall at the Shanghai International Circuit.
"China continues to be a good place for me. I guess the circuit fits my style more than others and I enjoy driving it," Hamilton said. "There's a long race ahead and the Ferraris are very quick once again here, so the job is far from done."
Indeed, Hamilton took the pole in his last race at the Malaysian Grand Prix two weeks ago, but it was a resurgent Vettel who was standing at the top of the podium at the end of the weekend.
Hamilton's loss was partly down to tire degradation in the tropical heat, but Mercedes boss Toto Wolff still deemed it a "wake-up call" for the most dominant team in F1.
Wolff was optimistic his team could maintain its advantage over Ferrari on the long straights at the Shanghai International Raceway on Sunday, but he acknowledged that having faster speed was not everything.
"We also know that the gaps shrink in race conditions and we saw in Malaysia that they could extend their tire life beyond what we could achieve, so we need to be careful of that tomorrow," he said.
Rosberg was clearly dejected by finishing behind his teammate yet again, this time by just 0.04 seconds. When his team informed him over the radio how close he was to Hamilton, Rosberg replied with an exasperated "Oh, come on guys!"
"It's just four-hundredths and that makes it even more annoying because it's just very, very close," he said.
Rosberg challenged Hamilton for the drivers' championship until the very end of last season, but he's yet to recapture that same driving form at the start of 2015.
"I've focused on race pace with my setup and I know that tires will be the decisive factor tomorrow. So I will be aiming to put a lot of pressure on Lewis ahead of me," he said.
Vettel, too, believes the Ferraris have shown enough pace in practice sessions in China to keep the pressure on Mercedes.
"We knew that it would be tough today in qualifying to be really, really close," he said. "I think for us, we're fairly happy to make sure we are right behind them."
Vettel's teammate, Kimi Raikkonen, will start in sixth position on Sunday, behind the two Williams drivers, Felipe Massa and Valtteri Bottas, who were fourth and fifth, respectively.
Rounding out the top 10 were Red Bull's Daniel Ricciardo, Lotus' Romain Grosjean and the two Sauber drivers, Felipe Nasr and Marcus Ericsson.
Ricciardo, who captured the only three races not won by Hamilton or Rosberg last year, said he's feeling increasingly comfortable in his Red Bull car after early-season struggles with the engine and brake system.
"Consistency is what we were after, definitely. I think we've got that back now," he said. "For sure the team has the ability to make a big step up. Seeing what Ferrari has done, it only means it's within reason Red Bull can do it as well."
For the McLaren drivers, who had been upbeat about their team's progress since the Malaysian Grand Prix, it was another early exit in qualifying.
For the third straight race, Jenson Button and Fernando Alonso were eliminated in the first qualifying session, finishing 17th and 18th respectively. They were just 0.2 seconds below the cut line this time, however, which is a closer gap than in the two previous qualifying races.
"I guess we hoped we might be just a bit closer than we were today," Button said. "In practice, we'd looked a bit more competitive, certainly."
Click HERE to watch Lewis Hamilton's pole lap.
2015 Chinese Grand Prix starting lineup:
---