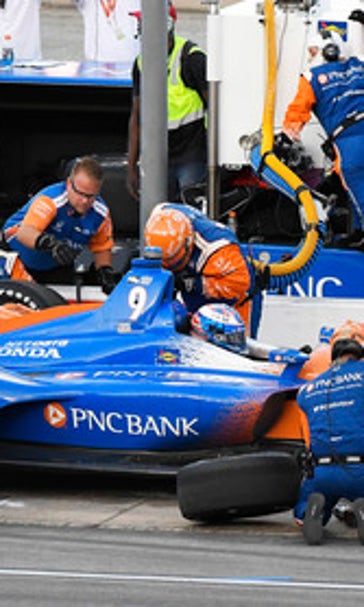 Dixon surges to IndyCar points lead with 2 wins in 8 days
June 10, 2018
FORT WORTH, Texas (AP) Even with all the speed, Scott Dixon still hadn't led a lap all season when he left Indianapolis last month.
Now with two wins in a span of eight days, four-time IndyCar Series champ Dixon heads into the back half of the season as the points leader. Both previous times he won at Texas, like he just did for a third time with a dominating performance, Dixon also won the season title.
''We won two races and led a bunch of laps. That's a positive,'' Dixon said after his win late Saturday night at the 1 1/2-mile Texas oval, a week after the No. 9 Chip Ganassi Racing car also went to Victory Lane in the first race of the Detroit doubleheader.
''We had great speed at the start of the year. I was disappointed with how it went down at St. Pete, how it went down at Long Beach,'' he said. ''The speed has been there. Unfortunately, we've either made mistakes as a team, I made a mistake. We just didn't really hit our stride. It's nice to finally show the speed the car has.''
After leading the last 119 laps at Texas in the middle race of the 17-event IndyCar series - with eight before and eight after - Dixon took over the points lead from Will Power, who dropped to third. Alexander Rossi moved up a spot to second.
Dixon also quickly broke a tie with Michael Andretti for third-most wins in Indy-car history with his 43rd career victory, now behind only A.J. Foyt's 67 and Mario Andretti's 52. Dixon, the 37-year-old from New Zealand, started in CART in 2001 and debuted in IndyCar two years later with his first season championship.
At this season's opener in St. Petersburg, Dixon was penalized for what IndyCar deemed avoidable contact when he ran into the back of Takuma Sato's car. He restarted at the rear of the field, and eventually finished sixth.
In Long Beach, Dixon got a penalty for entering a closed pit lane during a caution and went on to finish 11th. That is the only time he's finished worse than sixth.
While Power and Ed Carpenter, the top two finishers in the Indianapolis 500, were both called for avoidable contact with rookies in separate incidents that knocked them out at Texas, there were no issues at all for Dixon.
Dixon's official winning margin over Simon Pagenaud was 4.29 seconds, but Dixon was close to lapping the entire field before the caution on lap 173 of 248, when Carpenter made contact with Robert Wickens. Dixon was starting to stretch his lead again before Power collided with Zachary Claman De Melo on lap 205.
With the new sleeker cars and universal aero packages on the Texas track for the first time, Dixon started steady before finally going ahead on the 130th lap - the ninth and final lead change of the race.
''We kind of just played it fairly cool to start with. Car felt really good out of the box,'' Dixon said. ''It's not too often you get sort of a runaway, especially in the series at the moment. It was kind of cool to see for us.''
Dixon also won at Texas in 2008 and 2015 before the track was repaved and reconfigured in early 2017. He won IndyCar titles both of those years, with another in 2013.
Pagenaud, the 2016 series champion who finished second last year behind Team Penske teammate Josef Newgarden, had his best finish this year. Pagenaud was 10th or worst five times, and his best before Texas was a sixth-place showing at the Indianapolis 500.
''It's never over anyways,'' Pagenaud said of the title chase. ''We saw that last year, Newgarden really started his momentum midseason, went on and won the championship. I did the same last year really.''
Much like what Dixon could be doing now.
---
More AP auto racing: https://racing.ap.org
---
---