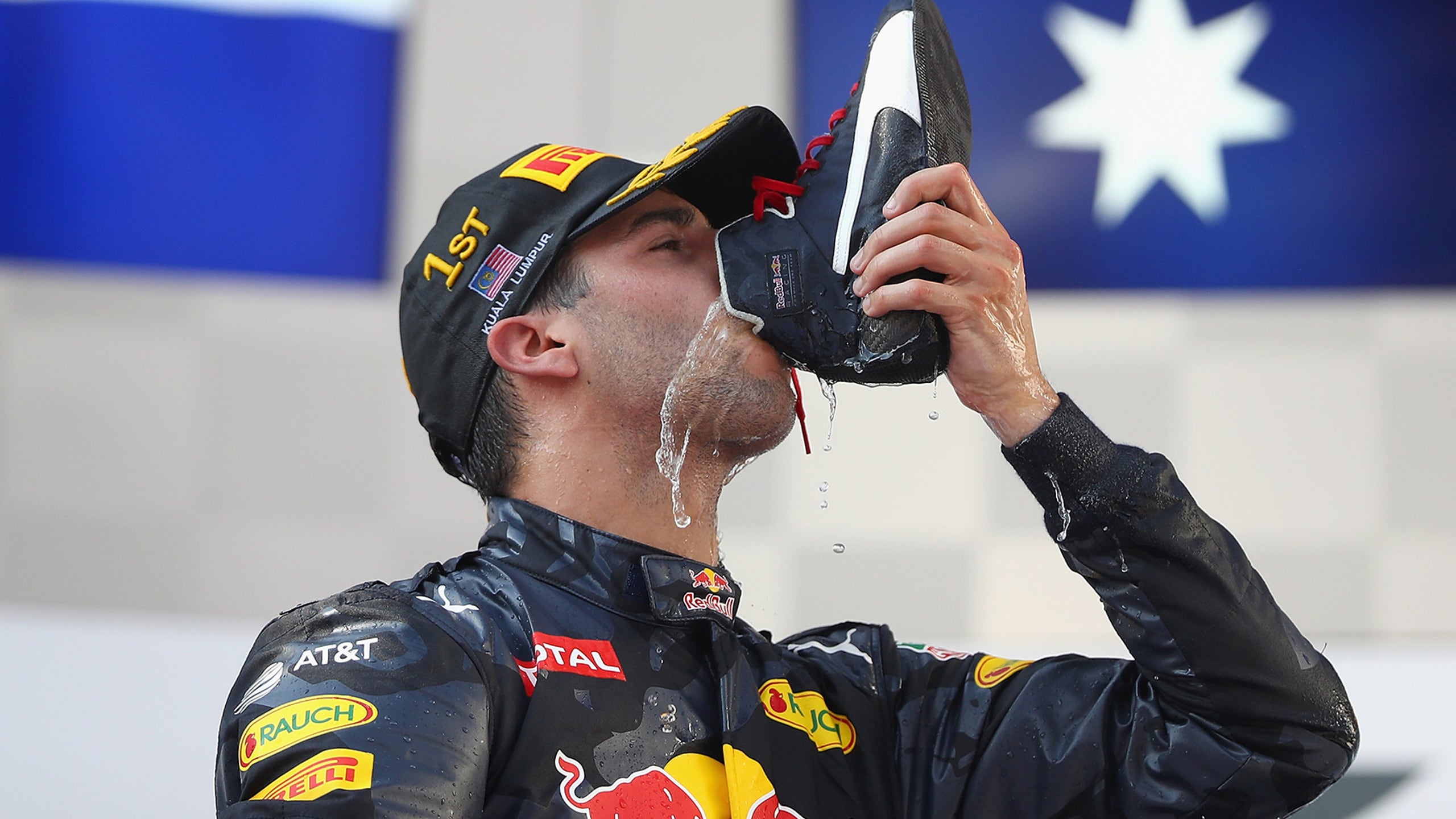 Daniel Ricciardo delighted as ends two-year winless drought
BY foxsports • October 2, 2016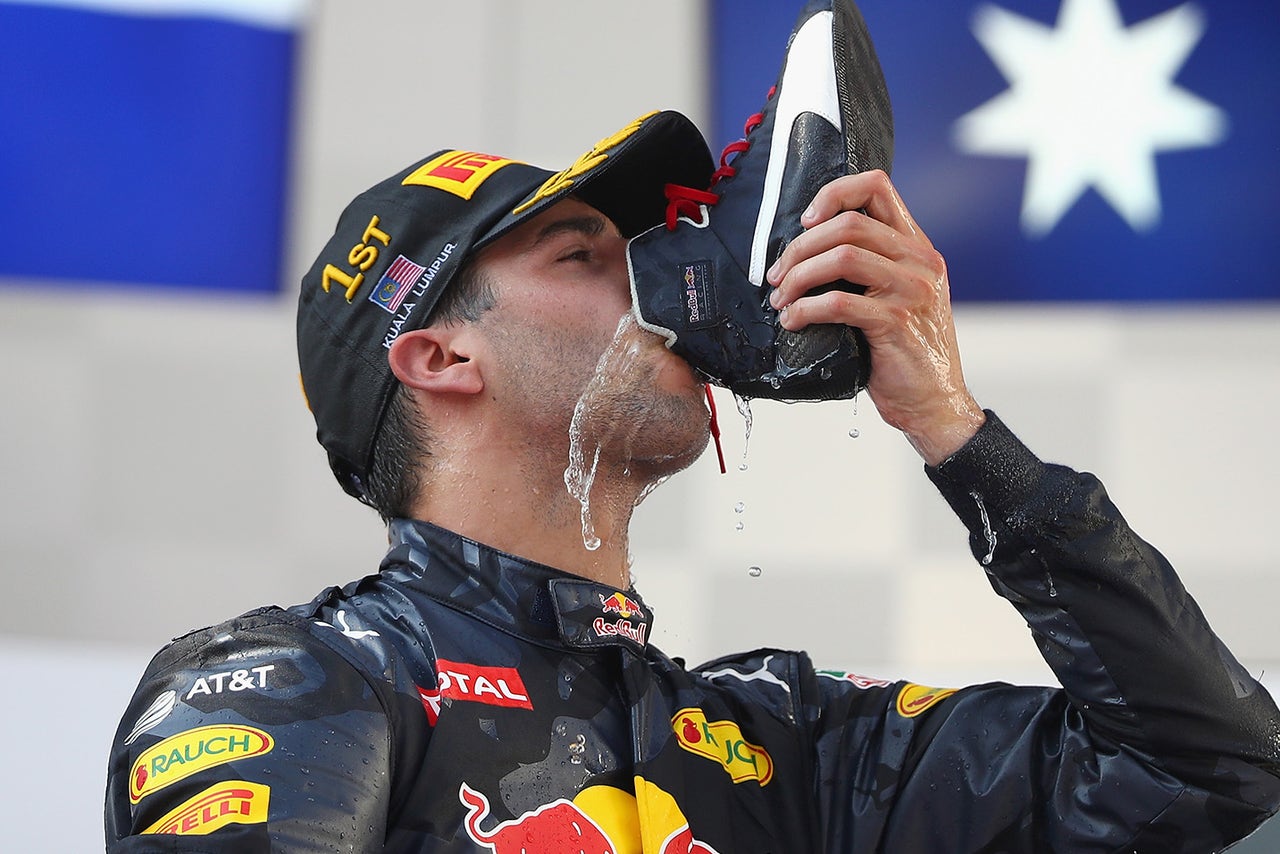 Red Bull Racing's Daniel Ricciardo put two years of frustration behind him as his finally recorded his fourth career victory in Malaysia, following the three he scored in 2014.
Ricciardo benefited from the late retirement of Lewis Hamilton, but he still had to fend off teammate Max Verstappen in the closing stages of Sunday's Malaysia GP at the Sepang International Circuit. At one point they ran side-by-side, but fortunately there was no contact.
"It's been an interesting two years since my last victory, so it feels awesome for sure, I'm very grateful for it," he said. "The start was interesting. I didn't get a great launch off the line. I saw Seb, I think it was on the inside of me, got a better run. I think Max also had a decent start from memory, and it seemed like everyone went to the inside and it didn't look like there was a whole lot of room and Seb went even deeper. So it looked like he went a little bit deep and it looked like the inside sort of washed out. Everyone sort of tried to out-brake each other, at least from what I say.
"My average start and more cautious approach into Turn One actually worked out but that's just how it goes sometimes. I got into P2 and then was just trying to do my thing in the race. The long run on Friday wasn't very good, we made a lot of changes, so after Friday if I would have said I'd win the race today in dry conditions… nothing is ever impossible but it was looking like it was close to be. Just tried to do our thing."
The complexion of the race changed when Verstappen made an early stop under the VSC, which put him on a different strategy to the other main contenders.
"Max pitted under the Virtual Safety Car at the beginning, put the soft on and at that point it looked like his strategy was working out very well for him. So then I had to hold him off towards that mid-part of the race, just as Lewis had his problems. It was a good battle. Max was on a little bit fresher tires and I knew he would come at some point, but obviously I was trying to do everything I could to hold him off.
"It was fun. It was hard racing and for sure we're both determined to win and we want to beat each other, but I think we did it today very fair and with a lot of respect. So I thank him for that and I think it goes both ways. It was good fun.
"At the end I tried to hold him off again. It was tough. It was very hot today. Normally Singapore is the most physical race but I thought today was just as physical as last week. I'm not sure still what happened to Lewis. Obviously we got that one today. Obviously we have him that one in Monaco, so I like to think it's evened out today, so I'll definitely take the win today."
Ricciardo said he enjoyed his wheel to wheel battle with Verstappen: "I was defending. I could see Max coming, I think it was into Turn Four, I went to the inside but I knew he'd probably switch back and get a good exit into Turn Five, so yeah, out of the corner I had a bit of wheelspin and thought he'd probably get me quite easily into five - but I just had enough drive to stay on the inside and, yeah, he gave me room, we both stayed in it.
"So he had the inside at Six but I held around the outside and fortunately there weren't too many marbles, so you could run two cars side-by-side through there, which was fun, which was nice. So held that, then into Seven we tried to basically out-brake each other. I was a little bit on the cleaner line so could just go a little bit deeper into Seven and held off that time. It was cool.
"To race Formula One like that, high-speed corners, to be inches from each other. It's fun. You're in the heat of battle, you're seeing red but at the same time you've got to smile. You know the guy that's two meters to the right of you is having the same amount of fun and you're both trying to take what was eventually the lead of the race. So it's a good shot of adrenaline."
---
---