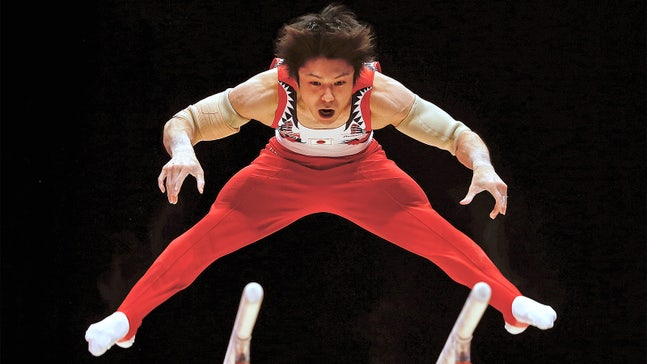 Uchimura, Japan edge Brits for men's world gymnastics title
Published
Oct. 28, 2015 5:26 p.m. EDT

For a decade the Chinese men's gymnastics team flitted above the fray, a red-clad powerhouse who collected gold medals with impressive frequency.
The reign is over. Maybe for good.
Welcome to the new world order. China, you've got company. Lots of it.
Japan captured its first world title in nearly 40 years on Wednesday night, racing to an early lead and then holding on despite a late fall from star Kohei Uchimura, a breakthrough moment for a program that has spent two generations chasing but rarely catching its rival.
Britain roared to second, leaving the Chinese to settle for bronze in its lowest finish in a major international competition since the 2004 Olympics. Russia was fourth, followed by the U.S., which was in contention for most of the day but faded on pommel horse.
Yet it was China's slide that reset the narrative with a suddenly wide-open Rio Olympics looming next summer.
"It's a warning for all of us," China's Zhang Chenglong said. "Because it's a competition, there are always successes and failures. No one can be the forever winner."
Japan posted a score of 270.818, just 0.473 better than the Brits and nearly a full point better than the Chinese.
Japan's long climb to the top of the podium didn't come easy.
Uchimura was in the middle of his high bar routine on the final rotation when the massive scoreboard showed the British overtaking China and momentarily moving into the top spot. The explosion of noise as the arena realized what happened seemed to rattle the five-time world champion. Uchimura flew off the bar almost immediately, putting the one medal lacking on his peerless resume in doubt. He hopped back up to finish, but it left the outcome in the hands of the same judging panel that awarded China last year's team title by a tenth of a point.
Surrounded by his teammates, Uchimura leaned forward on the vault runway. When their leader's 14.446 flashed, the usually demure Japanese thrust their arms skyward in celebration even if their star was still a little ticked.
"I'm not so satisfied because I couldn't make a perfect routine on high bar," he said.
Maybe, but the 26-year-old Uchimura gently ran his fingers over his country's first world championship since 1978 as he spoke, perhaps checking to see if it was real.
The Chinese have spent a decade ruling the sport, a streak that included a pair of Olympic gold medals and five straight world championships, the last on a curious victory over Japan last year when the Chinese pulled it out on the final set of the final rotation.
Finding a way to top his country's chief rival is what has kept Uchimura going, the lone hole on a resume that includes an Olympic all-around title and a stash of world championships that figures to grow after Friday's all-around final.
The Chinese have remained elusive, just out of reach for the Japanese and well above everyone else. In 30 minutes, China's supremacy crumbled.
Japan led off with Uchimura on floor, almost as if to send a message that it wasn't going to let another opportunity slip away. His 15.8 gave Japan early momentum and Kenzo Shirai and his seemingly endless stream of twisting tumbling runs posted a 16.235.
Given a chance to respond, China instead looked groggy. Zhang, the only holdover from the 2012 Olympic team, stepped out of bounds. Going first at pommel horse, the Chinese were sloppy. When Xiao Ruoteng peeled off midway through his set, China trailed the Japanese by 6.29 and for once couldn't make it all the way back.
"Gymnastics is not a confrontational sport but one in which we display ourselves," Zhang said. "We lost to ourselves this time. We will seek answers in ourselves."
China's stumble left the podium wide open for the first time in forever. The Americans, competing without injured stars Sam Mikulak, John Orozco and Jake Dalton, clawed their way through qualifying. Making it through to the eight-team final brought a sense of relief, and with nothing to lose the U.S. was fearless. They were in solid contention all evening but two labored pommel horse routines by Danell Leyva and Donnell Whittenburg helped push down them to fifth.
"It was a dogfight today," Paul Ruggeri said.
A scrum that now consistently includes the British. A night after the women's team finished third in the team final for the first time ever, the men were one spot better. Britain posted the second-highest scores on pommel horse, high bar and floor exercise, with Max Whitlock's measured floor routine providing the margin that rocketed the Brits to their highest-ever finish in a field that appears as tight as ever. The top five were separated by just over three points.
"Bronze was the most realistic medal we were going for," Britain's Nile Wilson said. "In the back of your mind you know anything can happen in the world team final."
And for once, it did.
---