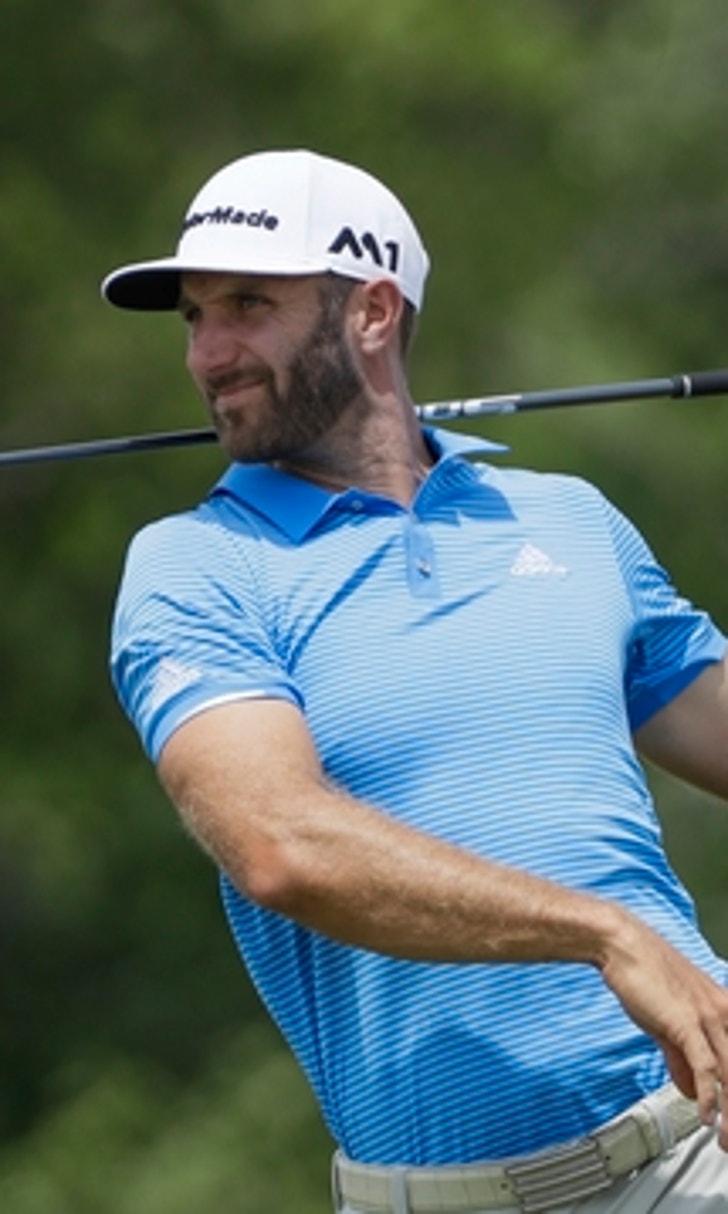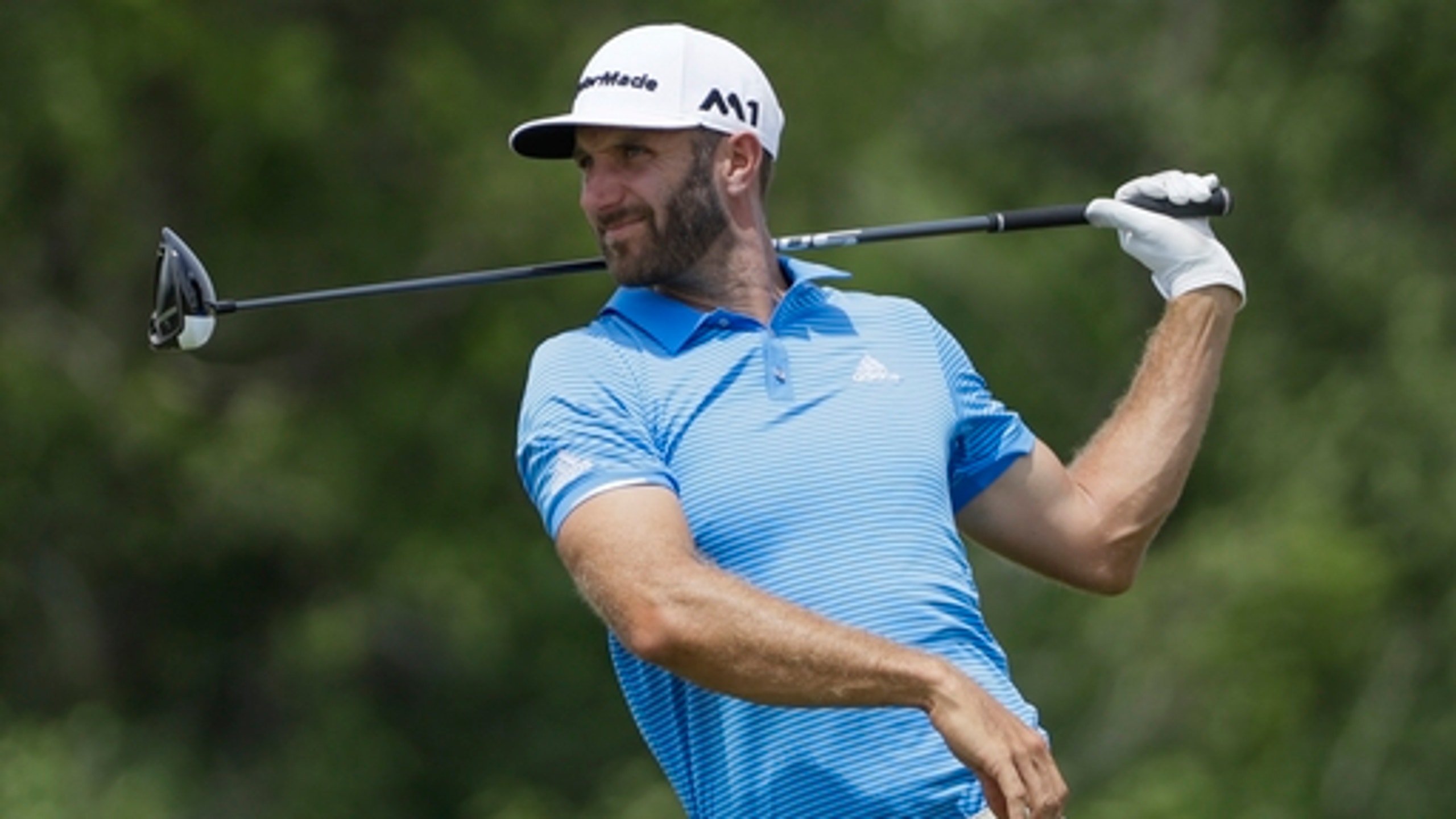 What's in a name? Ask Paulina Gretzky
BY AP • June 14, 2017
ERIN, Wis. (AP) Dustin Johnson has been in complete control of his golf game during his rise to No. 1.
But at home?
Paulina Gretzky calls the shots, especially when it comes to naming their children.
Johnson revealed Monday that their second child, another boy, was named River Jones Johnson. Asked where the name River came from, he said, ''Mama.''
The middle name was easy to explain. Jones is the maiden name of Gretzky's mother (Janet Jones), and the last name of Johnson's late grandmother (Carole Jones), his biggest influence during his teenage years.
But back to River. What was Paulina thinking?
''I can't think how she thinks, that's for sure,'' Johnson said. ''I don't know where she got it. I tried to ask. She said, `I don't know, I just like the name.'''
They plan on calling him Riv, which is how several people refer to Riviera. That's where Johnson won big this year at the Genesis Open to reach No. 1 in the world and start his three-tournament winning streak.
So maybe there's something to that.
''That was how she got started was from Riviera,'' Johnson said. ''But I didn't come up with that on my own.''
---
WHAT WILL PHIL DO NEXT?: Bad news for Phil Mickelson without even being at Erin Hills: The forecast calls for a reasonable chance of storms for all but one day this week - Thursday, when he'll be in California for his daughter's high school graduation.
Mickelson has yet to withdraw, saying he will need a four-hour delay in the first round of the U.S. Open to have any chance of flying to Wisconsin (more than three hours in the air) and getting to the first tee.
He is to play at 2:20 p.m. in Wisconsin. Graduation is noon (Wisconsin time).
At least his caddie, Jim ''Bones'' Mackay, made it to Erin Hills to scout the course on the rare chance of Mickelson making it to the U.S. Open. Mackay thinks Erin Hills is perfect for Mickelson, mainly because of wide fairways and the need for a great short game.
''He wants it, obviously, as badly as he wants anything else,'' Mackay told Fox Sports. ''So it would be a really cool thing if it worked out for him tomorrow. Knowing Phil and knowing how much he wants to play, it wouldn't surprise me if he left if rain wasn't in the forecast. You never know out here with this kind of humidity. Storms can roll up unexpectedly.
''I'm leaving him alone, but it wouldn't surprise me if he left, flew a little bit and then if the guys tee off at 2:20, turn around and go home.''
---
RING THE BELL: In a sunken patch of rough, just beyond the seventh tee box at Erin Hills, stands a rusted-out bell with the clapper removed.
When Erin Hills was first built, the bell stood near the green on what was then a blind par-3. Since the putting surface was not in sight from the tee box, players had to ring the bell to let the next group know the green was clear. A white rock behind the green was positioned every day to indicate the aiming point for the day's pin position.
The hole was nicknamed the ''Dell Hole,'' after a similar hole at Lahinch Golf Club in Ireland.
But during one of the course redesigns, then-owner Bob Lang ordered the area in front of the green bulldozed to make room for a new set of tees, and what had been the eighth hole was lengthened and turned into the new par-5 seventh.
''It was a unique hole,'' said Steve Stricker, the Wisconsin native who was invited to play Erin Hills in the early days.
In the end, he agreed with Lang, who felt the USGA would never bring a U.S. Open to a course with a blind par-3.
Fortunate, then, that Erin Hills was originally built with 19 holes. What is now the par-3 ninth used to be called the ''Bye Hole'' - playable but didn't count on the scorecard.
Stricker said he always thought that was the better of those par-3s.
''So I don't know if that stuck with them or they thought the same thing,'' he said. ''But I wasn't a big fan of the blind par-3.''
---
SLOGAN TWEAK: For years, the U.S. Open has been referred to as the ''toughest test in golf.'' So it was interesting to hear USGA executive director Mike Davis refer to it on more than one occasion as the ''ultimate test in golf.''
That was a conscious decision.
''We really got branded as the toughest test not by ourselves but by others,'' Davis said. ''It's not necessarily bad. And we're not shunning the fact that it is a tough test. We get to the Women's Open it's going to be a tough test. There's history, well over a century of history of that with the USGA. But I will tell you when we sit and talk as a group and we're setting a golf course up, we are never - never - talking about, `We have to have even par win' or `We have to make this as tough as possible.''
He said the choice of ''ultimate test'' is a goal to test every skill.
The toughest test? Davis said the USGA could make it any U.S. Open as tough as it wanted, as could any other organization that runs big tournaments. The PGA Tour made The Players Championship plenty tough when it rolled the greens twice last year in the third round, when 60 of 76 players made a double bogey or worse and there were 149 three-putts in one round.
That's why Davis prefers ''ultimate.''
''You're hearing us talk more about that simply because ... we're not just trying to make that the toughest test,'' he said.
---
HONORARY STARTER: It was a big deal for Bob Ford to get the Bob Jones Award, the USGA's highest honor. It got even better when he was asked to be the honorary starter at the U.S. Open for as long as he wants the job.
Ford retired last year as the head professional at Oakmont, which has hosted the U.S. Open a record nine times. He still works the winter months as the head pro at Seminole in south Florida.
''Very cool,'' Ford said Wednesday. ''It's an incredible privilege and honor that I've been asked to do that. And as President (Diana) Murphy said last night, I can do it as long as I want to, and that's very cool. It will bring a little stability and continuity to the position.''
Ford said he went through his own version of a practice round, especially making sure he pronounces the names correctly. The first player to tee off on No. 1 Thursday is Jordan Niebrugge (KNEE-brew-ghee).
---
FREE RELIEF: The USGA is enacting a local rule this week designed to allow players to putt or hit hybrids from off the green even if a sprinkler head is in their way.
Most of the greens at Erin Hills are surrounded by closely mown collection areas, not thick rough. A popular choice is to keep the ball on the ground instead of chipping high to get the ball on the green.
The Rules of Golf state players aren't entitled to relief unless an obstruction interferes with their stance, the lie of the ball or the area of their intended swing. It means that normally, if a sprinkler head is on the line of a ball that's just off the green, putting or using a hybrid isn't an option.
Under the local rule, if the obstruction is on the line of play and within two club lengths of the putting green, and the ball is within two club lengths of the obstruction, the player gets to move the ball with no penalty.
---
National Writer Eddie Pells contributed to this report.
---