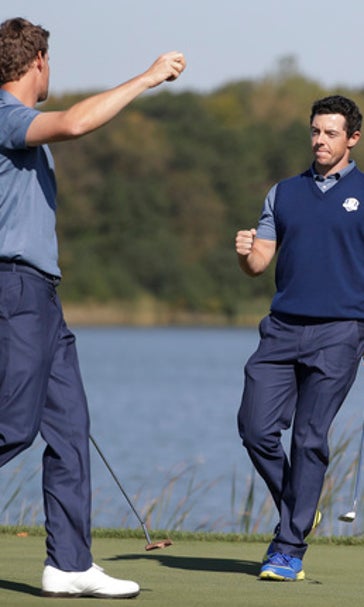 The Latest: Europe fighting back in the afternoon
BY foxsports • September 30, 2016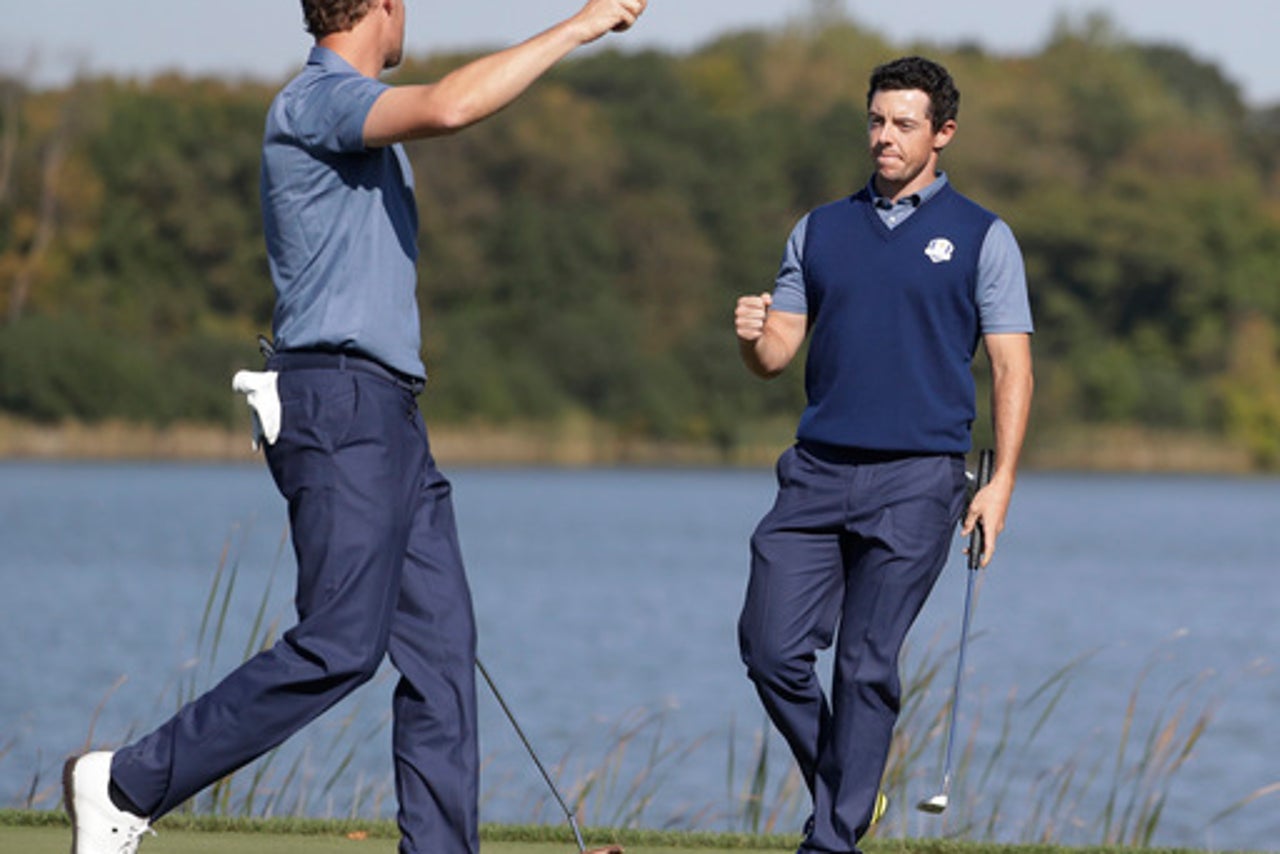 CHASKA, Minn. (AP) The Latest on the Ryder Cup (all times local):
3 p.m.
Europe is bouncing back strongly from its whitewash in morning foursomes.
Henrik Stenson and Justin Rose are 6 under through eighth holes and have a 2-up lead over Jordan Spieth and Patrick Reed in fourballs. Even more surprising is Rory McIlroy and rookie Thomas Pieters going 3 up over Dustin Johnson and Matt Kuchar through six holes.
Europe leads in three matches, while U.S. rookie Brooks Koepka and Brandt Snedeker are 3-up through six holes.
---
2:20 p.m.
Phil Mickelson earned the afternoon off after teaming with Rickie Fowler to win their opening match in a morning foursomes sweep by the U.S. team.
He might have needed it after coming through when it may have mattered most for himself and the team.
''Certainly I felt more pressure heading into today's matches,'' Mickelson said. ''Given the buildup over the last couple years, the criticism, the comments, what have you, the pressure was certainly as great, or greater, than I've ever felt.''
Playing in his 11th straight Ryder Cup, Mickelson took on the role of de facto captain for this team. But he came under fire this week for criticizing former captain Hal Sutton for matching him with Tiger Woods in the U.S. Ryder Cup loss 12 years ago.
''I could have copped out and asked to sit. That would have been a total weak move, and I wanted to get out there,'' Mickelson said. ''Put me out there. I enjoy that pressure.''
Mickelson and Fowler beat Rory McIlroy and Andy Sullivan, 1 up.
---
1:53 p.m.
Danny Willett had a feeling he would hear it from the Hazeltine crowd after his brother penned a column for a British outlet lambasting American golf fans.
The revved-up crowd obliged.
Willett sat out the morning session, but was jeered on the first tee in the afternoon. The partisan American crowd chanted ''Will-ett's broth-er!'' in response to Peter Willett, who called American fans ''pudgy, basement-dwelling irritants'' in a scathing column. Danny Willett spent the last two days apologizing for and distancing himself from his brother's words.
But he responded well to the jeers in his first-ever Ryder Cup match. He was paired with Martin Kaymer against Brandt Snedeker and Brooks Koepka in four-ball. After Koepka rolled in a birdie putt on the first hole, Willett responded with a long one of his own to keep the Europeans from falling behind.
---
12:45 p.m.
Don't count the Europeans out just yet.
That was the message from Martin Kaymer and Sergio Garcia after the U.S. swept the morning foursomes matches to go up 4-0 in the Ryder Cup.
''It's a different game we play in the afternoon and I think we are all ready,'' Kaymer said. ''We are fired up. We want to keep that trophy and bring it home to Europe.''
Kaymer and Garcia were on the losing end of their match to Jimmy Walker and Zach Johnson, who closed them out, 4 and 2, on the 16th hole. The matches were played before massive crowds who were vocal in their support of the American team.
''Obviously they are very excited,'' Garcia said. ''They should be. But you know, it's our job to hopefully quiet them down a little bit and see if we can do that this afternoon.''
---
Noon
The U.S. team touched some rare air this morning, going 4-0 in a session for the first time since 1981.
Jordan Spieth and Patrick Reed got things rolling in the opening match of foursomes by beating Europe's Olympic-medals duo of Justin Rose and Henrik Stenson. In the other three matches:
Phil Mickelson-Rickie Fowler beat Rory McIlroy-Andy Sullivan, 1 up.
Jimmy Walker-Zach Johnson beat Sergio Garcia-Martin Kaymer, 4 and 2.
Dustin Johnson-Matt Kuchar beat Lee Westwood-Thomas Pieters, 5 and 4.
The last sweep by a U.S. team was the afternoon four-ball session on the second day in 1981. And for all the toasts thrown around about ''greatest team ever,'' don't get any comparisons started.
The 1981 team, which won 18 +-9 +, included Jack Nicklaus, Tom Watson, Lee Trevino and Johnny Miller
---
11:35 a.m.
The Americans are already on the board, scoring a pair of early wins in the morning foursomes round.
Jordan Spieth and Patrick Reed beat Europe's Olympic medal-winning duo of Justin Rose and Henrik Stenson, 3 and 2. Rose, the gold medalist at the Rio Olympics, and playing partner Stenson, who won silver as well as the British Open, combined for only one birdie over the 16 holes played. Spieth and Reed had made five.
The second U.S. point was even more impressive. U.S. Open champion Dustin Johnson and Matt Kuchar needed only 14 holes to put away Lee Westwood and rookie Thomas Pieters, 5 and 4.
The United States is up in the third match and the last is all square.
---
11:05 a.m.
How hungry for golf are Minnesotans?
Very.
More than 51,000 fans were crammed onto Hazeltine National Golf club before high noon for the first day of matches. The event was sold out months ago. Hazeltine has hosted four majors, two U.S. Opens (1970, 1991) and a pair of PGA Championships (2002, 2009; the last major held in the state).
How nice are Minnesotans?
More than 30,000 turned out for a Monday playoff in which between Payne Stewart beat Scott Simpson to decide the 1991 U.S. Open. That's about five times the usual gallery for such extra sessions.
Reed Mackenzie, then chairman at Hazeltine and subsequently at the U.S. Golf Association, explained it this way at the time: ''People would have thought it would be impolite not to be here for the playoff.''
---
10:35 a.m.
Justin Rose and Henrik Stenson have added some impressive bling to their collections this year, but so far it's been anything but champagne wishes and caviar dreams for the European duo at Hazeltine.
Rose won the gold medal at the Rio Olympics and Henrik Stenson won silver. But they'll have to step it up if they hope to bring the hardware home from the Ryder Cup. The Europeans went 1-down against Jordan Spieth and Patrick Reed at the second hole and haven't made up any ground since. Heading to the 13th, they have made only one and birdie, but the Americans quickly answered with one of their own.
Rose and Stenson are 2 down in the match.
---
10:15 a.m.
United States Ryder Cup captain Davis Love III said he has a strategy for how he will deploy vice captain Tiger Woods through the weekend. He says he believes that ''people will be watching Tiger watch golf,'' and expected the superstar could buoy certain pairings at crucial moments.
So far so good.
Woods has been following Dustin Johnson and Matt Kuchar in their foursome match against Lee Westwood and Thomas Pieters. The American pair have stormed out to a 5-up lead after eight holes, with Johnson's putting leading the way.
But Woods may also be having a cooling effect on Pieters in his first ever Ryder Cup match. The rookie has been shaky all morning, and having the most famous name - and one of the most intense competitors - in golf looking over his shoulder might not be helping him.
---
9:50 a.m.
Jordan Spieth and Patrick Reed have sent the Europeans a message: nothing will come easy at the Ryder Cup.
After jumping out to a 3-up lead through eight holes, Henrik Stenson and Justin Rose finally put themselves in position to win their first hole of the match on No. 9. After Rose rolled a long putt within less than two feet of the cup, Reed and Spieth made Stenson put it in the hole rather than concede it.
Stenson calmly made it and had a wry grin on his face as he walked off the green 2 down.
---
9:15 a.m.
Lefty can play right-handed, too.
That wasn't an ideal situation for Phil Mickelson, of course, though he didn't have much of a choice. Mickelson and Fowler already were 1 down to Rory McIlroy and Andy Sullivan when Mickelson hooked his tee shot out-of-bounds on the par-5 sixth hole. Fowler nearly did the same on his tee shot (the third shot), except it stopped next to the fence.
Mickelson's only choice was to flip around a wedge and play it right-handed. It squirted left toward the gallery. They didn't finish the hole.
Europe was 2 up through six holes in that match.
---
8:55 a.m.
Some morning fog and chilly Minnesota temperatures are making an already long Hazeltine course play even longer in the early going at the Ryder Cup.
Temperatures hovered around 50 degrees as play got underway on Friday. The heavy air kept the tee shots a little shorter and the fog blanketing the course made the greens wet and slow on the first few holes.
Europe's rookie Thomas Pieters wore a stocking cap to stay warm. His partner, Lee Westwood, had a short par putt rim out to allow Dustin Johnson and Matt Kuchar to go 2-up after two holes.
The American leadoff pair of Jordan Spieth and Patrick Reed had little difficulty acclimating to the chilly weather. Spieth rolled in birdie putts on Nos. 2 and 3 while playing off of Reed, who is wearing short sleeves, to take a 2-up lead on Henrik Stenson and Justin Rose.
Forecasts call for sun and the temperature climbing to 70 degrees.
---
8:15 a.m.
The Ryder Cup is known for its euphoric atmosphere, and Hazeltine is holding up its end of the bargain.
The first tee has taken on the energy of a rock concert, with the DJ blasting Prince's ''Let's Go Crazy'' before the sun had risen to fire up the home crowd. Thousands packed into the grandstand, with the American chants of ''USA! USA!'' drowning out the familiar European ''Ole! Ole ole ole!'' song.
A brief video tribute to the late Arnold Palmer was played before the first group started as the partisan American crowd chanted ''I believe that we will win!''
The colorful gallery included a group wearing red, white and blue Team USA hockey jerseys with Viking horns in homage to the local NFL team. Two spectators wore large, pink cat masks in the front row.
---
7:45 a.m.
The 41st Ryder Cup is off to a rollicking start at Hazeltine.
With a rowdy gallery serving as the backdrop, Jordan Spieth and Patrick Reed led things off for the Americans against Henrik Stenson and Justin Rose for Europe, which is looking for its fourth straight Ryder Cup victory.
Reed hit the first tee shot for the United States, which has lost eight of the last 10 in the biannual showdown. The first matchup was all square after the first hole.
The other matchups in the morning foursomes were Phil Mickelson and Rickie Fowler against Europeans Rory McIlroy and Andy Sullivan, Jimmy Walker and Zach Johnson against Sergio Garcia and Martin Kaymer and Dustin Johnson and Matt Kuchar against Lee Westwood and Thomas Pieters.
---