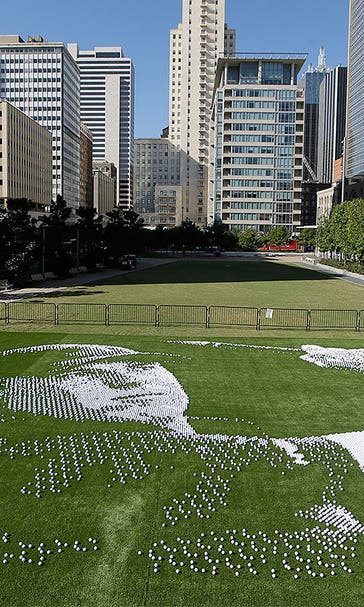 Spieth honored in hometown with stunning golf ball mosaic
October 28, 2015

Jordan Spieth has had a very good year.
Just how good? Let's take a look at some highlights:
• He won his first-ever major, The Masters, in April.
• In June, he won the U.S. Open to capture his second.
• He wrapped up the season by winning the FedEx Cup, and the $10 million bonus money that comes with it.
• He was named the 2015 PGA Tour Player of the Year.
• He earned $22 million in prize and bonus money in one season, a PGA Tour record.
Not bad from the perspective of the 22-year-old Dallas native. Also, not bad from the perspective of his sponsors, too.
On Wednesday, sponsor AT&T decided to honor Spieth with a mural in his own hometown using nothing but golf balls. And since they were in Texas, of course it had to be big.
The telecommunications company, which is also based in Dallas, hired a team of 25 people worked to place 24,152 golf balls on tees in downtown's Main Street Garden to create this stunning mosaic.
According to the Dallas Morning News, the larger-than-life mural will be on displayed for a couple of days then picked up by one of those driving-range carts. Of course. 
---
---