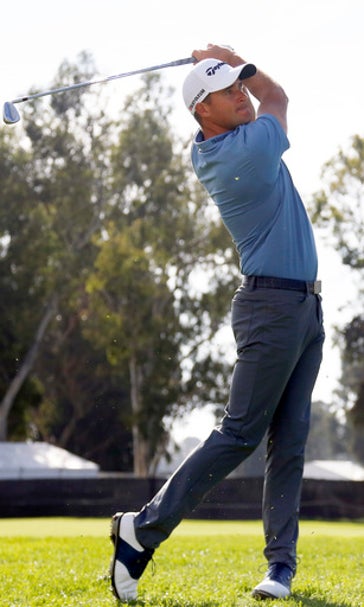 Saunders feels a connection to Palmer everywhere he goes
February 17, 2017

LOS ANGELES (AP) Sam Saunders tried to put his thoughts down on paper, except that it wasn't working.
Instead, he stood behind the podium at St. Vincent College in Latrobe, Pennsylvania, without notes, just powerful memories. He looked out at nearly 1,000 golf dignitaries from around the world who came to honor his grandfather, Arnold Palmer, whom Saunders eulogized with great eloquence.
''I spoke from the heart, as my granddad always did,'' Saunders said Thursday as he looked back at the Oct. 4 memorial service for Palmer. ''I spoke the truth. I didn't want to make anything up. I didn't want it to just sound good. I just said what I felt and I'm very fortunate that I was able to get the words out and keep my composure.''
Saunders was much more comfortable at Riviera, where he opened with a 7-under 64 and had a two-shot lead among the players who finished the first round of the Genesis Open. It would be easy to look at this as another tribute. After all, this is the 50-year anniversary of Palmer winning back-to-back in the Los Angeles Open.
But it's more of a coincidence.
Yes, Palmer was a three-time winner of this tournament, but that was when it was held at Rancho Municipal, not Riviera. Palmer had a connection with Riviera only because he connected with everybody at any golf course.
And that's how Saunders looks at it today.
''We all miss him. It's not just me,'' Saunders said. ''People come up and say, `I'm so sorry for your loss.' The truth is, we all lost somebody that meant a great deal to us and did a lot for all of us. If I look at it subjectively as just a guy, a young guy that plays on the PGA Tour, I owe my entire career to him - not because I'm his grandson, but because I'm a guy who plays on the PGA Tour. We're all out here because of what he did.''
Saunders is still trying to find his way.
The last five months can seem like a blur, from the last phone call he made to Palmer on Sept. 25 just hours before he died, the memorial service and trying to balance being a husband, father to two sons and a professional golfer who no longer has full status.
Saunders finished 148th in the FedEx Cup last year, giving him limited status. He already has received two sponsor exemptions, to the CareerBuilder Challenge and the AT&T Pebble Beach Pro-Am, and missed the cut in both.
He received another exemption to the Genesis Open, and so far, he's making the best of it.
Saunders was asked if he studies the history of a tournament he plays to see how Palmer did in case questions or references arise, and he smiled and said, ''I can't read that much.'' Palmer simply left his mark everywhere on golf.
That used to be daunting, particularly when he was a teenager and his grandfather - Saunders called him ''Dumpy'' - worked on his grip and his swing. There were times when Saunders wanted to be his own person, make his own way, not be referred to do all the time as Palmer's grandson.
Eventually, he learned to embrace it. And now, he wouldn't want it any other way.
''I don't need to compete against my grandfather's career. Nobody can,'' he said. ''I don't care how many golf tournaments you win, nobody's going to compete in the terms of doing what he did for the game. And for me to try to promote my own brand or name would be foolish because I have such a great opportunity to promote and to continue what he has already done. That's what I'm going to do and not make it about myself.''
He would love to extend his good play over the next few days at Riviera.
Saunders already has received another exemption to the Valspar Championship near Tampa, Florida, next month. And then he has the Arnold Palmer Invitational at Bay Hill, where tournament duties have been divided among Curtis Strange, Graeme McDowell, Peter Jacobsen and Annika Sorenstam. Saunders will be involved, too, recently joining the board of ''Arnie's Army Charitable Foundation.''
But he's still a golfer, and he's still trying to find a way. He thought back to the memorial service, how poised he was on such a big stage, how much words meant to so many people who wanted to honor The King. He wonders if that brought a little more perspective to the golf course.
''I do feel a little bit more comfortable out here just knowing that was a pretty big stage and a pretty big moment and I was OK. I felt comfortable up there,'' Saunders said. ''So if I can handle that, I would like to think that maybe I can handle being in a position out here with an opportunity to win a golf tournament.''
---
---