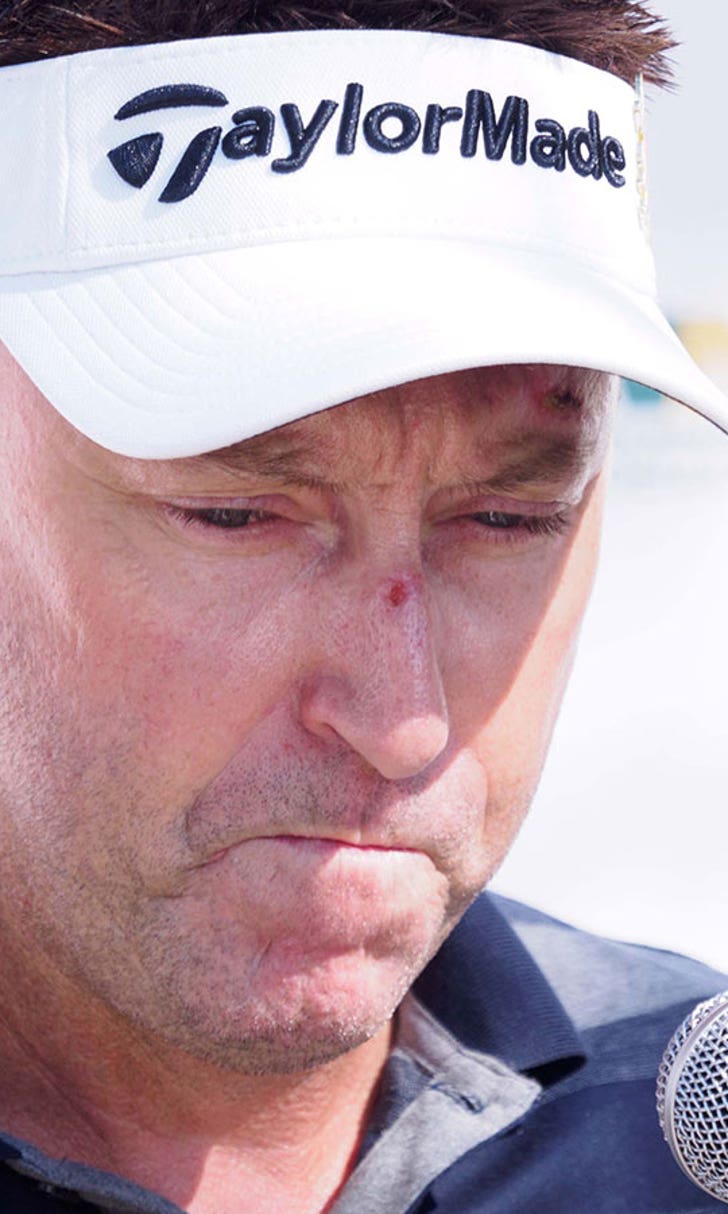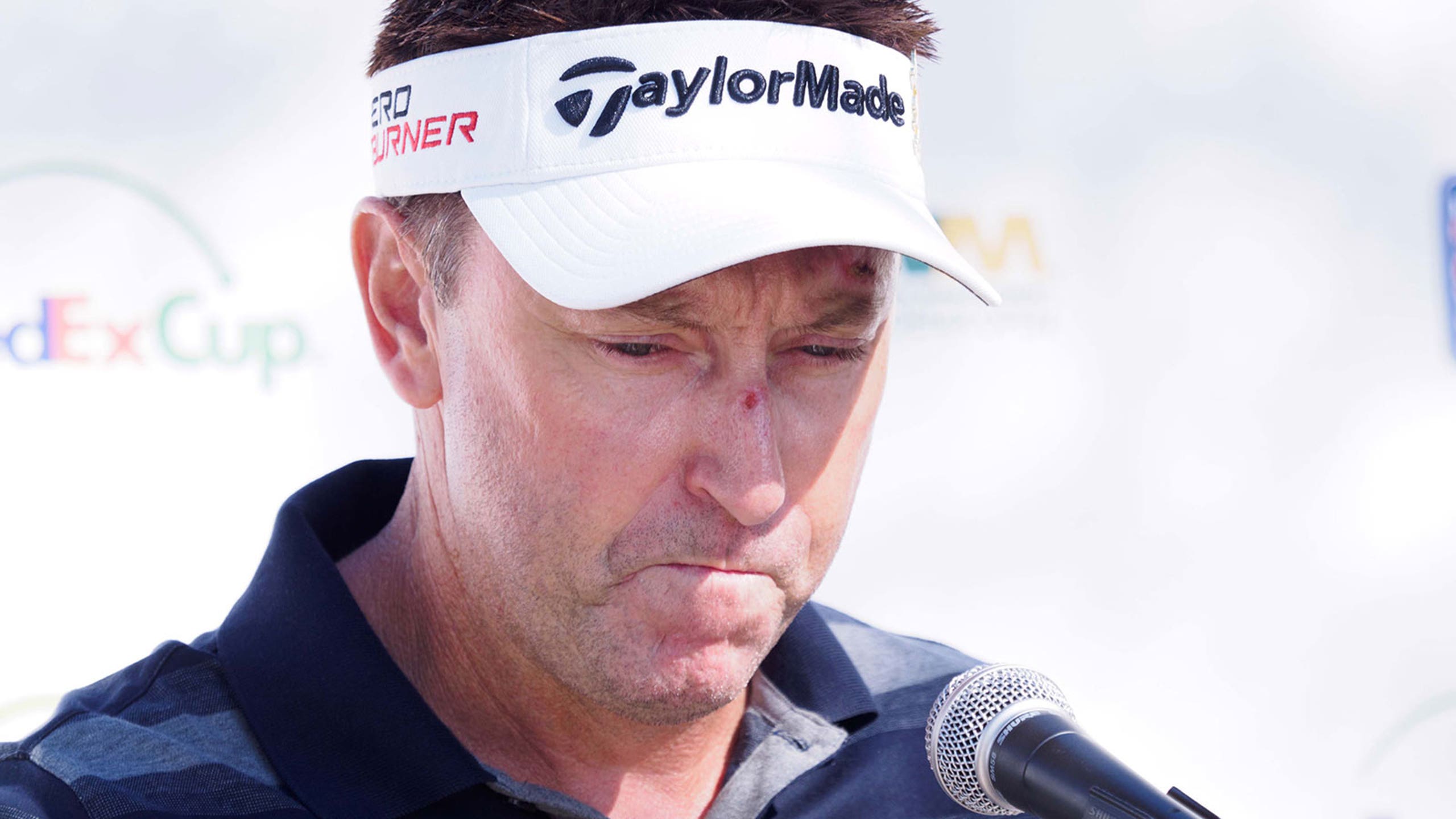 Robert Allenby blasted by caddie fired during Canadian Open
BY Sam Gardner • July 27, 2015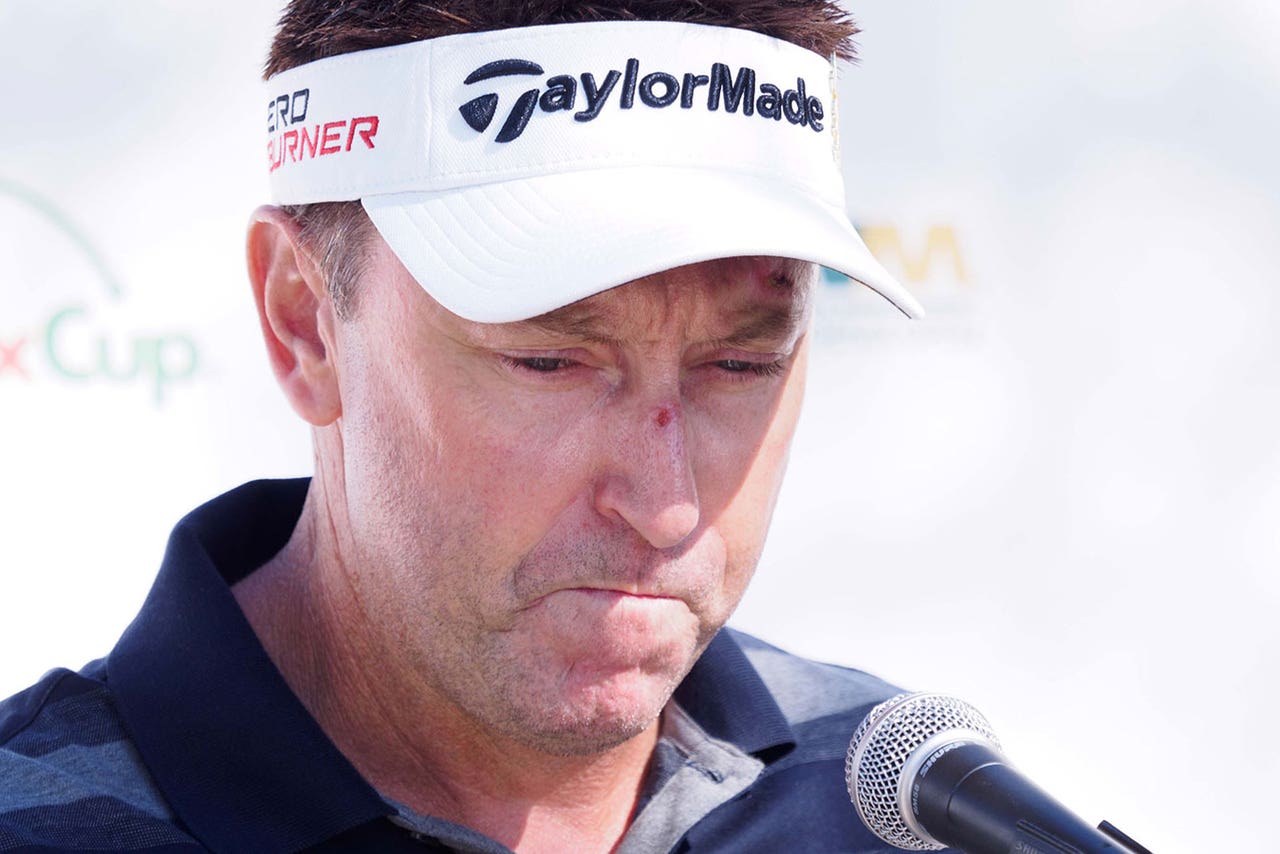 Last week, Robert Allenby fired his caddie, Mick Middlemo, in the middle of a round following an on-course spat at the Canadian Open. Now, the spurned former sidekick is fighting back, publicly calling into question Allenby's story about a suspicious alleged mugging in Hawaii earlier this year.
Speaking to News Corp Australia, Middlemo said he questions the veracity of Allenby's claim that he was drugged, beat up, kidnapped, robbed and left several miles away in a January incident that left Allenby's face severely bruised and bloodied. Instead, Middlemo suggests that Allenby simply "fell over s---faced drunk."
"Do I think he got mugged and bashed and absolutely robbed? No, I don't," Middlemo said of the incident, which allegedly occurred after a night at Honolulu's Amuse Wine Bar. "That's the story I told because that's the story he told me to tell because I wasn't there.
"Do I think he just fell over and cracked his head?" the caddie continued, via The Age. "Honestly, I do. ... I think he fell over and someone picked up his wallet and had a great time with his credit card."
Previously, a homeless man told the Honolulu Star-Advertiser that Allenby hurt himself when he passed out and hit his head on a rock. And while Middlemo acknowledged that he can't be positive Allenby wasn't drugged, he says he doesn't suspect that was the case.
"I kept thinking, 'No it's not, because you probably just fell over s---faced drunk,'" Middlemo said of his reaction to Allenby's claims that the truth would eventually come out. "You didn't have enough to eat, you had a few wines, you fell over."
Middlemo's firing was precipitated by an exchange on the 13th hole, Allenby's fourth of the day, during Allenby's first round last week at Glen Abbey Golf Club outside Toronto. Allenby and Middlemo reportedly disagreed about what club Allenby should use from 150 yards out on the par-5, and after settling on Middlemo's suggestion of an 8-iron over his choice of a 7-iron, Allenby's shot came up short and landed in a creek.
Allenby wound up with a triple-bogey on the hole and later withdrew after carding a 9-over 81 on the round, which he finished with Tom Fraser, a 61-year-old school principal, on the bag in order to avoid a violation of PGA rules. Middlemo, who began working for Allenby this year, finished the front nine before leaving at the turn, telling reporters that he was the fourth caddie to walk off during a round while working for Allenby.
"He said, 'I'm going to get a caddie banned for life on this tour,' and I asked if it was me and he said, 'Yes,'" Middlemo told the Golf Channel. "That was it. He was 20 yards ahead of me and I put the bag down and got my stuff and hung my bib on the bag and then I walked away and went home."
As for the alleged mugging in Hawaii, a man pled guilty earlier this month to using Allenby's ID and credit card to buy gift cards, clothing and jewelry and received a five-year sentence, but no further details have emerged about the details of the night in question. Meanwhile, Allenby has missed the cut nine times in 16 tournaments since the incident and withdrawn from three others, his best finish coming in a tie for 51st at the Honda Classic in March.
---
---