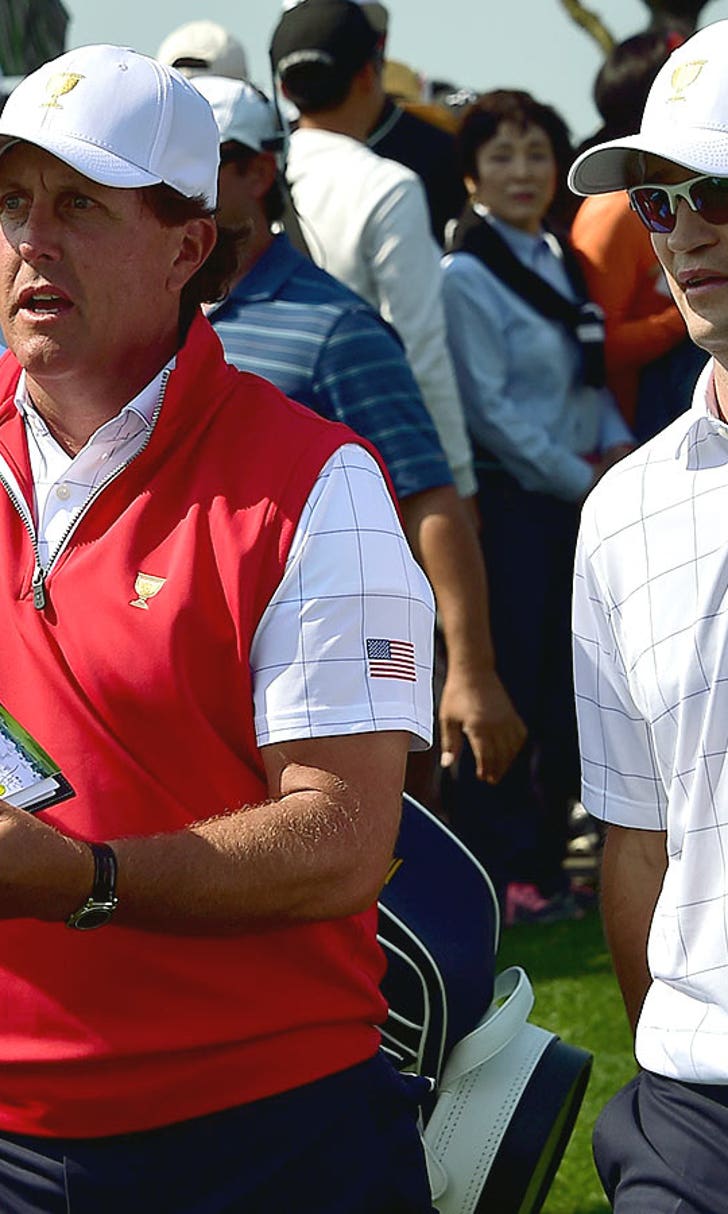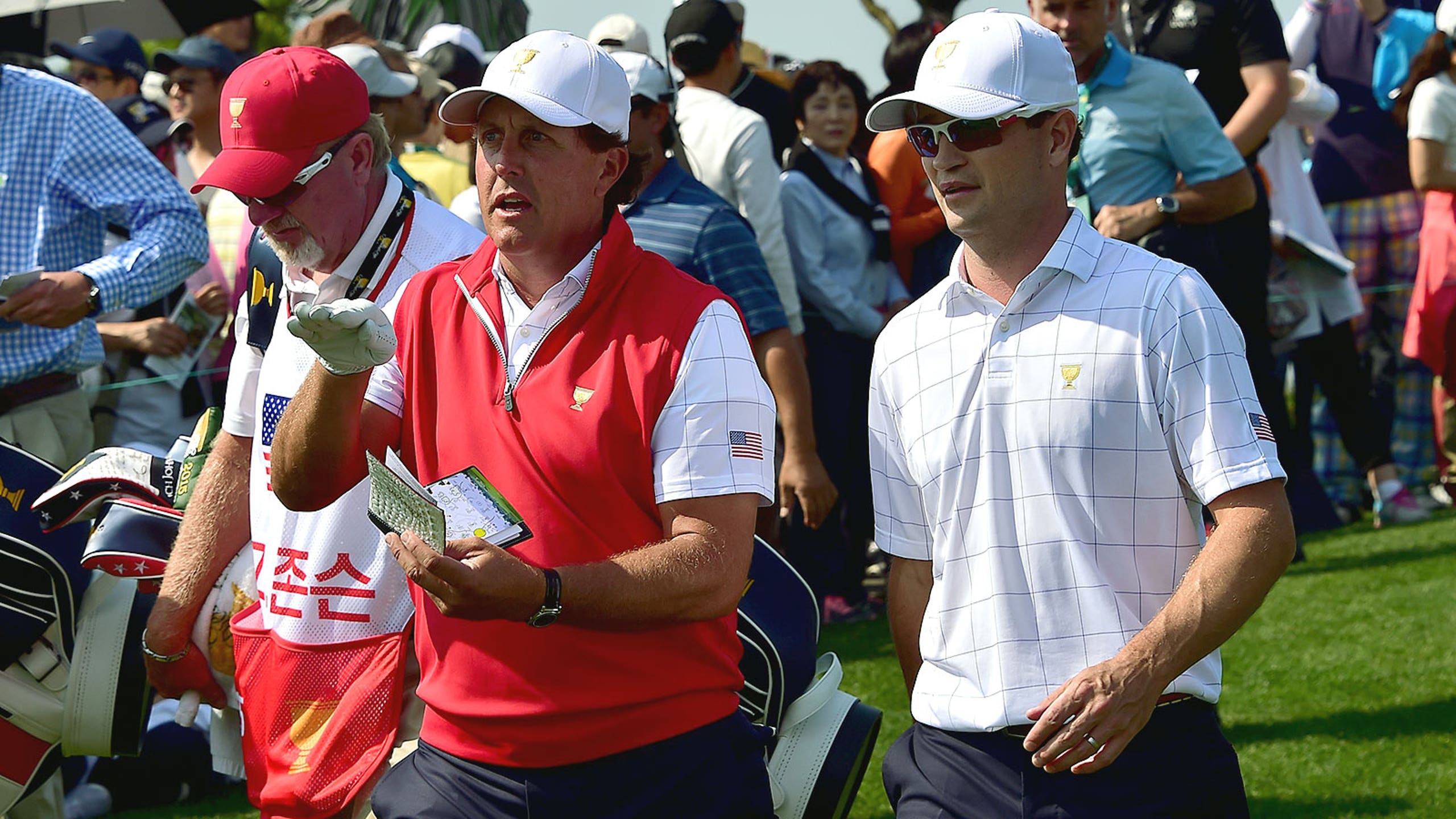 Phil Mickelson-Zach Johnson pairing working out just fine for Americans
BY foxsports • October 8, 2015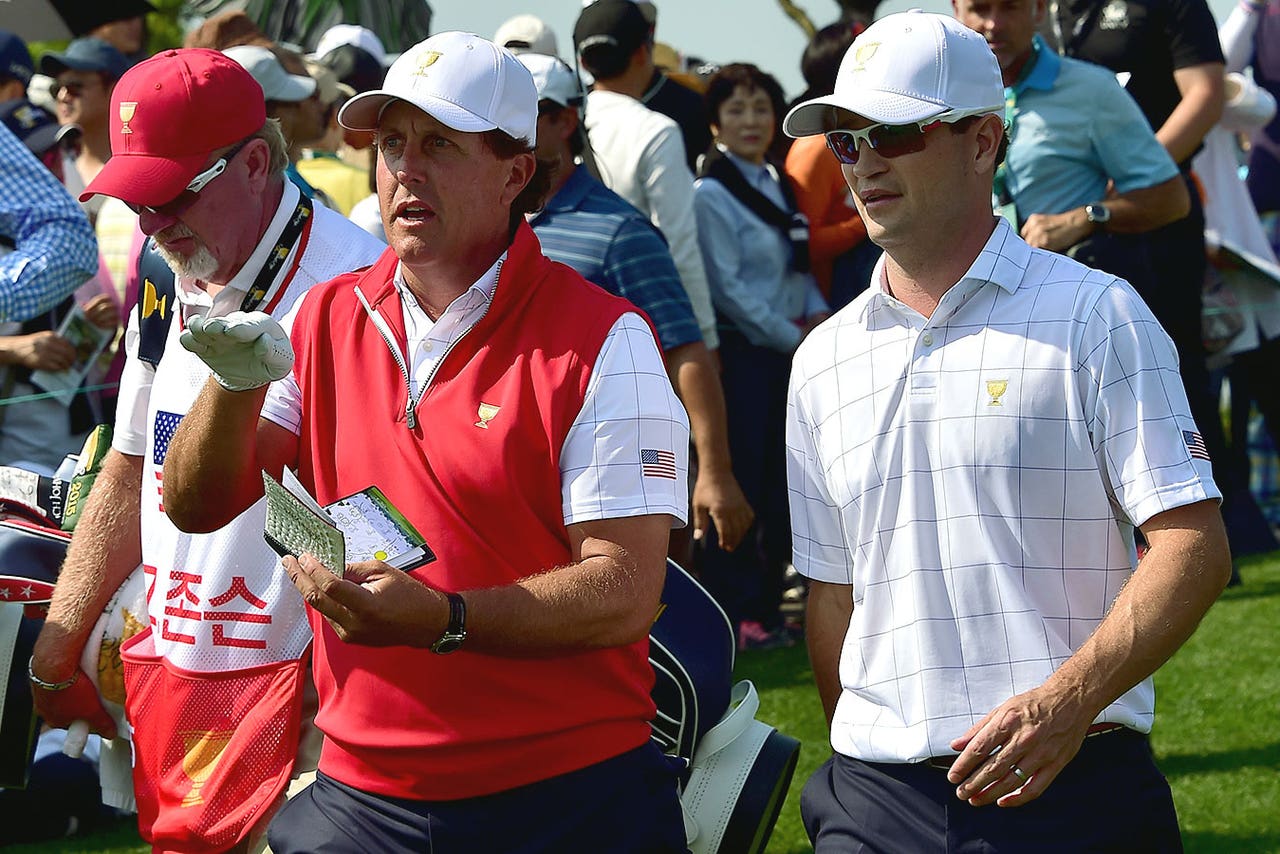 INCHEON, South Korea – Phil Mickelson and Zach Johnson stood on the 18th green at Jack Nicklaus Golf Club Korea, waiting to be interviewed on television after a 2-up victory over Jason Day and Steven Bowditch in Thursday's opening foursomes session of the Presidents Cup. Mickelson was all smiles, but he was getting antsy. "Are we going to do this or what?" he said. Just then, he looked up and caught the greenside JumboTron replaying the shot of the day, a bunker shot that he holed for birdie at the 13th green.
"Did we just miss it?" Mickelson said, a look of disappointment etched on his face.
"Oh, I wanted to see it," Johnson clucked in disgust.
The 45-year-old Mickelson, a captain's pick in his 21st consecutive international team competition, rewarded Jay Haas with a vintage performance. Mickelson might have missed the replay, but he knew exactly what interviewers were referencing when asked about their low-key celebration. No knuckles, no high-fives and definitely no chest bumps between these two.
"We came up with a subdued handshake to celebrate our successes," Mickelson said.
Mickelson has partnered with the boisterous Keegan Bradley in recent Ryder Cups while Johnson teamed with flatliner Jason Dufner. No doubt that Mickelson and Johnson have very different personalities. So was this a case of opposites attract? Mickelson compared he and Johnson to sides of a magnet. "We're opposite charges. I'd be the positive and he'd be the negative," Mickelson quipped.
Johnson shook his head while smiling, and then said that for all of their apparent differences, they really share many of the same traits.
"We both want the ball," he said. "We both want the shot."
It was the first time Mickelson and Johnson have paired together. The duo never trailed in their match with the Aussies. They grabbed a 1-up lead at the first hole when Day/Bowditch made a shaky bogey, and that's how the match stood when Johnson's 4-iron to the par-3 13th hole sailed into the back greenside bunker. Mickelson switched from his 60-degree wedge to his 64, dug in and changed the momentum of the match by holing out.
"I don't want to say he's the best, but he's the best I've ever seen when it comes to wedges around the green, and specifically sand shots," Johnson said.
The Aussies didn't go down without a fight. Day holed a 31-foot birdie on No. 17 to extend the match to the 18th hole (the only match of the day to reach 18). Needing to win the hole to salvage a half point, Bowditch applied pressure, parking his second at the par 5 to 18 feet right of the hole. But Johnson didn't buckle. He had 180 yards to the front, 186 to the hole and grabbed a 7-iron.
"I hit a lot of 7-irons into par 5s, but it's usually my third shot," Johnson said.
He delivered a beauty to 8 feet. When Day's eagle effort wouldn't go down, hats were lifted, the hole was conceded and Mickelson and Johnson had secured a full point to give the U.S. a 4-1 lead after Thursday's session.
"Zach and Phil, they did what they needed to do," Bowditch said. "They hit some great shots when they needed to hit them, and unfortunately, we didn't do that."
On to the green rushed captain Jay Haas, wrapping his arms around Mickelson and saying, "I'm so proud of you."
To no surprise, Haas elected to keep the winning tandem together for Friday afternoon's four-ball session. "I think the more time we spend together, we're going to get better and better," Mickelson said.
No doubt Johnson will be happy to shake on that.
Americans dominate foursomes, roll to 4-1 lead in Presidents Cup
Long hitters Watson, Holmes use short games to win opening Presidents Cup match
---
---