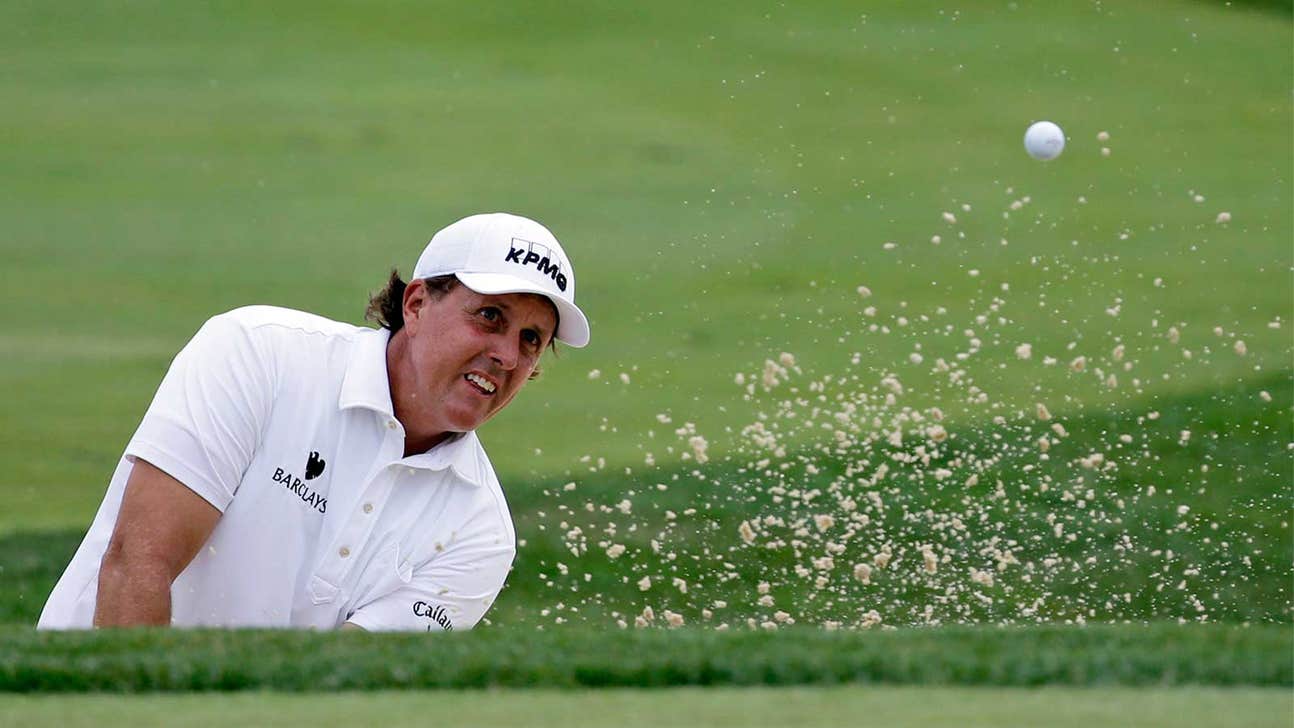 Phil Mickelson in contention at Valhalla after slow start
Published
Aug. 7, 2014 9:16 p.m. ET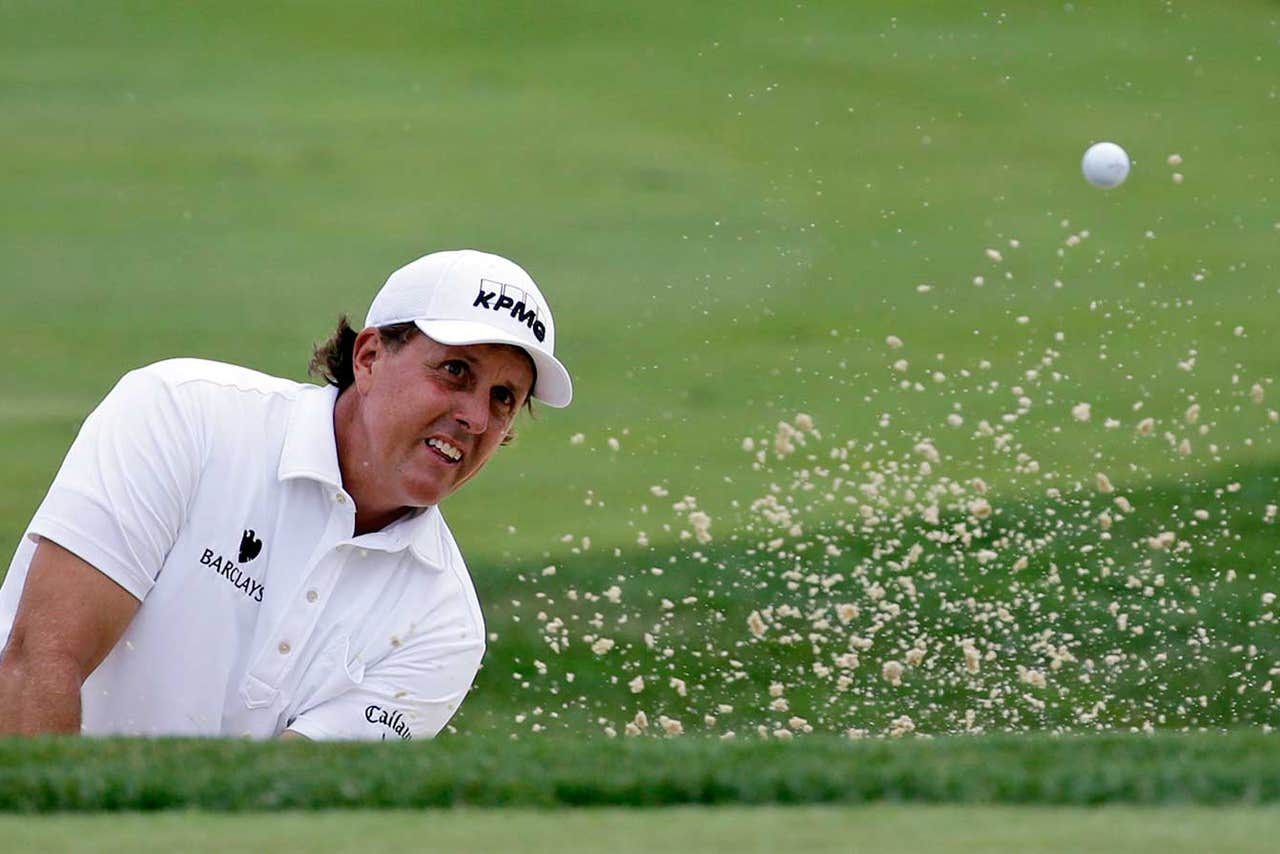 Phil Mickelson shot a 62 on Sunday at Firestone. He had three sharp days of practice at Valhalla. He was ready.
And then he hit his first tee shot.
''I hit the ugliest shot off the first hole,'' Mickelson said. ''I mean, it was so far left I don't even know what to say. I was lucky it was out-of-bounds. Horrific.''
He finally found it on the par-5 10th hole, took free relief, hammered a shot over the trees back into play, hit another bad shot that left him 95 feet away from the hole, and then nearly made it. Mickelson made par, only to follow with a tee shot so far left on the par-3 11th that he was 30 yards left of the hole.
So much for momentum.
Mickelson was all over the map, and yet he was encouraged to be only 2-over par through eight holes. A birdie on the 18th got him going, and Mickelson opened with a 69.
So what happened on the first hole?
Mickelson says it's because he hasn't been in the mix very much. His last victory was the British Open last summer.
''When you are not in contention, when you haven't won a tournament, when you haven't played the way you expect to and you are not in the final groups for a while, you get nervous and that is exactly what happened,'' Mickelson said. ''I just made some unconfident swings. I need to make confident, aggressive swings from the first hole, first shot, from here on forward because I can't afford to play like I did those first eight holes.''
A good start -- the first round, not the first few holes -- was important to Mickelson. He is about $90,000 behind Zach Johnson in the No. 9 spot in Ryder Cup standings. Mickelson has qualified for the last nine teams, a Ryder Cup record.
He expects to qualify again.
''I finally believe that my game is to where I have been trying to get it,'' he said. ''Now that it's there, granted I only have one tournament, but I think I will get it done this week.''
The guys right behind him in the standings did little to inspire.
Keegan Bradley had four bogeys on the back nine, including the par-5 18th, for a 74. Brendon Todd had a 70. Ryan Moore had a 73, while Chris Kirk had a 74.
Oh, brother
There was only one Molinari under par at the PGA Championship -- Edoardo -- and he's on a roll in the majors.
Francesco Molinari has been the better of the Italian brothers over the past several years. Edoardo Molinari, the former U.S. Amateur champion at Merion, tied for seventh in the British Open, and then opened with a 5-under 66 to be one shot out of the lead at the PGA Championship.
Edoardo Molinari can be wild off the tee and a good putter. His brother is shorter and straighter, not quite as renowned with the flat stick.
''My game off the tee isn't as good as it has been,'' Edoardo said. ''But I know what I have to do and hopefully I can keep getting better for the next days.''
But he took advantage of the par 5s, one of 10 players to make birdie on all three of them.
Francesco Molinari, meanwhile, opened with a 71.
Fallilng into trouble
Golf courses post signs all over the place instructing players to repair all divots. The way things went for some players during the opening round, it might be worth posting some reminders around Valhalla Golf Club.
Lee Westwood's drive at No. 1 into the end of one divot in the fairway, essentially plugging at the far end. He went on to make double bogey, wound up rolling into two others, but escaped them without further damage and had a 65 to tie for the lead.
Local hero J.B. Holmes, who has played Valhalla some two dozen times, was 4 under when he drove it right down the middle on No. 13 -- and straight into a deep divot. From there, he hit his second shot in the water, wound up making double bogey and finished with a 68.
Holmes called it ''just a bad break.'' But a moment later, he said the 13th fairway was ''pretty much all divots. It's especially tough on that hole because you're surrounded by water. But that's something everybody has to deal with it. I guess I'm lucky it only happened once.''
Tiger Woods said previously that if he could change any rule in golf, he would have sand-filled divots marked as ground under repair, entitling the player to a free drop alongside the gouge. Holmes concurred.
''I do. You hit it down the middle of your own fairway and it winds up in a blatant divot, you should be able to move it,'' he said. ''But it's been part of the game forever, so I guess it will stay that way.''
Stricker's choice
Steve Stricker was appointed assistant captain for the Ryder Cup on Wednesday. He still hasn't entirely ruled out playing, and not just because he opened with a 69 on Thursday.
There might not be any Americans left.
Dustin Johnson is out indefinitely with a ''voluntarily leave of absence.'' Tiger Woods' game is in disarray and after opening with a 74, and his season could end Friday. Jason Dufner withdrew after 10 holes with a neck injury. Matt Kuchar withdrew before he teed off with back spasms.
''All these guys are dropping like flies on our team and it's a little bit scary,'' Stricker said. ''It doesn't bode well for us so far. But there's a lot of good players still and guys are still jockeying for position and trying to make that team.
''Shoot, I've still got a chance,'' he said. ''I could win or finish second and get right in there yet. So that's what I'm thinking about.''
---