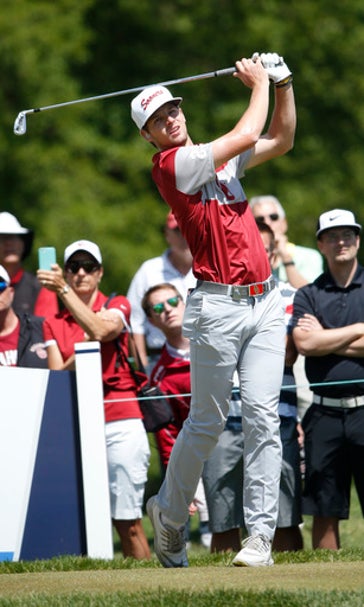 Oklahoma wins NCAA golf title, beating Oregon 3-1-1
May 31, 2017

SUGAR GROVE, Ill. (AP) Brad Dalke held off Sulman Raza to give Oklahoma its second NCAA golf championship, 3-1-1 over defending champion Oregon on Wednesday at Rich Harvest Farms.
Blaine Hale and Max McGreevy won the first two matches for Oklahoma, and Dalke finished off Raza 2 and 1 with a 2-foot bogey putt for a halve on No. 17.
''It means so much. This team we have, we are all just brothers,'' Dalke told Golf Channel. To be able to come out here and win this thing with my guys and make the last putt to clinch it, it is so cool.''
The Sooners also won in 1989 at home at Oak Tree when the championship was a stroke-play event.
''This is so special,'' Sooners coach Ryan Hybl said. ''I'm just so happy for our guys. Our former players that have helped build this program. This is awesome. I'm so happy.''
Dalke took the lead with a 30-foot birdie putt on No. 12 and won the 14th and 15th for a 3-up lead. Raza won the 16th to extend the match, and Dalke ended it a hole later.
''You never have control of matches especially out here with these closing holes,'' Dalke said. ''It was nice to get that putt to go in on 12. That was my first putt that I really made all day. Got some momentum going and won a couple more. I wish I could have finished on 16.''
Dalke's father, Bill, started at linebacker on Oklahoma's 1975 national championship team, and his mother, Kay, was a member of the school's first women's golf team.
''I can't wait to get a ring like my dad's,'' Dalke said. ''It is still sinking in.''
Hale beat Norman Xiong 4 and 3 in the opening match, and McGreevy topped Edwin Yi 3 and 2 in the second in the Oklahoma senior's final event for the Sooners.
''We (Hale and I) are the two most emotional guys on the team,'' McGreevy said. ''That is why Coach wanted to get us out early and get us going. We both feed off of each other in that sense. We see that we're up and we want to get further out and go out and watch our teammates. Being able to watch Blaine take care of business early took a lot of pressure off of me, too.''
Oklahoma's Grant Hirschman halved his match with Ryan Gronlund. Wyndham Clark had the only win for Oregon, beating Rylee Reinertson 1 up.
''Just an incredible run for us,'' Oregon coach Casey Martin said. ''To get back to defend our title and get to this point is awesome. We did come up short, but it wasn't because we weren't scrapping or fighting. We were doing everything we could. Oklahoma played great. Congrats to them.''
The Ducks missed a chance to join Augusta State (2010-11) and Alabama (2013-14) as the only back-to-back winners since the match-play era began in 2009.
''The whole Oregon team is very gritty, just like us,'' McGreevy said. ''They don't quit. Just trying to keep your foot down and not giving up any little mistakes and let them slide back in. Just maintain solid play and knowing par is a going to be pretty good out here was my mindset all day.''
---