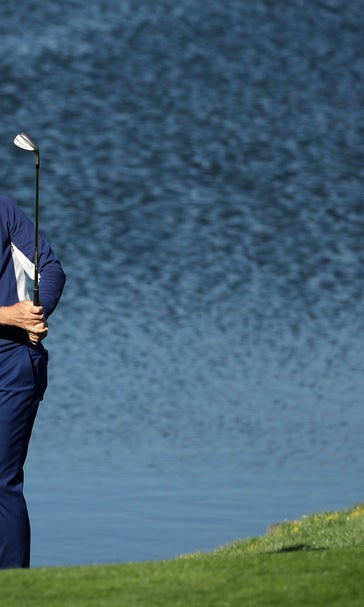 Column: Poulter and his passion back at the Ryder Cup
September 25, 2018
SAINT-QUENTIN-EN-YVELINES, France (AP) — The Ryder Cup meant the world to Ian Poulter even when he only had a tent to sleep in.
Poulter was 17 and folding shirts in a shop called Jack O' Legs Golf Center in England when he drove his rust bucket of a car to The Belfry for his first taste of the Ryder Cup in 1993. He found a house a few miles away where the owners let him pitch his tent in the yard for three pounds a night.
He was in heaven.
Poulter was in the gallery when Nick Faldo made a hole-in-one in his singles match against Paul Azinger. No telling how wide his eyes were that day. But he recalls coming away from the experience thinking, "I want a piece of that."
A quarter-century later, the feeling is only stronger.
Poulter posed for the European team photo on Tuesday at Le Golf National in the morning chill, furiously rubbing his hands together when he walked into the room for his news conference.
It was unclear if he was still cold or simply couldn't wait to get started.
"I'm more excited today than I was in 2004, if that's possible," he said.
Poulter made his debut at Oakland Hills that year. He sat out the first day before teaming with Darren Clarke in a fourballs loss to Tiger Woods and Chris Riley, and then sitting out another session before a singles victory against Riley.
Since then, he developed the nickname "Postman" because he always delivers.
No one got under American skin like Poulter.
Ask most any American the one player they would hate to lose to and the choice would be nearly unanimous.
Poulter went 11-2 over his next three appearances, and became part of European lore — not to the level of Seve Ballesteros, but not far behind — when he single-handedly turned the momentum. He birdied the last five holes in a fourballs victory at Medinah to keep the deficit at 10-6, won his singles match to complete a 4-0 week and Europe rallied for a stunning victory.
It was after that Ryder Cup that Lee Westwood suggested revising the European criteria: Nine automatic spots, two captain's picks and Poulter.
That was then.
It's not that memories are short, rather form can be fleeting.
For all that passion, and all the points he delivered, Poulter had reason to believe Gleneagles four years ago might have been his last Ryder Cup. As a pick in 2014, having gone two years without winning, he played only three matches and went 0-1-2.
Next time around, a foot injury that ended his season in May most likely spared him being left off the team. He fell out of the top 100 in the world for the first time since he was a rookie and spent his week at Hazeltine two years ago as a vice captain.
"When you are at the low of lows — and that wasn't long ago — there's a little voice in the back of your head that says, 'You might not get back to as good as you was,'" Poulter said. "But I was at a dinner in December 2016 and I was asked a question on stage what's left for me in golf? I answered the question, 'I feel I've got more wins in me.' And I said then, 'I'm going to make the team in Paris.'
"That's been a goal of mine," he said. "It's been something which has kept me going."
Poulter won the Houston Open after making a 30-foot birdie putt on the last hole to force a playoff. That got him in the Masters, which was nice.
That put him back in the conversation of the Ryder Cup, which was everything.
But what can the Postman deliver?
Reputation only goes so far in golf. At some point, form is all that matters. Poulter failed again to make the Tour Championship, though his two weeks at home allowed him to prepare for Le Golf National.
More than reputation, European captain Thomas Bjorn looks at heart. He considered Poulter, along with Sergio Garcia, and saw value beyond the golf for the connection they have with the fans (Poulter) and in the team room (Garcia).
"They are no mugs when they get out on the golf course, either," Bjorn said. "They are very capable of delivering, and that's where they probably get their reputation from is that they have been very good at winning points on the golf course, and then they bring so much else to it, as well. They are the whole package."
Poulter has been part of the Ryder Cup since he pitched his tent near The Belfry as a teenager.
Now 42, he was asked if he might be tempted to soak up the emotion and memories this week because it might be his last time playing the Ryder Cup in Europe.
"It won't be," he said. "I don't want to think that his is my last hurrah."
---
---