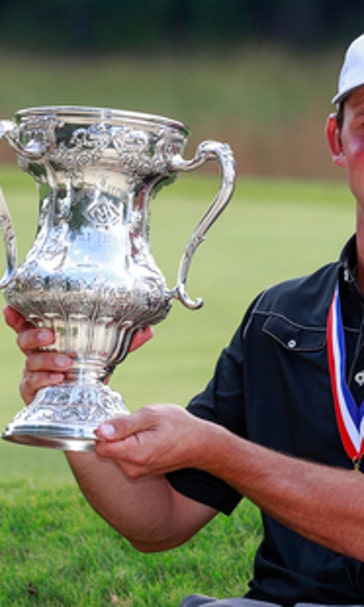 Column: Massachusetts firefighter is headed to the Masters
October 17, 2017

The U.S. Mid-Amateur typically signals the end of the golf season for Matt Parziale.
Not long after the tournament is over - usually early for Parziale, considering he had never won a match in three previous tries - he puts the clubs away and falls into a routine schedule as a firefighter on Ladder 1 for the Brockton Fire Department in Massachusetts.
His weekends are more likely to be spent on the ski slopes of New Hampshire than the fairways of Thorny Lea Golf Club.
''If this didn't happen, I wouldn't play again,'' Parziale said. ''I'd play on the nice days until the snow melts in March or April. Now, I've got some things to figure out next year. It will be a different winter, but I'm excited.''
What happened?
Three days later, he was still trying to get his head around a most wonderful week on the Crabapple course at Capital City Club north of Atlanta.
Parziale made it out of the first round. And the second round. In the quarterfinals, he was 5 down with eight holes to play and won that match, too. The championship match was a blowout. The firefighter was as hot as he had been all week, making eight birdies for a 6-up lead after the morning 18 holes and closing out Josh Nichols, 8 and 6, to win the U.S. Mid-Amateur.
Now about that winter.
For the first time, the U.S. Mid-Amateur champion is exempt into the U.S. Open. That's in June at Shinnecock Hills. He also gets into the U.S. Amateur. That's in August at Pebble Beach. The more pressing perk is going to the Masters. That's in April, by which time the snow hopefully has melted outside Boston.
''You don't take five months off and show up at Augusta,'' Parziale said.
Tiger Woods did that in 2010 and tied for fourth.
''Yeah, but that's Tiger,'' Parziale said with a laugh.
That's his idol.
Parziale was 9 when he watched the Masters for the first time and saw Woods break 20 records on his way to a 12-shot victory. He was 16 when Woods won a World Golf Championship at Capital City Club, the very place where Parziale realized so many of his golf dreams.
So when asked if he could play a practice round at the Masters with one person, Parziale didn't hesitate.
''Tiger, and there's not even a close second,'' he said. ''I play golf because of Tiger Woods. I was the perfect age to see him.''
Woods posted a video Sunday of him swinging a driver, and his agent said doctors have cleared the 14-time major champion to resume golf activities without limitations, though returning to competition hasn't even been discussed. Still, there's hope.
For the 30-year-old firefighter, there is always hope.
Parziale could barely break 80 and couldn't win a tournament in high school, but he found his way to Southeastern University, an NAIA school in Lakeland, Florida. Playing golf in Florida during the winter sounded appealing, and he developed into the golfer he always thought he could be.
Good enough to turn pro? He gave it a shot, spending three years on mini-tours with more frustration than success. One break, one great week might have changed everything. Parziale could have kept trying, but that would have put him further behind if he wanted to start a career.
So he became a firefighter, just like his father, Vic, a captain at the Brockton Fire Department.
Parziale applied to be reinstated as an amateur, and he remained competitive in New England - three times the Massachusetts Golf Association player of the year three times - with a schedule that allowed for golf when he wasn't working his 24-hour shifts at the station.
He dreamed in college of playing the Masters and U.S. Open. He'll be going to Augusta National as a firefighter.
The U.S. Mid-Amateur, for players 25 or older, was created for post-college players who did not pursue a career in golf. Parziale was among 43 percent of players at Capital City Club who previously had been a pro, though he was worthy of reinstatement. His short time as a pro featured long hours and low play. His calling was on a rooftop, not on tour.
''I'm on the ladder,'' he says of his job. ''We go to the roof, put holes in the roof or search a floor that a fire is not on.''
His biggest rush was working a house fire with his father, who is approaching retirement.
''The fire scene is chaos,'' said Parziale, who can appreciate the difference between real chaos and anything that transpires on a golf course.
His father caddied for him at the U.S. Mid-Amateur, and he'll be on the bag at the Masters and U.S. Open. His fiancee, Ali, was at Capital City Club, the first time she's been to a tournament. They already have set their wedding date for Aug. 18, the same day as the quarterfinals of the U.S. Amateur at Pebble Beach.
''Now she's into whether she should change the date,'' he said.
Parziale never knew winning could create so much disruption. Considering where he's been and what he does, these are nice problems to have.
---
---