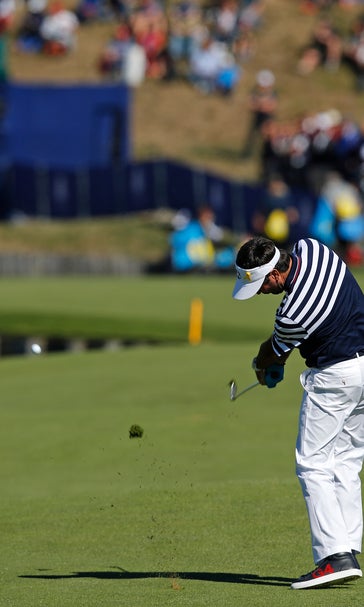 Column: Booba's in France, a place he really, really loves!
September 26, 2018
SAINT-QUENTIN-EN-YVELINES, France (AP) — Bubba Watson — or "Boo-ba," as he's known in these parts — is trying hard to shed his image as the Ugly American.
He doesn't just like France.
He LOVES France!
The museums. The culture. The food.
All of it.
You almost expected him to start speaking French (with a bit of a Southern drawl, perhaps) during his news conference Wednesday, two days before the start of the Ryder Cup at Le Golf National in the rather nondescript suburbs outside Paris.
"Gosh, I love it. This is a beautiful place," Watson gushed. "I mean, it's high fashion. It's fashion week. I don't look like I dress — I wear T-shirts all the time — but I have some high fashion in my closet. I just don't ever bust it out."
Hmm, that sounds a bit different from his assessment back in 2011 , when Booba seemed none too impressed with the land of fromage and champagne.
After missing the cut at the very same course where he's playing this week, Watson griped about a dearth of security, the lack of ropes to guide him to the next hole, the constant snapping of pictures by the spectators (which seems downright quaint these days, huh?).
Then he pretty much dissed the entire country.
During a tour of Paris, Watson recounted seeing "the big tower" (that would be the Eiffel Tower), as well "an arch, whatever I rode around in a circle" (we're assuming he meant the Arc de Triomphe). He even popped into a museum that "starts with an L." The Louvre? Yep, "one of those," Watson said dismissively.
Of course, he would have us believe now that it was all a joke, taken the wrong way by one of those pesky journalists with their notepads and tape recorders that document exact words.
"It was sad that people wrote or took my comments or whatever I did — because I don't really remember, it's so long ago — but it was sad that they did that because I loved it. I've always loved it," Watson insisted, pretty much revising everything you might have believed about him. "I love traveling. I mean, that's why I have played around the world, I love traveling and I love cultures."
Outside the media center, the stirring melody of Edith Piaf's "Non, je ne regrette rien" drifted over the grounds.
In English, "No regrets."
Hmm.
Watson curiously mentioned that Richard Mille pays him to sponsor his luxury brand of watches. That make him Booba's French friend ... so, well, there you go.
"Obviously Richard Mille respects me enough to sign me to wear his watches," Watson said. "He has a lot of love for me. He understands that sometimes the media takes it a different way than it was meant to be."
Then, in the closest thing to a mea culpa, Watson acknowledged that those words he barely remembers did actually have the profound effect of making him a better man.
"It was sad, but I learned from it," he went on. "It made me mature as a person and understand that I've got to be more mature and more careful how I word things. Hopefully," he added with a smile, "I worded all that right."
Watson wants it all to go away, but there's no escaping what he said seven years ago.
Chances are, he'll be a convenient target for the French patrons all weekend.
A well-coiffed group that watched him practice Wednesday made it clear they'll be doling out the Gallic version of the Bronx cheer any time Watson shows his face. They weren't interested in his apologies or excuses. Speaking among themselves in French, they called him a despicable person whose assessment of their glorious country was unforgivable.
Viva Le France!
But Webb Simpson, who traditionally plays with Watson at these team events, doesn't expect any major issues if they're paired together again.
"Over here, he's 'Booba,' so we've been calling him 'Booba,'" Simpson said. "The fans over here are great. They are very respectful and understand the game. I know it heightens it a little bit, the Ryder Cup, and I plan on hearing things that I might not like, but it's the Ryder Cup."
Simpson was asked if Watson's knowledge of France and its people had improved at all over the last seven years.
"It has," Simpson replied. "He just gets the terms confused every now and then."
Castle vs. palace?
"He's got it down now," Simpson said.
Watson is certainly on his best behavior this week.
He told of first visiting the south of France when his wife played professional basketball there.
Loved it.
He told of taking a Segway tour around the Palace of Versailles during that infamous 2011 trip.
Loved that, too, even after he fell off the personal transporter.
"Last night, we went and ate at this little restaurant on the palace grounds," Watson said. "I told the team, that's where I fell off the Segway and kind of made a fool of myself."
It wasn't the first time.
Probably won't be the last.
As if trying to bolster his image as the lovable bumpkin, Watson turned up for his news conference still wearing his power blue golf glove.
He said it was all part of a team prank, something "dumb" to bring a bit of levity to a high-pressure week. He said all the U.S. players were taking part.
Jordan Spieth was next one up.
So, Jordan, what silly thing are you doing on behalf of team unity?
"I don't even know anything about it," Spieth said. "He just was in the locker room and said, 'I think I'm going to wear my glove in media.' Is there something else?"
Ahh, that's our Bubba.
Or "Booba," as he's known in these parts.
---
---