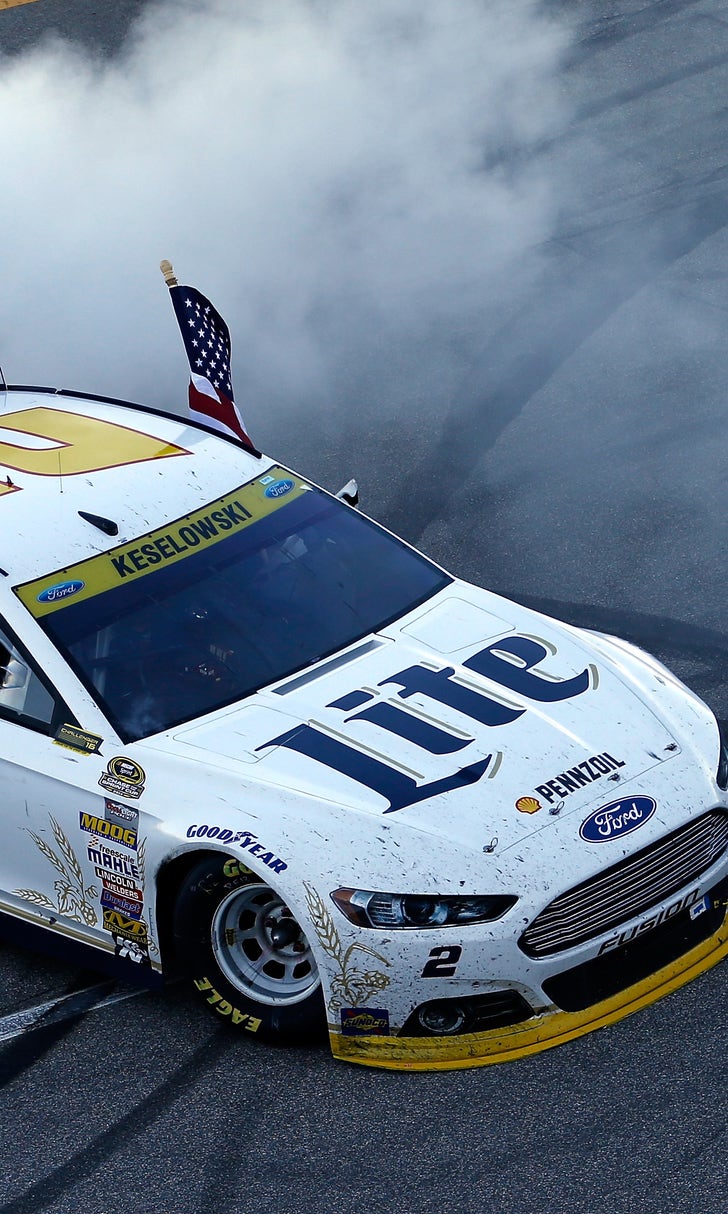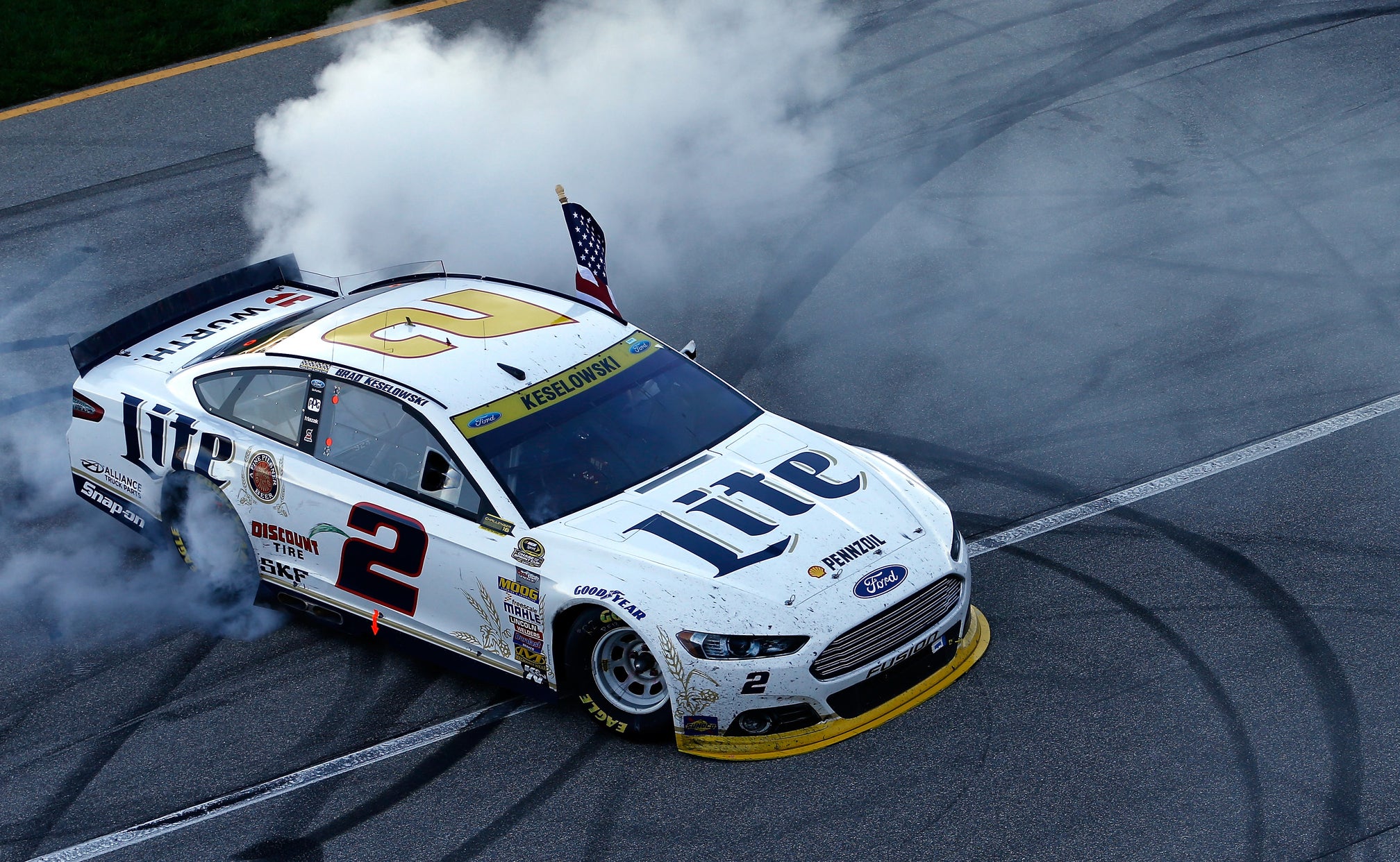 NASCAR PREVIEW HOLLYWOOD CASINO 400 PREVIEW
BY foxsports • October 2, 2014
The first race of the Chase for the Championship's Contender round takes place this weekend at Kansas Speedway. After surviving the first three-race gauntlet the 12 drivers remaining in the hunt for this year's championship now have to prove themselves all over again.
If history is any indication of what to expect, Kevin Harvick dominated the last trip to Kansas, leading 119 of the 267 laps on hand until Jeff Gordon wrested the top position away. The No. 24 team used solid pit work, and timed the caution periods perfectly to gain track position that Harvick was never able to counter. Joey Logano also led 63 laps, scoring a top-5 result.
Races at Kansas typically require a few things from teams to be successful. First on that list is handling, and the driver's ability to try different racing lines throughout the race. Second are restarts. Being able to get full power to the rear wheels and not breaking traction can preserve the track position teams gain by swift work on pit road. Lastly, fuel mileage can become an issue here. A green-white-checkered overtime situation, or a final dash for fuel could spell disaster for a team that otherwise could have pulled off a top result.
Jeff Gordon – The last driver to win at Kansas Speedway also happens to be the one who scored a victory last weekend. Gordon comes to Kansas riding high and focused on earning another championship after putting his recent bad luck behind him. Gordon led just nine laps in May at Kansas to win his first race of the season, holding off Kevin Harvick who dominated most of the race. Gordon has been focused on doing what it takes to win this championship all season, and looks as strong now as he ever has. His Kansas driver rating is 101.1 from 13 starts. He has scored three wins here, and might be the strongest in the Hendrick Motorsports camp right now.
Kevin Harvick – Based on how well Harvick has raced at some tracks earlier this season it is hard not to list him as a fantasy favorite this time around. He led 119 laps at Kansas in May, losing out to Gordon due to some ill-timed caution periods and less than swift pit work. His new pit crew seems to be paying dividends now, if he could just keep the issues on the track at bay as well. Harvick continues to be the fastest car in the garage, and is a contender to win nearly every week. He has just one Kansas victory from this race last season, but can be a confident fantasy selection for team owners this week.
Kasey Kahne – Having narrowly avoided being dropped from the Chase last weekend, Kahne has a golden opportunity to advance to the next round based on his statistics at the next three racetracks. He finished third in Kansas last May, and has seven top-10 finishes at the track from 14 tries. Another result like he had here earlier this season would go a long way to propel him into the next round of the Chase, too. Kahne's driver rating at this track is 93.0, and his career average finish here is 13.2. Though Kahne continues to be the underperformer compared to the rest of the Hendrick stable, his outlook for the next three races on the schedule is promising.
Joey Logano – Another driver that made an impact the last time out at Kansas was Logano. The Penske Racing driver led 63 laps that afternoon, second only to Harvick. Logano salvaged a top-5 finish from a challenging 16th starting position last week in Dover, which was his fourth consecutive top-10 finish. He put together a dream start to the Chase so far, and can be relied upon to offer fantasy players top finishes nearly every week. His driver rating at this week's track is only 73.2, though. Some fantasy players could be concerned with that, but he has started and finished inside the top five in his last two races at the track, so there should be no reason to be concerned.
Dale Earnhardt Jr. – This week's driver on the bubble is Earnhardt. The No. 88 team has been struggling since the Chase began, scoring just one top-10 finish in the last five races. He advanced to the Contender round, but admitted after Dover that the team was worried and needed to improve. Still, he scored a top-5 here earlier this season, and carries a driver rating of 91.5. His two top-5s and eight top-10s at this oval give him an average finish of 15.2 from 16 races. It would be a shame not to see this team correct their problems and make a run at the championship given how well they have performed this season, and this week could be the turning point.
Kyle Busch – Busch approaches one of his nemesis tracks this weekend in Kansas. The Joe Gibbs Racing driver has yet to score a top-5 finish here, and has only landed inside the top 10 twice. He took a small step in the right direction in May when he finished 15th, though. Still, this is one of Busch's worst tracks, and fantasy players may want to save him for another week. His driver rating here is only 76.8, and his career average finish is just 22.7. Busch's last Kansas top-10 finish came back in 2012, while three of the four races at the track since then have been results worse than 30th. The No. 18 is a team most will want to avoid this week.
Denny Hamlin – Hamlin continues to be an inconsistent fantasy option. He turns in solid results some weeks, only to falter the next. His trajectory has been very difficult to predict this season, and fantasy owners may want to avoid that. Hamlin finished 18th the last time we visited Kansas, and three of the last five races have produced finishes outside of the top 10 for him. He advanced to the next round of the Chase by finishing 12th at Dover, but perhaps should have done more judging by his practice times. He was happy to advance, but it wasn't by the comfortable margin he would have liked. An uninspiring driver rating of 87.7 is what he brings to the table this week.
Ryan Newman – After advancing in the Chase last week, Newman has it all to do this week. Kansas is one of his worst tracks, and his 11th-place finish here in May was his best since a ninth-place run in 2010. Newman's average Kansas finish is 18.7 from 17 tries. His driver rating in the last nine years here is only 69.6. Consistent performances were his trademark early in the season and have led him to this second phase of knockouts in the Chase. He'll want a top-10 performance this week to help propel him further in the playoffs, but it probably won't come easy at this track. Fantasy owners should take note that this may be an off week for the No. 31.
Brian Vickers – Vickers has the distinction of being tied for the most starts without a lap led at Kansas at 10. Vickers placed 15th last weekend at Dover, another track that has given him trouble in the past, and finished 15th at Kansas earlier this year. In 10 starts at this track he has just one top-10 finish, and an average result of 20.2. His driver rating here is 71.5, and will have work to do to change that tide this weekend. Vickers' five most recent races have produced only one top-10 finish, and fantasy players should be expecting a bit more production when selecting him. This would be a week that top production shouldn't be relied upon.
Danica Patrick – Earlier this season Patrick scored her best-ever result at the time, a seventh-place finish, at Kansas. She credited her teammates with advice and coaching that enabled her to improve, but has been on a fairly consistent trajectory upward since. She continues to take small steps toward consistent top-15 finishes, and finished outside of the top 20 for the first time in five races last week at Dover. She has scored two top-10 finishes since her breakthrough here, and is focused on continuing that momentum. The team will have some work to do after a lackluster Dover outing, but could be ready for a return to the top 15 this weekend, making her a long-shot fantasy option in some formats.
Follow @cjradune on Twitter.
Radune was named the 2012 Racing Writer of the Year by the Fantasy Sports Writers Association. Get a FREE RotoWire 10-day trial (no credit card required) at RotoWire.com.
---