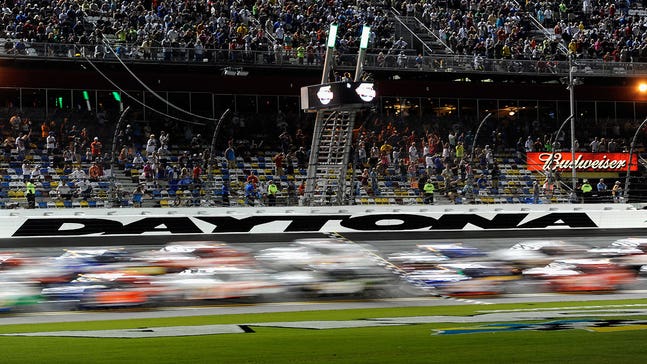 FANTASY NASCAR PREVIEW: Coke Zero 400 drivers to start
Updated
Mar. 4, 2020 9:59 p.m. EST

We go back to racing under the lights this week. The NASCAR Sprint Cup Series travels back to where the season started this weekend at Daytona International Speedway for the Coke Zero 400. The second Daytona race of the season is held July 4th week every year. Unlike the Daytona 500, the Sprint Cup Series races under the lights for this dramatic and entertaining racing event. This will be the third restrictor-plate race of the 2015 season, so we should now begin to see some trends forming on these larger ovals. With the new aero-rules package being used for the second time this season at Daytona, we hope to see some the same racing that made the Daytona 500 a competitive and exciting affair. If the drivers can duplicate the action we saw in May at Talladega, we should be in for a thrilling ride this Sunday night. The 500-mile race at Talladega Superspeedway earlier this season holds the season offered 27 lead changes and was one of the most competitive events since the season-opener. The Daytona 500 also offered 27 lead changes, so we should be in for a hotly-contest race this weekend. Despite the pack racing that superspeedways create, we still have lots of lead changes and parity in these restrictor-plate events. However, we also need to remember the 6 cars that DNF'd at Talladega is also a season high mark, and really illustrates the luck side of the equation in this style of racing too. So we have to be mindful of the multi-car crashes that the pack racing produces and the luck factor that is associated with this style of racing. We should be in for that same style of fireworks in the Coke Zero 400 this weekend. The racing at Daytona at night always introduces a new dynamic to this style of racing. While there are many parallels we'll be able to draw from the Daytona 500, we fully expect the action in Sunday night's race to have its own unique characteristics.
Since this is the second race of the season at DIS, we can look back to February's Daytona 500 and even the race at Talladega this spring for some indications on which teams are running at top speed on the restrictor-plate tracks. This information will for the foundation of our picks for this week's race. We'll also pay close attention to the historical data at Daytona International Speedway. While average finish position is not always a good statistic to rely on at restrictor-plate tracks, the loop stats will illustrate the drivers that lead laps, make quality passes and dominate at Daytona on a regular basis. The data shown below covers the last 10 years or 21 races at Daytona International Speedway.
| DRIVER | AVG FINISH | QUALITY PASSES | FASTEST LAPS | LAPS LED | LAPS IN TOP 15 | RATING |
| --- | --- | --- | --- | --- | --- | --- |
| Kyle Busch | 19.1 | 2,869 | 85 | 329 | 2,488 | 96.2 |
| Dale Earnhardt Jr. | 13.0 | 2,968 | 89 | 206 | 2,475 | 91.9 |
| Kurt Busch | 16.3 | 2,724 | 71 | 274 | 2,161 | 90.5 |
| Matt Kenseth | 16.6 | 2,556 | 80 | 298 | 2,277 | 89.9 |
| Jeff Gordon | 19.9 | 2,709 | 65 | 270 | 2,274 | 88.0 |
| Jimmie Johnson | 20.0 | 2,753 | 45 | 198 | 2,378 | 87.9 |
| Denny Hamlin | 18.7 | 2,444 | 82 | 257 | 1,901 | 87.7 |
| Tony Stewart | 17.9 | 1,801 | 76 | 551 | 1,958 | 86.6 |
| Joey Logano | 18.3 | 1,993 | 42 | 38 | 1,232 | 85.8 |
| Clint Bowyer | 15.5 | 2,147 | 82 | 151 | 1,660 | 84.0 |
| Kasey Kahne | 18.1 | 2,825 | 71 | 29 | 2,001 | 83.3 |
| Greg Biffle | 19.8 | 2,382 | 85 | 136 | 1,978 | 81.8 |
| Kevin Harvick | 16.7 | 2,364 | 92 | 100 | 1,845 | 81.6 |
| Carl Edwards | 19.2 | 2,971 | 78 | 15 | 1,991 | 80.2 |
| Jamie McMurray | 21.5 | 2,934 | 63 | 39 | 1,924 | 79.5 |
| Ryan Newman | 20.1 | 1,886 | 77 | 99 | 1,613 | 77.9 |
| Brian Vickers | 18.8 | 1,392 | 53 | 34 | 963 | 77.0 |
| Martin Truex Jr. | 22.5 | 2,470 | 65 | 63 | 1,818 | 76.7 |
| Austin Dillon | 14.8 | 380 | 23 | 1 | 290 | 76.1 |
| Brad Keselowski | 21.8 | 1,617 | 53 | 37 | 967 | 75.5 |
Penske Racing star Joey Logano won this year's Daytona 500. The victory made him a first-time winner of the Great American Race and snapped a 25-race winless drought for the veteran driver on the restrictor-plate race tracks. Logano's historical stats and loop stats on superspeedways have been gradually getting better each season and it finally culminated in the big win. Luck has always been his Achilles' heel at Daytona, but he seemed to rise above it with his Daytona 500 victory in February. When the series traveled to Talladega in early May it was a total free-for-all, but Dale Earnhardt Jr. managed to lead the most laps with 67. He would lead the final green-flag run wire-to-wire and hold off the hard-charging Jimmie Johnson to capture the win and return to victory lane at the Alabama oval. It was the driver of the No. 88 Chevrolet's sixth-career win at Talladega and first since the 2004 season. We'll need to keep a watchful eye on Earnhardt again this weekend as he could assert his prowess in superspeedway racing again this Sunday night.
While he didn't win either race, Earnhardt's teammate at Hendrick Motorsports, Johnson, also had a strong presence in the two superspeedway races earlier this season. Johnson led 39 laps in the Daytona 500 and he finished a powerful fifth after a late charge at leader Logano. Given that the driver of the No. 48 Chevrolet is a three-time winner at DIS, we have to give him his due respect in this one. Aside from the Chevrolet and Ford angles on this event, we'll need to keep a look out for the Toyota teams of Joe Gibbs Racing. Denny Hamlin has been the strongest driver for this stable the last year on the restrictor-plate tracks. The driver of the No. 11 Toyota is a one-time Talladega winner, and he's claimed one Top-5 and two Top-10 finishes in the new superspeedway rules package this season between the Daytona and Talladega events. Hamlin has the experience to easily walk away with his first-career Daytona victory. We'll take a look at recent history, and the 2015 Daytona 500 and give you the drivers you need this weekend to win your fantasy racing league.
The Contenders - Drivers in the hunt for the win
Dale Earnhardt Jr. - Our last superspeedway winner tops the contenders list this week. The three-time Daytona winner has a lot to prove in this Sunday night's Coke Zero 400. Earnhardt snapped a major dry spell at this track with his win in last season's Great American Race. The fact that he won at Talladega earlier this spring shows his incredible skill on these large ovals. Restrictor-plate racing requires a lot of experience and a lot of luck, and Earnhardt is one of the rare few who "make" their own luck in this style of racing. His two victories and 12.7 average finish in the last six Sprint Cup superspeedway races puts Earnhardt in a very elite class.
Jimmie Johnson - The three-time Daytona winner and runner-up finisher in this season's Talladega race comes back to Daytona Beach on a quest this weekend. Johnson was denied victory lane in this February's Daytona 500, but he still led 39 laps and finished a brilliant fifth. Unfinished business will be the phrase on the minds of the No. 48 Chevrolet team. Johnson swept both races at this track in 2013, and that shows the skill and experience of the six-time champion at this 2.5-mile oval. With close to 200 laps led in the last six restrictor-plate races, we're used to seeing the Hendrick Motorsports star up front on these ovals.
Joey Logano - Those young Penske Racing driver is carving out another fantastic season in the No. 22 Ford. Logano rides into Daytona weekend third in the overall driver standings, and with one victory to this point in the season. The good racing should continue for Logano this weekend at Daytona International Speedway. He sports some good finishing stats at the 2.5-mile superspeedway. He won this season's Great American Race in an impressive performance, and he's often seen racing with the leaders at the series' two monster ovals. Logano is poised to defend his Daytona crown in the Coke Zero 400.
Jeff Gordon - Gordon's story-book final season of racing hasn't gone exactly to plan. That makes this final visit to Daytona even more important. This will be the racing legend's last shot at another Daytona trophy, and you had better believe his effort will be intense. Gordon's a six-time winner at DIS so he's no stranger to victory lane at this super oval. The No. 24 team has brought incredibly fast cars to the two restrictor-plate tracks this season. Gordon won both pole positions and led a combined 134 laps at Daytona and Talladega. However, bad luck conspired to rob him of both those victories. This time around could be entirely different. Raw speed is the first ingredient to winning these races.
Solid Plays - Drivers who are near locks for the Top 10 with an outside shot at winning
Kevin Harvick - The veteran SHR driver has enviable career numbers racing at Daytona International Speedway. Harvick has two career victories and 12 Top-10 finishes at the historic speedway in Florida. The driver of the No. 4 Chevrolet rides a three-race Top-10 streak on the restrictor-plate race tracks into this weekend. Harvick finished runner-up in this season's Daytona 500, so he'll get another shot at victory lane this Sunday night. His career 43-perent Top-10 rate at Daytona International Speedway puts him among some pretty elite company. He should make a strong and steady fantasy racing play at this high-risk oval.
Denny Hamlin - Make no mistake, it's been an up-and-down season for the driver of the No. 11 Toyota. Hamlin does have the Martinsville victory, but his six Top-10 finishes add up to a mediocre 13th-place ranking in the driver standings coming to Daytona this week. The good news is this could be where it all turns around for the Joe Gibbs Racing star. Hamlin has been stellar and has had great speed on these large ovals all the way back to the start of the 2014 season. This year he's captured fourth- and ninth-place finishes at Daytona and Talladega. Those performances give Hamlin five Top 10s in his last six superspeedway starts. That places him among the very best in the Sprint Cup Series at the present time.
Clint Bowyer - The Michael Waltrip Racing star has had his share of good finishes over the years on the larger ovals. Bowyer has strung together two victories and 19 Top-10 finishes between the ovals of Daytona and Talladega. That gives him the second-best average finish among active drivers on these ovals at 15.4. The driver of the No. 15 Toyota comes to this Coke Zero 400 with four Top-10 finishes in the last five superspeedway events. That includes a strong seventh-place performance at Daytona earlier this season. Bowyer finished ninth in this race one year ago, and that's been a good indicator of his normal Daytona performance.
Kurt Busch - The Stewart Haas Racing veteran has enviable career numbers racing on the plate tracks. Busch cracks the Top 5 at Daytona and a stunning 39-percent rate and the Top 10 at an impressive 50-percent rate. Two of his last three trips to Daytona Beach have netted a total of 51 laps led and two Top-6 finishes. That gives us great confidence in the No. 41 Chevrolet team this week. Busch's only superspeedway start of the season was a 12th-place finish at Talladega earlier this spring. While not overly impressive, we would see this as the basement this weekend for the veteran driver. Busch has homerun potential in this event.
Sleepers - Drivers with good history at Sonoma who can provide a solid finish
Martin Truex Jr. - The Furniture Row Racing veteran is in need of a good run after his disappointment at Sonoma last week. Daytona will provide a morale boost, and hopefully a points boost to the No. 78 Chevrolet team. The encouraging sign has been this driver's performance on the big ovals this season. Truex has posted eighth- and fifth-place finishes at Daytona and Talladega during his rebound campaign of 2015. Those efforts boosted his career Top-10 rate on these ovals to just 22-percent. So you can see Truex hasn't been carving up these tracks his entire career, this is more a function of his recent success. Regardless, he'll be a Top-10 finisher in Sunday night's Coke Zero 400.
Brad Keselowski - Coming off a difficult performance at the Sonoma road course, it would be a mistake to leave Keselowski off the sleepers list this week. The Penske Racing star is a proven restrictor-plate racer, and has the pedigree to back that fact up. Keselowski is a two-time winner at the big oval in Talladega, and has shown the deft ability to avoid the "big one" during go time. While he's never tasted the thrill of victory at Daytona, the driver of the No. 2 Ford is starting to make some headway at this challenging oval. Keselowski has three Daytona Top 10s in his last six starts at the historic oval. Hopefully, luck should be on his side this weekend.
Austin Dillon - It's been a difficult and trying season for the No. 3 Chevrolet team. Dillon has struggled in many respects this year. However, there is good reason for hope this weekend at Daytona. Restrictor-plate racing has been a strength of the young driver. Dillon has four-career starts at DIS with a pair of Top-10 finishes in those efforts. His success isn't just limited to Daytona, as he's had some good performances at Talladega as well. Dillon has a pair of Top-15 finishes in his four starts at the Alabama oval. Considering how motivated this team will be to crack the Top 10 this Sunday night, Dillon should put on a pretty good show.
Ryan Newman - The Richard Childress Racing veteran is running well coming to Daytona International Speedway. Newman is fresh off a Top-10 finish at Sonoma this past weekend. The driver of the No. 31 Chevrolet will be riding a wave of momentum coming into the Coke Zero 400. His superspeedway work has been strong of late. Two of his last three starts on these big ovals have netted Top-10 finishes. That includes a steady seventh-place finish in our last superspeedway event at Talladega. Newman should be a driver to keep an eye on at Daytona this Sunday night.
Sam Hornish Jr. - This is the first time that Hornish has appeared in our sleepers list this season, but it's for good reason. Since returning to Sprint Cup Series action this season, the ovals with the biggest payback so far have been the superspeedways. The driver of the No. 9 RPM Ford has 12th- and sixth-place finishes at Daytona and Talladega earlier this season. Those results don't happen by accident on these style ovals. It takes great instincts, great skill and a certain measure of luck to bring that type of consistency to this style of racing. This will be Hornish's ninth career start at Daytona International Speedway, and it could easily be his first-career Top 10 at the historic track.
Casey Mears - The Germain Racing veteran is a good play deep off your bench or in deeper leagues this Sunday night. Mears has been steady the last year plus on the huge ovals. His last six finishes between Daytona and Talladega dating back to last season's Daytona 500 have netted four Top 10s. Mears finished an impressive sixth in this season's Great American Race, which was the last time the series visited Daytona. The driver of the No. 13 Chevrolet rides a four-race Top-10 streak at DIS into this Sunday night's Coke Zero 400. That makes him a great play in fantasy racing leagues at this historic oval.
Slow Down - Drivers to avoid this week
Tony Stewart - No one has won this Daytona night race more than Smoke. That's why it's even more emphasized that the driver of the No. 14 Chevrolet lands in the slow down list this week. In the past, Stewart has been money when the light flipped on at Daytona International Speedway. He won this event four times between 2005 and 2012. However, the three-time champion has been pulling up lame of late in these restrictor-plate races. Stewart's last six starts between Daytona and Talladega have netted one Top-20 finish and five finishes outside the Top-30. He's led only a handful of laps over this six-race span. While Stewart has the potential to flip the switch "on" Sunday night, his current level of performance suggests otherwise.
Kyle Larson - The biggest factor of restrictor-plate racing success is experience, and that's simply the one thing that Larson lacks in his extensive toolbox. The impressive young driver has torn up the Sprint Cup Series to this point in his two-season career. However, the superspeedway still pose a major challenge for the No. 42 Chevrolet team. Larson has only one Top-10 finish in his first six starts on the ovals of Daytona and Talladega. During the span he also has three DNF's and an average finish of 29.3. Those numbers rank him among the bottom tier of the Sprint Cup Series drivers on the plate tracks. There's little doubt that Larson will soon figure these big ovals out, but don't pin your fantasy racing success on him doing it this weekend.
Carl Edwards - The Joe Gibbs Racing star has had it pretty tough this season, punctuated by his crash and DNF at Sonoma Raceway last week. Edwards will pull himself up and dust himself off for this Sunday night's Coke Zero 400. However, the hopes for a rebound have to be slim when the numbers are put in context. Edwards last six starts between Daytona and Talladega span two different teams, but they've all been quite forgettable. Five of those six starts have been finishes outside the Top 20, with only one DNF due to crash. It's not been the big one that's been plaguing Edwards on these tracks. It's been more an issue of a lack of speed and being in the wrong spot for the final push through the pack.
Trevor Bayne - The 2011 Daytona 500 winner has yet to dazzle us on the superspeedways since his big Daytona victory a few seasons ago. Catching lightning in a bottle again has proven tricky for the young driver. Bayne has actually struggled immensely on these huge ovals since his shocking win for Wood Brothers Racing. In 18 combined starts between Daytona and Talladega Bayne has only two Top-10 finishes as compared to seven DNF's. The Roush Fenway Racing driver's starts on the plate tracks this season have netted lowly 30th- and 41st-place finishes. No, there's no signs that the driver of the No. 6 Ford will turn this trend around this weekend.
Taylor is a three-time FSWA Racing Writer of the Year.
Get a FREE RotoWire 10-day trial (no credit card required) at RotoWire.com.
---
---