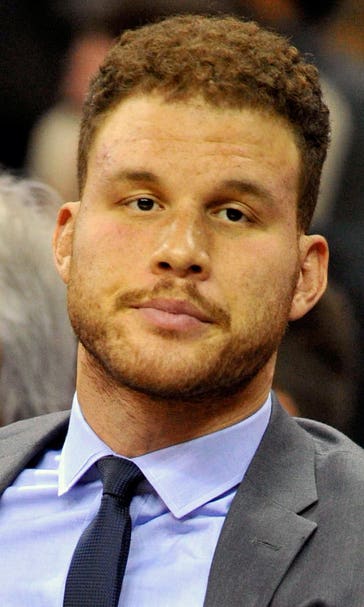 Fantasy Basketball Injury Analysis: Blake Griffin's hand, Tim Duncan's knee
BY foxsports • February 4, 2016
Blake Griffin
The Clippers forward has had multiple noteworthy accomplishments in his young career, but last week's incident with a team equipment manager adds him to a more infamous list. Griffin joins Amar'e Stoudemire, Glen Davis, Isaiah Thomas and Larry Bird as NBA players injured while throwing a punch. While the team remains tight-lipped on the specifics surrounding the altercation, they did supply a detailed description of the injury Griffin sustained.
According to the press release, Griffin suffered a spiral fracture of his fourth metacarpal. The fracture site required surgical intervention to repair. The fourth metacarpal is the bone of the hand situated under the ring finger. A Fracture to the area is common and is informally (and in this case fittingly) known as a boxer's fracture. Recent NBA players to suffer a broken fourth metacarpal include Kevin Love, Steven Adams and Tony Parker. Toronto's Jonas Valanciunas suffered the second fourth metacarpal fracture of his career earlier this season. Examining these cases and several others reveals that the average number of missed games following these types of injuries is roughly 17, regardless if surgery is required. If Griffin's injury holds true to form, he would be back in early March, nearly five weeks after the injury occurred.
However, the nature of the break could complicate things. A spiral fracture occurs when a twisting force is involved in the mechanism of injury. As a result, the bone breaks in a corkscrew-like pattern. In some cases this alignment can make healing more difficult and extra time may be needed for any surrounding soft tissue damage. Add in the fact that the involved hand is his shooting hand and I wouldn't be surprised if Griffin needs the full six weeks to recover.
There is a small silver lining in the timing of the injury, as Griffin's partially torn quadriceps will be given additional time to heal. Hopefully that will allow him to return close to 100 percent. In the meantime fantasy owners will need to gauge their positioning in the standings to help determine what they should do with Griffin. Those with comfortable leads may be able to stomach the extended absence while those fighting for playoff spots would be wise to explore any potential trade scenarios available. Griffin's absence does increase the value of his teammates, particularly Chris Paul and J.J. Redick. Both guards have upped their scoring numbers with Griffin sidelined.
Brandon Knight, Ronnie Price
It appears the Suns backcourt duo will sit through the upcoming All-Star break with their respective injuries. Price, out since undergoing surgery to remove bone chips in his big toe, has limited fantasy value, but Knight's absence is particularly problematic, and concern about the severity of the injury is mounting. The term sports hernia has surfaced over the past few days though it can be used as a catchall term to describe any soft tissue damage in the lower abdominal and groin area. A true hernia doesn't always accompany a sports hernia though surgical treatment remains a realistic option. The Suns hope Knight's strain will improve with extended rest, but the team's downward spiral in the standings could be motivation to rest him longer.
The injuries have created opportunities for Phoenix's younger players, including Archie Goodwin and rookie Devin Booker. Goodwin hit a cold-spell after an impressive three-game stretch in which he averaged 23.3 points per game. The third-year guard shot a combined 7-for-36 (19.4 percent) from the field in the three games following that outburst, though he went 7-of-12 on Tuesday, scoring 18 points.
On the other hand, Booker has emerged as a legitimate fantasy option. In 11 straight starts, Booker is averaging 17.6 points and 1.8 made three-pointers with respectable percentages to boot. Tuesday he scored 27 points, hitting six three-pointers. With the Suns shifting their attention to the future Booker is a must-add in all formats.
Fast Breaks
Tim Duncan
The Spurs continue to hold Duncan out as he battles soreness in his right knee. While Duncan's left knee has been the historically troublesome joint, this lingering bout of discomfort has already cost the future Hall-of-Famer five total games this season. It's hard to guess how long Duncan will remain sidelined, as the term "soreness" offers little insight into the root of the problem. However, after 18 regular seasons in the NBA and nearly three seasons worth of playoff games, it's not surprising that the veteran is showing signs of slowing down. This places owners in a bit of a predicament, as you must weigh his still respectable fantasy value against his unpredictable availability. I would rather have a bit more of a reliable option in my frontcourt especially with no concrete resolution in site.
Tyreke Evans
The Pelicans injury-stricken season continues with Evans once again battling right knee issues. After missing the first 17 games of the season following a surgery, Evans has battled lingering tendinitis and soreness in the joint. It has cost him a handful of games, and he is not expected to play Thursday. Unlike Duncan, Evans' overall inconsistency isn't offset by reliable production, and the former Rookie of the Year isn't worth an everyday roster spot.
Stotts works as a Certified Athletic Trainer (MAT, ATC, PES, CES) and is a former winner of the Best Fantasy Football Article from the Fantasy Sports Trade Association.
Follow @RotowireATC on Twitter.
Get a FREE RotoWire 10-day trial (no credit card required) at RotoWire.com
---
---