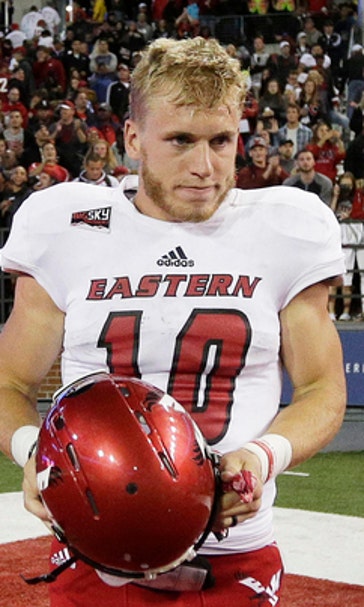 Youngstown State plays E. Washington in FCS semifinals
BY AP • December 16, 2016
Eastern Washington's Cooper Kupp, who has piled up more yards than any receiver in college football history, said the real reward of playing in the FCS playoffs is getting to spend more time with his teammates.
Eastern Washington (12-1) hosts Youngstown State (11-3) on Saturday in the semifinals of the FCS playoffs in frigid Cheney, Washington.
''You get the chance to earn another week or three weeks with these guys and spend more time together,'' Kupp said this week. ''It's a genuine brotherhood.''
Kupp this season has 107 catches for 1,520 yards and 15 touchdowns. He won the Walter Payton Award last season as the top player in FCS and could become the second two-time winner when it is handed out Jan. 6.
The temperature in Cheney should be hovering around zero at kickoff. It is expected to be by far the coldest game in Eastern Washington football history.
''We will have to deal with the elements on Saturday,'' Youngstown coach Bo Pelini said. ''We're not going to be able to simulate zero degree weather (in practice).''
The Penguins plan on Eastern Washington being able to execute its strong pass attack, said Pelini, the former Nebraska coach in his second season at Youngstown State.
But the team will have a backup plan if the Eagles are forced to resort to a ground attack because of the weather, he said.
The Penguins, meanwhile, may be without running back Martin Ruiz, who was arrested last week on firearms charges. Pelini declined to discuss the incident this week. Ruiz has rushed for 1,153 yards this season.
Eastern Washington leads FCS with an average of 411 passing yards per game behind quarterback Gage Gubrud, while Youngstown State allows only 182 passing yards per game.
Eastern Washington coach Beau Baldwin said any team that reaches the semifinals is impressive.
''They have a run-first mentality,'' Baldwin said of Youngstown State. ''But they can sting you in the air. They are good on special teams.''
Eastern Washington has won 11 games in a row since losing to powerhouse North Dakota State 50-44 in overtime in early September. The Eagles beat Richmond 38-0 in the quarterfinals last weekend.
Things to watch in this semifinal playoff game:
HELLO AGAIN: These teams played in the 1997 FCS semifinals, then known as Division I-AA. Youngstown State won 25-14 on its way to a national title. That team was coached by Jim Tressel, who is now the school's president.
KUPP RUNNETH OVER: The senior has caught 418 passes for 6,284 yards and 71 touchdowns in his career. The receptions and touchdowns are FCS records, while the yardage is the most for any receiver in the history of all levels of college football. Kupp did not receive any offers from major college programs coming out of high school, but this week was selected to The Associated Press FCS All-America team for the fourth straight season.
PENGUINS ON OFFENSE: Youngstown State running back Jody Webb has rushed for 1,200 yards this season, averaging 6.3 yards per carry, while Hunter Wells threw for 1,119 yards and seven touchdowns in seven games.
BIG WIN: Eastern Washington opened the season by upsetting Washington State of the Pac-12, a team that recovered to post eight wins and advance to the Holiday Bowl.
BEEN HERE BEFORE: Youngstown State is 6-1 in the FCS semifinals, with four national titles. Eastern Washington is 1-3 in the semifinals, and won a national title in 2010.
---
More AP college football: www.collegefootball.ap.org and https://twitter.com/AP-Top25
---