Would Washington beating Alabama be the biggest bowl upset ever?
BY Stewart Mandel • December 28, 2016
PARADISE VALLEY, Ariz. — Greetings from Fiesta Bowl Central. I'll here all week writing about Clemson and Ohio State.

Now, to start off this Mailbag, here's a question about the other semifinal.

When (not if) Washington beats Alabama, is that the biggest bowl upset since advent of the BCS? I'm a Minnesota fan, no dog in the fight, just think Bama is tremendously overrated.

— Dom, Minneapolis

Calling your shot, are you?

If you're including any BCS bowl, and if you're using Vegas lines as the measuring stick, Washington beating Alabama as a 14-point underdog would not match Oklahoma upsetting the Tide as a 17.5-point dog in the 2014 Sugar Bowl. But I don't look at it that way; the significance of the game matters more than the point spread. After all, Boise State was just a touchdown underdog to Oklahoma in the 2007 Fiesta Bowl. That's clearly on the short list for biggest BCS/CFP upset.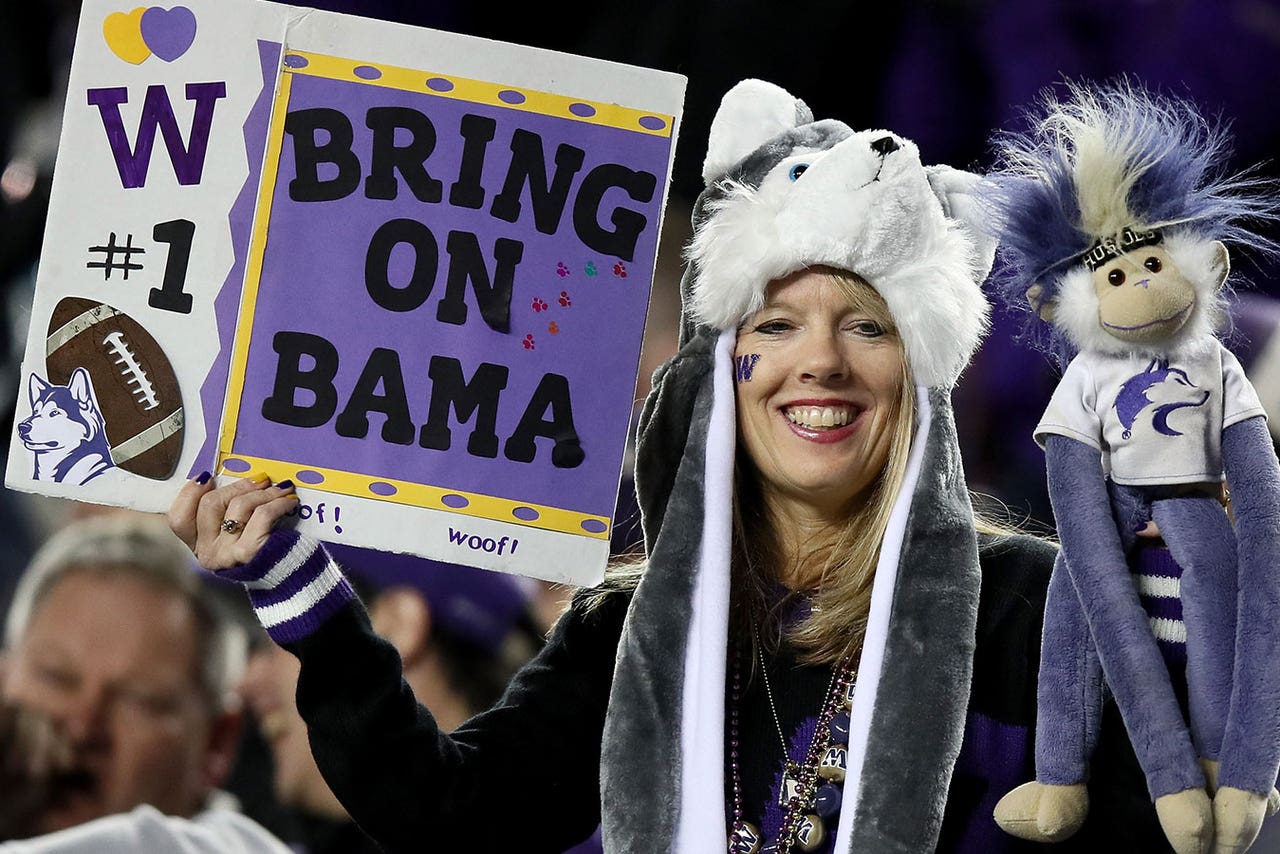 To me, the two gold standards are Ohio State ending Miami's 34-game win streak in the 2003 Fiesta Bowl and Texas ending USC's 34-game win streak in the 2006 Rose Bowl, both national championship games. But both the Buckeyes and 'Horns were 13-0 teams ranked second in the country. They were also fully entrenched as premier programs nationally.

Washington is 12-1, ranked fourth and very much an upstart that hasn't been on this stage in a long time. We might have generalized in 2002 and '05 that "nobody thinks Ohio State or USC will lose," but c'mon. This year, literally no one expects Alabama to lose the Peach Bowl, save apparently for Dom.

So yes, I believe it would be the biggest BCS/CFP upset. And if it happens, many will look back and say, "Oh. Maybe we should have seen this coming. Alabama didn't beat a team with fewer than four losses in SEC play and never faced a quarterback remotely on Jake Browning's level. And the USC team that beat Washington in November bore almost no resemblance to when the Tide whipped the Trojans 52-6 in Week 1."

But I'm not saying that. I'm saying Alabama's defensive front holds a huge advantage over Washington's offensive line, Browning has not played well under pressure and the only way the Huskies win is if Jalen Hurts turns it over three or four times. I realize that may come back to haunt me.

I don't understand the widespread belief that Clemson is clearly superior to Washington. Ohio State at least has a more solid resume (with wins over Michigan, Oklahoma and Wisconsin) than Washington, but what's the argument for Clemson, which has looked shakier all year? I think Clemson is coasting entirely on last year's accomplishments and is going to get embarrassed in the playoffs a la Florida State in 2014. 

— Mike, Boston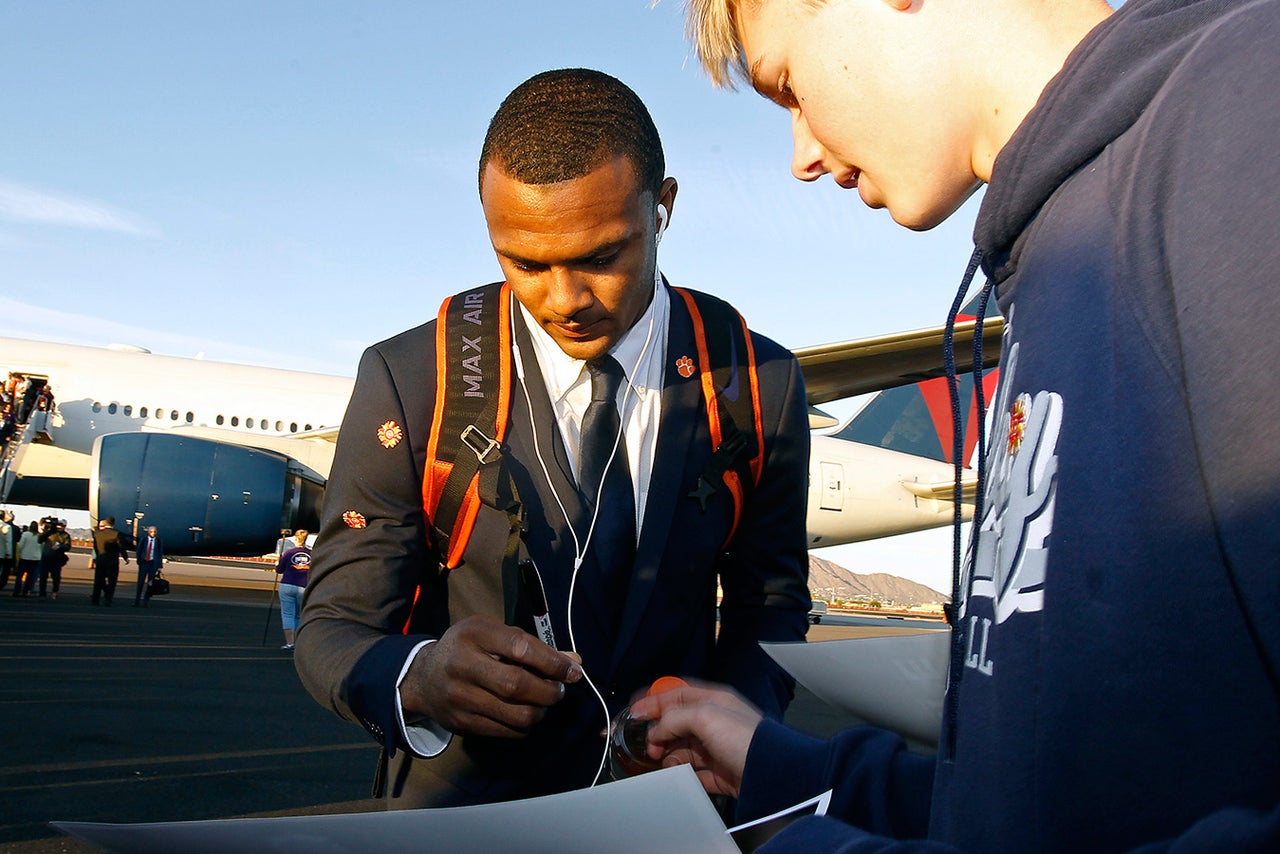 I agree with you to some extent. That's why I picked Ohio State to run away with it, 49-31. I would agree the Tigers spent much of the season doing their best impression of Jameis Winston's second FSU team.

To Clemson's credit, though, it played some of its best football over the last three games, led by Deshaun Watson cutting down on his mistakes. He ended up posting nearly identical passing stats as he did in 2015, whereas Winston's passer rating plummeted playing with almost entirely new receivers. Also, FSU's defense really struggled that year, ranking 63rd nationally, while Clemson's remains in the Top 10. Throw in four Top 25 wins for the Tigers (Auburn, Louisville, Florida State and Virginia Tech), and you can't say this team isn't deserving of its spot.

Is Clemson decidedly better than Washington, though? Probably not. The Huskies did not play as strong a schedule and finished with three Top 25 wins (Stanford, Utah and Colorado) to Clemson's four. But one thing people might not realize about Washington: It spent more time leading its games (the infamous "game control" metric) than any team in the country. And in the F/+ efficiency rankings, which account for schedule strength, they are virtually identical.

I don't know which is better. Maybe we'll find out in Tampa.

I know you can point to Ohio State making the playoff this year largely because it won at Oklahoma. However, in each of the first three years of the committee, at least one two-loss team finished between No. 5-No. 8 while suffering a non-conference loss (2014 Michigan State to Oregon, 2015 Stanford to Northwestern, 2016 Penn State to Pittsburgh). If the number in the loss column is still going to trump everything else, shouldn't playoff contenders actively practice "loss avoidance" and only schedule guaranteed wins?

— Scott Dean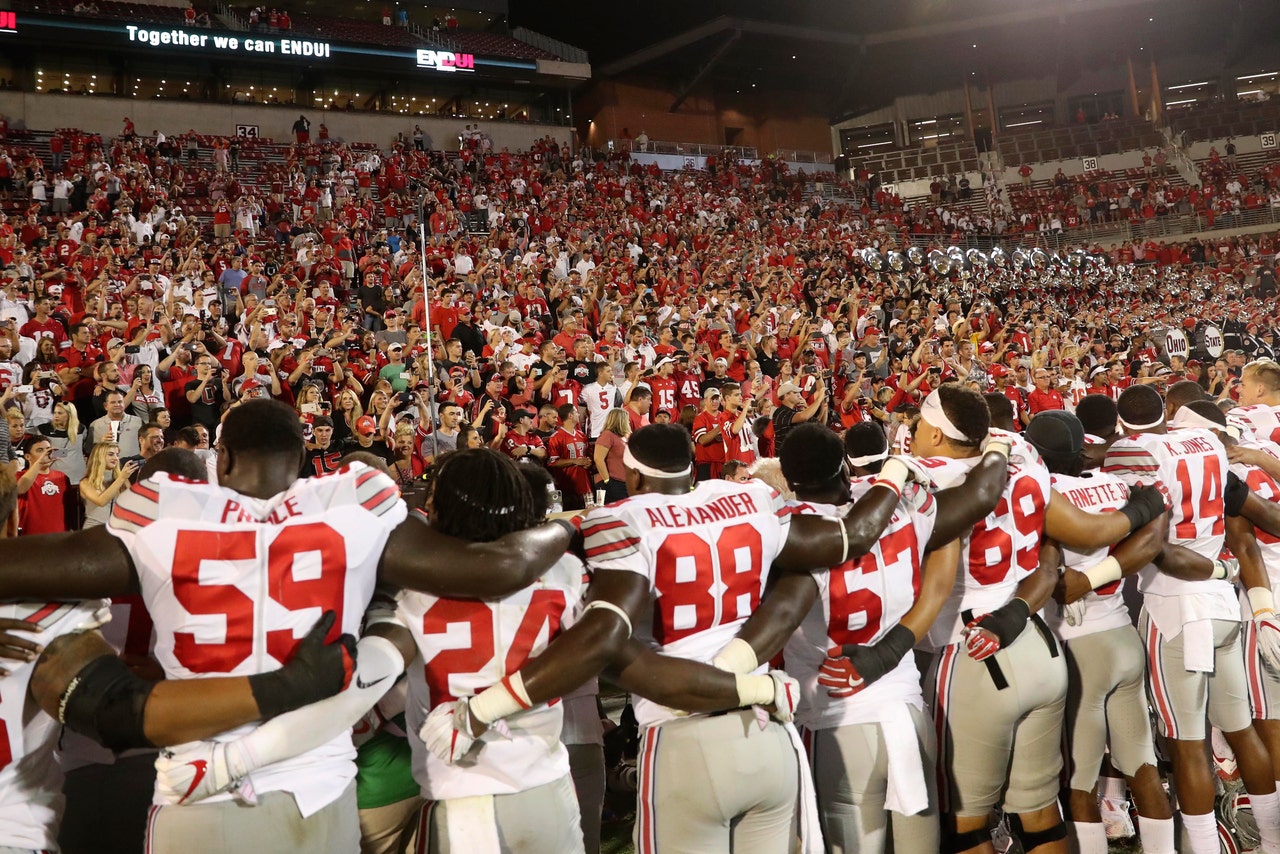 It's a fair assumption to make until we ever see a day when a two-loss team gets in at the expense of a one-loss team. So far the committee has largely mirrored the traditional polls' tendency to order the teams by number of losses. Chairman Kirby Hocutt flat out said the main reason Penn State was unable to overtake Washington was that its two losses (to unranked Pittsburgh and a blowout to Michigan) were both worse than the Huskies' one (to Top-10 USC).

But I'd still caution against scheduling not to lose unless you're absolutely sure you're going to play three or four Top-25 teams in conference. Because so far that's also been an unofficial demarcation. On the final night of the season, when everyone was furiously debating the various scenarios, I tweeted out this chart that essentially said — you're all overthinking this.

Final records vs. committee's most recent Top 25:

Alabama 5-0

Clemson 4-1

Ohio State 3-1

Washington 3-1

Penn State 2-2

Note that Penn State improved to 3-2 when Temple snuck in to the final rankings, but I doubt that result made much difference. The point is, going 12-1 but only beating two quality opponents all year is going to leave you vulnerable to an 11-2 team that beats three or four. That's why the Big 12 is adding a seemingly redundant championship game next year and why I'd recommend teams keep scheduling at least one non-conference game it may well lose.

What chance do you think FSU has in the Orange Bowl? They played much better in the second half of the season, however, UM brings a significant defense. Also, Since the UM fans/Harbaugh seem to have a complex regarding coverage and opinions of their team, if the 'Noles prevail, will it be because of the horrible bias against them?

— Scott Munn, Greenville, NC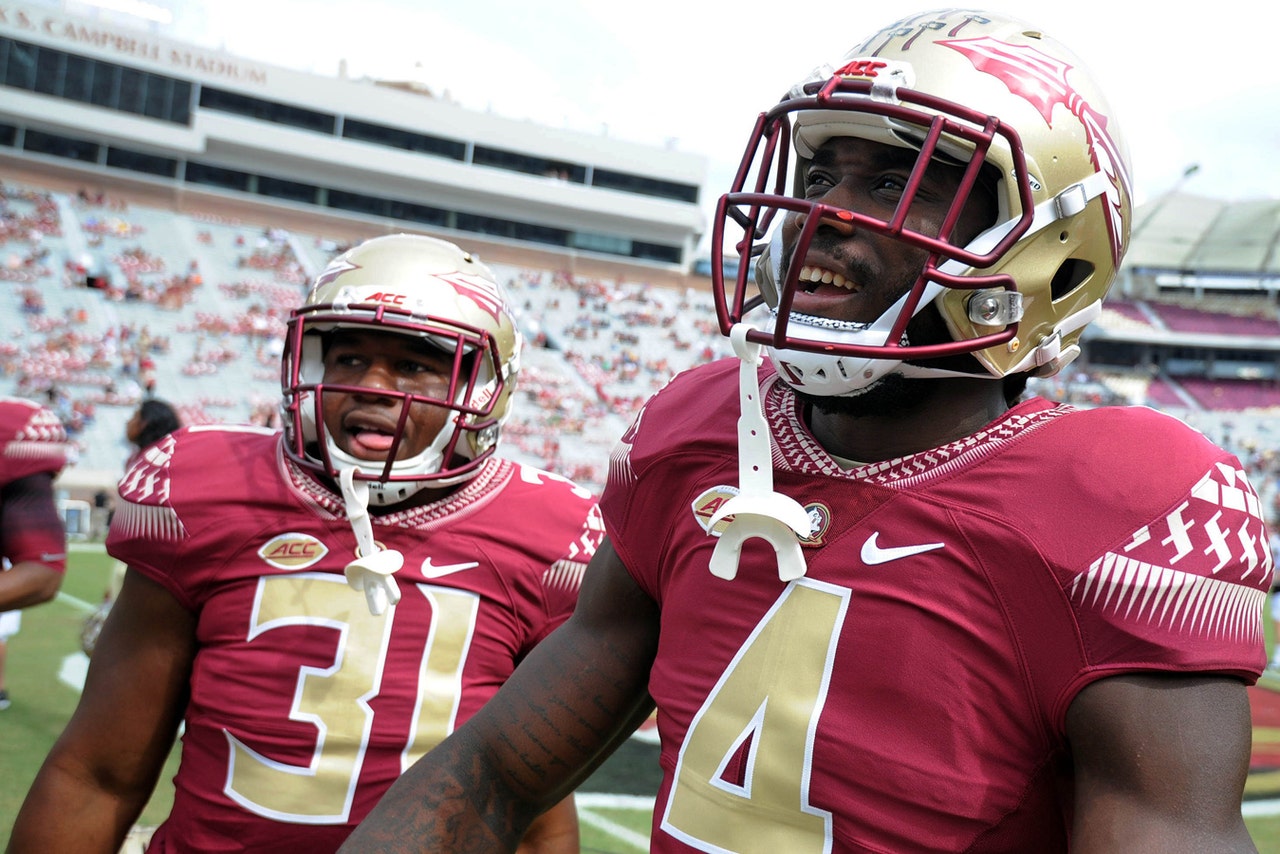 I would start researching all of the officials' backgrounds right now, because heaven forbid Michigan loses on a questionable pass interference call throw by someone whose third-cousin went to Florida State, angry Wolverines fans are surely going to find that out.

Certainly FSU has a great chance, because FSU is every bit as talented as the Wolverines, if not more so. Whereas Michigan was an extremely experienced team that played like it right from Week 1, the 'Noles struggled most of the season due in part to youth at key positions, most notably a redshirt freshman quarterback (Deondre Francois) but also at safety, where the 'Noles lost both a preseason All-American (Derwin James) and a fourth-year veteran (Nate Andrews) for nearly the entire season. Not coincidentally, that unit played much better late in the year than it did during a mostly disastrous start.

End of day, Michigan's defense has been dominant all season. If it's able to shut down Dalvin Cook like it has so many other stars, FSU's probably not going to win. But this being a bowl game, you never know whose unit is going to come out and play better than it has all season — see Boston College's and NC State's offenses in Monday's bowl games. If we see that from the 'Noles, it will likely be due to Francois making big strides during the extra weeks of practice.

If you were the owner of an NFL team (say, the Rams or Jaguars), who are the top 5 college coaches you would consider hiring to run your team?

— Craig, Harlingen, Texas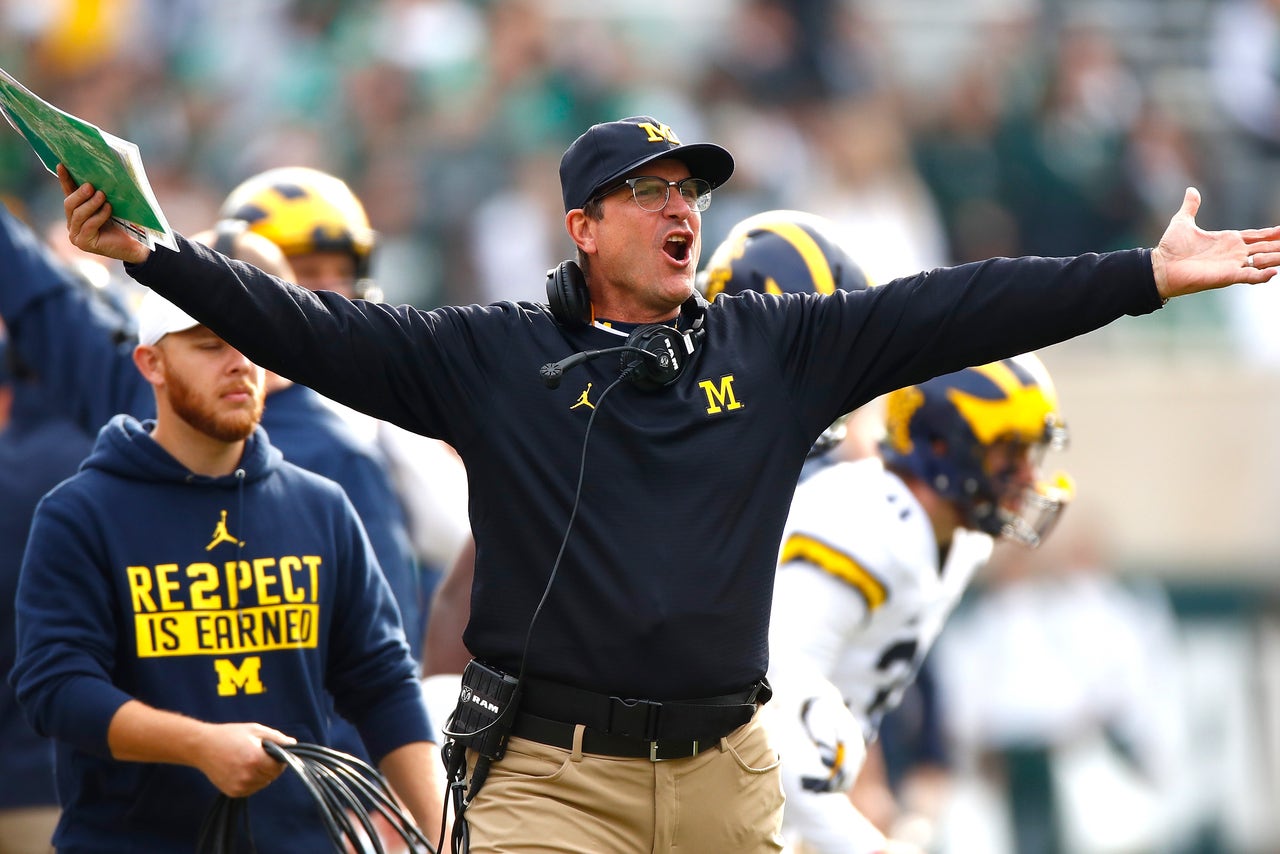 I don't get the sense there's much rhyme or reason to which great college coaches succeed (Jim Harbaugh, Pete Carroll) and which ones flop (Nick Saban, Chip Kelly) at the next level beyond the most obvious — the quality of talent their GMs acquire. Would Saban still be in the NFL today if the Dolphins had signed Drew Brees (as Saban often laments?) Would Kelly be a hot NFL coach rather than a hot-seat NFL coach if the Eagles had drafted Marcus Mariota?

So my answer is fairly generic — I'd try to hire Saban, Harbaugh, Urban Meyer and Chris Petersen because they're whom I consider the best coaches in college as of today. I don't have a clear fifth for you — maybe put out calls to Jimbo Fisher, Dabo Swinney, David Shaw and Gary Patterson and see who responds first.

Stewart: Watching the same few teams like Alabama compete for the national championship has me thinking it's time for another major recruiting change. Each school can only have so many "points'" in a recruiting class. And each recruit has a point value (based on a consensus of player rating services). Five star = 5 points, etc. This would limit how many 4 and 5 star recruits any one school could have.

— Joel, Ponca City, OK




I believe that's how recruiting worked on the old EA Sports NCAA Football game.

Selfishly, as a fan, I say — absolutely, let's do it. Speaking as someone who covers this stuff, though, that's just not going to happen. The NCAA already lost a major antitrust case (Ed O'Bannon) for capping the value of athletes' scholarships below that of regular students. Now you're suggesting it should place an artificial cap limiting who can get those scholarships. And do it using an entirely subjective measuring stick. Can you imagine the shenanigans? Receiver X wants to go to Clemson, but Clemson doesn't have enough remaining points, so he tanks at the Army All-American Bowl so Rivals will lower his ranking.

Of course, the NCAA does invoke one cap in that it limits the number of scholarships a program can offer (25 per class; 85 total). If you want to create more parity, the next step would be to lower those numbers for the first time since 1994. Now Alabama can only sign 20, not 25, and the others start trickling down to other schools. A few legal challenges over the years regarding those limits all died out pretty quickly.

But the original impetus behind scholarship limits (which did not exist prior to the early 1970s) was cost-cutting. It would be awfully hard for the Power 5 schools to justify reducing scholarships at a time when they're bringing in more revenue than they know what to do with. Furthermore, thinning football rosters would run antithetical to the larger movement to better protect players' safety. If anything, they should probably be talking about raising those limits higher, but the Power 5 don't have the power to push something like that through for all of Division I. And clearly, the rest of FBS — and probably the lower half of the Power 5 — would adamantly oppose moving in that direction.

Stewart: With all of the money the NCAA makes each year, why not quadruple the size of the enforcement division? The UNC investigation is in Year 6, with yet another Notice of Allegations released this month. Wouldn't a larger staff make these cases move faster?

— Scott, Lewisville, NC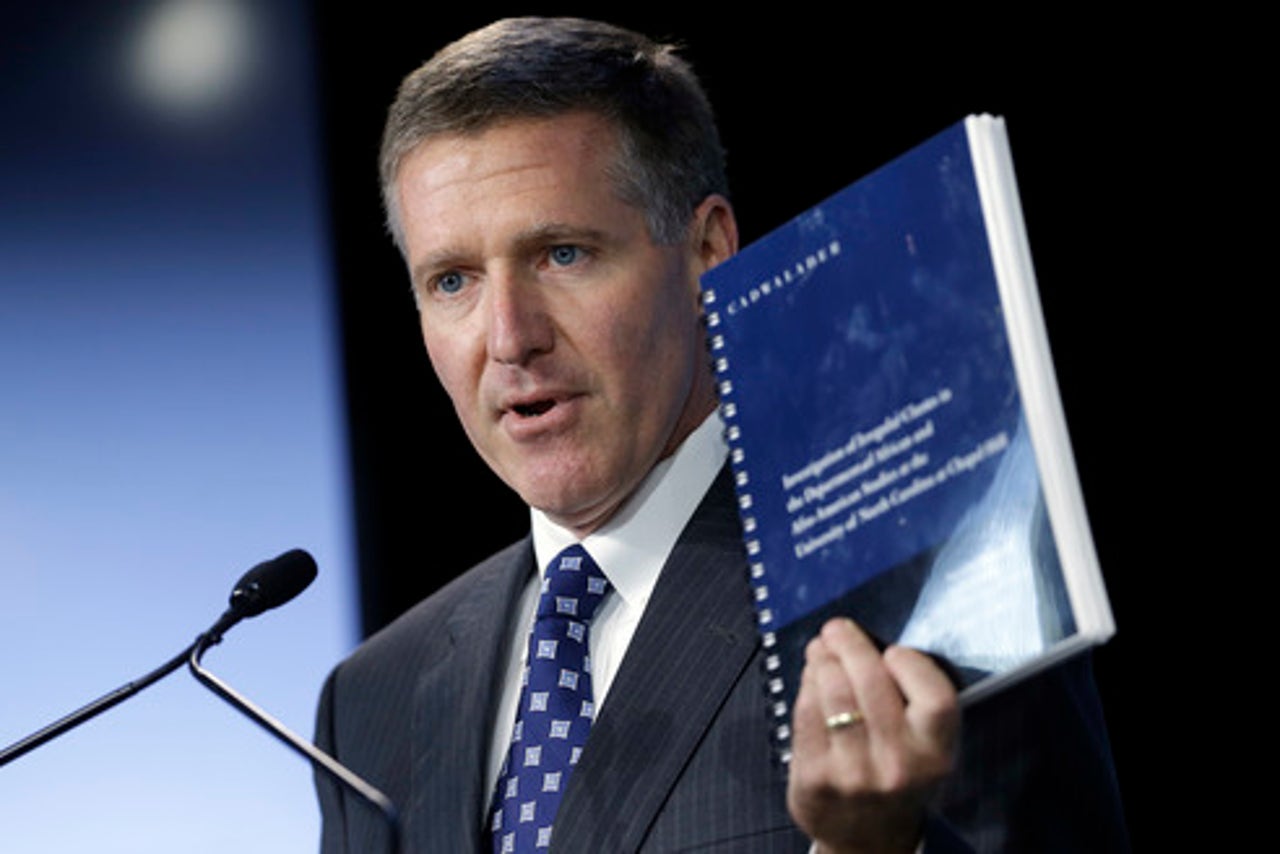 North Carolina investigation


It's something that's come up in the past, and the general response from the NCAA is, we've got a lot of things we need to spend our money on (most notably staging 90 championships, nearly all of which aren't profitable), so we're already giving enforcement as much as we can. Beyond that, adding investigators would still not counterbalance the other various limitations of the process, like lack of subpoena power.

What's slowing down the North Carolina case right now is not a lack of manpower but a more laborious infractions process than usual. As if it's not enough that a letter gets sent, then one party gets 90 days to respond, and so on and so forth, the process has essentially restarted itself twice now. First the school questioned the NCAA's entire jurisdiction of the case, necessitating a revised NOA and a special hearing, and now the committee essentially rejected that second NOA and sent it back for another rewrite. Clearly the committee is not pleased with how the school's lawyers have tried to wiggle out of what any neutral observer would agree is egregious and systemic academic fraud.

The best way to speed these cases up would be a radically different concept that's starting to gain traction — outsourcing the most serious investigations to a third party. Let the folks in Indianapolis process the illegal text messages, someone buying an athlete a meal, etc., and let trained investigators do the real dirty work. It would also help if the people adjudicating the cases — like SEC commissioner and committee chair Greg Sankey — were not doing this on the side of their demanding full-time jobs. That would speed things up as well.

Stewart: I'm always interested this time of year as people offer thoughts on which coaching hires are going to pan out. I'm curious in recent years (maybe the last five years) which coaching hire were you most confident would work that didn't?

— Joel Cookson, Cheshire, CT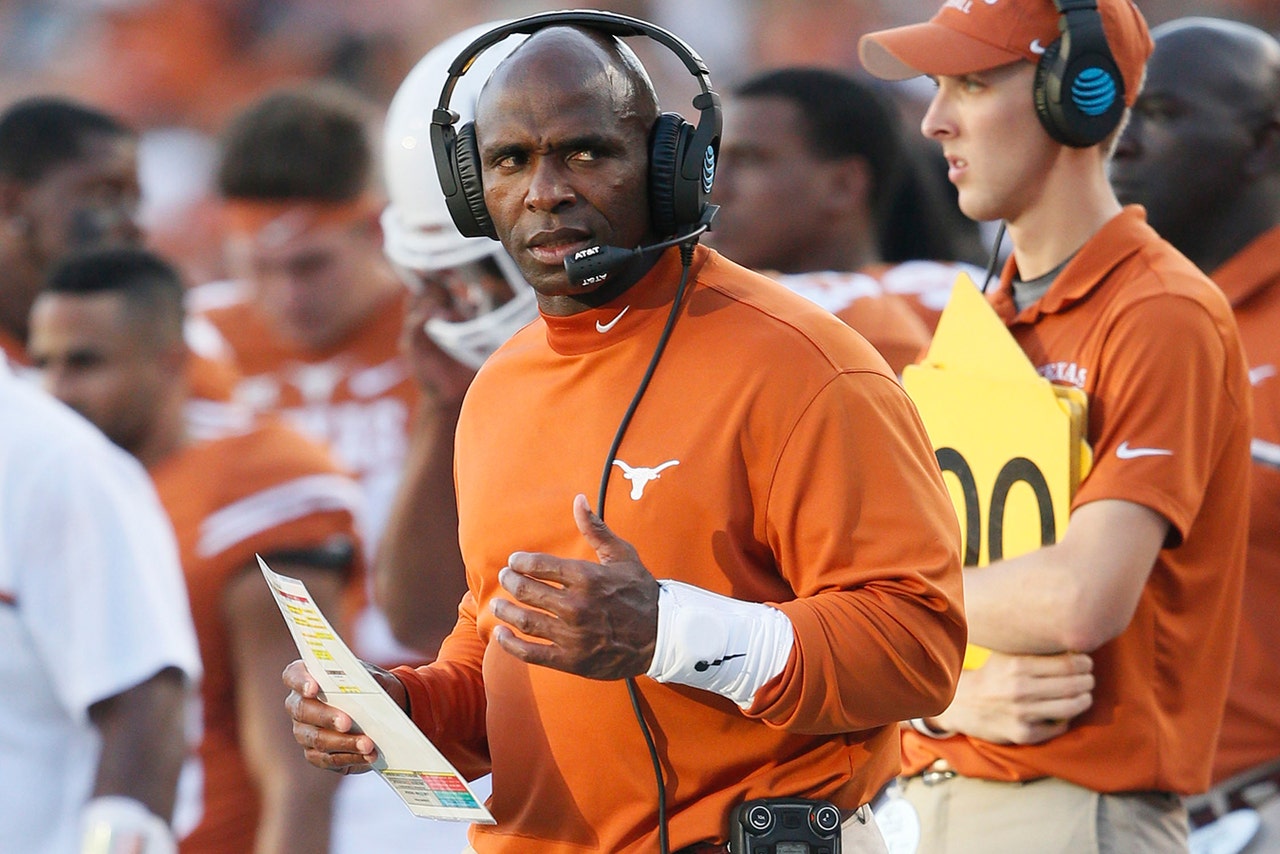 It's one that just came to an end: Charlie Strong at Texas.

I did have some reservations at the time, mainly due to Strong's reclusive ways at his last stops knowing how much media/booster glad-handing/Longhorn Network duties he'd be dealing with at Texas. But certainly I would not have predicted he'd get fired after three years without posting a single winning record. All he'd done before that was win big and elevate recruiting at Louisville and produce national championship defenses before that at Florida. For two years I figured his struggles were mostly due to the empty cupboard left behind by Mack Brown, but by Year 3 it was clear management issues, poor handling of his staff and just plain desperation did him in.

Unfortunately, that was not my all-time worst coaching hire whiff. I at least hedged on Strong a tad by giving Texas an A-. (Note that my A's that year went to Washington/Chris Petersen, Penn State/James Franklin and Boise State/Bryan Harsin. Not too shabby.) In 2010, I gave Kansas an A for Turner Gill. He went 5-19 and got fired after two seasons. (But note that I also gave Tennessee a C for Derek Dooley and USC a D for Lane Kiffin.)

I'll post this year's grades just as soon as the coaching carousel stops spinning. Which I assume won't be until at least mid-January.

In the meantime … enjoy the playoff!


---