Why Notre Dame can already be eliminated from the playoff race
BY foxsports • November 15, 2016
SOUTH BEND, Ind. -- Notre Dame had what most would consider a successful season in 2015. The Irish won 10 games, and their only regular-season losses came in the last seconds to a pair of teams that finished No. 2 (Clemson) and No. 3 (Stanford) in the final polls. No. 4 Ohio State did hammer Notre Dame in the Fiesta Bowl, causing the Irish to finish just outside the final AP Top 10.
Irish quarterback DeShone Kizer did not view that season quite as favorably.
"When you make the decision to play football for Notre Dame, you're playing for national championships," he said last week. "You're not playing for conference titles, you're not playing for bowl gifts, you're playing for the opportunity to hang another banner in that historic tunnel that sits in the middle of God's country.
"Anything less than that is not a good season to us."
By that standard, it would seem Notre Dame must at least reach the College Football Playoff in 2016 to be satisfied. Unfortunately, early signs are pointing toward the Irish falling well short of that goal.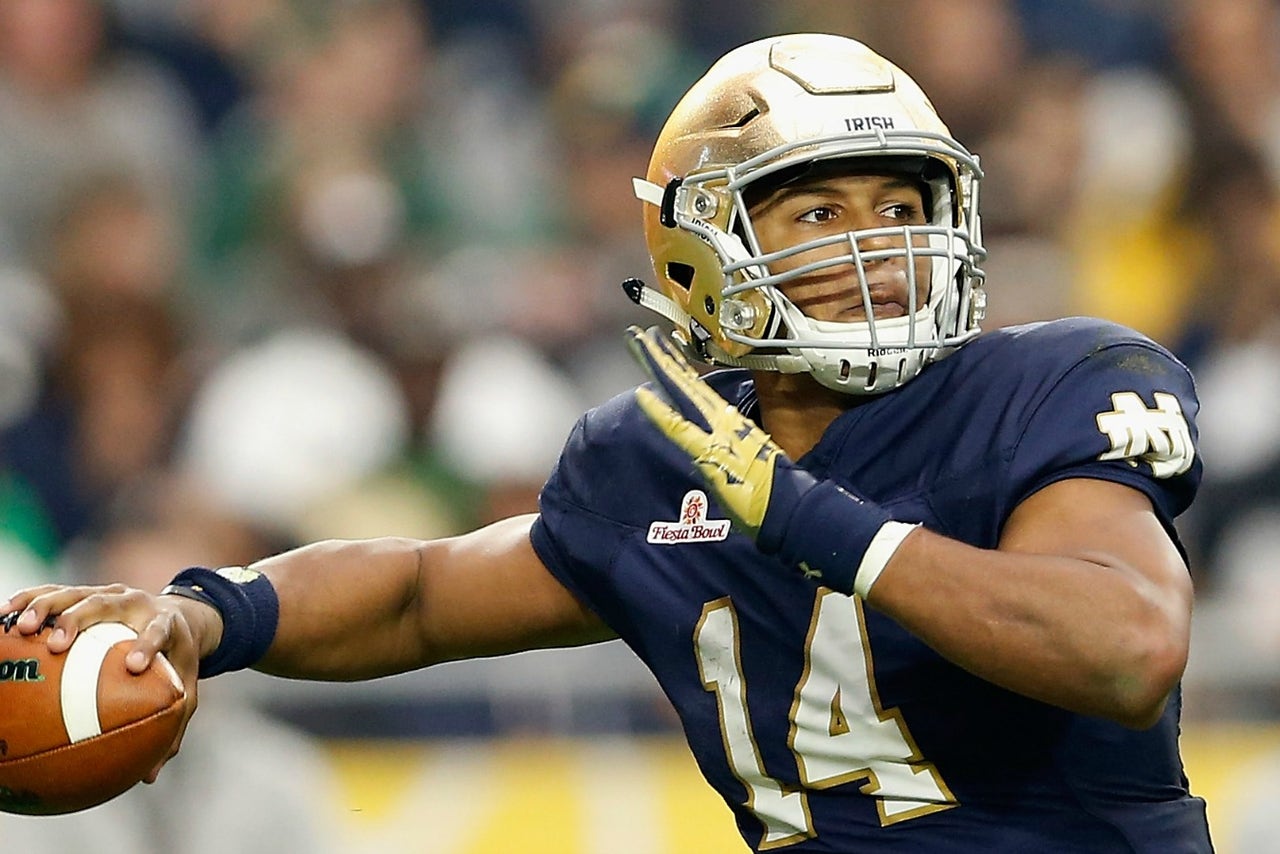 Last weekend, six Irish players were arrested in two separate incidents, after which coach Brian Kelly dismissed starting safety Max Redfield (charged with marijuana possession and possession of a handgun without a license) and indefinitely suspended cornerback Devin Butler (battery to law enforcement).
"The expectations we set for the members of our team are high, but they are especially so for the upperclassmen who are expected to provide leadership and a positive example to the other members of the team," Kelly said in a statement. "Max and, at least at this stage in the review of his case, Devin, have failed in that regard and so have lost the privilege of continuing to be part of our team."
The news came as an unwanted distraction for the squad at the height of preseason camp but will likely soon fade. If anything Kelly is being praised for his hard line stance. It's a different decision of his, though, that could balloon into a season-long controversy if not handled properly.
I happened to be at Notre Dame's Media Day last Wednesday when Kelly made the surprising announcement that he plans to rotate his two established quarterbacks, Kizer and Malik Zaire, in Notre Dame's Sept. 4 opener at Texas. Kelly justified the decision in part because "these two guys are too good" to leave one on the bench all game.
"I'm just watching them in practice every day and they are making plays," he said. "Then I watch our other players around them, and they are clearly not as good as these two guys. And it was just counterintuitive to me to take one of them off the field at the expense of putting somebody else on the field for so many more plays."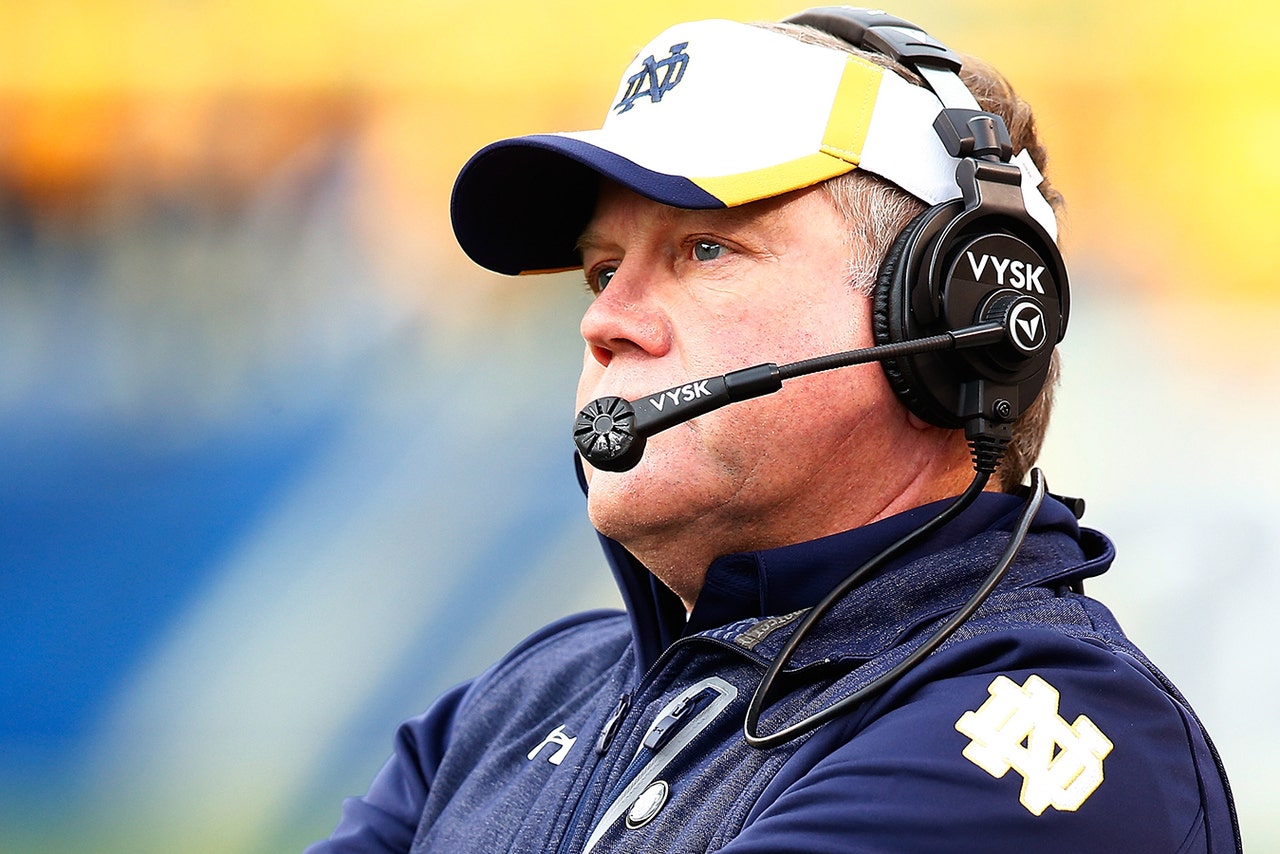 After watching the Irish practice that morning, I could certainly see his point. Both Kizer, a sophomore, and Zaire, a fourth-year junior, are confident, polished and accurate passers who also make plays with their feet. Both have had success in big games (though Kizer, who took over following Zaire's Week 2 ankle injury last year, has 11 career starts to Zaire's three), and Kelly could hardly go wrong with either.
Kelly did not specify how exactly he'd divvy up the snaps, but "all possibilities are on the table," said offensive coordinator Mike Denbrook.
But two-quarterback systems don't generally endear confidence either in fans or the players themselves. Kelly had informed the pair of his plan on Tuesday evening; less than 24 hours later, both appeared for interviews at Media Day, and it was abundantly clear that neither was thrilled with the decision.
"It's not the most ideal situation, but as a pro you've got to deal with the cards you're dealt and make something happen," said Zaire. "My whole goal is to turn chicken crap into chicken salad."
"There's supposed to be one quarterback on the field at one time," said Kizer. "I committed here and decided to play football so I could be that one guy."
Both maintained they have full confidence that their coach was doing what's best for the team. Both pledged to make it work, however that might look. But it's hard to envision how two similarly skilled quarterbacks could avoid looking over their shoulder after a mistake or losing confidence if one plays more than the other.
"I hate it," former NFL quarterback-turned-private coach Jordan Palmer, who worked with Kizer this offseason, told us Monday on The Audible. "As a quarterback, you've got to get into a rhythm. You've got to know that hey, we went three-and-out on this last drive but I've got a lot more drives today. It puts quarterbacks in a situation where they try and force it."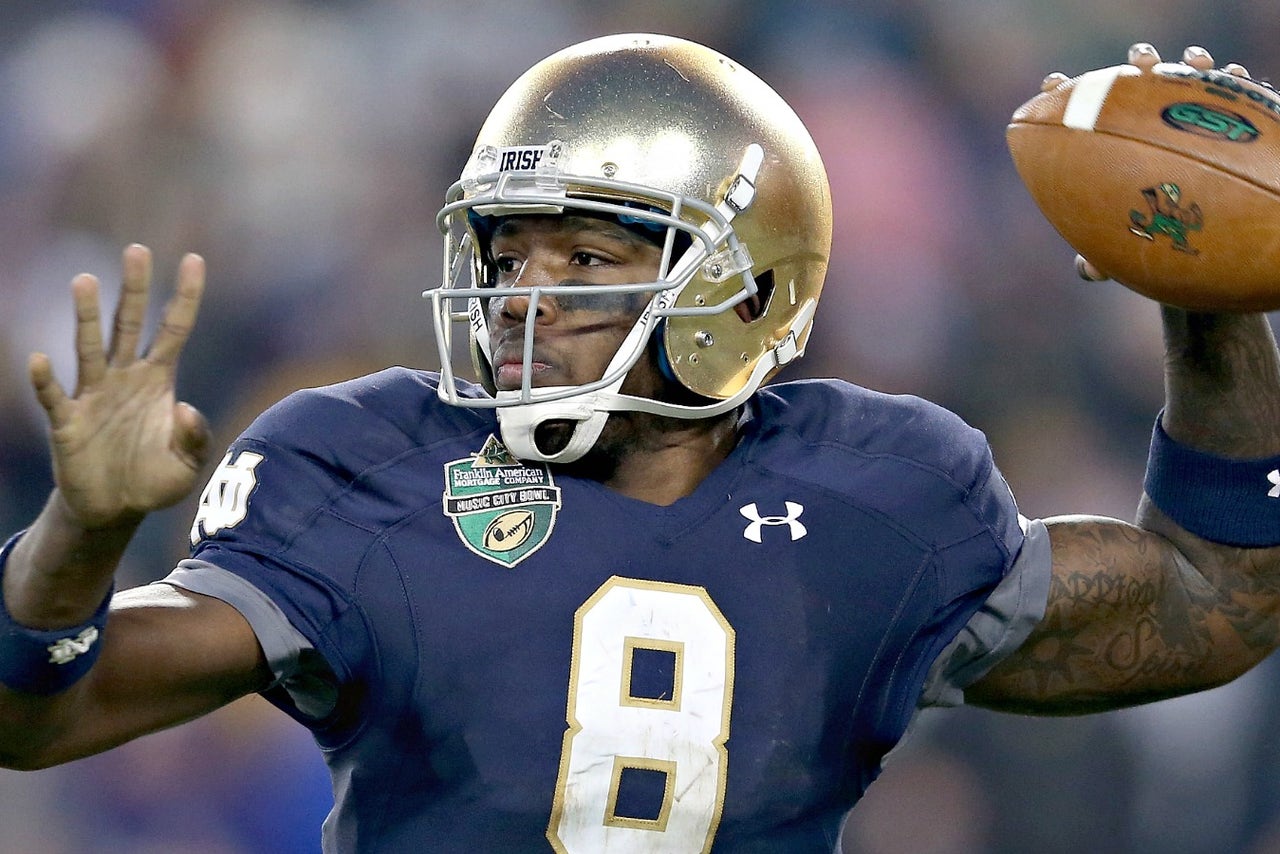 Notre Dame is counting on Kizer and/or Zaire as one of the team's most important positions of strength. The Irish also boast a deep backfield led by Josh Adams, who averaged 7.1 yards per carry as a true freshman, and Tarean Folston, an 889-yard rusher in 2014 who tore his ACL in last year's season-opener. Throw in a strong offensive line led by left tackle Mike McGlinchey, and Notre Dame should be able to run the ball very effectively.
But whether the offense becomes multi-dimensional will depend heavily on the development of an inexperienced receiving corps. Senior Torri Hunter Jr. is the only returnee among Notre Dame's top seven pass catchers from a year ago. Outside of Hunter, sophomores C.J. Sanders, Equanimeous St. Brown and Miles Boykin got the most opportunities at the practice I watched. I saw a lot of size and speed but also a whole lot of drops.
Defensively, Notre Dame faces the unenviable challenge of replacing accomplished veterans like defensive lineman Sheldon Day, linebackers Jaylon Smith and Joe Schmidt and cornerback KeiVarae Russell. Third-year coordinator Brian VanGorder summed up his 2016 unit thusly: "It's by far our best collective group of athletes. A lot of them are young. We've got some guys that have been two-year starters for us whose production has to pick up."
One of those veterans he was counting on was Redfield, a former five-star recruit who had started on and off for two years with mixed performances. Without him, the Irish will likely start an early enrollee freshman, Devin Studstill, against Texas. Senior cornerback Cole Luke is arguably the Irish's most dependable starter going into the season, with senior linemen Isaac Rochell and Jarron Jones and junior linebacker Nyles Morgan fitting VanGorder's description of veterans who need to step it up.
VanGorder had high praise for junior linebacker Greer Martini, the likely starter at standout Smith's vacated Will position, and touted freshman defensive end Daelin Hayes, who figures to contribute immediately. All in all, though, the defense could be in for a rocky transition year.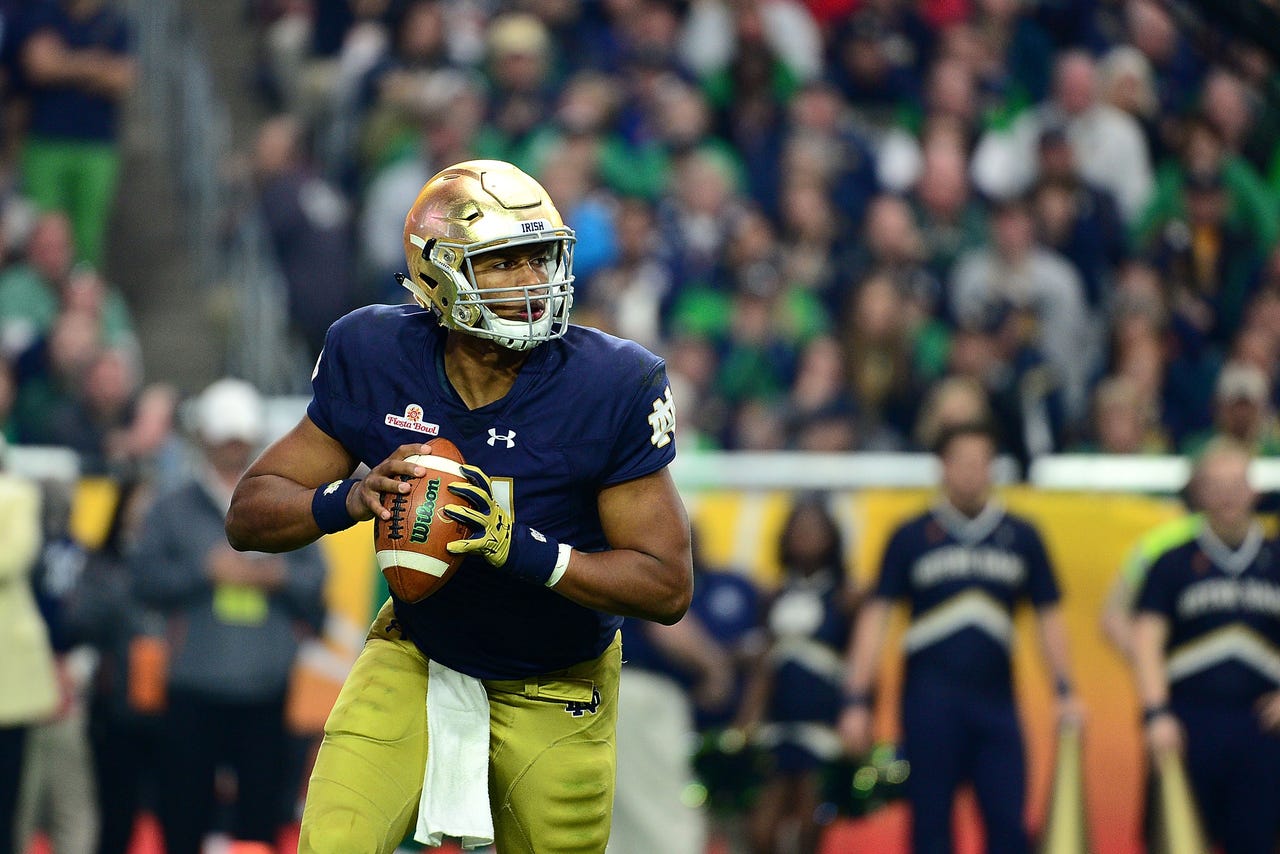 Ultimately, Notre Dame's fate year-to-year swings wildly on the strength of its schedule. On paper at least, this season's does not appear as daunting as some others recently, with No. 8 Stanford, No. 12 Michigan State and No. 20 USC the only opponents that appeared in Sunday's preseason AP poll. But then, there are at least three or four others that could be much better than they were a year ago – starting that opening Sunday night at Texas.
The 'Horns, 5-7 a year ago, will be debuting an entirely new offense based on Baylor's system under former coach Art Briles, most likely with true freshman quarterback Shane Buechele at the helm. Texas has two dangerous tailbacks in D'Onta Foreman and Chris Warren III who could pose problems for Notre Dame's rebuilt defense.
Of course, Kelly is banking on the Irish themselves being able to run it down the 'Horns' throats, starting first and foremost with the two-headed Kizer/Zaire monster.
"Offensively, I think we're going to be able to run the ball effectively," he said of the 2016 team. "When you start with good football, you stop the run and you run the football."
It's a good formula, and I'm predicting the Irish will ride it all the way to eight or nine wins. A perfectly respectable season for most, but by Kizer's definition, "not a good season to us."
---
---