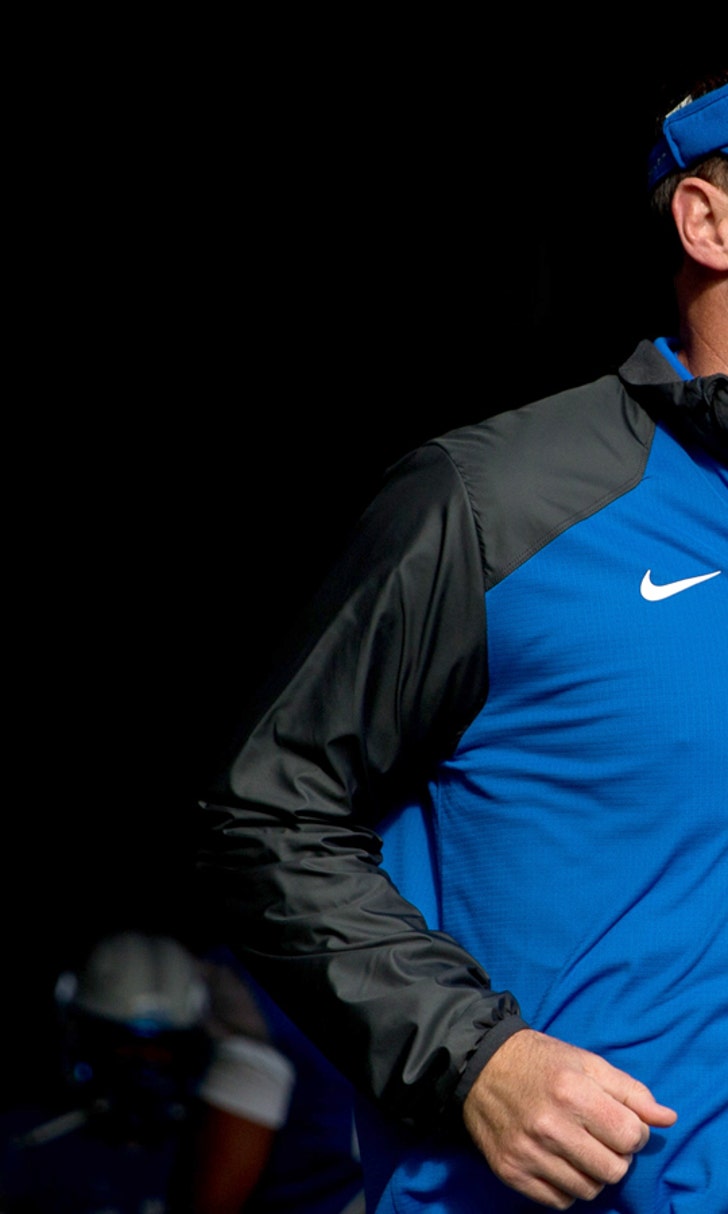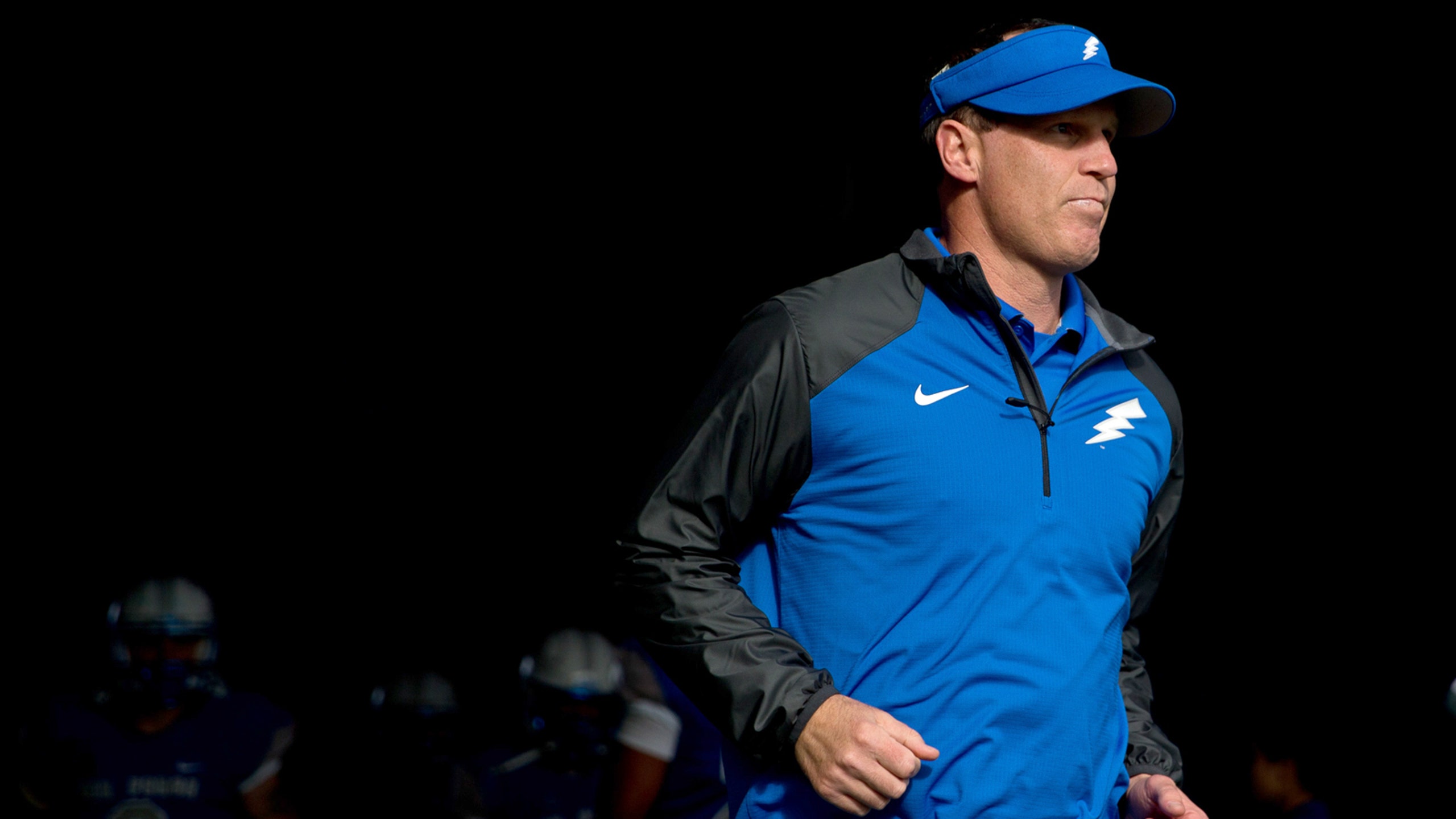 Why Air Force's Troy Calhoun is the nation's most overlooked coach
BY Bruce Feldman • July 27, 2015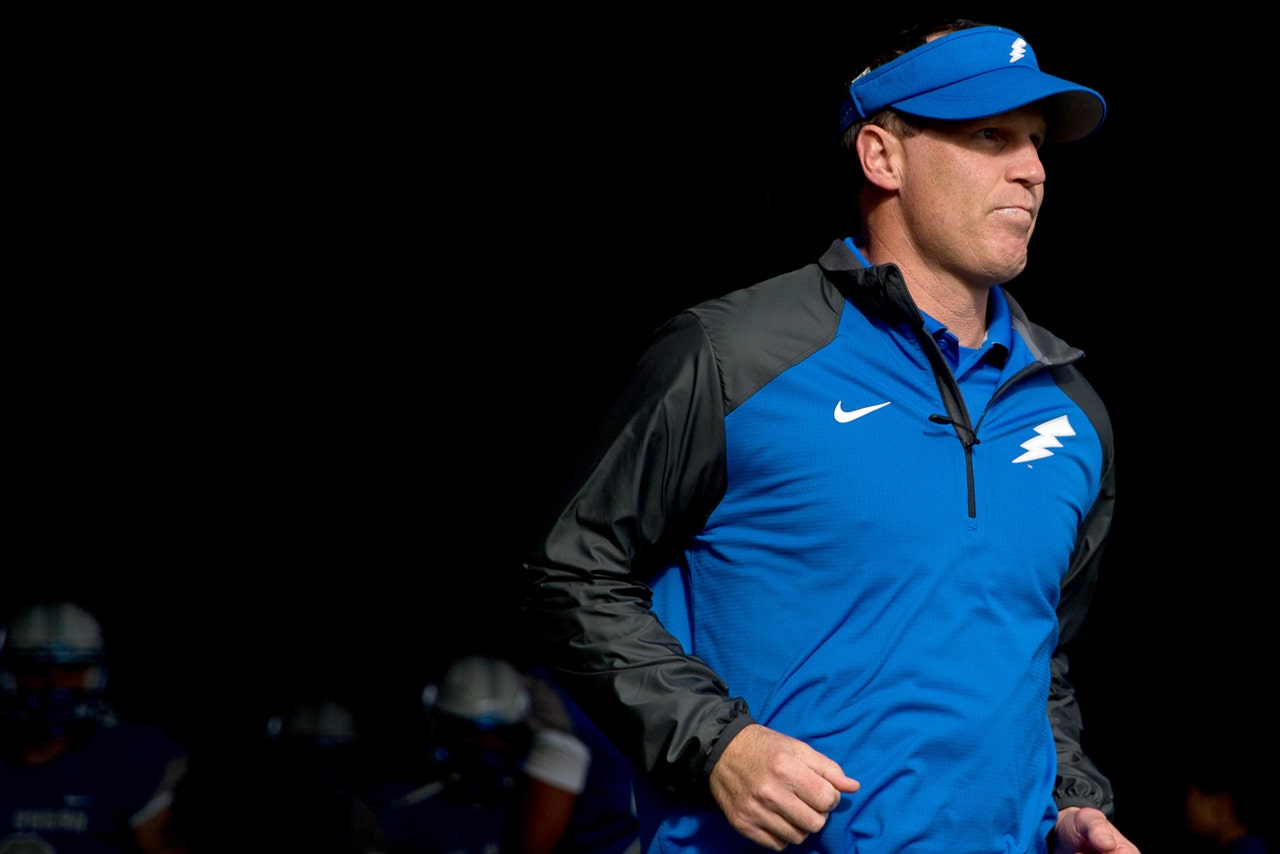 The best coaching job in college football that no one talked about much in 2014? Look at what Troy Calhoun did.
The 48-year-old Air Force coach led the Falcons to a 10-3 record that included wins over Boise State (which won 12 games last year) and Colorado State (which won 10), as well as Navy and Army to win the Commander-in-Chief's Trophy. Plus, Air Force defeated a Western Michigan squad that came into the Famous Idaho Potato Bowl 8-4. The 10 wins were the Falcons' most in 16 seasons, and it marked the seventh time in Calhoun's eight years as the team's head coach where AFA has made a bowl game.
That's even more impressive when you consider that Air Force is allowed only 15 hours a week to work on football (only 75 percent of the time other college football programs are mandated), and since they have guys in Kuwait, Germany, Florida and all over the country, they aren't able to do all of the "voluntary mandatory" stuff in June and July, so there's no continuity to carry things over from spring football. Oh, and they can't redshirt players.
Beyond dealing with the limitations at one of the academies, I also wondered how a coach with a system that is something of a curveball is able to still keep his conference opponents so off-balance even though you'd think by now they'd be so well-versed in what's coming. The answer is Calhoun's offense at Air Force is actually quite a bit different than what you've probably heard.
"They're actually a multiple-formation, multiple-concept offense," said New Mexico head coach Bob Davie, a long-time college defensive coordinator. "They're not Navy or Georgia Tech, where they're in double-slot (formation) a majority of the time. The thing that they do great is that it's too elementary to say they're just a triple option team. You have to spend a majority of your week preparing for triple option and they may not run any triple option against you. They'll be in the I-(formation). They'll run spread, no-huddle, up-tempo. They have a bank of offenses. In some ways it reminds me of Nebraska when Tom Osborne was winning all those championships. It's depending on the quarterback and their personnel, and they can get in and out of so many different things.
"I played against Nebraska when I was at Texas A&M and Notre Dame, and no one did more than Nebraska. And you had to prepare for it all. They could dust off different packages even between series."
The former Notre Dame head coach, who then spent a decade studying college football programs as a TV analyst for ESPN, said he was paying Calhoun and Air Force the "ultimate compliment since we've modeled ourselves after them."
Davie said a key reason why Air Force is so difficult to deal with is because Calhoun's NFL background, coaching as an assistant with the Broncos and then as the Houston Texans offensive coordinator.
"We lean an awful lot with what we did in Denver and with the Texans," Calhoun said. Unlike the other triple option systems that rely so much on the quarterback and fullbacks running the ball, Calhoun said Air Force is more tailback dominated in the running game. He likes to take some of that load off his QB. He also points out that in six of his last eight seasons he's had a tailback run for 1,000 yards.
The passing game has been a bigger weapon in his system than it is for the other service academies. In two of the past four seasons, Air Force has ranked in the nation's top 15 in passing efficiency, which is impressive when you consider working from a straight drop-back game isn't an option for the Falcons -- not when you're as small as the Air Force O-line is. "We don't even have a 280-pound guy that plays for us," Calhoun said. (Every lineman must complete a 1.5-mile run at 7,200-feet altitude in under 11:15.)
Because of those size limitations, Calhoun, a former Air Force QB himself, mixes in play-action passes and some bootlegs, because "you'd get eaten up if you rely on drop-back," he said. "I tried the first half of the first year. It was a mistake. You gotta adapt. But that's the way you have to coach anywhere.
"You have to have an adjustment and a counter-adjustment. Whether it's a double-move off an underneath throw or a bootleg off a stretch play or whatever it is, you have to be creative."
Air Force is in the shotgun about 30 percent of the time, he said. Sometimes they'll go four-wide. Other times he'll line up in I-formation. "You gotta have that flexibility week to week," said Calhoun, who praises his staff for being so organized and able to implement it all on such tight schedules.
Calhoun and his staff visit three other college staffs every offseason. The three they met with this offseason are all pretty different in the types of offenses they run.
Davie also credits how much the Falcons defense has changed as well. He said they used to play a lot of zone coverage, dropping eight men on passing downs. Last season, he noticed how they became much more of a pressure team and said they changed "dramatically."
"Against Colorado State, they blitzed almost every snap to disrupt their running game and they really got them off balance early," Davie observed. AFA beat then-No. 21 CSU, 27-24, despite the Falcons being without their starting QB and leading rusher.
The changes on both sides of the ball produced units that ranked in the top three of the Mountain West in scoring and scoring defense -- up from 12th and 11th, respectively, a year earlier.
This year, the Falcons have to replace more starters than every other team in the Mountain West other than Wyoming, but they do return Nate Romine, the QB who led the Falcons to the win over CSU; 1,000-yard tailback Jacobi Owens; 6-foot-3 wideout Jalen Robinette (806 receiving yards in 2014); four starters on the O-line; and standout safety, and wonderfully named, Weston Steelhammer (six INTs, three sacks). Reaching double-digit wins figures to be even harder this year considering the Falcons have road trips to Michigan State, Navy, CSU and Boise. If Air Force does it, though, it might be Calhoun's best work yet. 
Bruce Feldman is a senior college football reporter and columnist for FOXSports.com and FOX Sports 1. He is also a New York Times Bestselling author. His new book, The QB: The Making of Modern Quarterbacks, came out in October, 2014. Follow him on Twitter @BruceFeldmanCFB and get all of his content on Facebook.
---
---