SEC
SEC
Weekend Sports in Brief
Published
Nov. 27, 2017 4:10 a.m. ET

COLLEGE FOOTBALL
KNOXVILLE, Tenn. (AP) Tennessee is no longer pursuing Ohio State defensive coordinator Greg Schiano to be the school's new head coach, a person familiar with the negotiations told The Associated Press.
The person spoke Sunday on condition of anonymity because none of the negotiations were intended to be made public until a deal was reached.
The school and Schiano were close to an agreement earlier Sunday, but the deal fell apart after widespread backlash that included a protest on campus and complaints on social media from fans, state representatives and gubernatorial candidates.
Their complaints stemmed from Schiano's background as an assistant at Penn State during Jerry Sandusky's tenure as the Nittany Lions' defensive coordinator. Sandusky is serving 30 to 60 years in prison for his conviction on 45 counts of sexual abuse.
GAINESVILLE, Fla. (AP) - Florida has hired Mississippi State's Dan Mullen as its next football coach, bringing back the guy who helped turned Tim Tebow into a star.
The Gators announced the deal Sunday, after Mullen told his team he was returning to Gainesville.
Spurned by Chip Kelly and seemingly unwilling to risk waiting for UCF's Scott Frost to possibly do the same, Florida athletic director Scott Stricklin turned to Mullen. Stricklin and Mullen worked together in Starkville from 2009 to 2016. Stricklin was Mississippi State's athletic director for seven of those years.
Mullen previously spent four years (2005-08) as Florida's offensive coordinator and won two national championships while guiding Tebow to the top of the school record books. The Gators averaged 36.3 points a game and 7.1 yards a play during Mullen's tenure.
COLLEGE STATION, Texas (AP) - Texas A&M has fired coach Kevin Sumlin after six winning seasons.
The first black head coach in program history was 51-26 and never had a losing season. But his first year at A&M was his best, and he never could come close to matching it.
In 2012, Sumlin had a Heisman Trophy-winning quarterback in Johnny Manziel and ushered in the program's move from the Big 12 to the Southeastern Conference by going 11-2. That earned him a new contract and $5 million per year salary, but the Aggies have not won more than nine games since.
The Aggies ended their regular season on Saturday by losing to LSU. They dropped to 7-5 and finish 4-4 in the SEC for the fourth time under Sumlin.
The 53-year-old Sumlin had two years left on his contract.
TENNIS
LILLE, France (AP) - Lucas Pouille ended a 16-year drought for France in the Davis Cup, winning the decisive match for the hosts to beat Belgium 3-2 in the final on Sunday.
Pouille's lopsided 6-3, 6-1, 6-0 win over Steve Darcis in the second reverse singles gave France its 10th Davis Cup title, after a run of three losses in finals.
Pouille had lost his two previous Davis Cup matches - including his opening singles against David Goffin on Friday - but was in total control against Darcis and did not face a single break point.
France joined Britain in third place on the list for the most Davis Cup titles, behind the United States (32) and Australia (28).
France had won its last title in 2001, and lost in finals in 2002, 2010 and 2014.
WINTER OLYMPICS
LAKE PLACID, N.Y. (AP) - The Shib Sibs say they're right on track for the Pyeongchang Olympics. First, a stop in Japan for a teaser showdown with the world's best.
American ice dancers Maia and Alex Shibutani skated into next month's Grand Prix Final with ease Sunday, winning Skate America for their second victory in the series with a program that could earn them gold in South Korea.
The two-time U.S. champions were a hit with fans and judges all weekend, twizzling and spinning their way to wins in the short and free dance programs. The siblings won the free skate Sunday with 115.07 points and finished at 194.25 overall. They also won the Grand Prix event in Russia this year.
CANADIAN FOOTBALL
OTTAWA, Ontario (AP) - Lirim Hajrullahu kicked a 32-yard field goal with 49 seconds left and the Toronto Argonauts stunned the Calgary Stampeders 27-24 on Sunday night in the Canadian Football League's snowy 105th Grey Cup.
Toronto tied it with 4:35 to go on Cassius Vaughn's Grey Cup-record 109-yard fumble return and Ricky Ray's 2-point conversion pass to Declan Cross.
Calgary was in position to add to its eight-point lead when Bo Levi Mitchell completed a pass to Kamar Jorden in the flat at the 10, but the receiver lost the ball and Vaughn scooped it up and raced the other way on the snow-covered field.
WORLD CUP BASKETBALL
GREENSBORO, N.C. (AP) - Travis Wear had 14 points and 10 rebounds, three other players also had 14 points, and the U.S. beat Mexico 91-55 on Sunday in its second qualifying game for the 2019 Basketball World Cup.
Xavier Munford, Markel Brown and Jonathan Holmes all finished with 14 points for the Americans, who are 2-0 in the new qualifying format after beating Puerto Rico on Thursday in their opener. Coach Jeff Van Gundy's team, comprised of mainly NBA G League players, was 13 for 24 from 3-point range to win easily after a much tougher opening game.
The new qualifying format included two-game windows this week in four regions: the Americas, Europe, Asia, and Africa. Once that is done, the teams are idle until the next windows in February 2018.
---
---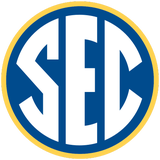 Get more from SEC
Follow your favorites to get information about games, news and more
---