There's plenty of reason to believe in the Tennessee Volunteers this year
BY foxsports • April 18, 2016
New Tennessee defensive coordinator Bob Shoop was one of the biggest hires of the college offseason. He hadn't been in Knoxville long before he got a sense of the leadership on his defense. His new boss at UT Butch Jones introduced him to the team. Shoop, a former Vandy DC, gave a wave, talked about how it was great to be back in the SEC and in the state of Tennessee. He saw some familiar faces from recruiting. Derek Barnett and Jalen Reeves-Maybin among them.
"I look forward to connecting with you guys over the next couple of weeks," he told the players.
"By the time I got back to my office, Derek Barnett was sitting right there waiting for me," Shoop said Friday. "He goes, 'We gotta get this thing to the next level. You gotta get us there. You can't be nice to these guys. We gotta push these guys.' He's got that mentality. Intense. Focused. I liked everything he said."
Even though the 19-year-old Barnett (20 sacks and 33 TFLs in two seasons) was limited during spring practice due to an ailing shoulder, the 6-3, 257-pounder has still made quite an impression on Shoop.
"He's been a great sounding board for me. He'll shoot me a text every once in a while. 'That practice wasn't acceptable today. I'll take care of it.' "
Expectations around Knoxville are very high these days. Many in SEC country think Tennessee is primed to win the SEC East for the first time in almost a decade. After my trip to UT, I'm buying the Vols this year. The arrival of Shoop is a big reason. The attitude of Barnett as well as fellow UT defensive standouts Jalen Reeves-Maybin, a linebacker, and Cam Sutton, a cornerback, are the other big reasons.
This isn't just the most talented team Butch Jones has had in his four seasons in Knoxville, it also has the best leadership in the locker room, according to several people I spoke to on my trip there.
Jones saw a good example of that leadership last Tuesday when Reeves-Maybin asked if he could show the team a video he'd made that underscored the message the coach has been trying to hammer home all offseason.
"We're 13-5 in our last 18 games, and those five losses have come by a combined 25 points," Jones told FOX Sports Friday. "So our motto's been 'We're searching for those 25 points.' They're the hardest points to find. It may be in your effort, your technique, going to class, all of that. And he put together his own video."
The video consisted of eight or nine plays, including some of Reeves-Maybin's own. "He's saying, 'look, we didn't do it in this game, and look what happened during spring.' He's basically saying we've got to finish strong.'"
Reeves-Maybin, who led UT with 105 tackles and 14 TFLs, bypassed the chance to enter the NFL draft because he had much more he wanted to accomplish in Knoxville. And Jones said he told his teammates very specifically that.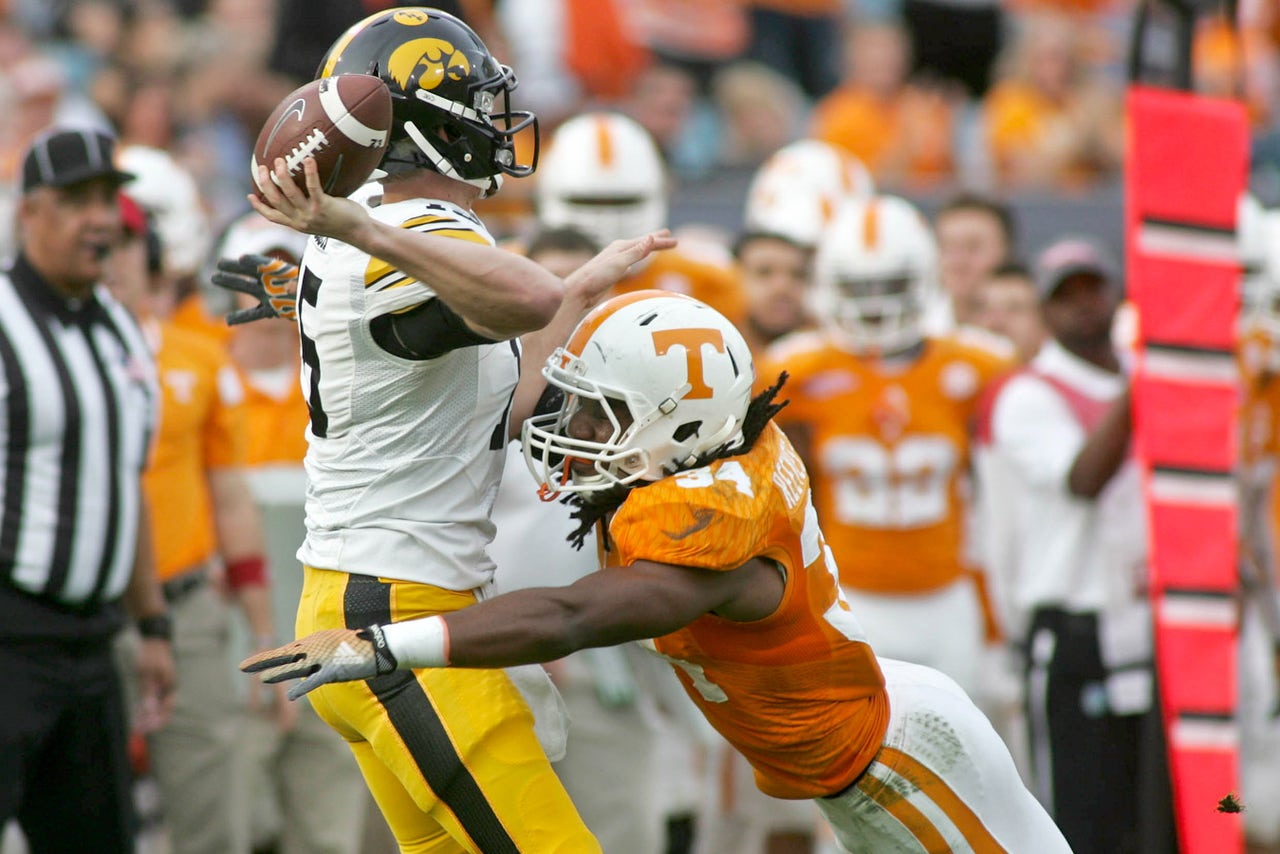 "He said, 'When I came here, my dream was to be a legendary football player at the University of Tennessee. I have not accomplished anything yet. That's why I'm staying.  I'm staying to win. My goal is to have my picture up on these walls.' They know he lives it. He's really stepped up."
Sutton isn't always the most vocal, but coaches are love how he always does extra work on his own before and after practice, and is the first person to line up for everything, setting a tone for the rest of the DBs.
On the offensive side of the ball, Jones credits the time spent with Navy SEALS for really boosting quarterback Josh Dobbs' leadership skills.
* Remember the name Darrin Kirkland Jr. He started 10 games last year at middle linebacker as a true freshman, but it sounds like he's primed for a breakout season in 2016. The 6-1, 235-pounder with 4.5 speed has Shoop very excited.
"His football IQ is off the charts," said Shoop. "He runs well. He just gets it. He's only a true sophomore. When it's all said and done for him, we'll be talking about him on a short list of players here at Tennessee."
* There may not be a better 1-2 running back tandem than 240-pound Jalen Hurd and 215-pound Alvin Kamara. They combined for almost 2,000 yards in 2015. The hunch here is that duo should end up with more than 2,500 this fall and may approach 3,000.
* Preston Williams caught only seven passes in 2015, but the 6-4, 210-pound sophomore and fellow sophomore 6-3, 201-pound converted QB Jauan Jennings appear ready to be legit big-play weapons for UT this season.
* The Vols are pretty deep on the D-line. A wild card in the mix is redshirt freshman end Darrell Taylor, a very fast 6-4, 235-pound former wideout who still is getting a grasp of the scheme but did have some dominant practices this spring and may get work this season as a third-down pass-rush specialist. "He's gonna be really good," said Shoop. "He's really tough and has great work ethic."
---