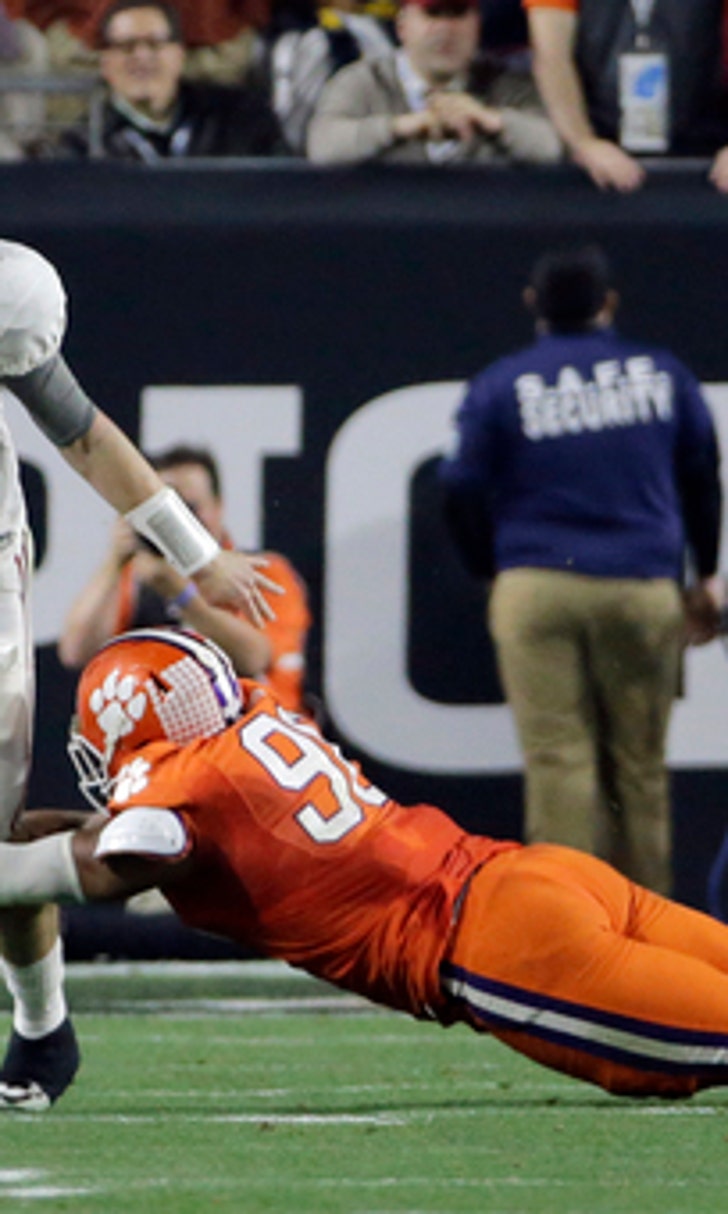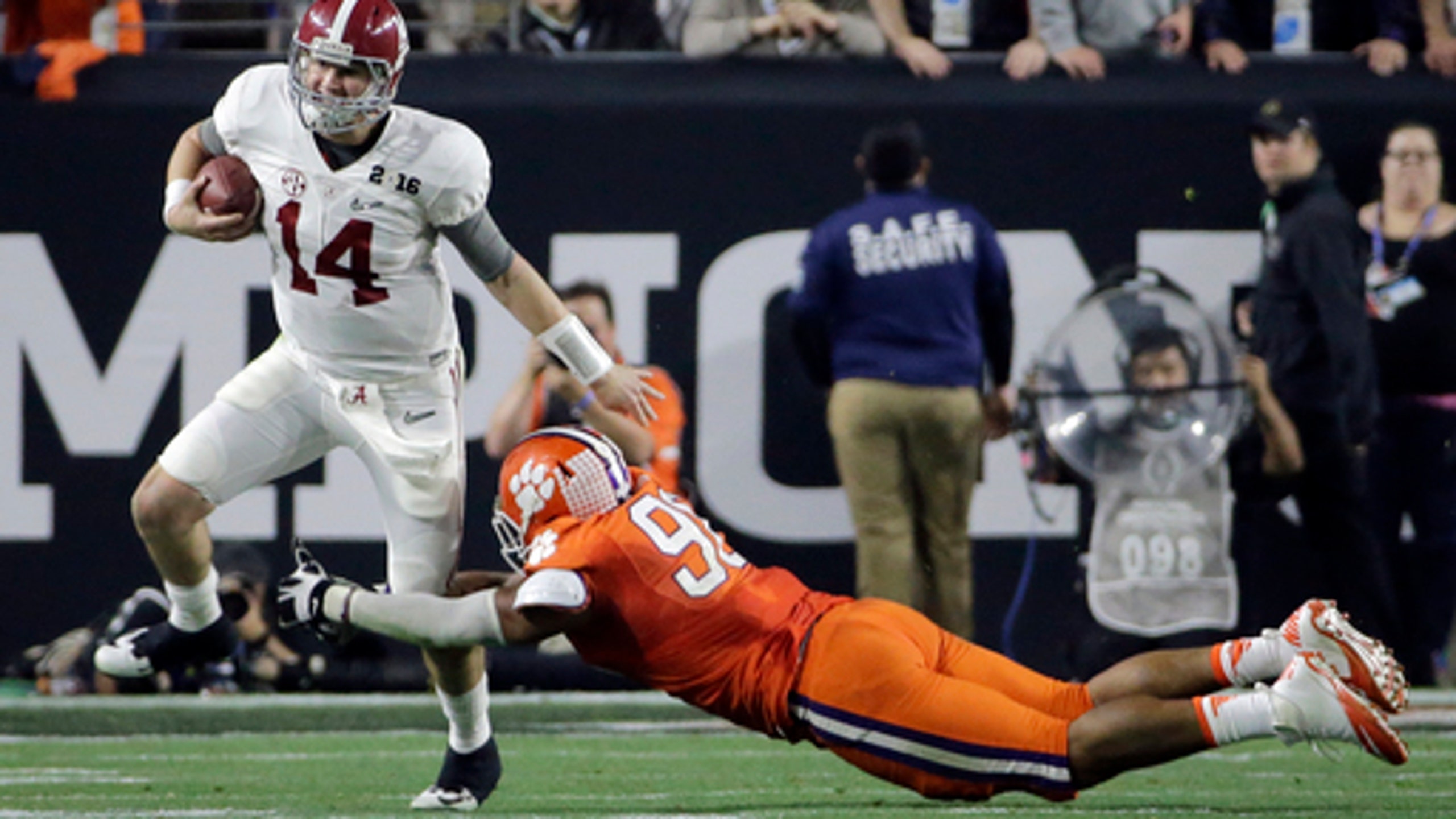 THE LATEST: Clemson FG trims lead to 21-17 in 3rd quarter
BY foxsports • January 11, 2016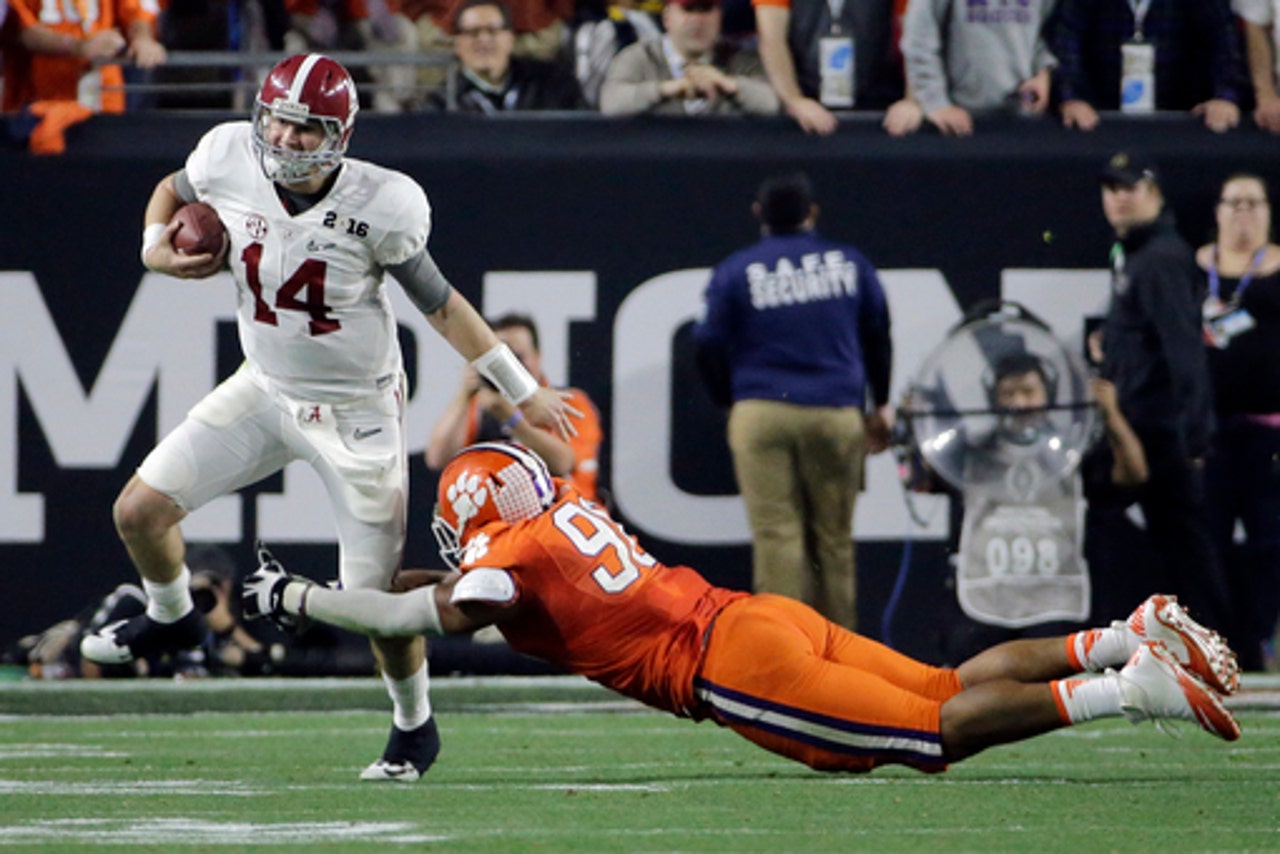 GLENDALE, Ariz. (AP) The latest developments from the College Football Playoff national championship game between Clemson and Alabama (all times local):
8:48 p.m.
ALABAMA 21, CLEMSON 17
Clemson didn't wait long to chip into Alabama's lead. Greg Huegel kicked a 37-yard field goal with 10:15 left in the third quarter to cut the Crimson Tide advantage to four points at 21-17.
The game was nearly tied again but Deshaun Watson's pass to Artavius Scott in the end zone fell incomplete when the receiver's knee hit the ball and knocked it loose. A key play in the drive was a pass interference call against Minkah Fitzpatrick that put the ball at the Alabama 31.
8:39 p.m.
ALBAMA 21, CLEMSON 14
And we're off and scoring in the second half. This time Alabama quarterback Jake Coker joined in the fun with a 53-yard touchdown pass to tight end O.J. Howard to put the Crimson Tide ahead 21-14 just 2:07 into the third quarter.
After Clemson punted, Alabama needed all of three plays to seize the lead. Coker dropped back to pass and Howard was all alone along the right sideline, catching the ball in stride and cruising into the end zone for the easy score.
Clemson's defense took another hit when it was announced cornerback Mackensie Alexander would not return to the game after being helped off the field late in the first half. He had a hamstring injury but started the game.
8:20 p.m.
Clemson coach Dabo Swinney was not happy with the clock operator and officials at the end of the half. The Tigers completed a pass for a first down to the Alabama 27 with 15 seconds showing on the clock. The clock stopped for a first down, but restarted so fast it was rolling before Deshaun Watson could stop it with a spike.
Swinney ended up calling his last timeout. The officials put 3 seconds back on the clock, but without the timeout Clemson couldn't risk running another play. Its field-goal attempt was blocked.
''Really frustrating with how the clock was handled right there,'' Swinney said during his halftime interview. ''That's very disappointing. It cost me a timeout.''
8:10 p.m.
CLEMSON 14, ALABAMA 14
That was quite a half for Heisman Trophy winner Derrick Henry of Alabama and Deshaun Watson of Clemson, and the Crimson Tide and Tigers are tied 14-all at the half in a thrill-a-minute first half in the national championship game.
The Tigers had a chance to take the lead at the end of the half, but Greg Huegel's 44-yard field goal attempt was tipped by D.J. Pettway and fell short.
Henry carried 20 times for 128 yards and two touchdowns, a 50-yard dash and a 1-yard plunge to power Alabama. Watson, who finished third in the Heisman voting, threw TD passes of 31 and 11 yards to redshirt freshman Hunter Renfrow. Watson was 12 of 18 for 162 yards and an interception.
Clemson defensive end Shaq Lawson has been outstanding for Clemson with two sacks. He suffered a sprained left knee in the Orange Bowl, and it wasn't certain he would even play.
Clemson star cornerback Mackensie Alexander left the game late in the second period. He was walked off the field by two people and led to the locker room. His status for the second half is not known.
7:37 p.m.
Take that Deshaun Watson. Heisman Trophy winner Derrick Henry ran for his second touchdown of the game on a 1-yard run and Alabama has tied the score at 14-all in the national title game against Clemson.
Watson has two TD passes already, but `Bama began to turn the tide early in the second quarter when Eddie Jackson picked off Watson at the Clemson 42. The Crimson Tide picked up steam when Cam Robinson threw a mammoth block on Clemson's T.J. Green on a play that picked up 3 yards.
Then , Henry broke off a 12-yard run, with another 12 yards tacked on when Clemson linebacker B.J. Goodson was called for a facemask penalty. Five plays later, Henry scored with 9:35 left in the half.
7:18 p.m.
CLEMSON 14, ALABAMA 7
Wow! What a finish to the first quarter, another touchdown pass from Deshaun Watson to Hunter Renfrow to give Clemson a 14-7 lead in the national title game.
Alabama came into the game having allowed 19 first-quarter points all season.
After Alabama's Adan Griffith missed a 44-yard field goal, Clemson took over and Watson went to work. He hit three big passes in a row - 24 yards to Charone Peak, 20 yards to Jordan Leggett and then an 11-yard strike to Renfrow in the back of the end zone.
7:05 p.m.
ALABAMA 7, CLEMSON 7
And just like that, Clemson has tied the game at 7-all.
Deshaun Watson fired a perfect pass to Hunter Renfrow in the left corner of the end zone for a 31-yard touchdown on the ensuing drive after Alabama took the lead.
Watson dropped back on a first down, and spotted Renfrow heading into the end zone. Renfrow caught the ball with two defenders, Minkah Fitzpatrick and Eddie Jackson beaten on the coverage. The TD came with 5:18 left in the first quarter.
6:54 p.m.
ALABAMA 7, CLEMSON 0
And there goes Heisman Trophy winner Derrick Henry, sprinting up the middle on a 50-yard touchdown burst to give Alabama the lead with 7:55 left in the first quarter. The extra point made it 7-0. Henry took a handoff from Jake Coker, shook a few would-be tacklers and broke into the clear for the score.
The scoring drive came after Clemson quarterback Deshaun Watson's third-down overthrow was caught on the sideline by Alabama coach Nick Saban.
6:34 p.m.
And we're underway in the national title game.
Clemson won the coin toss, and elected to defer to the second half with Alabama receiving to open the game.
With the crowd roaring, Kenyan Drake took the kick at his goal line and returned it 21 yards.
For Clemson, defensive end Shaq Lawson and cornerback Mackensie Alexander both started.
6:25 p.m.
The College Football Playoff national championship game between No. 1 Clemson and No. 2 Alabama marks the 50th matchup of the top two teams in The Associated Press poll.
Alabama is taking part in its 10th 1 vs. 2 game - and is ranked No. 2 going in for the eighth time. The Crimson Tide are 5-2 in such games with four of the wins giving them national titles. Their record as the No. 1 team against a No. 2 is 1-1, the win giving them another national crown.
Clemson, meanwhile, is in its first 1 vs. 2 game.
Alabama will tie Notre Dame for most times playing in a 1 vs. 2 game.
The AP poll began in 1936.
6:12 p.m.
Trying to get a last-minute ticket to the national title game?
Hurry up! And you may not have to shell out much cash, either.
Tickets can be found for as low as $80 on StubHub.com. Upper-level seats on the Clemson and Alabama sidelines are going for around $100.
Airfare was exceptionally high for travel from the two campuses. Some fans reported driving to other cities or making multiple stops to get to the game. That may have had an effect on ticket prices.
5:45 p.m.
As Alabama players ran onto the field for warmups, they were greeted by boos by the large contingent of Clemson fans - a very large contingent that is quickly filling up University of Phoenix Stadium.
While the Crimson Tide are used to such welcomes on the road, it seems clear this will be a Clemson crowd when the Tigers go against `Bama for the national title.
A few minutes later, the Clemson defense and the rest of the players joined the offense on the field to the cheer ''C-L-E-M-S-O-N!''
There was some good news for Clemson on the injury front. All-American defensive end Shaq Lawson lined up for early stretching, shaking hands with assistants. His sprained left knee was taped.
Cornerback Mackensie Alexander also was in uniform high-stepping and going through full warmups. He has a hamstring injury and his status is a game time decision.
5:25 p.m.
There's still more than an hour before kickoff, but Clemson already has problems with its defense. As in injuries.
Top cover man Mackensie Alexander will be a game time decision and All-American defensive end Shaq Lawson was limping at media day. Alexander has a hamstring issue and Lawson, a sprained left knee.
The loss of either could be a huge blow to Clemson's national title hopes when it takes on Alabama at University of Phoenix Stadium.
Alexander, among the top cornerbacks in the nation, would be matched against Alabama's star receiver Calvin Ridley.
Lawson is a standout pass rusher with 10 1/2 sacks, and is being counted on to help deal with Heisman Trophy winner Derrick Henry.
Both players were injured in Clemson's Orange Bowl win over Oklahoma.
5 p.m.
The retractable roof at University of Phoenix Stadium will remain closed for Monday night's national championship game between Alabama and Clemson.
This is not a huge surprise, but the weather outside the stadium is sunny with temperatures in the 60s - at least 90 minutes or so before the opening kickoff.
A College Football Playoff spokesman said consistency is the reason the roof is closed. It's still winter in the desert, and weather conditions could change as the game progresses. Over the past few days, it's been chilly and rainy.
The roof is rarely open for Arizona Cardinals games, but was open for last year's Super Bowl when New England beat Seattle.
Outside the stadium, the parking lots were filling up with a Clemson orange tinge more prominent than Alabama crimson.
Inside, with the crowd beginning to file in, it's looking like way more orange than crimson.
---
AP College Football website: collegefootball.ap.org
---
---