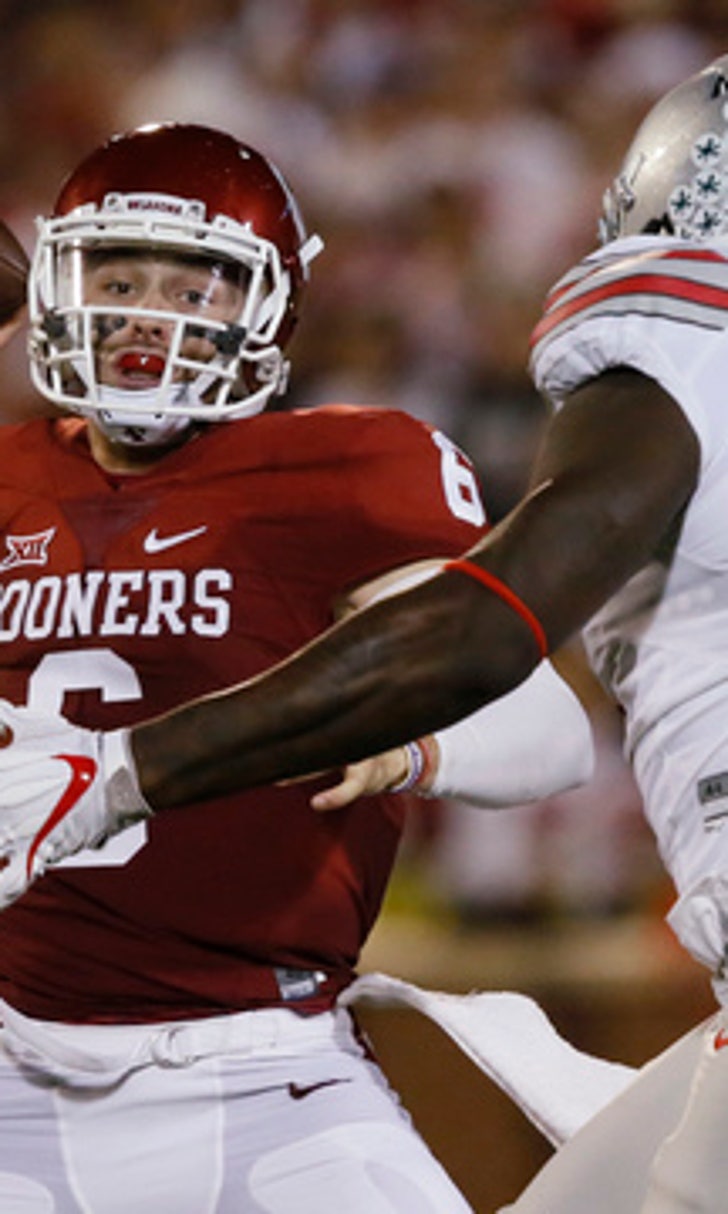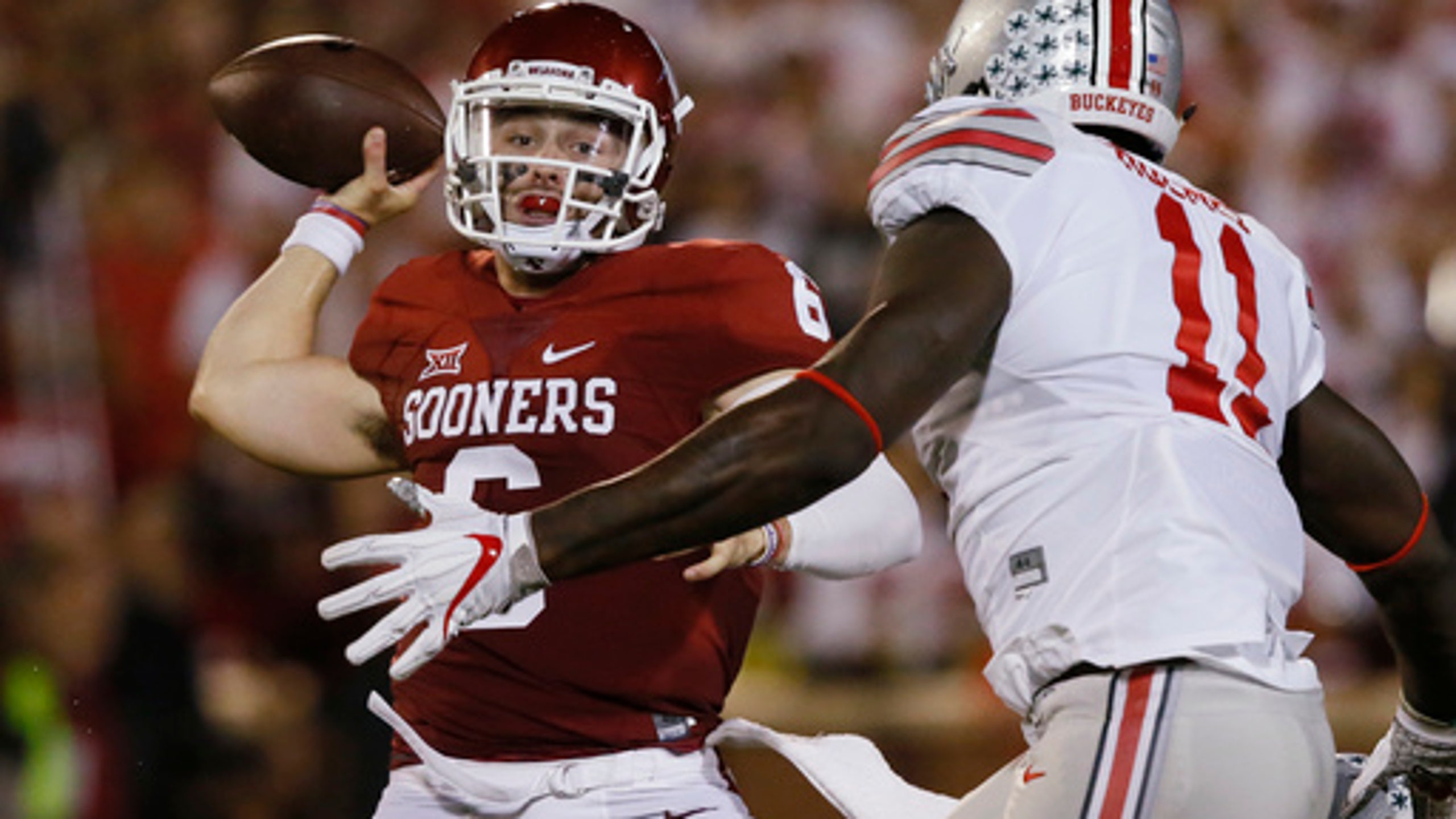 Texas native Baker Mayfield seeks 1st victory over Longhorns
BY foxsports • October 6, 2016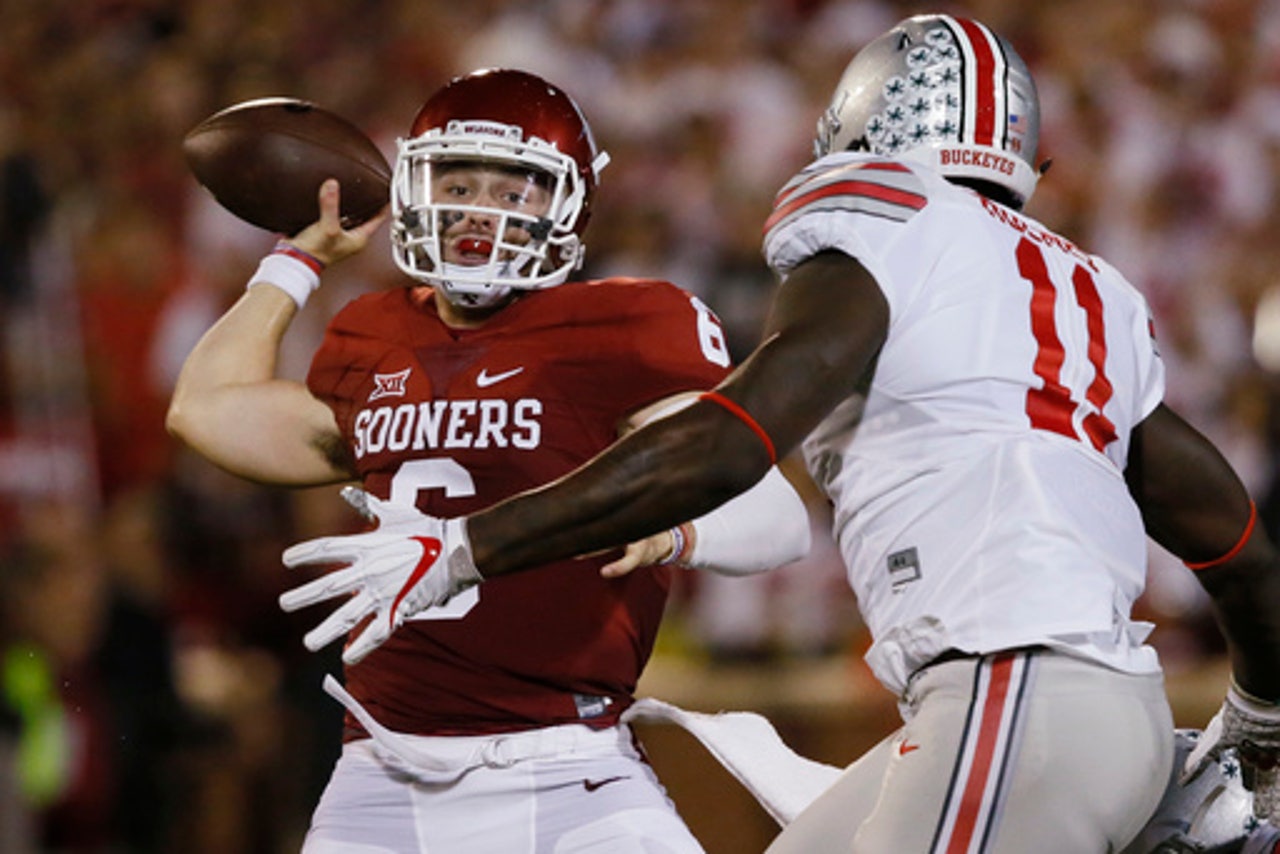 NORMAN, Okla. (AP) Oklahoma quarterback Baker Mayfield has a horde of trophies from his dynamic 2015 season.
The Austin, Texas, native still is searching for the prize he perhaps craves most - a victory over his hometown Longhorns. He'll get his chance Saturday when the 20th-ranked Sooners (2-2, 1-0 Big 12) and Longhorns (2-2, 0-1) renew their rivalry in Dallas.
Just about everything else has fallen into place beautifully for Mayfield since he transferred from Texas Tech and walked on at Oklahoma. Last season, he earned the starting job, led the Sooners to the College Football Playoff and finished fourth in the Heisman Trophy balloting.
The lone regular-season blemish for the Sooners last season was a 24-17 loss to Texas. Mayfield threw for just 211 yards, and he was sacked six times. Folks back home enjoyed reminding him of last year's game.
''That's one of your biggest games of the year,'' Mayfield said. ''For a lot of fans around here, it is the biggest game of the year. Rightfully so, it's one of the top rivalries in the country. I have a lot of friends back home who are UT fans, so I caught some grief.''
Mayfield grew up an Oklahoma fan in Austin, so he understands what the rivalry means from both sides.
''It's huge,'' he said. ''All the guys that don't grow up around it don't necessarily know what this rivalry is all about, but I grew up down there in the heart of UT land. I know what it's all about, but it's pretty special to me, and that's why it's exciting. Big week.''
The Sooners entered the Texas game undefeated and ranked 10th last year, while Texas was 1-4. Mayfield said the Sooners weren't aggressive enough.
''It wasn't a fact of overlooking them, it was just not playing with our mentality, the mentality that we need to carry on every week,'' Mayfield said.
After the loss to Texas, Mayfield led the Sooners to seven straight wins and a Big 12 title, and he was named Big 12 Offensive Player of the Year.
Mayfield entered this season as one of the favorites to contend for the Heisman, but losses to Houston and Ohio State pushed him out of the picture. He came back and showed his value when he passed 274 yards and two touchdowns in a 52-46 win at No. 21 TCU last Saturday.
''I think we came into the TCU game with the right mentality of never giving up, and don't worry about what they're going to do, just do your job and that's the mindset that we need to do,'' he said.
Mayfield typically has accomplished his goals, and now, beating Texas is the next one on his list. He believes having played against the Longhorns in the atmosphere in Dallas last year, with half Oklahoma fans and half Texas fans, should help him this time around.
''I'll be able to settle in early, and I know the crowd's going to be ready, and it's obviously a very exciting game,'' he said. ''We split it right down the middle and the fans are ready to get after each other.''
---
Follow Cliff Brunt on Twitter (at)CliffBruntAP
---