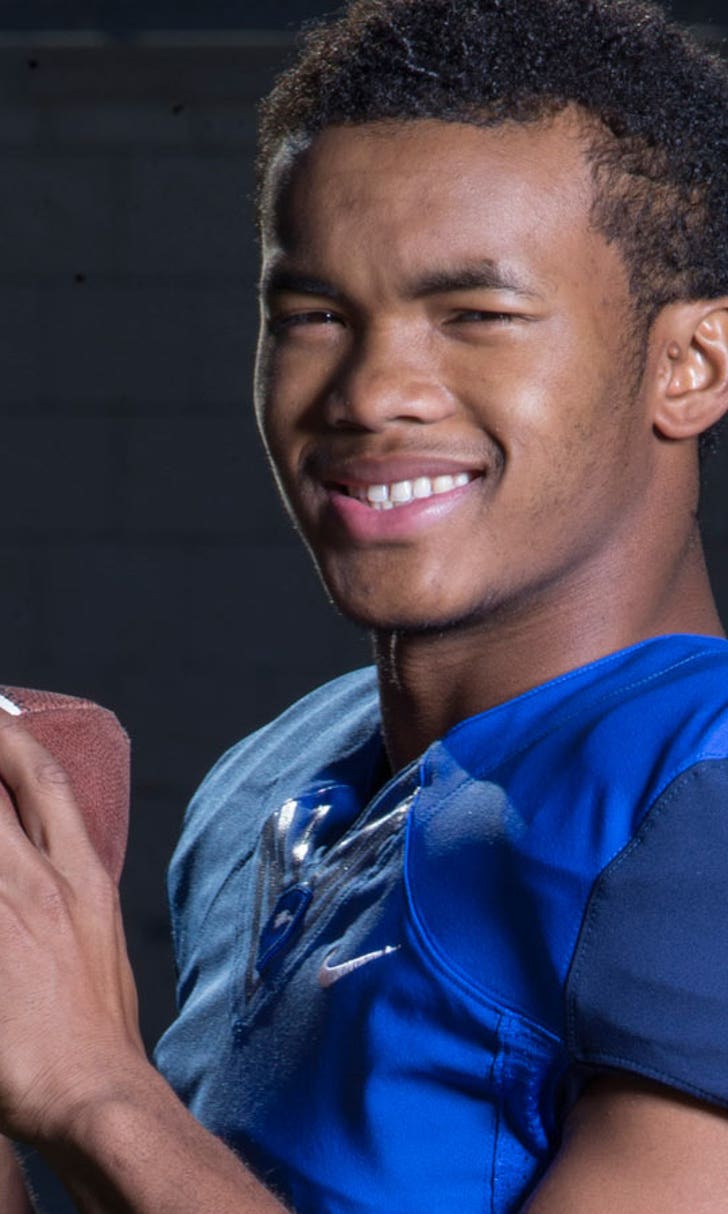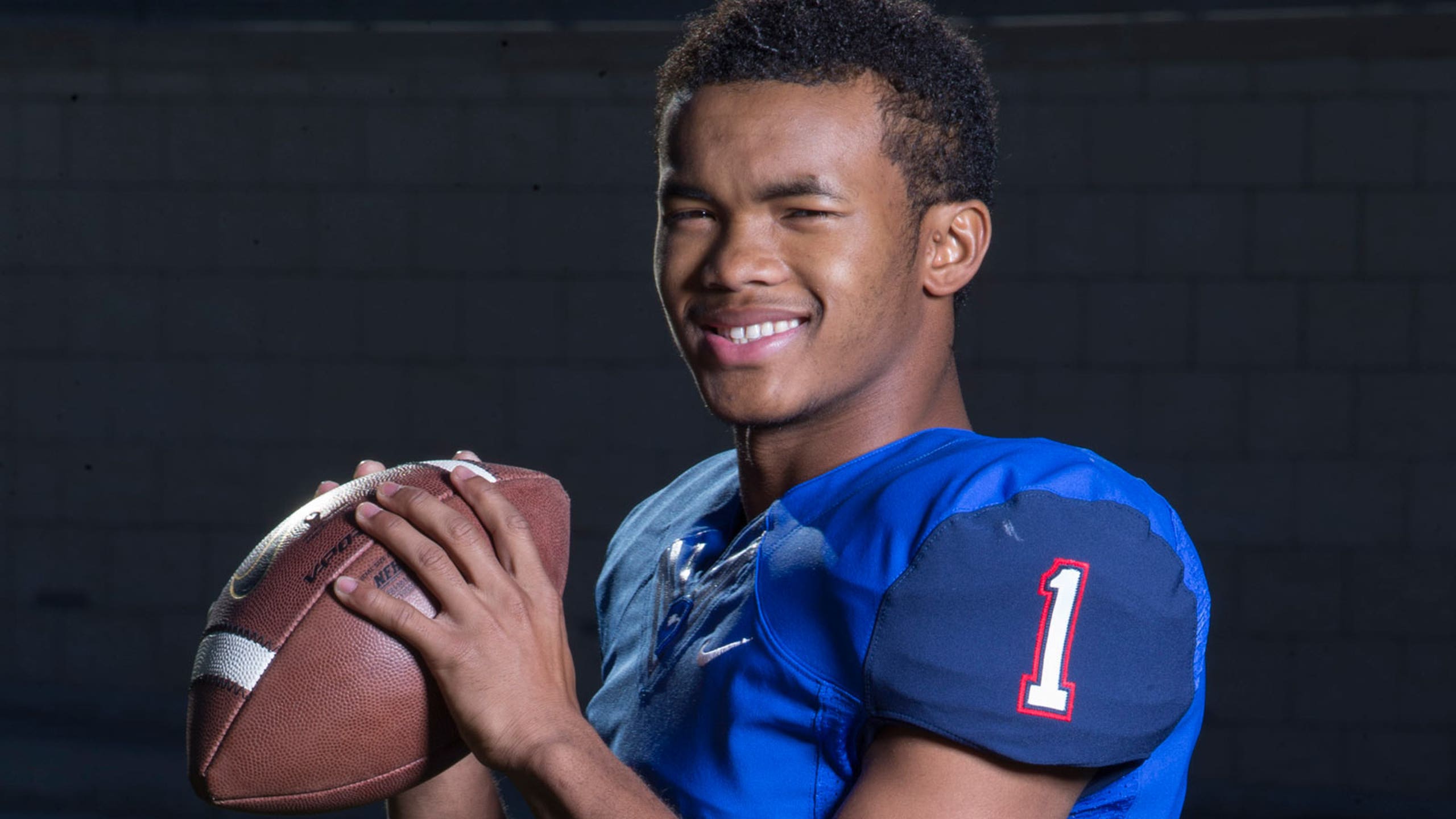 Texas A&M appears to have trumped Texas for prized five-star QB
BY Bruce Feldman • January 30, 2015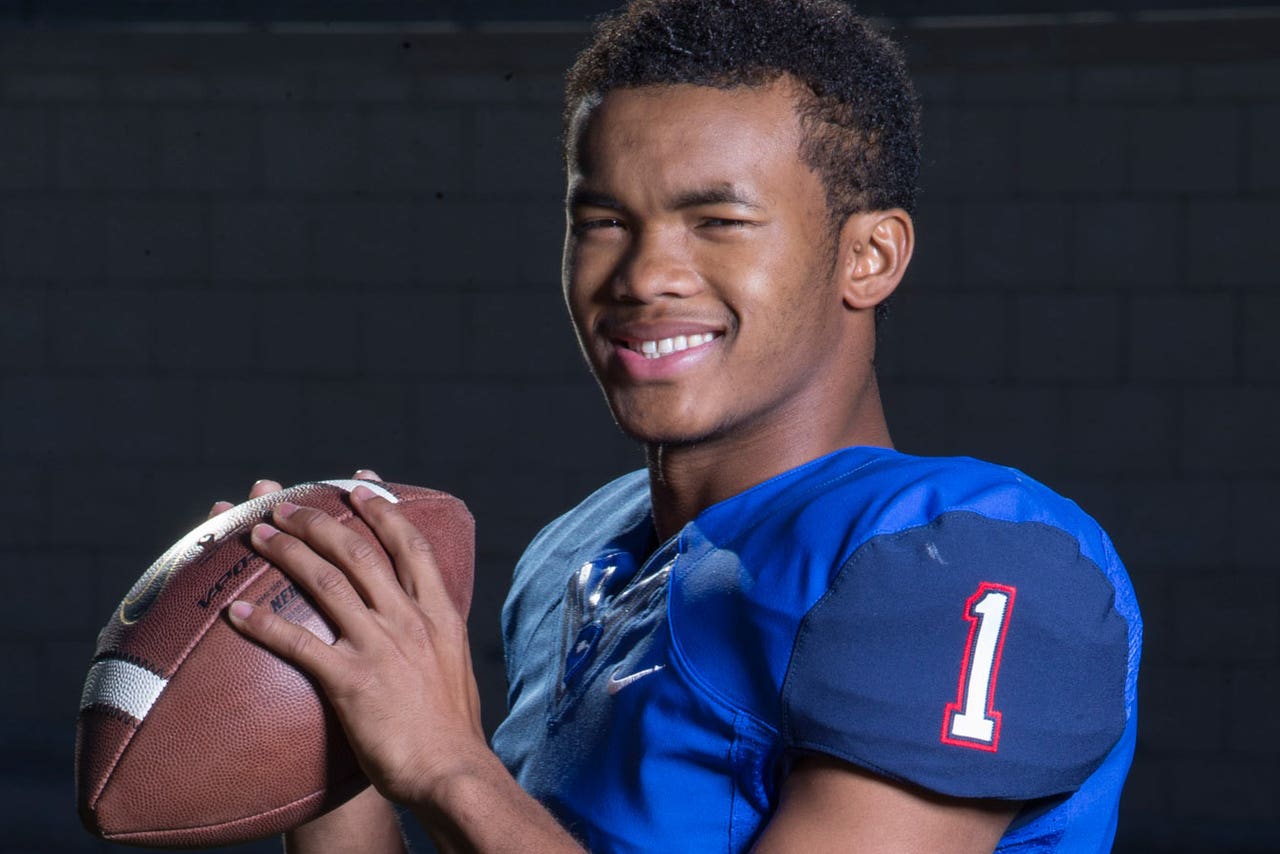 After a drama-filled week that had football fans all over the state of Texas on edge, prized five-star QB recruit Kyler Murray sent out a 28-character tweet late Thursday night that appears to have settled the hottest topic for next week's National Signing Day. 
The tweet signified that Murray, a dynamic 5-foot-11, 178-pound quarterback who went 43-0 as a high school starter and led Texas prep powerhouse Allen High to three consecutive state titles, was re-affirming his commitment to Texas A&M.
Murray's tweet came after Aggies head coach Kevin Sumlin and offensive coordinator Jake Spavital had spent 90 minutes with Murray and his family on a home visit Thursday night. Arch-rival Texas had planned on doing its home visit with Murray a day later, but word is Murray has shut down his recruitment.
Murray, the son of Texas A&M great Kevin Murray, had been committed to the Aggies since May. However, Texas seemed to have gotten in the picture about 10 days ago. The Longhorns, coming off a rough 6-7 season in Charlie Strong's first year, had reportedly been considering tweaking their offensive scheme to cater to Murray's talents. And when Murray and his friend, blue-chip WR DaMarkus Lodge, a one-time A&M commit himself, took a visit to UT and posted pictures of Longhorn jerseys with the numbers they wore in high school, it sent both fan bases into a frenzy. (Murray's tweet has since been retweeted over 4,700 times and favorited over 5,000 times.)
What made Murray's recruitment such a hot story has been the notion that he also may help bring other in-state, blue-chippers with him in tow. Not only is Lodge a factor, but so is five-star DT Daylon Mack, a former A&M commit who now may end up back with the Aggies.
The news puts the Longhorns in quite a bind. Earlier in the week, UT's long-time QB commit Zach Gentry, an athletic 6-6 quarterback, flipped to Michigan when new Wolverines coach Jim Harbaugh made his case. Things had taken on a Kyler-or-Bust vibe, especially since UT has been plagued by QB woes since Colt McCoy left Austin five years ago. Now the 'Horns have to hope they can flip FSU commit Kai Locksley. On Wednesday, Jimbo Fisher and QB coach Randy Sanders did an in-home visit with Locksley that apparently went well, but UT coaches are slated to do a visit with the son of the Maryland OC on Friday.
With Murray's college choice set, one other option for him, though, still looms. He is a touted baseball prospect who some analysts think could become a top pick in the MLB Draft. If not, he will have to beat out Kyle Allen, who just finished a strong freshman season in College Station, but some coaches who have studied Murray wouldn't bet against him emerging as the top guy for A&M in 2015.
"He can really spin it," says one college coach. "The ball just jumps out of his hand and you can tell he's been coached very well for a long time. He's also got great feet and is terrific at buying time and extending plays. The only knock on him at all is his size, but with the skills he's got, he's a special talent."
Bruce Feldman is a senior college football reporter and columnist for FOXSports.com and FOX Sports 1. He is also a New York Times Bestselling author. His new book, "The QB: The Making of Modern Quarterbacks," came out in October 2014. Follow him on Twitter @BruceFeldmanCFB.
---