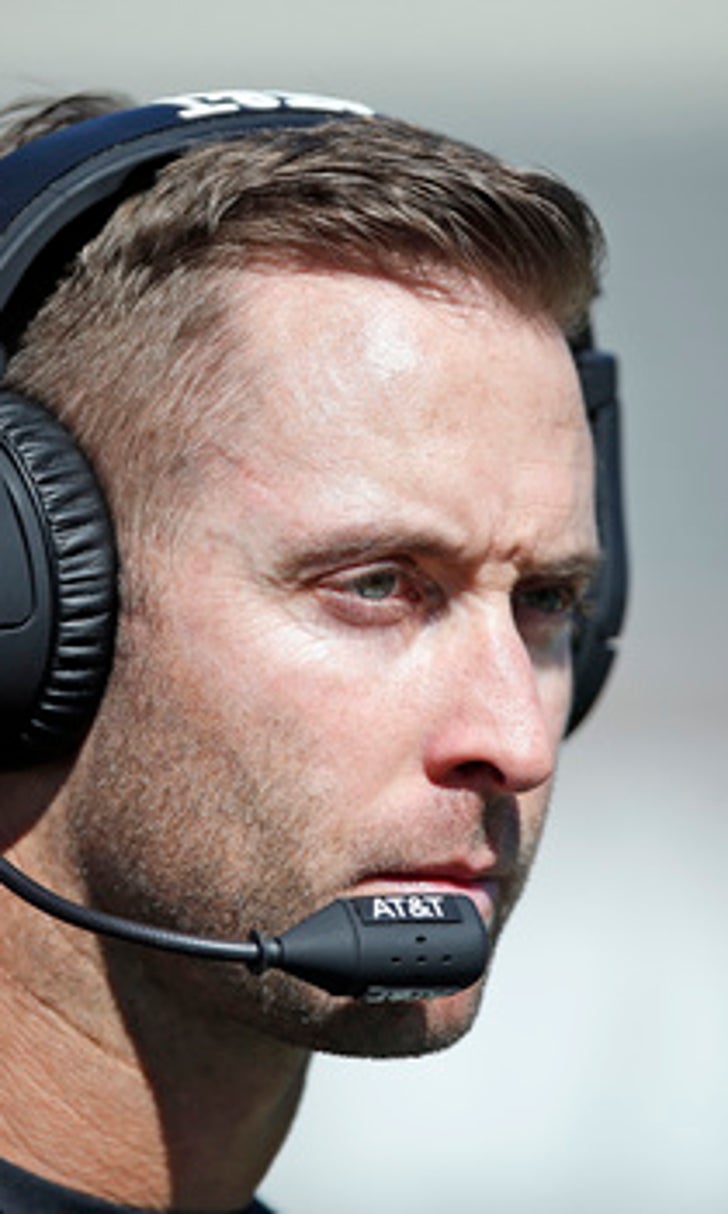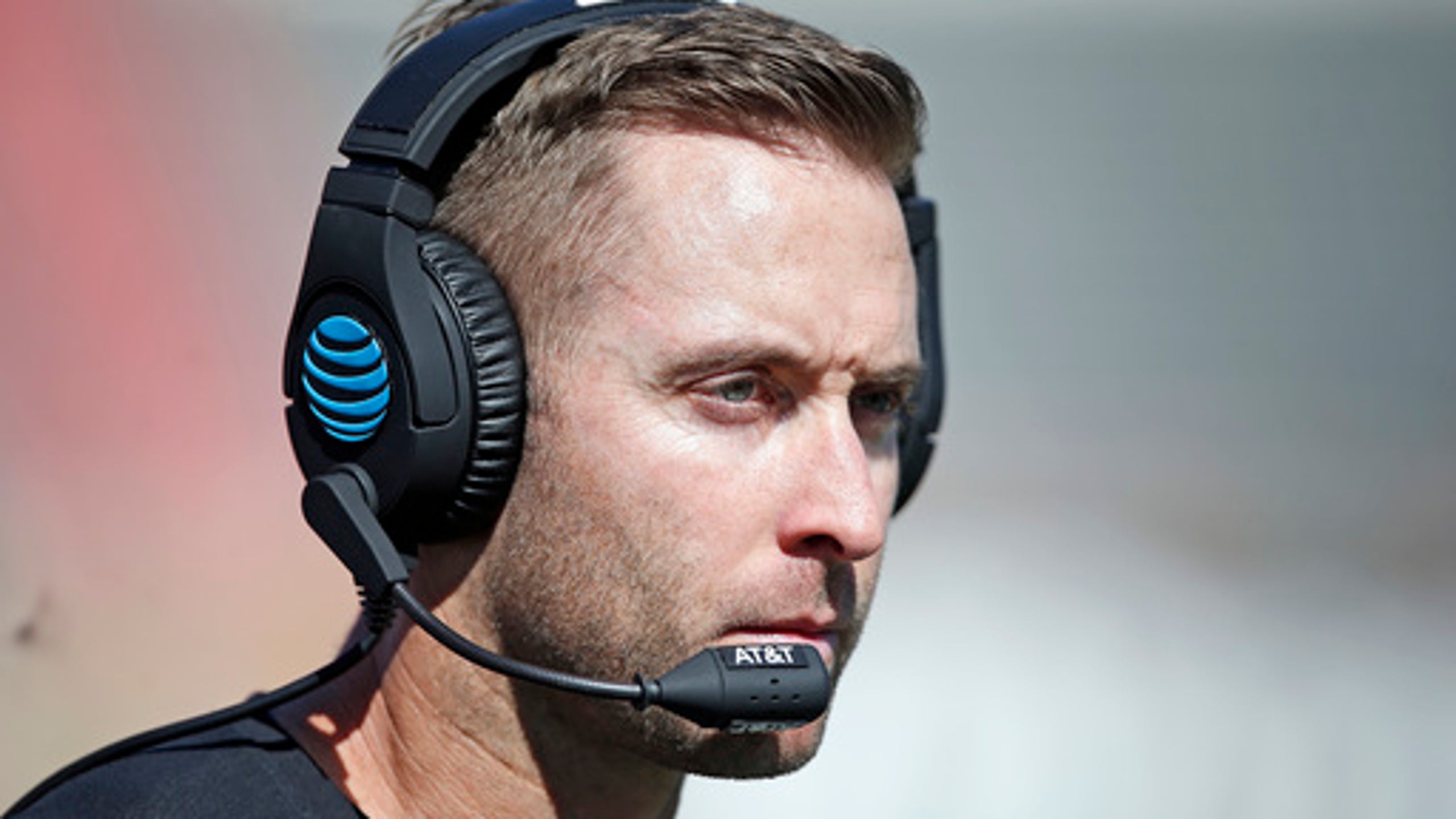 Texas already bowl bound as pressure mounts at Texas Tech
BY AP • November 23, 2017
AUSTIN, Texas (AP) Tom Herman has cleared his first big hurdle with the Texas Longhorns. Texas Tech's Kliff Kingsbury faces a potentially even bigger one this week with escalating tension over whether another stumble could cost him his job.
Texas (6-5, 5-3 Big 12) became bowl eligible for the first time in three seasons with last week's win at West Virginia. Kingsbury's Red Raiders (5-6, 2-6) need to beat the Longhorns on Friday night if they want to get to a bowl after missing the postseason last year.
The question is whether a loss ends the Kingsbury coaching era in Lubbock. The former Red Raiders quarterback returned home in 2013 but is just 29-32 in five seasons and is on the verge of a third losing season in five years and missing a bowl game in consecutive seasons, something that hasn't happened at Texas Tech in 25 years.
Kingsbury sought this week to deflect questions about his future and wanted to keep the focus on senior players who are fighting to end their careers in a bowl game.
''You put all personal agendas and priorities behind yourself and worry about those guys and making sure they play one more game,'' Kingsbury said.
Kingsbury is under contract through 2020 with a $6.8 million buyout if he's forced out after this season. A spokesman for Texas Tech athletic director Kirby Hocutt, who gave Kingsbury a raise and contract extension after the 2013 season, said Hocutt did not want to comment on Kingsbury's status ahead of Friday's game. Two weeks ago, he praised Kingsbury for running his program the ''right way'' with athletes who represent the school with ''class.''
It was this week last season when the Texas job was the focus of scrutiny. Texas lost at home to TCU, Charlie Strong was fired and Herman was hired in the span of about 24 hours.
Getting Texas back to the postseason was a huge priority for Herman that looked in doubt just a few weeks ago. With that locked up, he's pushing for a seventh win, which would guarantee the first winning season at Texas since 2013.
''I think that there is a genuine understanding that, yes, `Have we improved over the last couple of years?' They're ready, certainly but this is a really big step for us too,'' Herman said.
Some things and players to watch for the Longhorns and Red Raiders meet:
BIG SAM: Texas has returned to freshman quarterback Sam Ehlinger at quarterback after he came off the bench last week to beat West Virginia. Ehlinger's bruising running style adds an element to the offense that keeps defenders off balance and he didn't look cautious last week despite a previous concussion this season.
TEXAS TECH'S SCORING TROUBLES: Typically a scoring machine, the Red Raiders offense collapsed last week in a 27-3 home loss against TCU and one of the Big 12's best defenses. The Longhorns defense has been stingy this season and downright dominant at times. Against West Virginia, an early goal-line stand set the tone for the win.
''We're aggressive enough and big enough to be able to hold some people back. It shows a little bit of character out there,'' Texas defensive coordinator Todd Orlando said.
THORPE AWARD CANDIDATE: Texas safety DeShon Elliott is a finalist for the award given to the nation's top defensive back. His ability to cover ground in a hurry - a pass breakup in the end zone saved a touchdown last week - gives the Longhorns wide latitude in coverages and blitzes.
KICKING WOES: Both teams are struggling so badly kicking field goals that neither coach may want to attempt one. Texas Tech has tried four kickers this season but is just 8 of 18 with only one make beyond 40 yards. Texas has used two kickers but is just 7 of 15 on the season.
FORCING TURNOVERS: With offense struggling to move, the Red Raiders likely need the defense to force turnovers for scoring chances. Texas Tech leads the Big 12 with 23 takeaways this season and has scored four defensive touchdowns. The Longhorns have returned five interceptions for touchdowns.
---
More AP college football: http://collegefootball.ap.org and http://www.twitter.com/AP-Top25
---
---