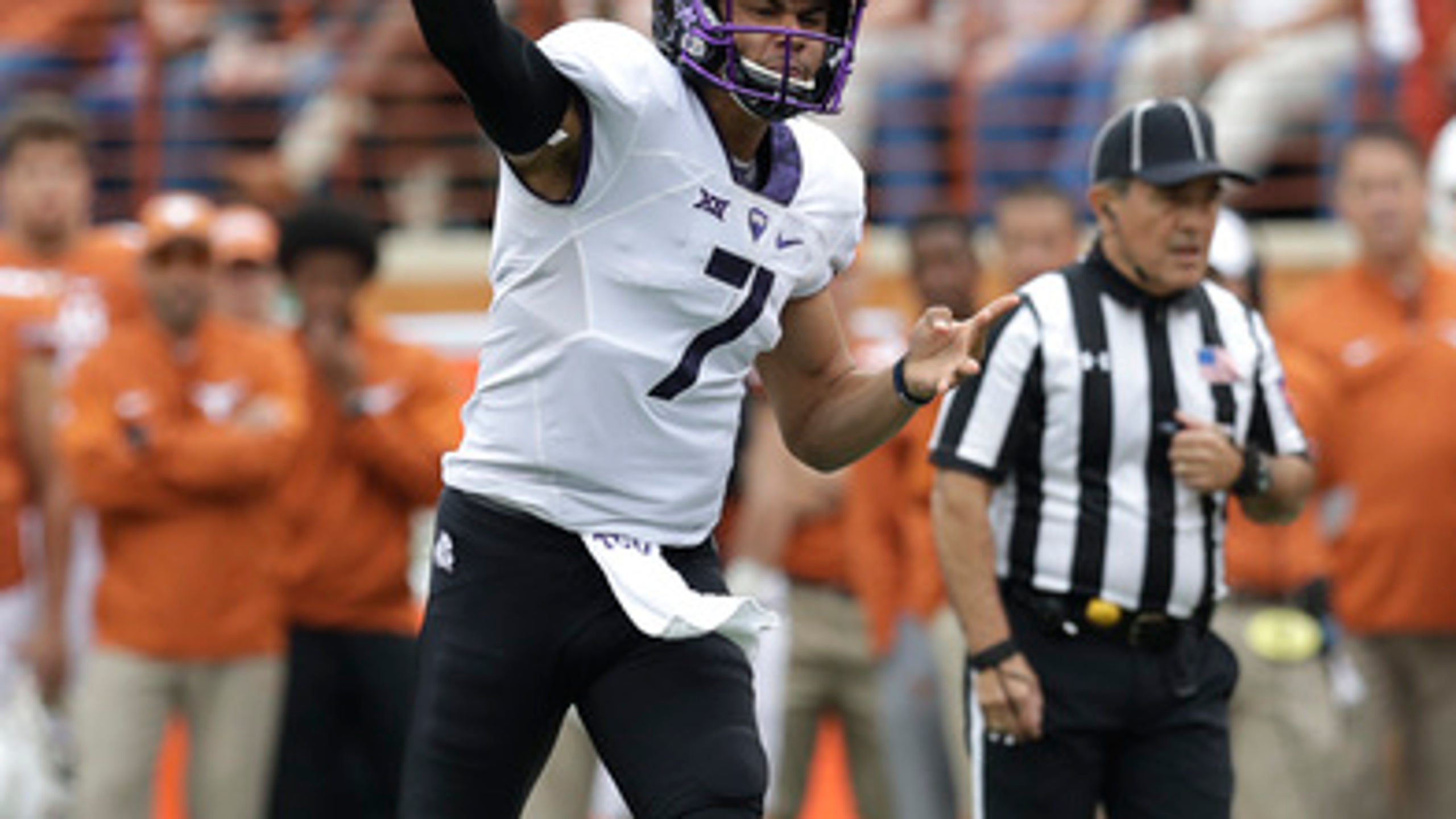 TCU QB Hill, WRs in synch going into opener vs Jackson State
BY AP • September 1, 2017
FORT WORTH, Texas (AP) Kenny Hill and the TCU receivers spent a lot of extra time together during the offseason.
After all the dropped passes during a rare losing season for the Horned Frogs, they wanted to make sure they were all on the same page.
''I think we've looked pretty good. It's just a matter of what happens on Saturday,'' said Hill, the senior quarterback. ''I know the receivers just look really good. Look in rhythm and synch, so I'm excited to get ready and get going.''
The Horned Frogs open the season Saturday night against FCS team Jackson State. They return their top 10 pass-catchers from last season, including leading running back Kyle Hicks.
By one group's count, the Horned Frogs had an NCAA-high 38 dropped passes last season to go along with 3,486 yards and 18 touchdowns passing. Hill has said the receivers make him ''look good more times than not'' and that he had his share of missed passes to them.
''I think some of the problems you had last year, I think he felt like he had to be perfect,'' coach Gary Patterson said. ''Just need to throw it so they can catch it. That's what quarterbacks do, no matter how hard they throw it. There's a lot of guys that throw hard but they have a soft ball. Throw it so they can catch it.''
While the Frogs were 6-7 last season, they twice lost in double overtime and had a 52-46 home loss to Big 12 champion Oklahoma. After their first two losing records under Patterson, they rebounded the following year with conference titles. Patterson, going into his 17th season, is TCU's winningest coach with 149 wins.
''We know it's going to be a great challenge, but it's one we're excited about,'' second-year Jackson State coach Tony Hughes said. ''We're going to go over there and see what we can do.''
A few more things to know about the season opener for both teams:
TIGER QUARTERBACKS
At least two quarterbacks will play for Jackson State, and there are two more that could be in the playing mix early in the season. Redshirt sophomore Brent Lyles got the starting nod and coach Hughes said junior college transfer Jarrad Hayes will also play against TCU. The Tigers have two games before their SWAC opener vs. Grambling State on Sept. 16.
TY TO END
Ty Summers was a linebacker last season when he was second for TCU, and second in the Big 12, with 121 tackles. Frogs linebacker Travin Howard was the Big 12 leader with 130 tackles. With extra linebackers in play for TCU's 4-2-5 defense, Summers has been switched to defensive end.
''I feel comfortable with all five (linebackers) going in. They can all run,'' Patterson said. ''It's not that we don't want Ty to play linebacker. It was one of those, how do you get all of your best players on the field, and he's the bigger of the group. ... When he was a redshirt, he did an unbelievable job rushing the passer, and he still does.''
NO BOOM
Jackson State's band, the Sonic Boom of the South, didn't make the 6 1/2-hour drive to Fort Worth. When TCU last played a SWAC team in the 2012 opener - the Horned Frogs' first game in their completely redone stadium after joining the Big 12 - the highlight for Grambling State was the up-tempo halftime performance by its famous band. TCU won that game 56-0.
SOME EXTRA NUMBERS
TCU has won 15 consecutive home openers. ... Jackson State is 3-7 its last 10 season openers. ... The Horned Frogs have 19 returning starters, second nationally only to Syracuse's 21. ... Jackson State senior DE Keontre Anderson was the Division I leader last season with 25.5 tackles for loss.
---
More AP college football: http://collegefootball.ap.org and https://twitter.com/AP-Top25
---
---