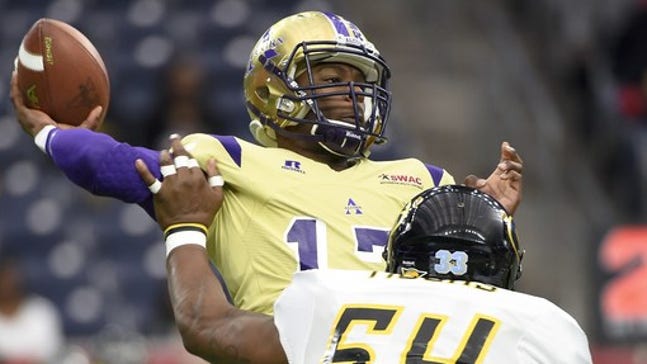 SWAC spring football primer
Published
Mar. 14, 2016 12:22 p.m. ET

(STATS) - Road field advantage?
There's always something unpredictable going in Southwestern Athletic Conference football - often a title race that nobody sees coming. In fact, in five seasons from 2009-13, each of the five West Division teams won the conference championship game (although Texas Southern later vacated the 2010 title).
In 2015, home (and Homecoming) might have been where the heart was, but the victories weren't for that side of the field. Incredibly, road teams went 26-16, with East Division and conference champion Alcorn State, Alabama State, West Division champ Grambling State, Prairie View A&M and Southern going unbeaten in conference road games.
Those teams are expected to remain among the division elite in 2016, but the usual wild races say to expect the unexpected.
All of the SWAC teams will play each other in a nine-game conference schedule again this season, but in 2017, they will revert to a seven-game conference schedule - which was last in effect in 2008.
Following is a look across the SWAC with spring practices getting underway in college football:
---=
EAST DIVISION
ALABAMA A&M
2015 Records: 3-8 overall, 3-6 SWAC East (Tie/3rd)
Spring Practices: March 7-April 2
Storyline: Following three straight subpar seasons - two under James Spady - the Bulldogs hope their experienced team is ready to change its fortunes. They expect to return 17 starters - nine on offense and eight on defense - from a 2015 squad which often played from behind in its games. Spady went heavy on offensive linemen and defensive backs in his recruiting class to solve some problems. Improvement up front will benefit senior quarterback De'Angelo Ballard, who averaged an impressive 17.2 yards per completion but was under the 45 percent completion percentage. The skill positions were full of young talent and should blossom this season. Linebacker Bryan Brower was easily the team's leader in tackles despite missing two games.
---=
ALABAMA STATE
2015 Records: 6-5 overall, 5-4 SWAC East (2nd)
Spring Practices: April 2-23
Storyline: Like rival A&M, the Hornets return 17 starters (eight on offense and nine on defense) for coach Brian Jenkins' second season, but their first for spring practices together because the team was under NCAA APR sanctions last year. They won six of their final eight games after the rough start and should be more comfortable in the team's offensive and defensive systems. Linebacker Kourtney Berry enters his senior season as the conference defensive player of the year and a three-time all-conference first-team selection. Junior quarterback Ellis Richardson hopes to come back improved after sharing the position last season, but the offense still revolves around running back Khalid Thomas, who led the team in receptions and rushing yards. The Hornets face a particularly tough road schedule this year.
---=
ALCORN STATE
2015 Records: 9-4 overall, 7-2 SWAC East (1st)
Spring Practices: March 22-April 23
Storyline: A transition is underway with the Braves as assistant head coach Fred McNair was elevated to the top job after Jay Hopson was hired at Southern Miss. It's a natural progression considering McNair is an Alcorn alum and his late brother Steve will forever be royalty in the program. The Braves have a target following their back-to-back SWAC titles, and they have to overcome the loss of some decorated seniors. The list includes quarterback John Gibbs Jr., but his injury in October allowed Lenorris Footman to take command of the offense, and he surpassed 1,000 yards in both passing and rushing with 25 total touchdowns. Leading receiver Marquis Warford also will be back, while the defense will feature end Stacey Garner, linebacker Darien Anderson and defensive back Eric Foster.
---=
JACKSON STATE
2015 Records: 3-8 overall, 3-6 SWAC East (Tie/3rd)
Spring Practices: March 22-April 16
Storyline: After spending 31 years as an assistant, new Tigers coach Tony Hughes inherits a veteran team. The Tigers, who return nine offensive starters and eight on defense, could have quick improvement considering they return three of the top players in the conference in quarterback LaMontiez Ivy, wide receiver Daniel Williams and defensive end/linebacker Javancy Jones. The signing period seemed to solve some of the team's biggest concerns - the offensive and defensive lines and depth at linebacker. Running back Robert Johnson, who suffered a shoulder injury last season, will possibly miss spring practices, but he appears ready to break out this year.
---=
MISSISSIPPI VALLEY STATE
2015 Records: 1-10 overall, 1-8 SWAC East (5th)
Spring Practices: March 15-April 9
Storyline: Third-year coach Rick Comegy is still trying to get his struggling program moving in the right direction. Having enjoyed great success at Jackson State, Comegy is 3-19 in two seasons with the Delta Devils. His squad has to improve in the trenches at both rushing the ball and stopping the run (the Delta Devils ranked last in the conference in both categories). Quarterback was a revolving door a year ago, but sophomore Slade Jarman has the inside track to solving the woes. Whoever is under center will want to get the ball to all-purpose threat Booker Chambers, also a sophomore. The defense welcomes back eight starters, including yet another key sophomore in cornerback Marquis Green, who is coming off a rookie season in which he had seven interceptions.
---=
WEST DIVISION
ARKANSAS-PINE BLUFF
2015 Records: 2-9 overall, 1-8 SWAC West (5th)
Spring Practices: March 29-April 23
Storyline: The Golden Lions have the fewest returning starters in the SWAC with 10 - six on offense and four on defense - although their special teams come back intact. The offense is being switched back to a spread attack this spring, which should benefit quarterback Brandon Duncan, who flashed his potential in a loss to Grambling State with 459 passing yards and three touchdowns. The defensive leader remains linebacker Willie Duncan. Monte Coleman, who enters his ninth season as the dean of SWAC head coaches, is making improvement at the line of scrimmage an important part of the spring. His program has had three straight losing seasons since it played in the 2012 SWAC championship game.
---=
GRAMBLING STATE
2015 Records: 9-3 overall, 9-0 SWAC West (1st)
Spring Practices: March 9-April 9
Storyline: Grambling still carries clout. After the loss of SWAC offensive player of the year Johnathan Williams, whose 37 touchdown passes tied for the most in the FCS, third-year coach Broderick Fobbs signed former Ole Miss third-string quarterback Deonte Kincade, who is sitting out the spring while recovering from a broken foot in Sugar Bowl warmups. The Tigers have won the West Division title and lost in the SWAC championship game in each of the past two seasons. They return 12 starters (seven on offense and five on defense) as well as both kickers. All-purpose back Martez Carter and wide receiver Chad Williams will help keep the offense explosive. They have to get better on the offensive line and defend better in the secondary.
---=
PRAIRIE VIEW A&M
2015 Records: 8-2 overall, 8-1 SWAC West (2nd)
Spring Practices: March 21-April 22
Storyline: Momentum is on the Panthers' side. They had a banner first season under coach Willie Simmons and are set to move into a new on-campus stadium this year. They return an impressive 17 starters (seven on offense and 10 on defense), although they're retooling their running game after losing All-America all-purpose threat Johnta' Hebert, fellow running back Courtney Brown and three offensive linemen who were fifth-year seniors. This will start to become quarterback Trey Green's team after he had a breakout campaign last year. Top wide receiver Nick Pitre is coming off an injury, while Shawn Pierce will be looked at as the leader on the offensive line. The defense finished strong last season and is a strength, heading into a second season under the same coordinator (Ralph Street) for the first time since 2012. Linebacker Jalan Coleman returns after being the leading tackler in his first season after transferring from UAB.
---=
SOUTHERN
2015 Records: 6-5 overall, 6-3 SWAC West (3rd)
Spring Practices: None (NCAA APR penalties)
Storyline: The Jaguars are not holding spring practices for the second straight year, something coach Dawson Odums and his staff are working to improve upon. Odums has four new coaches, including Trei Oliver taking over the defensive coordinator duties he previously held. Last season was difficult for the Jaguars, and not just because they won the 2013 conference title and appeared in the championship game in 2014. Devon Gales was paralyzed during a Sept. 26 game at Georgia, but his continued recovery has been a story of inspiration ever since. The spring is about jelling, a transition made smoother by the return of 15 starters (eight on offense and seven on defense). The offense is well-stocked with quarterback Austin Howard back as a starter for the third season and Lenard Tillery coming off a season in which he was the SWAC rushing champion. Points of emphasis are building depth across the roster and improving in the secondary after the Jaguars allowed 27 touchdowns through the air.
---=
TEXAS SOUTHERN
2015 Records: 3-7 overall, 2-7 SWAC West (4th)
Spring Practices: March 22-April 16
Storyline: Former coach Darrell Asberry helped guide TSU through several years of NCAA sanctions and boost the Tigers' academic standing, but his squads went 12-31 over four seasons, including 9-27 in the SWAC. In steps Michael Haywood, the former coach at Miami of Ohio. His staff will be introducing new offensive (pro set) and defensive (4-3) schemes. Quarterback Averion Hurts will look to get the ball to 6-foot-7 wide receiver Derrick Griffin, who not only is coming off a superb rookie football season but was the SWAC player of the year, defensive player of the year and newcomer of the year in men's basketball. With six returning starters, the offense has one more than the defense. That unit was quite balanced in 2015 and linebacker Darian Claiborne, who played in only seven games, seeks a breakout season.
---