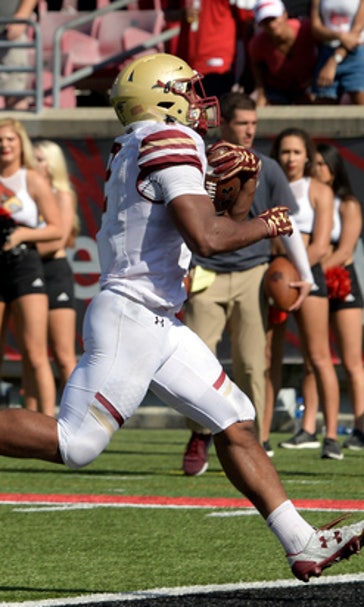 STAT WATCH: Marshall punter's 92-yarder longest since 1972
October 16, 2017

Marshall's Kaare Vedvik knew he hit a good punt out of his own end zone. Once the ball landed, it kept going and going, farther than any other punt in a Football Bowl Subdivision game in 45 years.
His 92-yard punt against Old Dominion on Saturday was, according to Marshall research, the longest since Southern Mississippi's Ray Guy boomed a 93-yarder against Mississippi in 1972.
''It's an unbelievable feeling to send it from one end zone to the other,'' the redshirt senior from Norway said. ''It's a punter's dream. Every time, you just try to hit your best ball. This one went over his head and had a nice tail wind. The ball rolled down to the other goal line, so you can't ask for anything better than that.''
Vedvik's big punt came after the Thundering Herd went three plays and out on their first possession of the game. With the ball at the 8-yard line, Vedvik was deep in his own end zone and with a light wind at his back when he put his foot to the ball. It bounced at the Old Domion 30, over the return man, and skipped hard toward the end zone and rolled in before the coverage team could down it.
Vedvik also had punts of 52, 36, 48 and 36 yards as well as a pooch punt of 27 in the Herd's 35-3 win. His season average of 44.8 yards leads Conference USA.
The longest punt in FBS history: 99 yards by Nevada's Pat Brady against Loyola Marymount in 1950.
Some other notable feats from the weekend:
---
LEG WORKOUT
Kansas' Cole Moos established a national season high with 13 punts against Iowa State. No other punter in the FBS has attempted more than 11 in a game this season. Moos' 40 punts are most in the Big 12 by far.
NAVY GOES BY LAND
Navy leads the nation with 397.5 yards rushing per game, and the Midshipmen are on pace to pile up the most yards on the ground since Nebraska's 1995 national championship team averaged 399.8.
Quarterback Zach Abey is running for 169.3 yards per game, 29 behind national leader Bryce Love of Stanford. Abey's 189 carries are tied for most in the country. The Midshipmen also get nearly 70 yards a game from both Malcolm Perry and Chris High.
THE 200 CLUB
Boston College freshman AJ Dillion had the top rushing performance of the weekend, running for 272 yards and four touchdowns on 39 carries in a 45-42 win over Louisville. It was the third-best outing by a BC back behind Andre Williams' 339 yards against North Carolina State and 295 yards against New Mexico State, both in 2013.
Arizona quarterback Khalil Tate, after going for 327 yards against Colorado a week earlier, ran 15 times for 230 yards against UCLA. Wisconsin freshman Jonathan Taylor had his second straight 200-yard game, going for 219 on 30 carries against Purdue. Diocemy Saint Juste of Hawaii ran 39 times for 202 yards against San Jose State, his third 200-yard game of the season.
FANTASTIC FALCON
Air Force quarterback Arion Worthman became the fifth player this season to score five touchdowns in a game. Worthman finished with 166 yards and scored four of his touchdowns in the second half as the Falcons came back from a 27-point deficit to beat UNLV 34-30. Worthman's fifth TD, a 1-yard run with 2:14 left, gave the Falcons their first lead.
PASSING LEADER
Oklahoma State's Mason Rudolph and UCLA's Josh Rosen are in a close competition for most passing yards per game. Rudolph overtook Rosen this week after throwing for 459 yards against Baylor to raise his average to 394.7. Rosen had a season-low 219 yards against Arizona, dropping his average from 427 to 392.3.
---
More AP college football: http://collegefootball.ap.org and https://www.twitter.com/AP-Top25
---
---