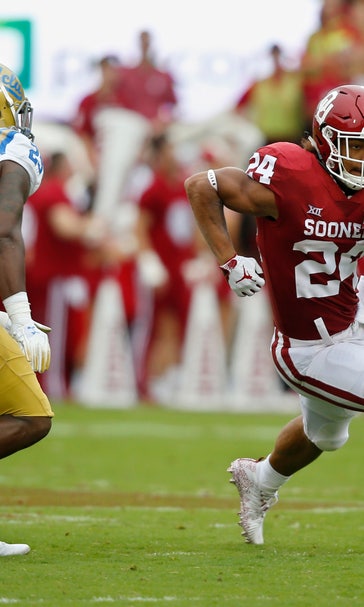 Spotlight week in Big 12 with Power Five foes looming
September 13, 2018
LAWRENCE, Kan. (AP) — David Beaty has beaten precisely one Power Five opponent in three-plus seasons at Kansas, and that was a nip-and-tuck overtime victory over downtrodden Texas a couple years ago.
He's yet to beat a team from one of college football's other marquee leagues.
Yet after a win over Central Michigan last week, the Jayhawks coach is brimming with optimism that he can finally get that elusive victory when Rutgers visits on Saturday. And while it's hardly the most intriguing game on the Big 12 slate, it's one of five that were scheduled this week against Power Five opponents — and that doesn't include Oklahoma State's home game against No. 17 Boise State.
In other words, it's spotlight week in the Big 12. Put up or shut up, if you will.
"We've got a really good opponent who played one of the better opponents I've seen on tape in a long time," Beaty said of the Scarlet Knights, who are coming off a 52-3 loss to Ohio State.
"Don't put a lot of stock into that score," Beaty insisted. "That is a really good football team that they played and they hit on all cylinders Saturday. The one we are playing is a talented football team. So we're going to have our hands full. There's no doubt about it."
Most of the Big 12 will have its hands full, leading off with No. 15 TCU, which will face those fourth-ranked Buckeyes at AT&T Stadium outside Dallas.
Elsewhere, Texas gets a visit from No. 22 Southern California and Baylor faces Duke, though No. 17 West Virginia had its game against unbeaten North Carolina State canceled because of Hurricane Florence.
It's still a strong slate of games, and that's not even considering Texas Tech's game against unbeaten Houston and fifth-ranked Oklahoma kicking off league play against Iowa State.
"I think it's great for college football," said Sooners coach Lincoln Riley, whose team beat UCLA last week. "That's something scheduling-wise that here we've believed in for a long time, that you've got to play marquee teams out of conference. You've got to schedule those tough games. It's great for your fan base, great for your football team and I think it's just really good for college football."
The reason for the strong schedule can be traced to 2014, when TCU and Baylor were leapfrogged by Ohio State for a spot in the College Football Playoff. The selection committee decided the two Big 12 schools had not played a challenging enough schedule, among other things, and the league ultimately mandated games against Power Five opponents.
"Oliver Luck was my boss at the time and was on the CFP committee and we made a conscious effort to be able to schedule the way that they recommended us being able to schedule, which is why you see us playing 11 Power Five schools," West Virginia coach Dana Holgorsen said.
The result has been higher-profile games such as West Virginia-Tennessee, Texas-Maryland and Texas Tech-Ole Miss the first weekend of this season. Oklahoma-UCLA, Kansas State-Mississippi State, and the annual rivalry game between Iowa State and Iowa were the highlights of last weekend.
So far, the league hasn't exactly been impressive.
The Big 12 is just 2-4 against fellow Power Five teams, with only the ACC having a worse record (2-5). That modest start comes on the heels of an 8-8 record last season and a 5-8 mark the year before.
In fact, the Big 12 hasn't had a winning record against Power Five programs since 2012.
"It's always nice to play a marquee non-conference game," Texas coach Tom Herman said, "but I think the more important thing is for our fans. Unfortunately, the reality of conference realignment has made it such that the University of Texas does not play a rival anymore at home.
"We play Oklahoma, who's our biggest rival, we play them every year, but it's up at the State Fair in Dallas, and we used to play (Texas) A&M home-and-home, but we don't play that game anymore. For us, I think it allows our fans, at least every other year, to see a marquee national blueblood opponent."
There are more on tap next season with Big 12 schools set to face Arizona, Boston College, LSU, Mississippi State, UCLA, Oregon State, Missouri, North Carolina State and Purdue.
That's next year, though. The Big 12 has its hands full this weekend.
"We've had several here throughout the Big 12 so far, and going to have several more, so those games are kind of bowl games, just on the other end," Riley said. "You get some unique matchups that you don't always have, and I think that's always great for college ball in general."
---