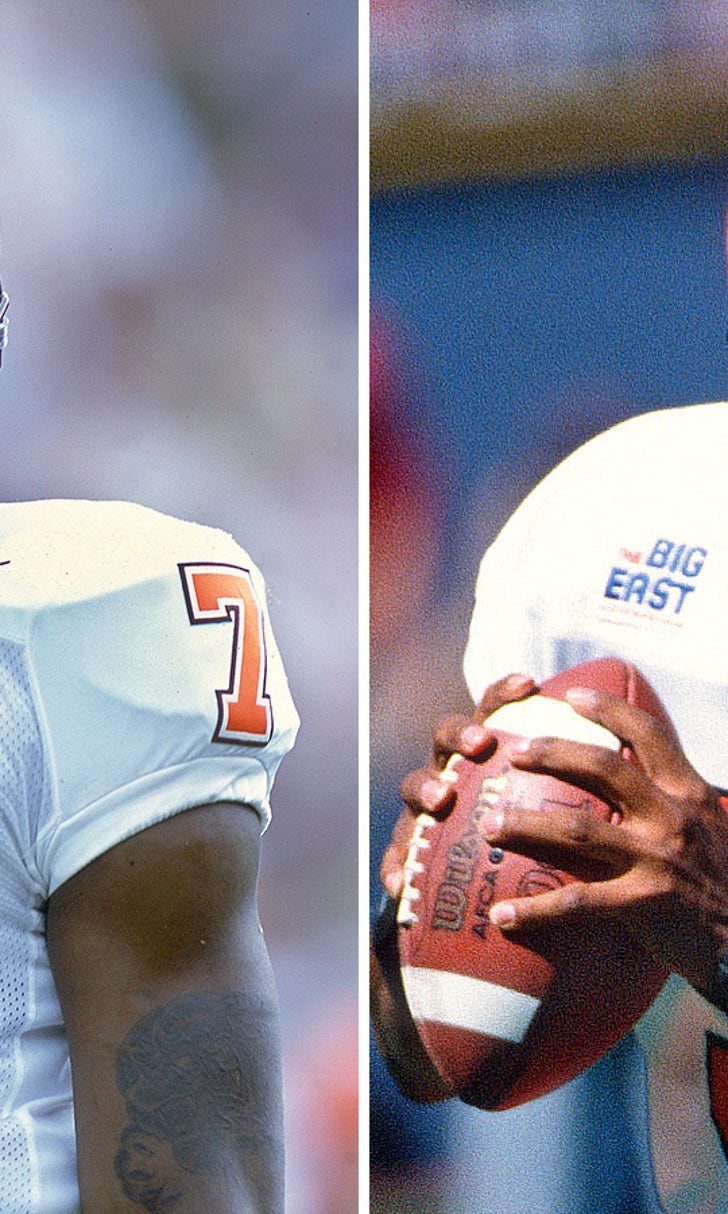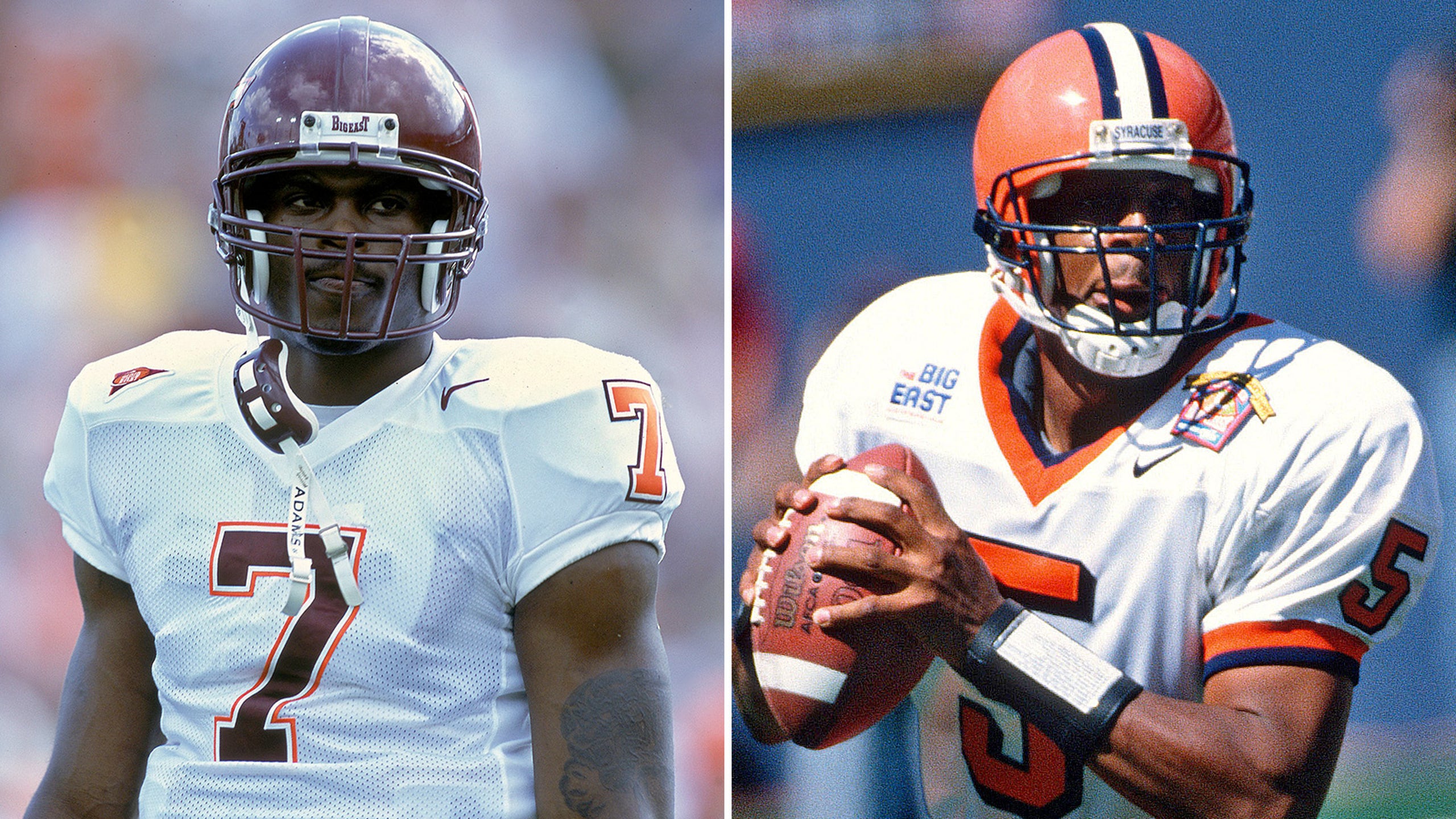 Signing Day Stories: McNabb had Michael Vick all set on Syracuse
BY Aaron Torres • February 3, 2014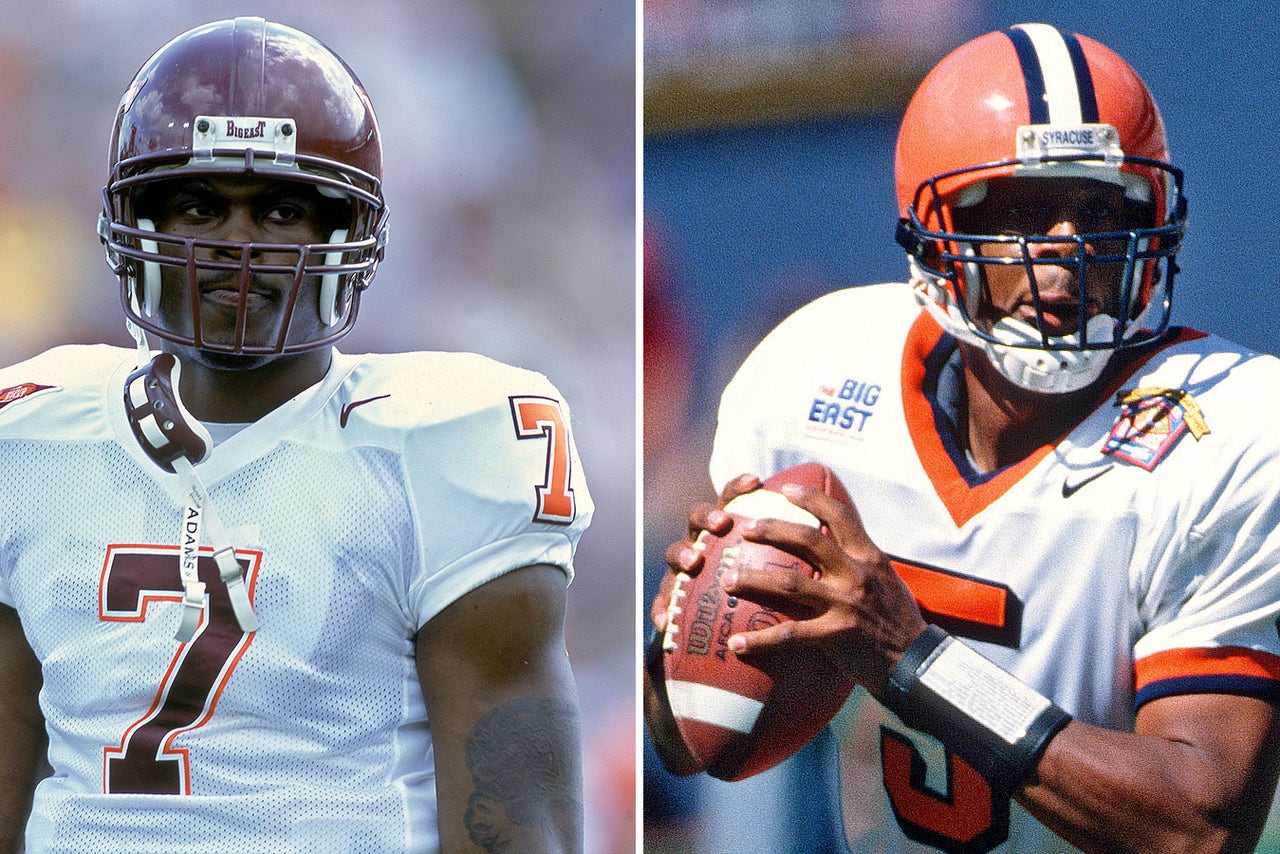 There isn't a single day on the sports calendar that elicits more fascinating "what if" scenarios than college football's National Signing Day.
With a little retrospection, it's fun to think how quickly the fate of your favorite college football team (and maybe NFL squad, too) could've been flipped by one different hat selection or a simple change of heart by an uncertain 18-year-old.  
But in the case of Donovan McNabb, his "what if" is extra intriguing, as the ramifications of his college recruiting experience were more far-reaching than most.
They impacted both football and basketball programs and provided the foundation for when McNabb had to play role of recruiter years later and very nearly had Michael Vick following him to Syracuse.
First, start with McNabb. His exploits in football are well known, but thanks to his pairing with childhood friend Antoine Walker in hoops, he got looks in basketball, too.
"I was fortunate," McNabb said, reflecting back on the entire recruiting process. "Notre Dame wanted me for both. Indiana [when it had Bob Knight] wanted me for both. [Kentucky coach] Rick Pitino actually asked me, 'So what are you going to do?'"
It was a question any 17-year-old would be floored by: The most prominent hoops coach of the era wanted him to join a program on the verge of ripping off three straight Final Fours. McNabb seriously considered it, at least until he looked at the flip side of playing two sports at a school where basketball was king.
"Man, Kentucky isn't all that good at football," McNabb thought at the time.
Eventually the recruiting process dwindled, and basketball still actually played a large role in his final choice. With a busy hoops schedule, he elected to take only two official visits during his senior year instead of the allotted five.
Those two visits went to Nebraska and Syracuse, although ironically it was an unofficial visit prior to his senior year that stands out most to McNabb all these years later.
At the time McNabb's brother was attending school in Tallahassee, Fla., and the younger McNabb and his father decided to visit. While in town, they checked out the local football power, where McNabb bumped into both a college legend and a player he grew up idolizing.
"I was a huge Charlie Ward fan," McNabb said of the fellow dual-sport star who won a Heisman Trophy at Florida State before moving on to an 11-year NBA career. "I'm visualizing playing at Florida State, thinking 'My God.'"
Someone else shared the same vision.
"It was funny," McNabb said. "Bobby Bowden came up behind me and says, 'Donovan, I'm hearing a lot of great things about you.' Are you the next Charlie Ward?"
McNabb didn't hesitate in giving an answer.  "I'm like, 'Ding! Yes I am!'" he said.
In the immediacy of the moment, McNabb seriously considered Florida State, but Tallahassee was just too far away from Chicago. Instead he choose to play both football and, for a time, basketball at Syracuse.
Ironically, "distance" would also come into play a few years later when McNabb himself was a recruiter at Syracuse and hosting Vick, who Syracuse hoped would be his heir-apparent at quarterback.
Like McNabb's run-in with Ward, Vick grew up idolizing McNabb, and like Bowden in Tallahassee, the Syracuse coaching staff made no secret about wanting him. Scouts had Ronald Curry as the top player in Virginia that year. Syracuse's coaching staff thought otherwise.
"Our coordinator told me personally, 'He's the best quarterback in Virginia," McNabb explained. "This is the guy. We've got to have him. I'm like, 'All right coach, I've got this.'"
For most of the weekend, McNabb did have it. Right before Vick was set to head home, he was ready to commit to the Orange.
McNabb just had to convince one more person.
"He's like 'Man, I want to come here," McNabb said, describing a starry-eyed Vick. "But you've got to talk to my mom.'"
No problem, right?
"I get on the phone with his mom," McNabb said. "She says, 'You know, he talks about you all the time. I'm glad you guys got together. I really want him to make the best decision.'"
The problem: She didn't make it clear whose decision it ultimately was.
"I really want him to stay in Virginia," Vick's mother, Brenda, said.  
Unperturbed, McNabb went into sales mode.
"If he comes here, he'll get a great education, we'll win and it's not far from you guys," McNabb told her. "We're like a family."
Vick's mother didn't budge.
"We'll see," she told McNabb. "But I really want him to stay in Virginia."
And it was at that point McNabb realized sometimes mama really does know best -- even if her son hoped for something different.
"He was right next to me," McNabb said of an eager Vick. "He's asking me, 'What's she saying? What's she saying?'"
She was saying her boy was staying close to home, a decision that obviously worked out fine for Vick. He went to Virginia Tech, where the school went 22-2 in his two years as a starter, and played for the 1999 BCS title.   
But what if McNabb could have convinced Vick's mother to let him play at Syracuse? Or what if Bobby Bowden had done the same with McNabb a few years earlier?
Those stand among the fascinating "what if" scenarios from Signing Days past.
(To read Randy Moss' Signing Day story, and how he'd still choose Notre Dame, click here.)
Aaron Torres is a show writer for Fox Sports Live and a contributor to FoxSports.com. Follow him on Twitter @Aaron_Torres or e-mail at ATorres00@gmail.com.
---